What Is Zero Waste?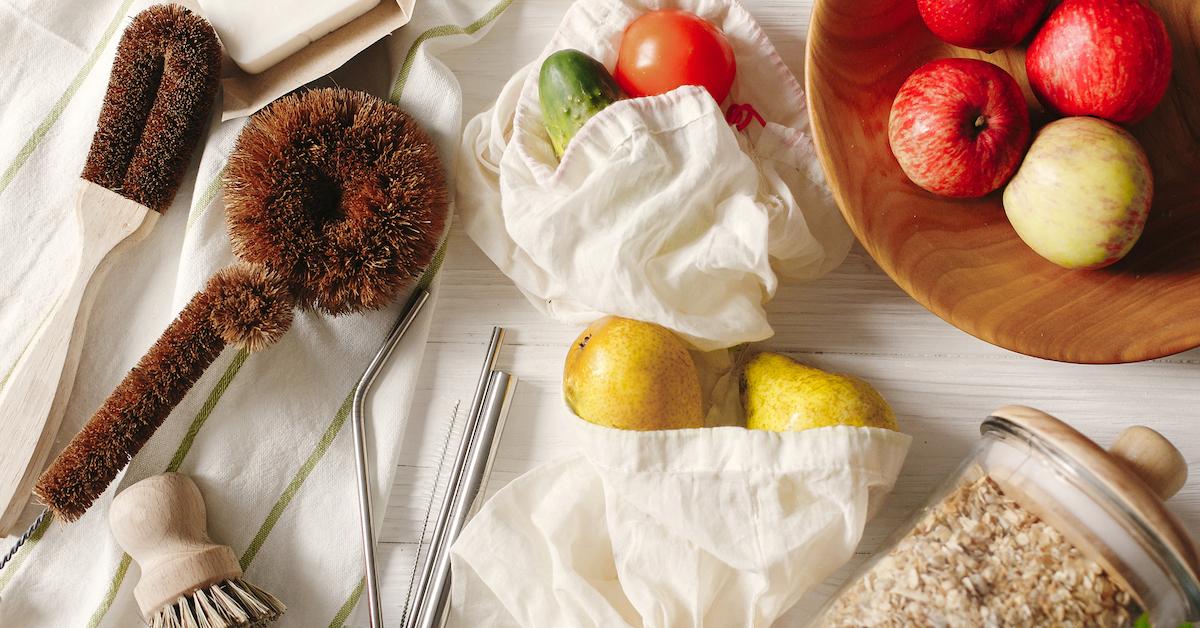 What Does a Zero-Waste Lifestyle Mean?
People living a zero-waste lifestyle strive to use as little single-use plastic as possible, instead opting for sustainable and reusable alternatives. Those who get into the lifestyle work to steadily replace everything from food packaging to hygiene products to clothing with more sustainable, plastic-free alternatives.
What Is the Goal of Zero Waste?
The immediate goal of a zero-waste lifestyle is to send zero trash to landfill. However, because we don't live in a zero-waste world and so many things are out of our control, most people in the movement acknowledge that sending nothing to landfill is near impossible, so they emphasize just doing as much as you can, and not putting too much emphasis on being perfect.
The ultimate goal of a zero-waste lifestyle is to reduce one's consumption of single-use plastic and one's personal environmental impact as much as possible, and to inspire others to do the same.
Why Live Zero Waste?
The average American produces about 4.4 pounds of trash a day, according to the Environmental Protection Agency (EPA). That's 1,606 pounds of trash a year, per person. So by reducing the amount of trash you create, you could literally save thousands of pounds of trash from entering landfills — proving that one person really can make a difference.
Waste in landfills, whether it's biodegradable, plastic, or anything in between, will emit greenhouse gases, which directly contribute to climate change. The EPA notes that in the U.S., municipal solid waste (MSW) landfills account for about 14 percent of human-caused methane emissions, making landfills the third-biggest source of human-related methane emissions.
Why Isn't Plastic Zero Waste?
Plastic is a non-renewable resource, made from fossil fuels as part of the oil industry, as explained by the Surfrider Foundation. That means the process of drilling for oil to make plastic is unsustainable. To top it off, only 91 percent of plastic actually gets recycled, plastic releases greenhouse gases once sent to landfills, plastic take hundreds of years to disappear (all plastic ever created is still on Earth today), and plastic often breaks down into microplastics which pollute oceans.
How to Start Living Zero Waste
If you are interested in working your way towards a zero-waste lifestyle, there are so many easy ways to get started. Many zero wasters recommend beginning by looking through your trash and recycling bins to see what you're throwing out the most.
For example: If your garbage can is filled with food scraps, start composting. If your bin is overflowing with paper products like napkins, paper towels, and tissues, invest in some cloth napkins, cleaning cloths (which you can easily upcycle from old towels), and hankies. And if you notice a lot of food packaging, start shopping in your grocery store's bulk section, or looking for foods packaged in recyclable packaging.
Zero Waste Products to Get You Started
If you're anxious to get rid of all your plastic-packaged and single-use products when transitioning to a zero-waste lifestyle, remember that it's more eco-friendly to use them up, and then replace them with eco-friendly alternatives when you need to. Some classic products that may help you reduce your waste (and save money over time) include: a reusable water bottle, reusable grocery bags, reusable bamboo utensils, a reusable stainless steel straw, reusable cloth makeup rounds, a bamboo toothbrush, glass or metal food containers, and beauty, skincare, and hygiene products that are "naked" or packaged in glass.
Can You Really Grocery Shop Zero Waste?
Yes! Green Matters has plenty of tips for going zero-waste grocery shopping. If your store has bulk bins, you can bring in your own jars, containers, or bulk bags, get the tare weight, and fill them up. If not, there are so many other ways to reduce your impact in the grocery store.
Why Is Shopping Secondhand Considered Zero Waste?
Before buying something new, many people who live zero waste will check thrift stores, secondhand clothing apps (like Poshmark and thredUP), and eBay for the item secondhand. Not only will shopping secondhand save you money, but it also takes something out of the waste stream that may have gone to landfill otherwise, and it reduces the demand for new products. Win, win win.
What Zero Waste Blogs Can Help?
Green Matters is filled with tips for reducing your impact and living zero waste, and we're also fans of a few blogs and YouTube accounts that can help you get started. Check out Going Zero Waste, Shelbizleee, Zero Waste Home, Trash Is for Tossers, Zero Waste Chef, Wasteland Rebel, and Wild Minimalist.
How Is Zero Waste Good for Your Health?
By using less plastic for food storage and packaging, your food and skin will come into less contact with plastic every day. As Because Health explains, that means you'll be exposed to less BPA, which is a potential carcinogen, and phthalates, which are potential endocrine disruptors.
Additionally, trying to avoid plastic-wrapped meals and snacks may lead you to choosing less-processed foods and eating healthier overall. For example, things like fresh produce, fresh bread, and bulk coffee beans are often easy to get package-free. The same goes for personal hygiene — products that come in plastic-free packaging are often more natural, meaning you may wind up exposing your body to less chemicals.
Latest What Is Zero Waste? News and Updates