What Is Zero Waste?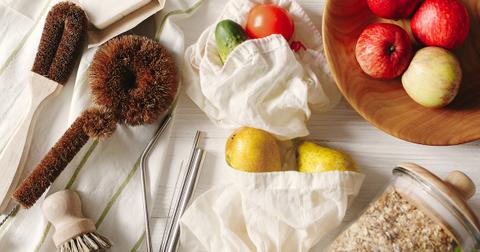 What Does a Zero-Waste Lifestyle Mean?
People living a zero-waste lifestyle strive to use as little single-use plastic as possible, instead opting for sustainable and reusable alternatives. Those who get into the lifestyle work to steadily replace everything from food packaging to hygiene products to clothing with more sustainable, plastic-free alternatives.
What Is the Goal of Zero Waste?
The immediate goal of a zero-waste lifestyle is to send zero trash to landfill. However, because we don't live in a zero-waste world and so many things are out of our control, most people in the movement acknowledge that sending nothing to landfill is near impossible, so they emphasize just doing as much as you can, and not putting too much emphasis on being perfect.
The ultimate goal of a zero-waste lifestyle is to reduce one's consumption of single-use plastic and one's personal environmental impact as much as possible, and to inspire others to do the same.
Why Live Zero Waste?
The average American produces about 4.4 pounds of trash a day, according to the Environmental Protection Agency (EPA). That's 1,606 pounds of trash a year, per person. So by reducing the amount of trash you create, you could literally save thousands of pounds of trash from entering landfills — proving that one person really can make a difference.
Waste in landfills, whether it's biodegradable, plastic, or anything in between, will emit greenhouse gases, which directly contribute to climate change. The EPA notes that in the U.S., municipal solid waste (MSW) landfills account for about 14 percent of human-caused methane emissions, making landfills the third-biggest source of human-related methane emissions.
Why Isn't Plastic Zero Waste?
Plastic is a non-renewable resource, made from fossil fuels as part of the oil industry, as explained by the Surfrider Foundation. That means the process of drilling for oil to make plastic is unsustainable. To top it off, only 91 percent of plastic actually gets recycled, plastic releases greenhouse gases once sent to landfills, plastic take hundreds of years to disappear (all plastic ever created is still on Earth today), and plastic often breaks down into microplastics which pollute oceans.
How to Start Living Zero Waste
If you are interested in working your way towards a zero-waste lifestyle, there are so many easy ways to get started. Many zero wasters recommend beginning by looking through your trash and recycling bins to see what you're throwing out the most.
For example: If your garbage can is filled with food scraps, start composting. If your bin is overflowing with paper products like napkins, paper towels, and tissues, invest in some cloth napkins, cleaning cloths (which you can easily upcycle from old towels), and hankies. And if you notice a lot of food packaging, start shopping in your grocery store's bulk section, or looking for foods packaged in recyclable packaging.
Zero Waste Products to Get You Started
If you're anxious to get rid of all your plastic-packaged and single-use products when transitioning to a zero-waste lifestyle, remember that it's more eco-friendly to use them up, and then replace them with eco-friendly alternatives when you need to. Some classic products that may help you reduce your waste (and save money over time) include: a reusable water bottle, reusable grocery bags, reusable bamboo utensils, a reusable stainless steel straw, reusable cloth makeup rounds, a bamboo toothbrush, glass or metal food containers, and beauty, skincare, and hygiene products that are "naked" or packaged in glass.
Can You Really Grocery Shop Zero Waste?
Yes! Green Matters has plenty of tips for going zero-waste grocery shopping. If your store has bulk bins, you can bring in your own jars, containers, or bulk bags, get the tare weight, and fill them up. If not, there are so many other ways to reduce your impact in the grocery store.
Why Is Shopping Secondhand Considered Zero Waste?
Before buying something new, many people who live zero waste will check thrift stores, secondhand clothing apps (like Poshmark and thredUP), and eBay for the item secondhand. Not only will shopping secondhand save you money, but it also takes something out of the waste stream that may have gone to landfill otherwise, and it reduces the demand for new products. Win, win win.
What Zero Waste Blogs Can Help?
Green Matters is filled with tips for reducing your impact and living zero waste, and we're also fans of a few blogs and YouTube accounts that can help you get started. Check out Going Zero Waste, Shelbizleee, Zero Waste Home, Trash Is for Tossers, Zero Waste Chef, Wasteland Rebel, and Wild Minimalist.
How Is Zero Waste Good for Your Health?
By using less plastic for food storage and packaging, your food and skin will come into less contact with plastic every day. As Because Health explains, that means you'll be exposed to less BPA, which is a potential carcinogen, and phthalates, which are potential endocrine disruptors.
Additionally, trying to avoid plastic-wrapped meals and snacks may lead you to choosing less-processed foods and eating healthier overall. For example, things like fresh produce, fresh bread, and bulk coffee beans are often easy to get package-free. The same goes for personal hygiene — products that come in plastic-free packaging are often more natural, meaning you may wind up exposing your body to less chemicals.
Most Recent
.

Community

These affordable environmentally-friendly gifts are perfect for the 2020 holiday season.

.

Living

Here are five sustainable and affordable options.

.

Home

Looking for tips for an eco-friendly or zero-waste Hanukkah this December? We've put together the ultimate guide.

.

Food

Though the terms don't always mean the same thing, there are some clear reasons why veganism is actually the key to zero-waste eating.

.

Food

We've rounded up some funny, thought-provoking, and clever ideas!

.

Living

Zero-waste living doesn't have to be overwhelming — and these eight books about sustainable living are all extremely helpful.

.

Style

These thrift flipping ideas are easy, stylish, and require no sewing!

.

Home

"Bottle bricking" is a little-known activity that helps reduce landfill waste, brings affordable housing and furniture to people in need, and more.

.

Community

Have a low-waste Halloween!

.

News

Plastic bags have already been banned in many places, but some argue that plastics themselves should be entirely abolished.

.

Home

Do I *really* have to wash my grocery bags?

.

Living

Zero waste is a lifestyle concept that works by lowering an individual's environmental impact as much as possible, but is this lifestyle change as effective as we've been led to believe?

.

News

For sustainability inspo, follow these zero-waste TikTok accounts.

.

News

While tampons and pads are more popular, a DivaCup is reusable and no-waste.

.

News

England's ban on plastic straws, plastic stirrers, and plastic-stemmed cotton swabs is now law.

.

Home

Check out this list of our favorite sustainable online marketplaces.

.

Community

Maryland just became the first state to ban foam containers statewide.

.

Community

Why isn't anyone talking about this?

.

News

If you leave litter at Thailand's Khao Yai National Park, you may receive your dirty trash in the mail a few days later.

.

News

The ban will start in 2021, after the coronavirus pandemic has hopefully slowed down.

.

Community

Cobie Smulders tells Green Matters about National CleanUp Day, her best sustainable living tips, what viewers can expect from Stumptown's second season, and more.

.

News

The most recent ICC found that plastic food wrappers has taken the top spot.

.

Style

Vegans do not purchase silk — but why? And is the fabric sustainable?

.

Home

Seventh Generation, a widespread home cleaning company, is forgoing plastic for its latest line, Zero Plastic Homecare.

.

Home

Concentrated cleaning refill tablets are a new wave in the cleaning industry.

.

Style

Upcycled, sustainable fashion is a growing trend, thanks to designers like Zero Waste Daniel and Grant Blvd.

.

Home

Keep your oral hygiene routine clean for you and the planet.

.

Community

We interviewed Who Gives A Crap cofounder Danny Alexander to learn more about the sustainable brand.

.

Home

Your actions can make a difference.

.

Business

Reusable totes, cups, containers and more are perfectly safe to use during the coronavirus pandemic.

.

Community

Don't let the bugs keep your indoors this summer!

.

Home

These zero-waste, DIY hand masks will help you treat your dry, cracked hands from overwashing during the coronavirus.

.

Home

The best part? No Green Thumb necessary!

.

Home

Tie-dye your clothes with plants using these three easy recipes.

.

Home

Here's how to replace all your paper goods with reusables.

.

Home

Here are 15 ways to save water around the house.

.

Home

Get inspired and crafty with these ways to upcycle milk cartons!


.

Community

Angelina Arora used discarded prawn shells and silk protein to create a biodegradable plastic.

.

Home

Batteries can easily be recycled at numerous drop-off points around the U.S.

.

Community

Recycling plastic film is not as easy as recycling bottles curbside — but there are a few ways to do so!

.

Community

We already know that textiles are clogging up our landfills — so when fabric does get recycled, how does it work?

.

Home

Do you have kids that are bored in the house — and a growing piles of waste? Tackle two problems at once.

.

Home

The corporation is still one of the world's largest plastic polluters.

.

Community

Max La Manna shares three unique tips to reduce food waste.

.

Community

Quarantine living is not a walk in the park, but there are a few takeaways we can carry into life after the pandemic is over.

.

Community

We already know — reduce, reuse, recycle — but do you know why each one is important?

.

Home

Unfortunately, this year's ants must not have gotten orders to stay in their own home!

.

Home

These are effective and zero-waste!

.

Home

These pinecone crafts will keep your kids busy — and help them connect with nature.

.

Community

Is Miley going zero waste?

.

Home

The best part? You probably already have these items at home!

.

Home

Looking for something to do with your kids who are home from school? You're not alone!

.

Home

To keep your kids occupied during the COVID-19 quarantine, invest in a few new eco-friendly toys from sustainable brands.

.

Food

The Wally Shop is opening up its exclusive service up to the entire country.

.

News

The toilet paper shortage has nothing on you.

.

Community

Gisele Bündchen penned a personal essay for Marie Claire about how protecting the environment has seeped into every aspect of her life.

.

Food

Starbucks has finally developed a compostable and recyclable paper coffee cup.

.

Home

Of course, hand sanitizer should only be used when soap and water isn't a viable option.

.

News

International Women's Day is every March 8 — honor women in the climate movement by picking up one of these books.

.

Food

Starbucks locations in the U.S. and Canada are preventing customers from getting drinks in their personal to-go cups to be safe during the coronavirus.

.

Business

ALDI is not letting any of its vendors cut corners.

.

Community

New York state is banning single-use plastic bags on March 1 — here's how the new law will work.

.

Living

Weddings will be greener than ever this year.

.

Food

You already know you should be using a metal straw, but which ones should you get? See the best ones!

.

Community

The Staples Center is making the world a brighter place using the flowers left to commemorate Kobe Bryant and his daughter Gianna.

.

Business

Every load of wash releases up to 100,000 microfibers — here are a few ways to stop that.

.

Food

DeliverZero is making zero-waste restaurant delivery possible in NYC, slowly but surely.

.

News

A single-use plastic ban is going into effect in these Caribbean nations.

.

Community

This list has more than just your reusable water bottles and stainless steel straws.