This Is the Greenest Type of Reusable Water Bottle You Can Find
What should I look for in a reusable water bottle? We've listed each of the pros and cons for each type, to help you decide on one to purchase.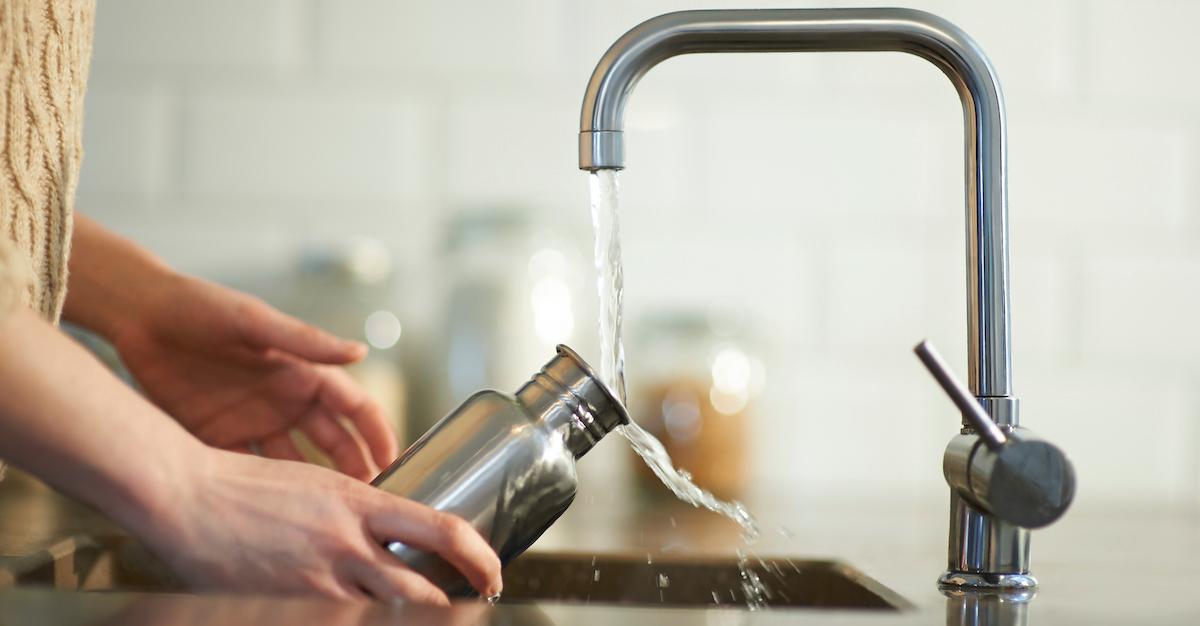 Last year, 22 billion water bottles were found in landfills worldwide. While investing in a reusable water bottle is a meaningful way to reduce plastic pollution, not all water bottles are created equal. In fact, not even all reusable water bottles are created equal. You may think you're making a smart and conscious decision on behalf of yourself and the environment by snagging a reusable plastic bottle, but single-use plastic is not the only plastic that's dangerous. Even reusable plastic has its downsides.
Article continues below advertisement
When researching all the sustainable, reusable water bottle options available, there are several materials to keep in mind. Reusable water bottles can be generally made out of stainless steel, glass, copper, plastic, and aluminum. There are also "Smart Water Bottles," which are those reusable bottles that monitor your water intake and literally encourage you to drink. If you have a kid, it may be essential that your bottle is "leak-proof" if it's going to be thrown around in a backpack!
Not sure what to look for in a reusable water bottle? Here's everything you need to know!
Article continues below advertisement
Reusable plastic bottles
In addition to being reusable, you want to make sure that your water bottle doesn't contain any harmful chemicals or toxins. Plastic water bottles can contain BPA, a chemical that disrupts natural hormones and is linked to health issues such as fertility issues and cancer. While most plastic bottles are typically BPA-free (like Nalgene!), there are still other nasty chemicals in some plastics that are just as bad — if not worse — than BPA. These include phthalates, and BPS, also known as bisphenol S.
Bisphenol S is just as hazardous as BPA, but it isn't as stringently regulated yet. These chemicals can actually leach into your water from the bottle (especially if the bottle gets hot on a warm day or contains a hot beverage). In order to ensure that your water bottle is free of nasty chemicals and other additives, make sure it says BPA-free. If you are looking for something totally chemical-free, you may want to stray away from plastic completely, even if it's reusable or recycled plastic.
Article continues below advertisement
Aluminum
Aluminum water bottles are often coated in an interior layer of plastic, which kind of defeats the purpose. Sure, it cuts down on plastic use, but it doesn't really cut back on the exposure to BPA and other chemicals through plastic leaching. Unfortunately, aluminum has to be lined or else the material changes the taste of the water.
Article continues below advertisement
While it's also cheap and light-weight like the plastic bottle option, it really isn't much better than resorting to a plastic water bottle. However, it an aluminum bottle is what fits your lifestyle and needs, S'Well is a very popular aluminum reusable bottle brand worth checking out.
Article continues below advertisement
Copper
There are many advantages to drinking out of a copper water bottle, which include health benefits. Copper bottles span back to the ancient Indian healthcare practice of Ayurveda; practitioners believe water stored in copper can help improve balance, promote anti-aging, stimulate brain function, and regulate digestion. Copper bottles (check out these from Copper H20) are thought to introduce a positive charge into the water and also reduces bacteria found in the water.
However, one downside of copper bottles their color fades over time. You can buff this color change out with lemon and salt, but it's worth noting. As far as other disadvantages, there isn't much modern research to back up the claims of Ayurvedic practitioners, however, some studies show that extensive copper consumption can cause nausea and vomiting.
Article continues below advertisement
Stainless steel
Stainless steel is built to last, which means unlike some of the aforementioned materials, it won't dent easily, and is completely sustainable. It can be recycled easily, unlike plastic, and stainless-steel bottles — like these from Healthy Human or the Klean Kanteen — often contain insulation, which can keep a beverage cold for up to 24 hours, and a hot beverage hot for 12.
Article continues below advertisement
Stainless steel bottles are not affected by chemical leaching the way plastic is. So, not only is it durable and sustainable, but it's also non-toxic and safe. Some cons to stainless steel water bottles are that they are heavy and sometimes can add a strange taste to the water.
Article continues below advertisement
Glass
Glass reusable water bottles are sustainable and can be recycled infinitely. They are a smart choice for the environment, as well as for your health, as they don't contain any chemicals that can leach into your water. After all, glass is seldom treated with the toxic substances that plastic often is because glass does not need additives or preservatives.
The downsides of glass include its break-ability and heaviness. The good news is, however, that there are ways to combat glass' fragility. Many glass water bottles (like these from bkr or these from Life Factory) come with a silicone sleeve, which not only looks cute, but it also works to reduce impact, should your bottle fall. Another downside of glass is that they sometimes aren't insulated.
There are pros and cons of each water bottle type, so whichever you choose is up to you.