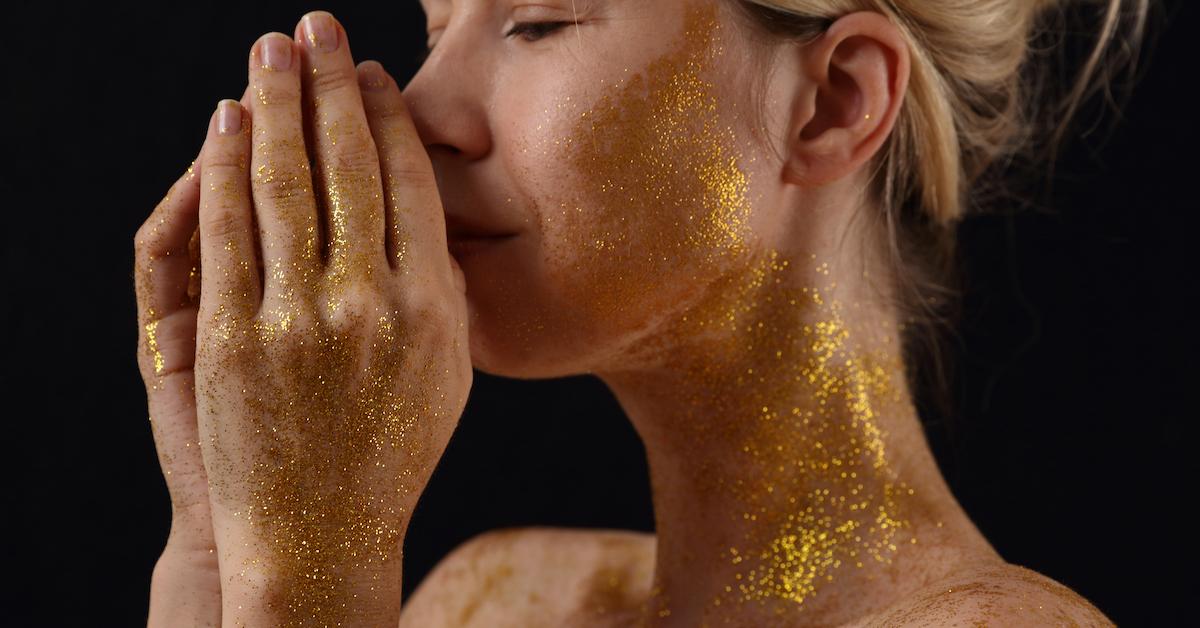 Is All Eco-Friendly Glitter Just Greenwashing? Here Are the Best Options
We're looking into the eco glitter gel options out there.
If you're an environmentalist and have ever attended a music festival, planned a bachelorette party, or been involved in a group school project, you've probably faced the following moral conundrum: Is it OK to partake in the use of glitter that will most certainly become pollution?
It sounds silly, but simultaneously not wanting to be a bad environmentalist nor a party pooper can cause a lot of anxiety. So, we're looking into the eco glitter gel options out there.
Article continues below advertisement
That said, it's important to note that words like "eco-friendly" and "biodegradable" are often tacked onto glitter packages as greenwashing marketing tactics, in pursuit of making more sales. A lot of the glitter gels out there that claim to be environmentally-friendly are not actually so.
Article continues below advertisement
In fact, a 2020 study looked at two kinds of (supposedly) biodegradable glitter, and found that it harms the environment just as much as traditional glitter, which is usually made from plastic.
But fortunately, there are a few innovations that have been made since then. We've done our best to scour the market — and found only one truly biodegradable glitter available for purchase.
Keep reading to learn about this product, as well as for a look into some of the scientific research being done to discover more eco-friendly glitter sources, and for our favorite alternative to body glitter.
Article continues below advertisement
Bioglitter
The company Bioglitter boasts that it is the "world's only certified freshwater biodegradable glitter brand," as certified by TÜV Austria's fresh water certification.
Bioglitter is made with "sustainably and ethically sourced natural and plant derived materials as its basis rather than plastic," and the glitter is proven to biodegrade in freshwater testing.
As the brand explains, Bioglitter does not dissolve in your average water — but once it enters a natural environment (such as freshwater or a field), bacteria and other natural microorganisms will consume the glitter, turning it into carbon dioxide, water, and biomass.
Bioglitter is also compostable, in both home and commercial compost settings.
Article continues below advertisement
The team behind Bioglitter began developing the product in 2010, and released the first iteration of Bioglitter in 2016. As of publication, there are several varieties, including Cosmetic Bioglitter (which can be used on the face, body, or nails), Deco Bioglitter (for non-cosmetic uses, such as printing and coatings), and Craft Bioglitter (for children and schools).
Cellulose nanocrystal-based glitter
Article continues below advertisement
For the study, the team was able to create glitter made from this material at an industrial scale; however, as of publication, it is not yet available on the market, though the researchers do hope to make the glitter commercially available in the future.
"We believe this product could revolutionize the cosmetics industry by providing a fully sustainable, biodegradable and vegan pigment and glitter," senior author Professor Silvia Vignolini stated in 2021.
ChiralGlitter
In 2022, researchers from the University of Saskatchewan unveiled ChiralGlitter, a biodegradable glitter that "uses light-reflecting shapes to create sparkles unlike any other – with the potential to mitigate plastic pollution around the world."
Article continues below advertisement
ChiralGlitter is also composed of cellulose nanoparticles, making the product 100 percent bio-based, as well as free of aluminum and microplastics, which are what traditional glitter is made with.
Many other supposedly biodegradable glitters are only actually about 92 percent plastic-free, so ChiralGlitter is certainly an achievement.
"We use a biomaterial such as wood or agricultural waste to synthesize cellulose nanocrystals," researcher Amin Babaeighazvini stated when the research was published. "Then, we fabricate functional materials from those nanocrystals, such as these biodegradable and edible glitters. The thing that makes this eco-friendly and non-toxic is the cellulose. Nanocrystals are from nature."
As of publication, ChiralGlitter is not yet available for purchase.
Article continues below advertisement
As an alternative to glitter body gel, try makeup made with ethically-sourced mica.
If you want to stay away from glitter altogether, but still want that fun shimmery look, makeup products containing mica may be the perfect option for you.
Mica is a naturally-occurring mineral dust used in makeup, giving the product a shimmery or glittery sheen. The Campaign for Safe Cosmetics states that using cosmetics with mica "is not a concern for consumers," though excessive exposure to mica in factories, construction work, or agriculture can pose a health risk to workers.
Mica also presents some ethical issues, as human rights violations and child labor in the mica mining industry is a rampant issue, as noted by the Department of Labor.
Fortunately, there are a number of cosmetics brands that have pledged to only use ethically-sourced mica. As noted by the beauty resource Ethical Elephant, a few of these brands — which are also vegan and cruelty-free — include: about-face, Axiology, Clean Faced Cosmetics, Elate Cosmetics, Merit, Milk Makeup, Pacifica, PYT Beauty, and Tower 28.
One product in particular that could work as a great glitter alternative is about-face's Fractal Glitter Eye Paint, which comes in a variety of colors.