These Restaurants and Food Delivery Platforms Offer Reusable Takeout Containers
If more restaurants offered food and drinks in reusable packaging that could be washed, the restaurant industry could reduce waste immensely.
Many people in the zero-waste community believe that the key to reducing single-use packaging in the food industry is reusable — and returnable — packaging. If more restaurants offered food and drinks in reusable packaging that could be washed, rather than simply sent to the landfill or the recycling bin after each use, the restaurant industry could reduce waste immensely.
Article continues below advertisement
Fortunately, a few restaurants have already rolled out programs in which reusable takeout containers are offered to customers. For some of these programs, customers buy their own container and bring it back to be refilled each time; others package food in containers in exchange for a small deposit, which is refunded when the container is returned.
Either way, these programs are leading the way when it comes to reducing food packaging waste — here's a look into just a few of them.
Just Salad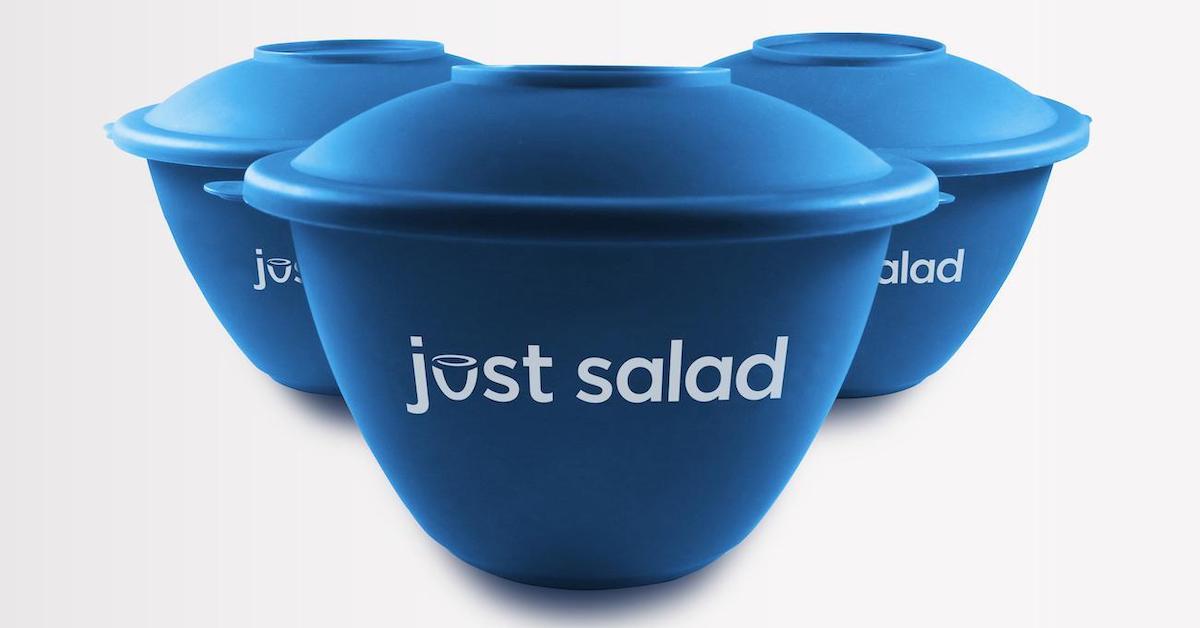 Just Salad, a salad chain with locations in six U.S. states, as well as Dubai, sells its Reusable Bowl for $1. Every time a customer uses their bowl to buy a salad or warm bowl, they receive one free topping. The bowl pays for itself on your first visit, and is a great way to save money and reduce waste, if you're a regular customer.
Article continues below advertisement
In September 2019, Just Salad removed beef from its menus, replacing it instead with Beyond Meat; at the same time, the company told Green Matters that in 2024, it plans to make its menu completely meatless. "The future of food is plant-based, and we envision a completely meatless menu within the next five years," Chief Sustainability Officer Janani Lee told Green Matters at the time.
Just Salad also sells smoothies, and invites customers to bring in their own jars to get their smoothies waste-free.
Chop'd London
Not to be confused with American salad chain Chopt, England-based salad chain Chop'd London has been offering the "keepie" reusable salad bowl since 2018. Customers can purchase the bowl for £5, bring it in every time they buy a salad, and get every tenth salad free. Over the past few years, this scheme has saved 201,500 single-use bowls.
Article continues below advertisement
But in March 2022, the company rolled out a new version of this bowl, which is made from APET Evolve by Faerch — post-consumer recycled content that can be recycled back into food packaging over and over again without losing quality, according to manufacturer Faerch UK, via Packaging News. Typically, plastic can only be recycled a small number of times before it is no longer recyclable.
Eddie Holmes, Chop'd London's managing director, told Packaging News that the restaurant chain is the first in the U.K. to use this product.
DeliverZero
We covered the launch of zero-waste takeout platform DeliverZero back in late 2019, back when the company was just working with eight restaurant partners in Brooklyn, and it's been thrilling to see how the NYC-based company has grown since then. At first, it was its own food delivery platform, from which customers could order food just as they would on Seamless or Postmates — however, the food would come in reusable, returnable plastic containers that can be used more than 1,000 times.
Article continues below advertisement
Now, New Yorkers all across the city who want their food delivered in DeliverZero's zero-waste containers can place their order on either Caviar or DoorDash, both of which DeliverZero has partnered with to help expand its program. Just make sure to add the "DeliverZero Reusable Containers" item to your cart when checking out on either of the two websites, which will cost you $0.99. You can then return your containers to any of the restaurants listed on DeliverZero's website, though the company no longer charges a penalty for those who forget to return the containers.
You can also place a DeliverZero order in-person at any participating restaurant, for a fee of $0.25 — and make sure to return those containers within three weeks otherwise you'll be charged.
"I really wanted to come up with a model that met people where they are and that made them feel like, 'Yeah, this is just like the way I always order takeout. This is the way I order from GrubHub,'" DeliverZero co-founder Adam Farbiarz told Green Matters in 2019. "We're helping [customers] make those choices that may not be perfect now, but are moving us toward perfect, and bringing us toward zero."
Article continues below advertisement
And on top of these programs, massive companies like Starbucks and Burger King have both trialed similar programs that feature reusable and returnable beverage and/or packaging.
Hopefully these stories will inspire more and more restaurants and food chains to embrace reusable and/or returnable packaging — though it may seem like a small step to the customers participating, actions like these can seriously add up. And as you await your favorite restaurant coming out with a similar program, we highly encourage you to bring in your own reusable containers or to-go cups.
Green Matters' new book, Green Living, is the perfect guide to living an eco-friendly lifestyle for people at every stage of the process. You can order Green Living here.