Want Smoother Skin? These Sustainable Dermaplaning Tools Can Help
If you're interested in sustainable dermaplaning, there are some tools out there with less or no waste to help you get better skin.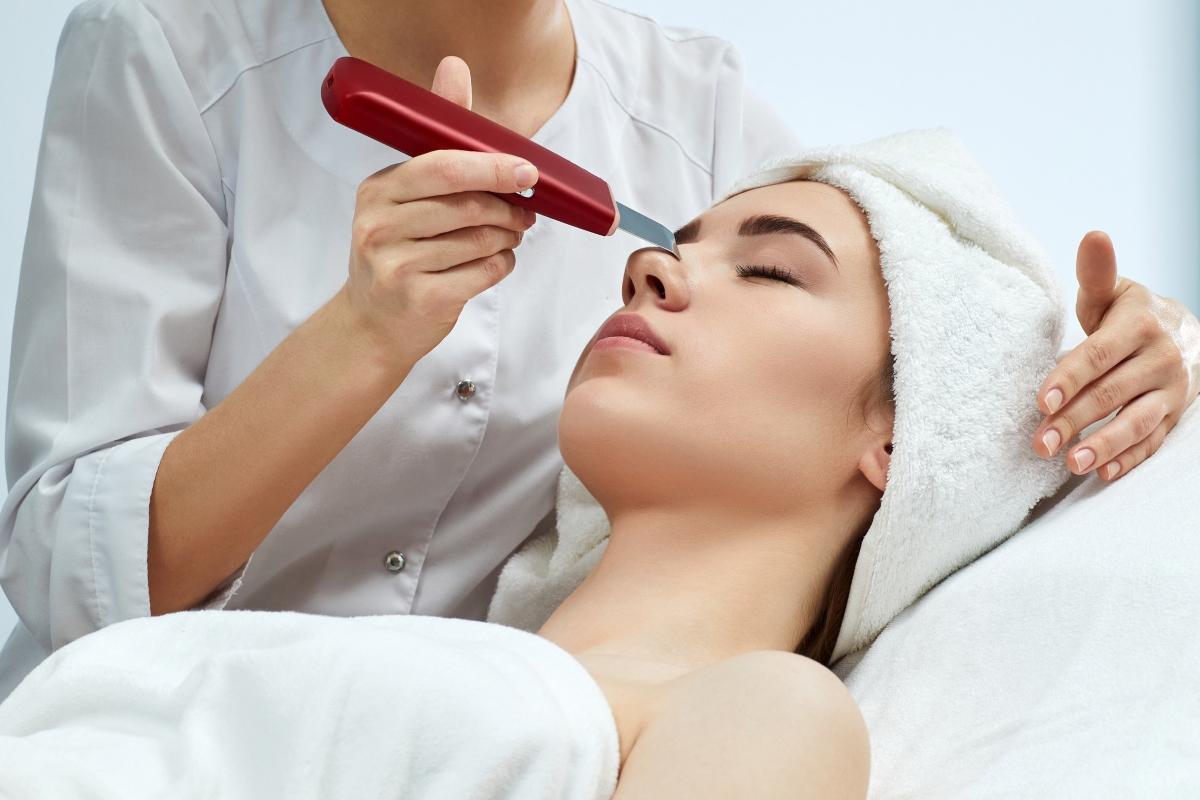 One of the cosmetic procedures more and more people are trying is dermaplaning. It's something used to help reduce the appearance of peach fuzz, skin damaged by sun exposure, acne scars, or dry skin, among other things. Although you can opt to get dermaplaning at a dermatologist's office, you can also try at-home dermaplaning. But can you find sustainable dermaplaners?
Article continues below advertisement
Fortunately, there are a number of options on the market when it comes to dermaplaning tools that are plastic-free and low-waste. Keep reading to learn more about dermaplaning, and for a list of some eco-friendly dermaplaners.
What is dermaplaning?
Essentially, dermaplaning is a process that shaves away the topmost layer of your skin, as well as very fine hairs, using a dermaplaning facial razor.
As the Cleveland Clinic explains, dermaplaning is "minimally invasive" and can help with a number of skin-related complaints such as acne and other scars or damage.
You may have heard of dermaplaning, which shares some aspects in common with microdermabrasion and dermabrasion. Cleveland Clinic notes that all three of them relate to skin resurfacing.
Dermaplaning: use of a scalpel or razor to remove skin
Dermabrasion: a surgical procedure to remove skin
Microdermabrasion: a nonsurgical procedure that uses a blade to exfoliate the skin
What are the key benefits and risks of dermaplaning?
Dermaplaning can bring smoother, healthier-looking skin to the surface. People with skin concerns like dull or dry skin, scars from acne, peach fuzz, sun damage, and wrinkles could see improvements with dermaplaning.
Of course, there are risks to the procedure: some people can experience infection, scarring, or skin discoloration. In addition, you may see temporary redness and swelling after dermaplaning.
That said, if you'd like to try dermaplaning, make sure to do your research on how to do it as safely as possible. Here are a few sustainable dermaplaners on the market, including ones with infinitely reusable handles and replaceable blades, and disposable ones made with biodegradable handles.
Leaf Shave offers a reusable, sustainable dermaplaner.
Leaf Shave, which offers sustainable razors, launched its sustainable dermaplaner in January 2023. The plastic-free tool is made from metal, and designed to be zero-waste. The company also sells dermaplaner blades and blade guards, both of which are recyclable. The company says you can use any standard safety razor blade with its blade guards.
The basic dermaplaner from Leaf Shave costs $39 and a cover is $9. You can also purchase a Dermaplaner kit for $64 that includes the tool, 2 blades and 2 blade guards, a dermaplaner stand, and a packet of 10 refills of both blades and guards.
You can collect used Leaf razor blades and steel blade guards in a Leaf Recycling Tin (or used mint tin). Either send them to Leaf for recycling, or take them to a local scrap metal recycling facility.
Stacked Skincare offers sustainably-designed dermaplaners.
Sustainable features of the Stacked Skincare dermaplaning tool include a replaceable surgical steel blade, and a plastic-free, "virtually indestructible aluminum handle." The blade contains 5 percent nickel, and the product also requires no batteries or replacement cords.
StackedSkincare prices the dermaplaning tool at $75, and the full kit at $122.
Article continues below advertisement
About The Glow also makes eco-friendly dermaplaners.
About The Glow makes dermaplaners said to help your skin increase serum absorption, remove dead skin and acne scars, and remove peach fuzz. The razors are made of biodegradable wheat stalk, and feature a Japanese stainless steel blade.
Currently a package of three facial razors is priced at $19.95. Once the blade dulls, however, it seems like the handle must be thrown in the trash.
Article continues below advertisement
Sakya makes a biodegradable dermaplaning tool.
The Sakya Biodegradable Women's Facial Razor is another somewhat sustainable dermaplaning option. The handle of the tool is made mostly of corn and "other biodegradable materials." Presumably, these razors must be thrown away once the blades dull.
A package of six costs $9.99 on Sakya's website or on Amazon.
Article continues below advertisement
Skinbae and Beyond sells sustainable dermaplaning tools.