Coronavirus and the Environment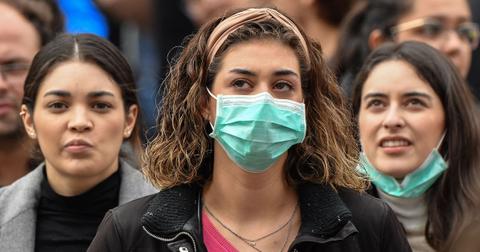 The novel coronavirus, or COVID-19, has caused regions all over the world to go into lockdown, which has had an enormous impact on the environment, in a variety of ways. The coronavirus has had a surprising impact on the environment — but these changes are not permanent or sustainable.
Read on for a breakdown of the relationship between the coronavirus outbreak and the environment.
How has coronavirus affected the environment?
For the past few months, the entire world has been affected by the coronavirus, with cities, states, and entire countries being put on lockdown. That means non-essential businesses have closed, fewer airplanes are in the sky (though not as few as there should be), and far fewer cars are on the roads — which means humanity's reliance on fossil fuels for power has significantly gone down.
Due to all this, scientists have measured air pollution clearing up in many areas — primarily, reductions in atmospheric nitrogen dioxide (NO2), which is a gaseous air pollutant that forms when humans burn fossil fuels.
Coronavirus has improved air quality in China.
The virus is believed to have originated in Wuhan, China, and lockdowns began in the city on Jan. 23. In early March, the NASA Earth Observatory shared a report showing how the concentrations of NO2 in China's atmosphere went down. In fact, the NO2 concentration is nearly invisible on the map representing Feb. 10 through Feb. 25, 2020, which is when Wuhan was under lockdown.
First, scientists observed NO2 levels decreasing near Wuhan, but then saw the reduction spread across the rest of the country.
Coronavirus has impacted the environment and air quality in many cities.
As the virus continued to spread around the world, it has continued to impact air quality in many other locations. For example, the Copernicus Sentinel-5P satellite detected declining NO2 emissions in northern Italy's atmosphere in mid-March. Northern italy is home to Milan, which was the viral hotspot to follow Wuhan.
In India, concentrations of fine particulate matter, aka PM2.5, one of the planet's smallest and most dangerous air pollutants, dropped by 71 percent over the course of just one week during lockdowns; NO2 levels have also gone down across the country. These changes led to various residents across India noticing cleaner air; not to mention, many people with breathing issues reported finding it easier to breathe. Additionally, the air became clear enough for Punjab residents to see the Himalayan mountains for the first time in decades, from more than 100 miles away.
Air has quality also improved across the U.S., with major cities including New York City, Los Angeles, Chicago, Seattle, and Atlanta observing major dips in atmospheric carbon monoxide (CO) and NO2.
How is coronavirus affecting climate change?
Not only has burning less fossil fuels caused atmospheric pollutant levels to gp down around the world, but it also means less greenhouse gases are being emitted into the atmosphere. That means the atmosphere will trap less heat, reducing our contribution to global warming, a major part of the climate crisis.
Coronavirus is impacting wildlife.
With less people in the way, many wild animals have been enjoying free rein of various areas. For example, bears, bobcats, and coyotes have been roaming areas typically filled with humans in Yosemite National Park; lions in South Africa's Kruger National Park were spotted relaxing on roads that are usually busy with cars; and endangered sea turtles have been hatching on empty beaches in Brazil — to name a few.
Is the environment healing due to the coronavirus?
During the coronavirus lockdowns, there have been so many cases like the above ones that they've actually inspired memes, typically riffing on the phrases "nature is healing" and "we are the virus." So sure, some parts of the environment are temporarily healing — but only in the short term.
Coronavirus is causing people to litter more.
Even though less people are out and about on the streets, the streets are somehow still filled with litter. That's because over the past few months, people are littering personal protective equipment (PPE), namely surgical masks and gloves, oftentimes outside of grocery stores and pharmacies.
There's never an excuse for littering, even — especially — in the middle of a pandemic. Litter can harm wildlife, spread diseases, create additional work for municipal workers, and more.
Coronavirus challenges zero-waste living.
Living in quarantine has certainly caused zero-wasters to sacrifice some of their values — for example, many zero-wasters have had to purchase more products packaged in plastic than they normally would, as well as single-use PPE. Right now, staying safe during the pandemic is more important than preventing some trash from going to the landfill, and there are so many lessons we can learn in terms of low-impact living during the quarantines.
COVID-19's impacts on the climate are not permanent.
While it's tempting to regard these changes to air quality and wildlife as positive things, epidemiologist and McGill University associate professor Jill Baumgartner is hesitant to do so.
"This really shouldn't be seen as a silver lining," Baumgartner told The New York Times recently. "It's not a sustainable way to reduce air pollution, and the long-term economic and well-being impacts of this crisis are going to be devastating for many people."
When the lockdowns end and "real life" resumes, humans will likely go back to burning fossil fuels at the same rates they were before the virus, and air pollution rates will shoot back up. But hopefully these events will finally be the proof skeptics need to see how quickly the Earth responds to human activity — and perhaps it will inspire people to start working even harder to help shift society to a renewable energy economy.
The best way to prevent contracting or spreading coronavirus is with thorough hand washing and social distancing. If you feel you may be experiencing symptoms of coronavirus, which include persistent cough (usually dry), fever, shortness of breath, and fatigue, please call your doctor before going to get tested. For comprehensive resources and updates, visit the CDC website. If you are experiencing anxiety about the virus, seek out mental health support from your provider or visit NAMI.org.
Image source: Andreas Solaro/AFP via Getty Images
Most Recent
.

News

Denmark's government is mandating the slaughter of all 17 million mink currently being raised on fur farms across the country.

.

News

Coronavirus beach closures have caused a record-breaking number of endangered sea turtles to nest on a Mexican beach.

.

News

Do the rumors of decreased pollution levels hold any shred of credibility?

.

News

China has banned the farming of wild animals including porcupines, hedgehogs, and bamboo rats.

.

News

In Hong Kong, rare pink dolphins have been spotted flourishing in the Pearl River Delta.

.

News

The climate crisis could displace 1.2 billion people by 2050, according to a new report.

.

News

"When Indigenous peoples are threatened, the whole world is put under threat as well," Sônia Guajajara tells Green Matters.

.

News

Earth Overshot Day is three weeks late this year — which would be good news, if it was late for any reason other than the coronavirus pandemic.

.

News

If you need to wear a single-use mask, here's how to throw it away safely.

.

Community

Here are 10 slow fashion brands making eco-friendly cloth face masks.

.

News

The Philippines has developed abaca leaf fiber masks that have the potential to be medical grade and biodegradable.

.

News

Croatia is awarding a solar roof project money to help rebuild the economy, create jobs, and support renewable energy.

.

News

A group of researchers believe we can recycle PPE into biofuel.

.

News

COVID-19 is having a worse impact on racial minorities due to air pollution and other factors related to environmental racism.

.

Home

Time to get crafty to stay healthy!

.

News

A new report predicts how the global temperature will rise over the next five years.

.

News

Fires in the Amazon rainforest are on track to reach a peak this August as high as last year's.

.

Home

A mask is useless if you aren't taking care of it!

.

Food

Guinness collected unused kegs from bars, and reused the beer as Christmas tree fertilizer.

.

News

A new H1N1 swine flu discovered in China could cause the next pandemic if we don't take action.

.

Community

The local council declared the day a "major incident" due to many aspects, including the 41 metric tons of waste that were left behind.

.

Business

Reusable totes, cups, containers and more are perfectly safe to use during the coronavirus pandemic.

.

Community

Here's how to support local biodiversity in honor of World Environment Day.

.

News

COVID-19 era PPE has already made its way into the ocean.

.

Community

Various Hamptons beaches were strewn with litter during Memorial Day weekend, prompting local authorities to close beaches once again.

.

News

Several world health leaders have created a green recovery plan.

.

Community

COVID-19 has changed just about everything, including our planet.

.

News

71 percent of people surveyed think the climate crisis is as serious a crisis as COVID-19.

.

News

After closures due to COVID-19, many U.S. National Parks are now starting to reopen.

.

Renewables

The U.S. is projected to produce more electricity from renewable sources than from coal this year.

.

News

Quarantine is inspiring Americans to pick up eco-friendly living habits.

.

Community

COVID-19 is having so many effects on the climate — but will any of them be long-lasting?

.

News

The climate crisis and the damaged economy can be rebuilt together, in the aftermath of the coronavirus.

.

News

Littering in Cocoa Beach, which only reopened on April 21, can now land offenders with a $250 fine.

.

News

The Trump Administration has reversed so many environmental rules over the past three years.

.

Home

Here's are seven companies making cloth masks for children.

.

Community

Single-use gloves are not only wasteful, but also unnecessary for grocery trips.

.

News

The U.K. Committee on Climate Change is urging Prime Minister Boris Johnson to transition people into jobs that will support a low-carbon economy.

.

News

In Phuket, Thailand, rare leatherback sea turtles are nesting at unprecedented rates.

.

Community

Recycling plastic film is not as easy as recycling bottles curbside — but there are a few ways to do so!

.

News

Greta Thunberg is using prize money to help children in poverty who are suffering during the coronavirus pandemic.

.

News

Jane Goodall discussed how humans disrespecting wildlife has caused the coronavirus.

.

News

An MD answers all your questions about gloves and the coronavirus.

.

Renewables

Britain just exceeded its past record by going more than 18 days without burning any coal to generate electricity.

.

News

Australian scuba diving tour guides are planting coral in the Great Barrier Reef.

.

Home

Luckily, there's no law saying you must be productive.

.

Community

National Arbor Day looks a little different this year, but you can still celebrate trees during the pandemic.

.

Food

We veganized nine viral quarantine recipes to keep your quarantine baking low-impact.

.

Home

Get your kids outside and in touch with nature.

.

Community

Max La Manna shares three unique tips to reduce food waste.

.

Community

"Whether we like it or not, the world has changed," Greta said.

.

Community

Earth Day 2020 livestreams featuring celebrities, musicians, scientists, and more will help you celebrate the 50th annual Earth Day.

.

Travel

Here's why airline emissions have dropped — but probably not as much as you would've expected.

.

Community

Just because you aren't out in the world doesn't mean you can't do your part for the planet!

.

Community

Quarantine living is not a walk in the park, but there are a few takeaways we can carry into life after the pandemic is over.

.

News

The Trump administration just weakened mercury pollution regulations for oil and coal power plants.

.

News

Various species may go extinct sooner than previously thought.

.

Home

These are effective and zero-waste!

.

Food

Driscoll's is asking the government to provide financial assistance.

.

Business

The U.S.'s largest pig slaughterhouse closed due to employees contracting the coronavirus.

.

Home

These pinecone crafts will keep your kids busy — and help them connect with nature.

.

Community

Animal livestreams are a relaxing and entertaining way to pass the time during coronavirus quarantines.

.

News

India's drastic air quality improvements have cleared up skies, making the Himalayan mountains visible from more than 100 miles away.

.

News

Even in these times of what feels like heightened panic and uncertainty, there are eco-friendly lessons to be learned.

.

News

Air pollution levels are significantly falling during the COVID-19 outbreak — but we shouldn't look at this as a silver lining.

.

News

The new coronavirus, or COVID-19, is impacting air quality — and air pollution impacts those sick with the virus as well.

.

News

Dolphins were spotted swimming in the port of Cagliari as ship traffic came to a halt.

.

News

Northern Italy is experiencing a significant and swift decline in NO2 pollution, as a result of the coronavirus lockdown.