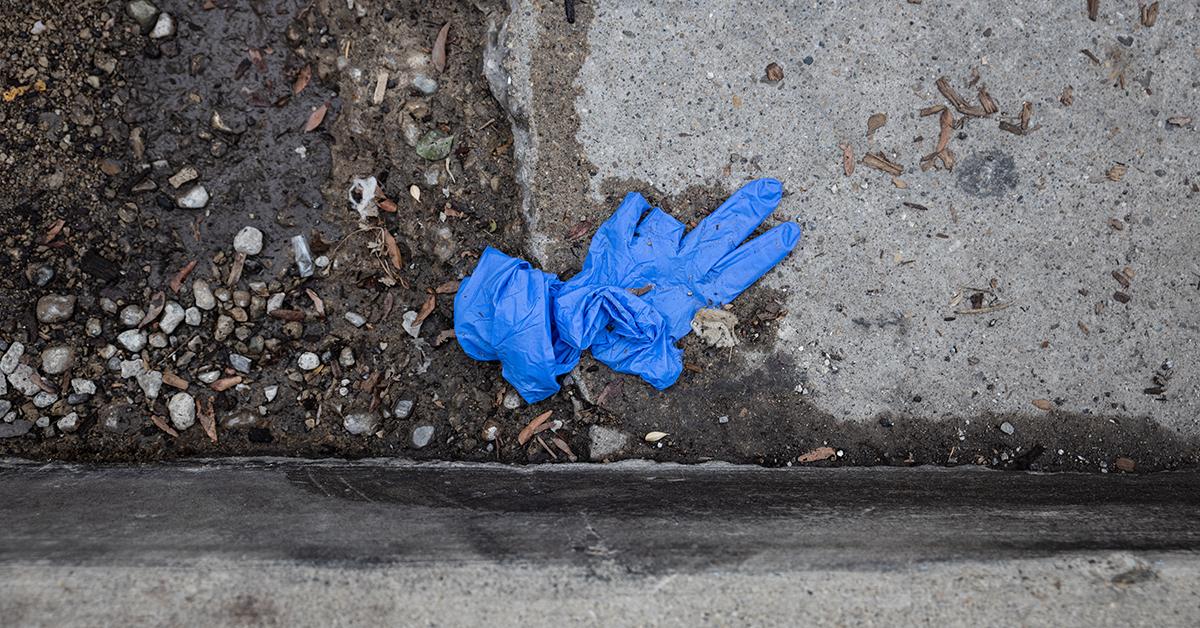 Masks and Gloves Are Being Littered in the Wake of the Coronavirus Outbreak
People all over the world are littering the masks and gloves they're using to avoid the novel coronavirus.
Right now, the brave doctors, nurses, and healthcare providers all over the country are experiencing a shortage of PPE — personal protective equipment aka the masks, gloves, goggles, and gowns that'll protect them as they're on the frontlines of the battle against the novel coronavirus. And on my final outing before New York went on "PAUSE" — in other words, lockdown — I felt confident that I found where all the protective gear had gone: It was littered all over the ground, right outside the door of the pharmacy I was exiting.
Article continues below advertisement
Unfortunately, a quick search of Twitter and a scan of my town's community group made one thing abundantly clear: This was by no means an isolated incident.
People from all over the world have taken to social media to lament about others abandoning their gloves and masks as soon as they're done with them instead of disposing of them properly.
Article continues below advertisement
Article continues below advertisement
Article continues below advertisement
The problem with this is (at least) two-fold; not only is it completely defeating the purpose of the PPE user's sanitary precautions by exposing other people to the used products and potentially the virus , it's also blatantly littering.
Though these single-use products are incredibly strong when it comes to protecting individuals against catching or spreading COVID-19 — when used properly — they are also incredibly light-weight, which means masks, gloves, and the like can easily be picked up and swept away with the wind, and could end up in waterways or otherwise in nature, hurting birds and marine animals who can mistake the rubber for food and ultimately choke to the death.
Article continues below advertisement
Article continues below advertisement
If you are in possession of masks or gloves, the best thing you can do is donate it to those medical professionals who are in desperate need of supplies to battle the virus; Mask Match is a peer-to-peer exchange for people to connect with medical professionals directly and hand off their masks (without contact, of course). Donate PPE makes it easy to find a hospital in your area that is looking for specific donations. (Remember, N95 respirators need to be properly fitted in order to work effectively.) A quick search on Google or any social network will probably lead you to doctors in your community who are in desperate need of the PPE.
Article continues below advertisement
If you aren't a doctor, the best thing you can do to protect yourself — even better than a mask and gloves if you're healthy — is wash your hands for at least 20 seconds with soap and water, and continue to practice social distancing by staying home.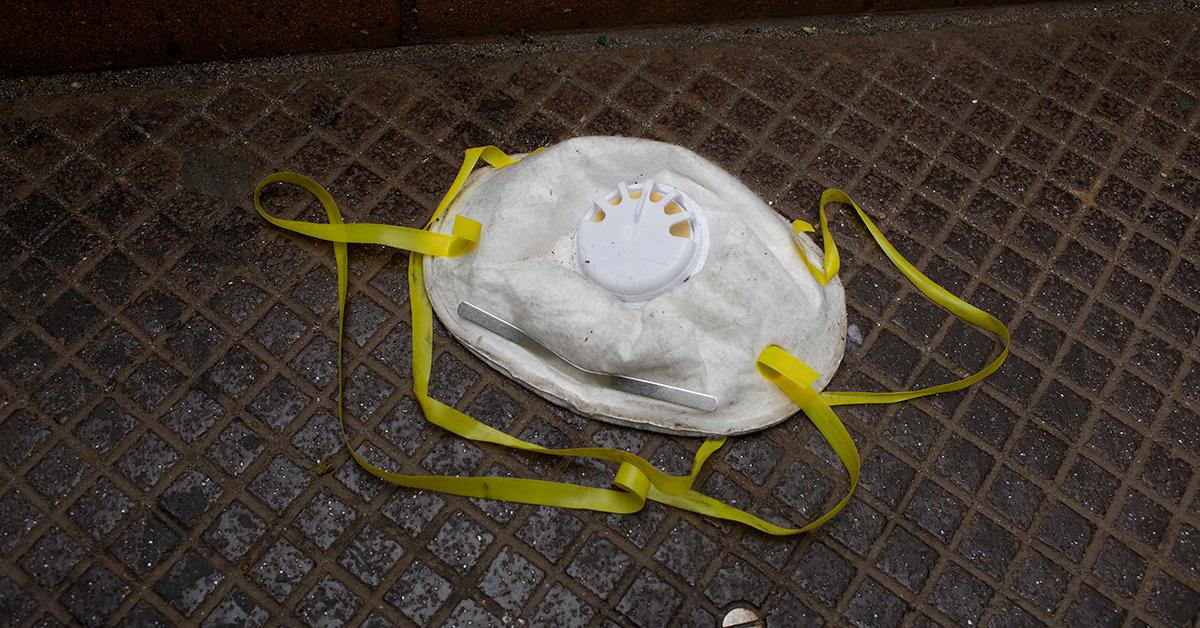 Article continues below advertisement
If you need masks or gloves, whether it's because you or someone in your home is infected or you're a caregiver for a member of a high-risk group, there are steps you can take to make sure your products are disposed of properly.
Certain areas will accept latex gloves in your recycling, as long as they are properly disinfected and sanitized; if you work in any sort of medical facility, you can enroll in Kimberly-Clark's nitrile glove recycling program, though right now it is not available for individuals. Kimberly-Clark collects the waste (which isn't limited to gloves, and includes other medical supplies) and then recycles the raw materials into new, eco-friendly products.
Article continues below advertisement
TerraCycle — a private company that recycles hard-to-recycle materials — offers a program specifically for single-use gloves; by investing a collection box, you can dispose of your used gloves (nitrile, latex, and vinyl gloves) and then send it back to TerraCycle's private facility. They then separate the different types of plastic, and, per their website, "the separated plastics then undergo extrusion and pelletization to be molded into new recycled plastic products."
Article continues below advertisement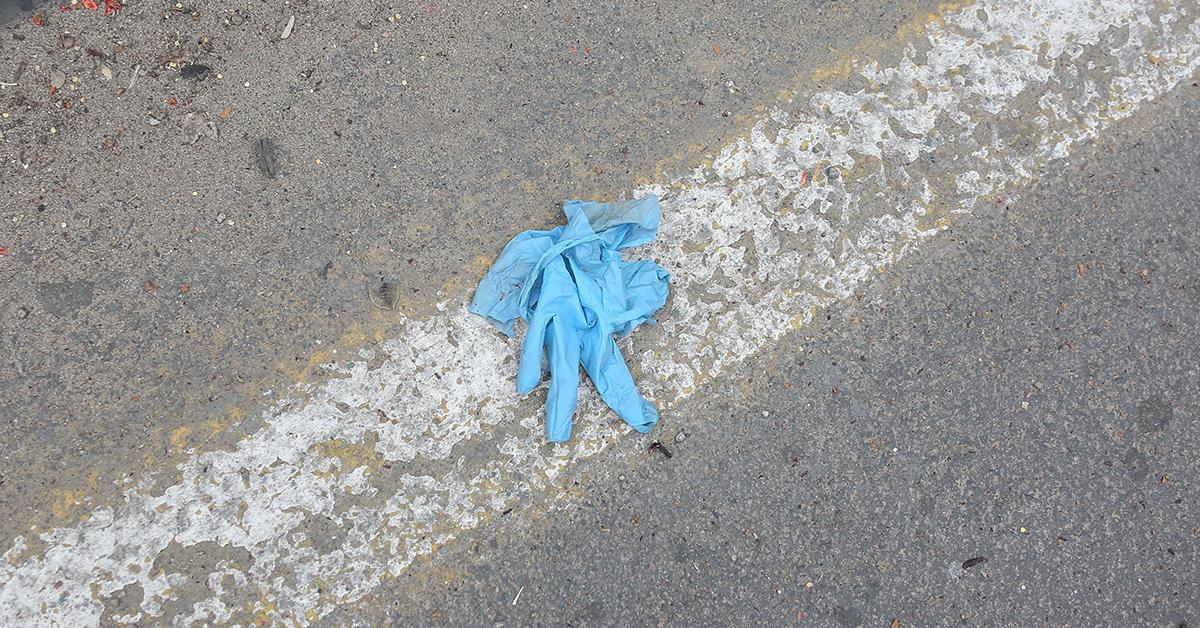 As far as masks go, things are a bit more complicated; in order to avoid the public health risk associated with the masks, they have to be thrown out and sent to the landfill in order to be discarded properly. If you're using a mask because you are sick or you're caring for someone sick, it should be removed from behind, wrapped in a tissue, and thrown out in a closed garbage pail in order to prevent the spread of the virus, according to the WHO. You should then immediately wash your hands with soap and water for at least 20 seconds.
Article continues below advertisement
During a time of pandemic, it's easy to feel distraught about the global implications — especially when the medical benefit of these single-use tools may conflict with your usual feelings as an environmentalist to send as little to the landfill as possible. But even in these times of what feels like heightened panic and uncertainty, there are eco-friendly lessons to be learned; over the world, places like NYC and China have seen drops in air pollution, and the water in Venice even cleared as the result of mandatory lockdowns and successful social distancing.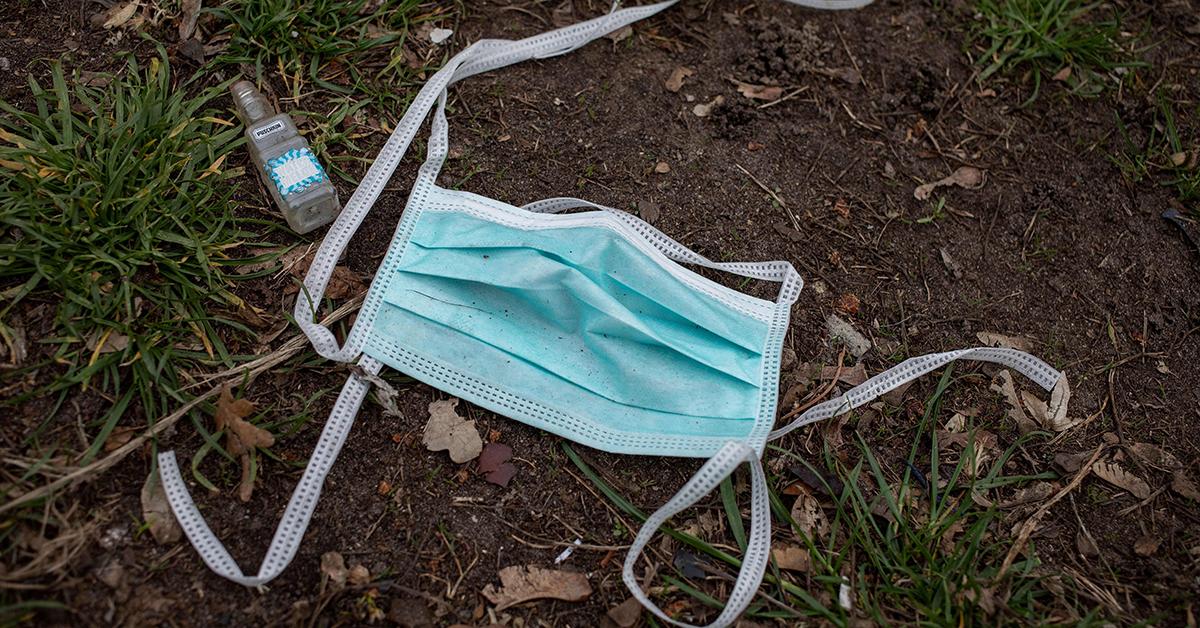 Article continues below advertisement
As my colleague explained, rather than looking at this as a benefit of the pandemic, we can instead view it as "irrefutable, firsthand evidence that burning fossil fuels to power cars directly contributes to greenhouse gases in the atmosphere," which leads the heating of the planet and air pollution. In other words, we can see not only that human interference is undeniable, but also that change — and improvement — is possible.
The best way to prevent contracting or spreading coronavirus is with thorough hand washing and social distancing. If you feel you may be experiencing symptoms of coronavirus, which include persistent cough (usually dry), fever, shortness of breath, and fatigue, please call your doctor before going to get tested. For comprehensive resources and updates, visit the CDC website. If you are experiencing anxiety about the virus, seek out mental health support from your provider or visit NAMI.org.