The Best Sustainable Face Masks by Slow Fashion Brands
A sustainable cloth face masks can be worn over and over again — here are 10 slow fashion brands making eco-friendly cloth face masks.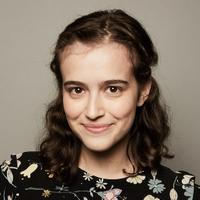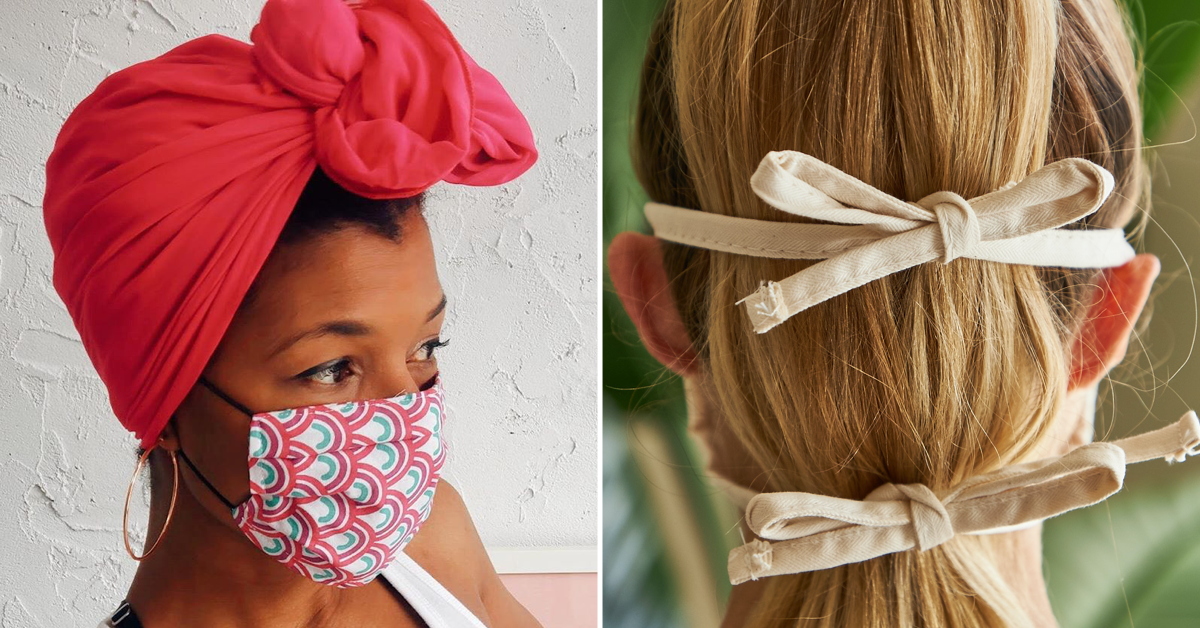 Against all odds, the face mask has become this summer's hottest — and most lifesaving — accessory. And now that masks are a part of daily life, it's important to own a selection of comfortable, sustainable cloth face masks that can be worn over and over.
Article continues below advertisement
For one thing, it's important to wash your cloth face masks regularly — in fact, John Hopkins Medicine recommends washing your face after every single use — so having at least two or three masks means you'll never risk not having a clean one available. Additionally, some people recommend keeping an extra mask in your car or backpack, for those times you forget to wear one or accidentally get yours dirty. Plus, since we're wearing face masks every day, it's totally fair if you want to have different options in rotation to coordinate with your outfits — especially if that incentivizes you to keep it on your face.
Not to mention, medical-grade masks such as surgical masks and N95 masks should be reserved for healthcare professionals who are caring for coronavirus patients. People hoarding PPE such as masks and gloves have contributed to PPE shortages in medical settings — so if you're only using your mask outside of medical settings, opt for a cloth mask.
Using a reusable cloth mask is much more sustainable than a disposable surgical mask — you can use the same fabric mask over and over again, while a surgical mask is designed to be single-use. Not only is using a reusable bath more eco-friendly, but it's also cheaper in the long run (assuming we have to keep wearing masks in the long run, which, unfortunately, we probably will). Plus, the CDC specifically recommends cloth face coverings, not medical-grade masks, for outings — so why not listen to the CDC and be more eco-friendly?
Check out these sustainable cloth face masks.
If you're looking to purchase another face mask and support a small business, check out our up-to-date list for slow fashion companies who are currently making cloth face masks out of upcycled, deadstock, or natural materials, as of August 2020.
Avocado Mattress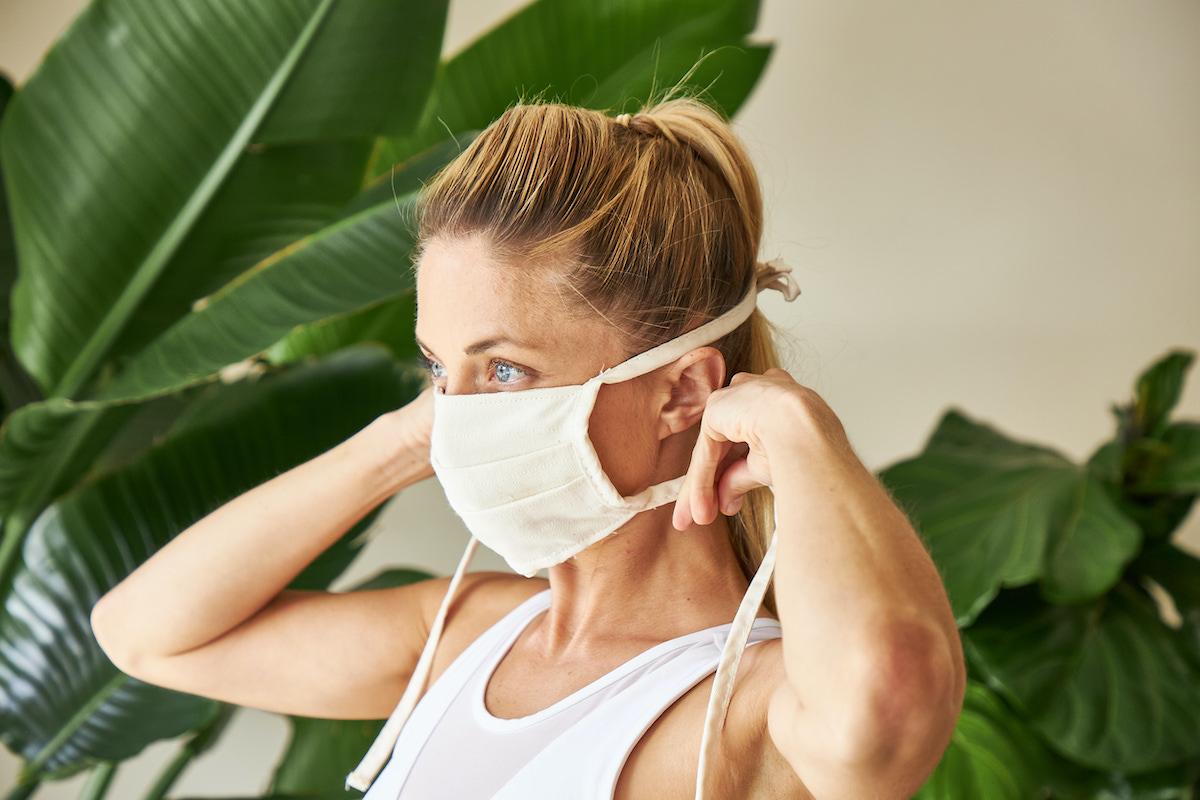 Avocado Mattress is best known for its sustainable mattresses, but the company is now also making two-layer face masks from 100 percent GOTS organic cotton with a filter pocket. The masks feature straps that you can tie behind your head, making them a good option for those who are not fans of ear loops — it also means the masks are completely plastic-free, since a lot of ear loops include some synthetic materials to make them stretchy.
The Avocado Mattress masks go for $30 for a four-pack of either adult masks or children's masks.
Tonlé
Tonlé is a zero-waste company that makes clothing, accessories, and home goods from reclaimed materials, with goals of being a closed loop business, challenging the wasteful fashion industry, and working toward climate justice.
Tonlé's s face masks are made with ties instead of elastics, as well as three layers of quilted cotton aka quilter's cotton, a tightly-woven cotton that some experts think is the best material for cloth masks.
The masks come in packs of five for $28, ten for $50, 50 for $225, and 100 for $250.
Article continues below advertisement
Taylor Jay
Taylor Jay is an eponymous Black-owned women's fashion brand that's all about celebrating every woman's body, size inclusivity, sustainability, and slow fashion. "We chose to make slow fashion because women empowerment can't happen without integrity and social responsibility," reads a statement on the website.
Taylor Jay's garments are made with ethically-sourced, eco-friendly fabrics in a fair labor factory in California. The brand's masks are made from repurposed, super-soft cotton, and they start at $21.
Article continues below advertisement
Dazey LA
Started by designer Danielle Roxanne Nagel, Dazey LA is a slow fashion company that makes hand-drawn, made-to-order, and zero-waste clothing in LA. The trendy-yet-sustainable brand sells two-layer organic face masks featuring a variety of hand-drawn prints.
You can buy one for $25, a two-pack for $40, and a four-pack for $60; Dazey LA also sells 100 percent cotton bandanas that can be used as face coverings. For every mask ordered, Dazey LA will donate a mask to LA's Downtown Women's Shelter, an organization that provides housing, healthcare, and more for women experiencing homelessness and formerly homeless women.
Article continues below advertisement
Kirrin Finch
Founded by Brooklyn-based couple Laura Moffat and Kelly Sanders Moffat, clothing company Kirrin Finch "meets the growing demand for gender-defying fashion by creating menswear-inspired apparel designed to fit a range of female and non-binary bodies." Inclusivity and sustainability are at the core of Kirrin Finch, and the designers use all-natural fabrics, organic fabrics, low-impact dyes, and the brand's clothing is made in ethical factories.
During the pandemic, Kirrin Finch started making masks out of two layers of high-quality woven shirt cotton. The face masks are handcrafted in NYC and feature ties rather than elastics. The masks retail for $20, and for each one sold, the LGBTQ-owned company donates $5 to Women In Need (WIN), an organization that runs 11 shelters and more than 300 housing units across NYC.
Article continues below advertisement
Whimsy & Row
Whimsy & Row is an eco-conscious lifestyle brand that makes its clothing in small batches in an ethical factory in California, using locally-sourced deadstock fabrics. The company's face masks come in a variety of shapes and patterns — some are made with 100 percent cotton, and others are made with two layers of cotton with a polypropylene filter in the middle. Some also include a wire nose crimp to help create a seal (and stop fogging up your glasses).
The masks range in price from $10 to $28, and come in both adult and child sizes.
Article continues below advertisement
JLOVEKNITS
JLOVEKNITS is a Latinx-owned, women-owned small business specializing in handmade, eco-friendly alternatives to single-use products, such as cup cozies, reusable cotton face pads, straw pouches, and reusable bags. Owner Jessica started making face masks during the pandemic, and the varying styles are made from two layers of 100 percent cotton, feature a nose wire, and some also have a filter pocket.
Many of her masks feature beautiful intersectional femimist designs, while others are inspired by pop culture, such as Gilmore Girls, Black Panther, and Beauty and the Beast. JLOVEKNITS' awesome masks range in price from $12 to $16.
Article continues below advertisement
Christy Dawn
Christy Dawn is a slow fashion company with a commitment "to practices that honor Mother Earth and all her people." The brand repurposes deadstock fabric and other fabrics grown with regenerative practices, and it also has a "farm-to-closet" initiative.
Christy Dawn's face masks come in a variety of cute colors and patterns and are made with deadstock fabrics. You can score a 3-pack of deadstock cotton masks for $30 or a 3-pack of deadstock linen masks for $38, with the three styles you get being a surprise until they arrive. The brand also sells single deadstock silk masks for $28 each. (Keep in mind that not only are these more expensive, but silk is not considered vegan, as it is made by worms; however, these are made with deadstock silk fabric, so they are not directly contributing to the silk industry).
Article continues below advertisement
Grant Blvd
Article continues below advertisement
PRSNA
LA-based PRSNA makes "face masks to fit your persona" from deadstock fabric in a variety of patterns and styles. The company, which appears to have been founded during the pandemic, has a detailed guide on choosing the mask that will be most comfortable for your face on its website. All masks have nose wires, some include filter pockets, and some are designed so they can hang around your neck when not in use. In addition to using deadstock and remnant fabrics, PRSNA makes everything in limited runs, and the team uses 100 percent recyclable and recycled packaging materials.
You can shop the masks, which cost $18-$19, on PRSNA's Etsy shop.
The best way to prevent contracting or spreading coronavirus is with thorough hand washing, social distancing, and wearing a cloth face covering. If you feel you may be experiencing symptoms of coronavirus, which include persistent cough (usually dry), fever, shortness of breath, and fatigue, please call your doctor before going to get tested. For comprehensive resources and updates, visit the CDC website. If you are experiencing anxiety about the virus, seek out mental health support from your provider or visit NAMI.org.