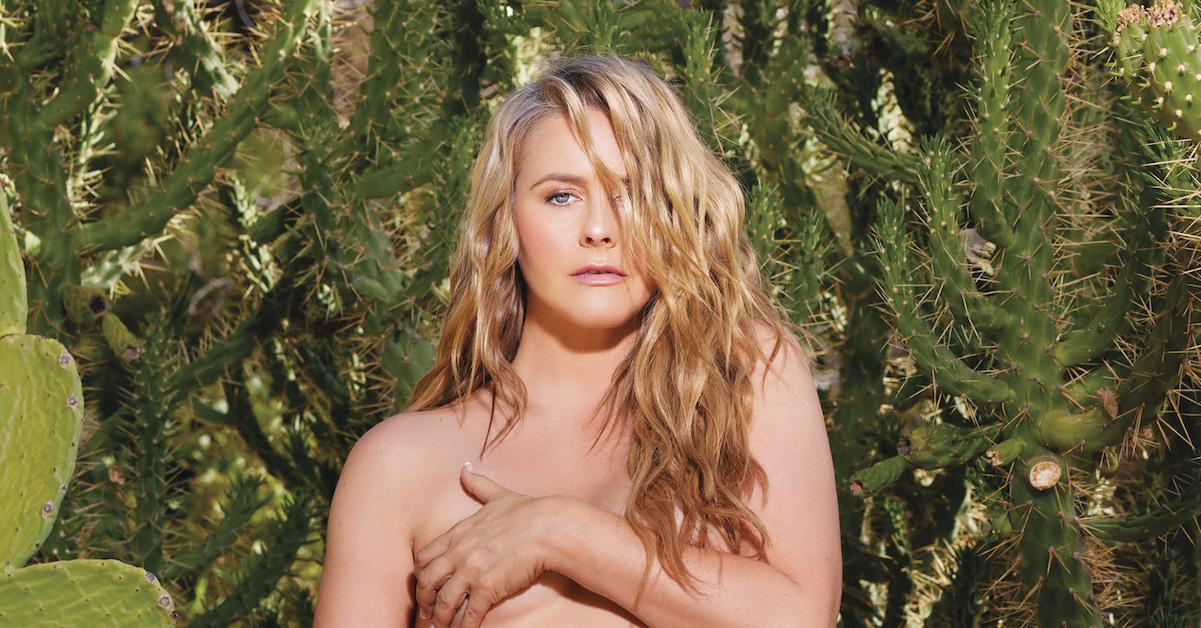 Alicia Silverstone Gets Nude to Promote Vegan Leather: "I'd Rather Go Naked Than Wear Animals"
If you have made the bold decision to walk through New York City's frighteningly-crowded Times Square during the holiday season this year, you may happen upon Alicia Silverstone's new PETA ad. For the PSA, the Clueless actress and longtime vegan got naked — for the first time in her career — to call attention to the environmental destruction in the leather industry, and to shine a light on some of the plastic-free, plant-based leather options out there.
Article continues below advertisement
"I'd rather go naked than wear animals," Silverstone says in the new campaign.
Keep reading for the details on this new ad, why Silverstone is so passionate about vegan leather, and some of the issues with the leather industry.
Alicia Silverstone went naked for her new PETA ad.
"I never, ever, get naked in TV, in film. Nothing. Never. Nope. But I've done it for PETA, 'cause that's how much it matters to me," Silverstone says in a video interview with PETA promoting the new campaign.
In her ad, Silverstone is seen posing nude, wearing nothing but a pair of brown vegan leather boots. She stands in a field of cacti, and the poster reads: "Don't Be a Prick. Wear Vegan. Buy cactus, mushroom, or apple leather instead!"
Article continues below advertisement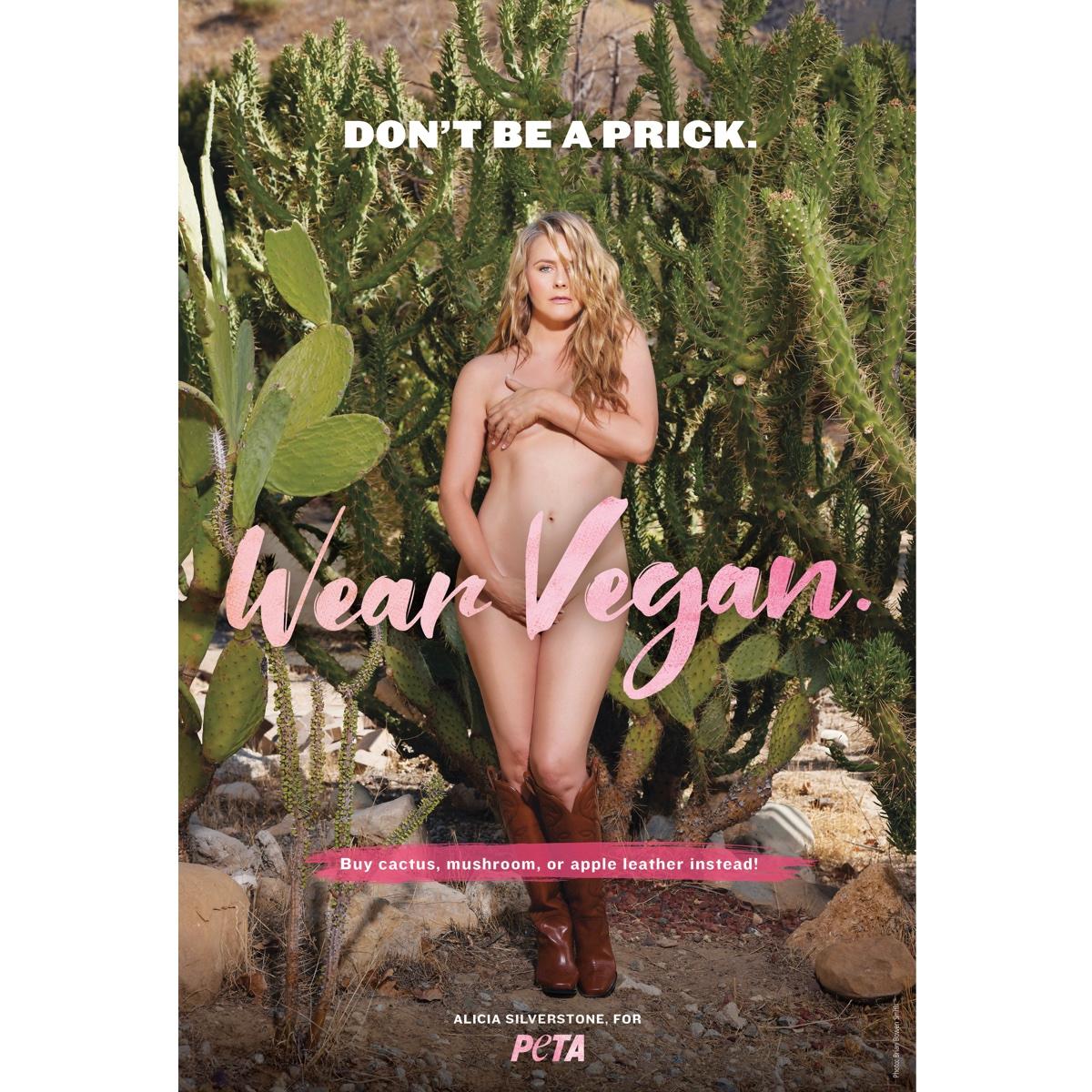 "There's this idea that leather is somehow better for the Earth, but what they don't realize is the amount of resources, water, food, oil for transport, the amount of energy that goes into making leather is extraordinary," Silverstone says in the video. "It's just not sustainable. The Earth can't handle it."
Article continues below advertisement
Because so many are unaware of the immense environmental damage and animal cruelty required to produce animal-based leather (more on that in a moment), people tend to criticize faux leather for being "unnatural," as it is usually made of plastic-derived materials. However, in recent years, many eco-friendly, plant-based leather materials have been developed, including pineapple leather, mushroom leather, apple leather, grape leather, and cactus leather, which is why Silverstone shot her PETA ad in a cactus field.
Article continues below advertisement
"I really like the merge of being conscious of no animal skins, but also being conscious of the Earth because we all have to live in it — the animals and us — so without it, we're screwed," Silverstone says in the video. She adds that she dreams of getting "these Earth-friendly, vegan materials into the hands of the greatest designers."
The billboard is hanging on the corner of 40th Street and Eighth Avenue in Manhattan, at the edge of the bustling NYC neighborhood known as Times Square — meaning it's sure to get a lot of eyes on it.
Article continues below advertisement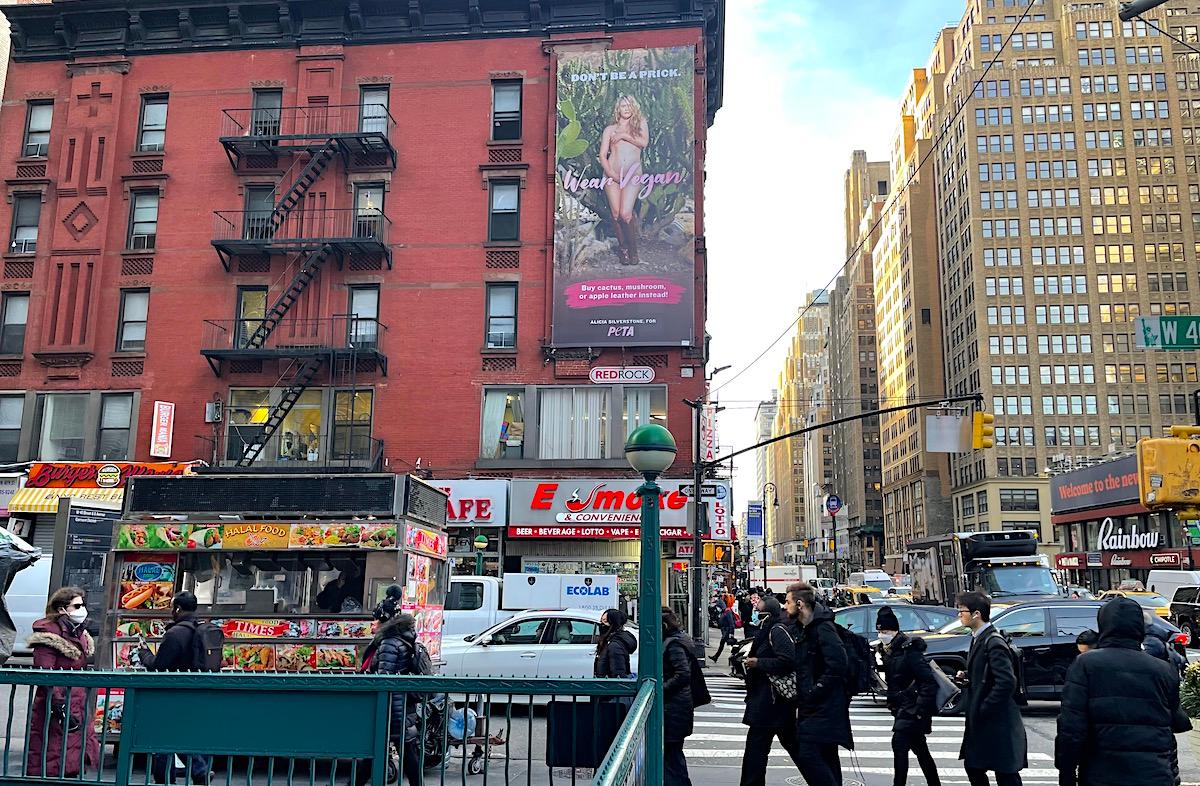 Leather facts: The leather industry causes serious environmental damage.
According to PETA, producing cow leather has an environmental impact that is almost 10 times larger than that of plant-based leathers. Additionally, it's estimated that clearing land to raise cattle (for leather as well as meat and dairy) has caused about 80 percent of deforestation in the Amazon rainforest.
Article continues below advertisement
A report published by the nonprofit Collective Fashion Justice in November 2022 found that 170 of chemicals that are used to tan leather can harm soil, cause air pollution, harm wildlife, and generate hazardous waste.
The report also found that a pair of cowskin leather boots can have a carbon cost nearly seven times greater than synthetic leather boots; but vegan leather boots made from bio-based materials (such as apple, cactus, or mushroom leather) have an even lower CO2e impact. On top of the pollution and deforestation associated with leather, the report found that producing one pair of leather boots uses 12,370 liters of water — which is the amount of water a person drinks over 17 years.
Article continues below advertisement
Not to mention, there's also the horrifying ways both animals and workers are treated in the leather industry, something that the 2022 documentary SLAY shines a bright light on.