Our Favorite Vegan Leather Jackets for a Cruelty-Free Fashion Moment
A leather jacket is a timeless fashion item that never goes out of style (depending on what style you choose, of course). If you are vegan, or otherwise avoid buying or wearing animal products, investing in a high-quality vegan leather jacket may be a worthwhile purchase.
So, we've rounded up a few brands making vegan leather jackets, many of which use plant-based materials, as well as eco-friendly and ethical manufacturing processes.
Article continues below advertisement
Will's Vegan Store
Vegan and eco-minded company Will's Vegan Store makes its animal-free leather and suede jackets from durable pebble grain, supple Italian vegan leather. The jackets each feature responsibly-sourced, nickel-free hardware, and viscose and cotton linings.
The jackets are made in small batches in Tuscany, Italy; certified carbon-neutral; can be shipped internationally; and are wrapped in only paper packaging. Plus, the brand makes several different styles of leather jackets for men and women, all of which can be recycled through Will's Vegan Store's return to recycle service once the product reaches its end of life. Prices begin at $180.
Article continues below advertisement
Noize
Vegan fashion company Noize specializes in coats, and the brand's large collection of vegan leather jackets are "consciously crafted," cruelty-free, water-resistant, and "as soft and buttery as the real thing." Noize's vegan leather jackets come in a number of styles, including cropped, studded, quilted, and trench; there are also options in neutral colors as well as pink, green, and silver, as well as blue and red snakeskin. As of publication, several of the styles are on sale, with prices starting at $72.50.
Article continues below advertisement
Angels Ambition
Angels Ambition makes one vegan leather jacket, in a classic black style. That said, you may notice this jacket appears more pebbled rather than buttery smooth — that's because it's is made from Piñatex, an eco-friendly vegan leather made of pineapple leaves. The coat also features a cotton lining, and is "fairly made" in Germany — something reflected in its price, which is €649.00 (about $705 USD).
Article continues below advertisement
Unreal Fur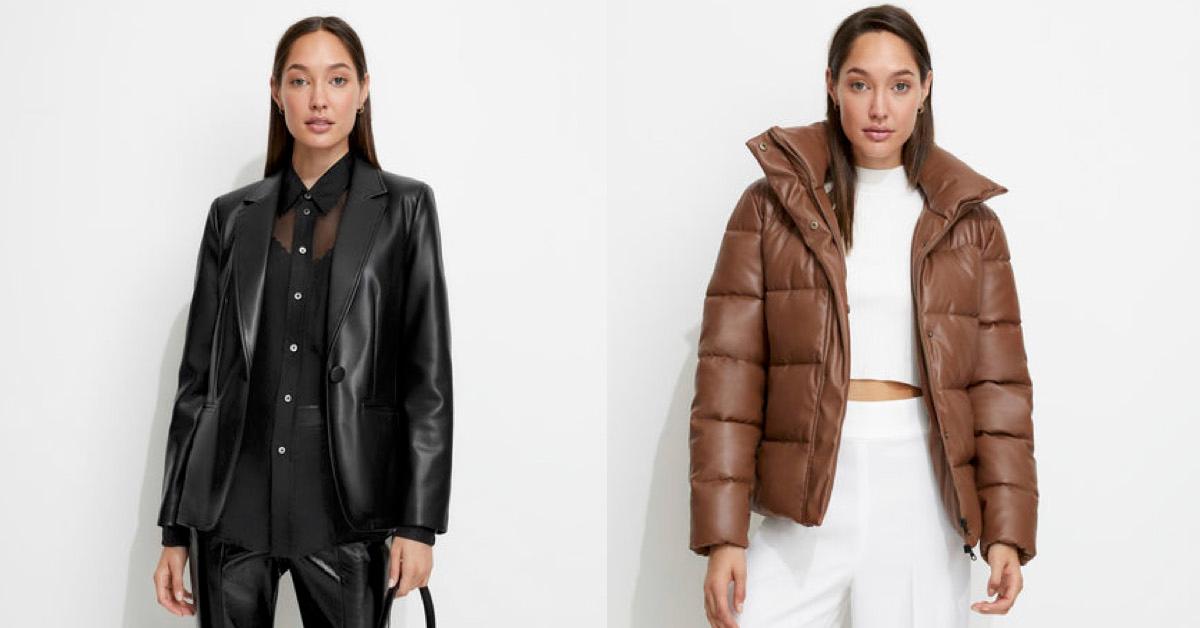 Melbourne, Australia-based company Unreal Fur specializes in faux fur and other cruelty-free outerwear, with several options for leather jackets. There's a black vegan leather blazer, a black raincoat-inspired jacket, and a puffer, which comes in several neutral colors as well as a pink python print. A few variations are on sale as of publication, with prices starting at $99.
Article continues below advertisement
Unreal Fur claims that its products are made ethically (the brand conducts third party supplier audits of its factories), plants a tree for every purchase, and describes itself as "a leader in the global ethical fashion movement." Plus, PETA has independently verified Unreal Fur as a PETA Business Friend.
Article continues below advertisement
Matt & Nat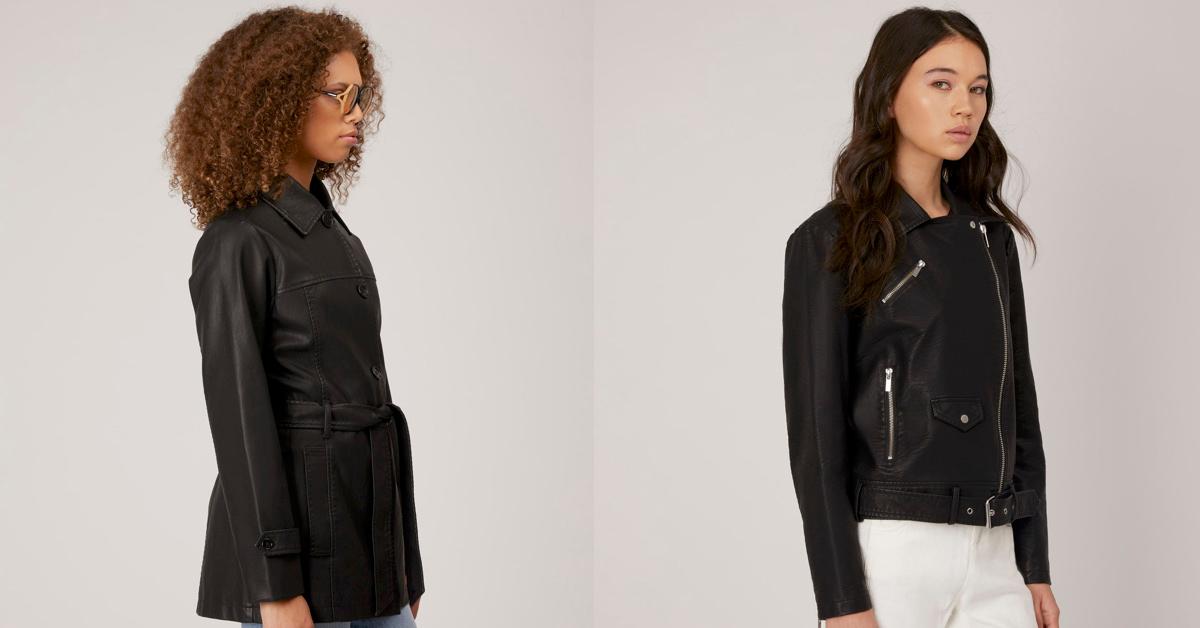 Vegan leather goods company Matt & Nat makes a wide variety of animal-free leather jackets for women, including a waterproof raincoat, a trench coat, a moto jacket, a puffer, and a utility jacket. Most styles come in black, with a few varieties in other natural colors like green and tan, too. Matt & Nat uses materials including recycled polyester and cotton in its jackets, and prices start at $145.
Article continues below advertisement
Invest in a secondhand leather jacket.
When it comes to fashion, shopping secondhand is always a strong low-impact option — and if you find a vegan leather coat in a thrift store or on a secondhand website, that's a huge score. That said, some vegans even choose to purchase animal-based leather jackets from secondhand shops, since making such a purchase does not directly support the leather industry, and it diverts the piece from the waste stream.
Article continues below advertisement
Just keep in mind that leather is not a sustainable material, even though some bill it as "natural." Not only is the manufacturing process unsustainable, polluting, and cruel, but leather is not actually biodegradable due to the intense chemical treatments applied to the skin.
Article continues below advertisement
Green Matters' new book, Green Living, is the perfect guide to living an eco-friendly lifestyle for people at every stage of the process. You can order Green Living here.