The Nutr Machine's Founder, Alicia Long, Wants to "Revolutionize the Milk Industry" (Exclusive)
The Nutr Machine, which was on 'Shark Tank' in early 2023, is all about reducing waste and providing customers with healthy non-dairy milk.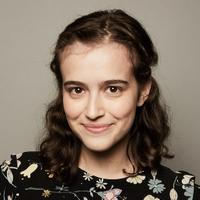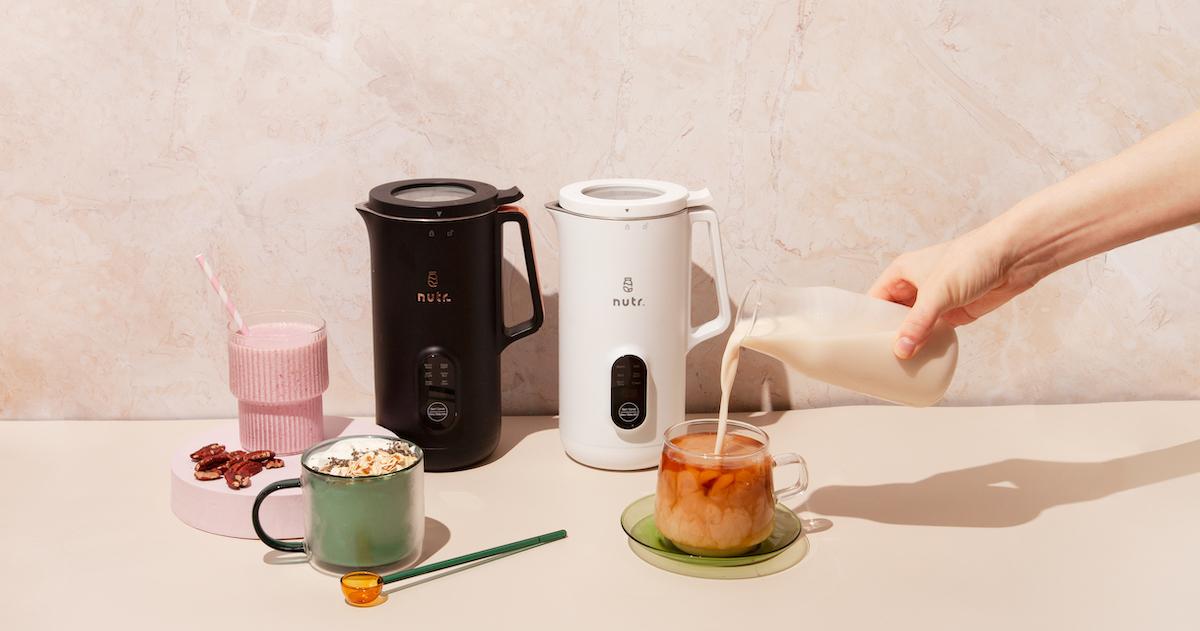 Drinking non-dairy over cow's milk has endless benefits — but that doesn't mean that the non-dairy milk industry is perfect. Most milks (whether dairy or dairy-free) are packaged in single-use plastic bottles or cartons, they often contain more preservatives and fillers than necessary, and they are known for containing way more water than the base ingredient, whether that's cashews, soybeans, oats, or anything in between.
Article continues below advertisement
For all of these reasons, entrepreneur and mother Alicia Long was inspired to find a solution that would allow her to easily make nutritious, zero-waste, and dairy-free milk at home, leading her to invent the Nutr Machine.
To learn more about the Nutr Machine and its benefits, how this invention came to be, and the Nutr team's recent appearance on Shark Tank, we recently caught up with Long via email.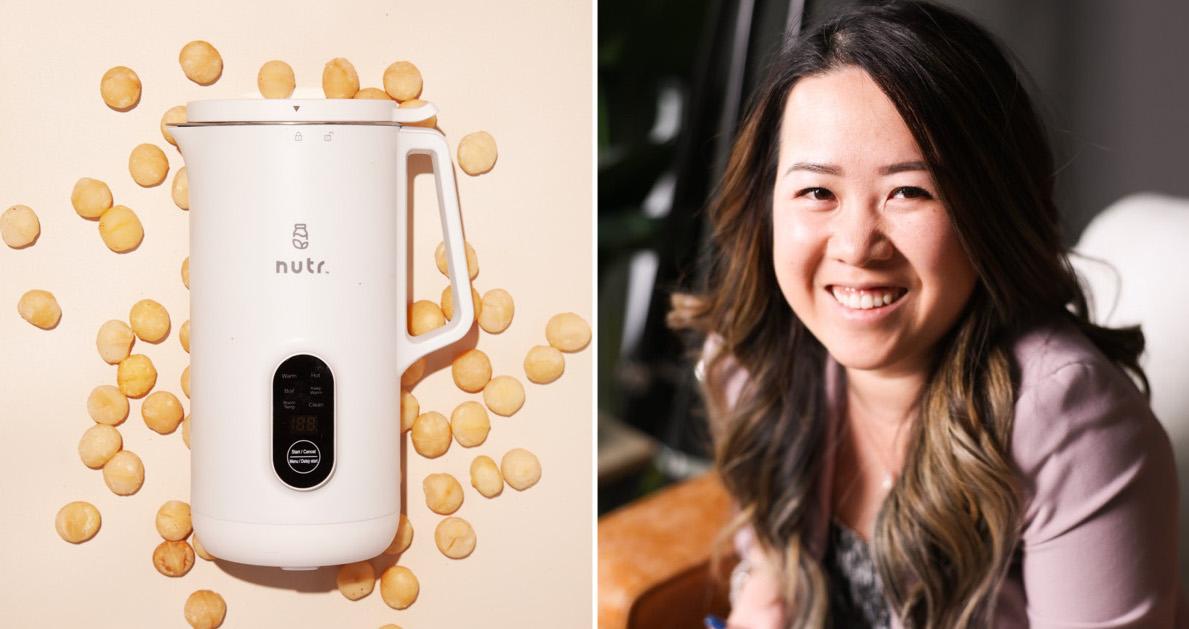 Article continues below advertisement
Becoming parents inspired Alicia Long and Dane Turk to invent the Nutr Machine.
"As partners and expectant parents, my husband and I felt a strong sense of responsibility towards the world our child would grow up in," Long tells Green Matters. "We were determined to find a way to be more active participants in a sustainable solution, and that's when we started looking at our daily consumer choices and larger lifestyle decisions," she adds.
Long grew up in China, and has childhood memories of her mother making nut milk from scratch at home. As she became more aware of the packaging waste and filler ingredients typically used to make non-dairy milks, she wanted to turn back to those traditional methods, which typically involve boiling nuts, blending them, and straining them.
"However, it was a time-intensive and messy process, and as a working mom, I knew I wouldn't be able to commit to making it every week," she tells us.
Article continues below advertisement
"So, I wanted to create a better alternative for our soon-to-be-born son and for others who care about their health, the environment, and want to simplify the process of making plant-based milks at home with whole ingredients and without any harmful additives," she recalls. "This led me to think about creating a product that could simplify the process and make it accessible to everyone."
From there, the Nutr Machine was born.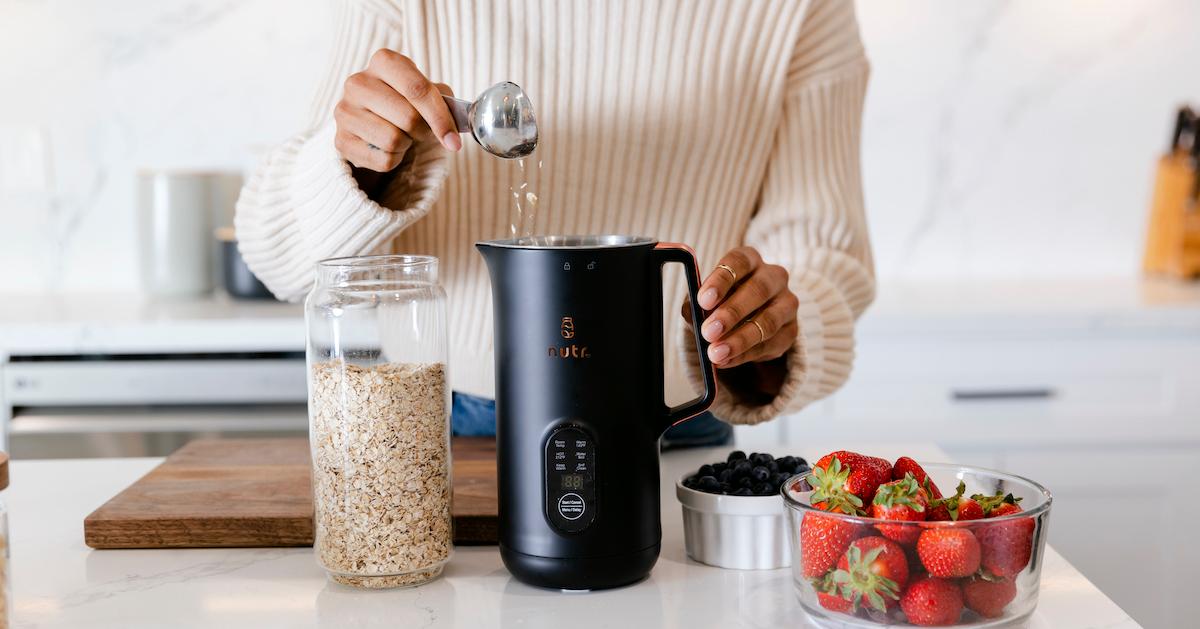 Article continues below advertisement
How does the Nutr Machine work?
To use the Nutr Machine, all you need to do is add a scoop of your preferred nuts, seeds, or grains — just eyeball it. Or, you could use one of the Nutr Blends that the brand sells.
Then, pour in water somewhere between the min and max lines, based on how creamy you want your milk. Then, select what temperature you'd like, and press blend. After a few minutes, just pour the milk through the provided strainer to remove the pulp, and set aside the pulp for another recipe or the compost bin.
Long founded Nutr along with her husband, Dane Turk, and the couple now runs the company full-time. "Sure, our garage has turned into a Nutr storage unit, but who needs a car when you have the future of homemade plant-based milks right at your fingertips?" Long jokes.
And while the name Nutr may make some chuckle, Long and Turk stand by it. "We went with Nutr because it's simple and easy to remember, she says, adding that it's meant to playfully combine the words "nutritious" and "nut."
Article continues below advertisement
Making your own milk with Nutr has a number of advantages, according to Long.
Though making your own non-dairy milk at home may feel like a lot of effort, Long asserts that it's significantly easier to do with the Nutr Machine than it is with a blender and nut milk bag. The machine has features such as heat and blend settings, a water boil setting, delay start, and self-clean functions.
It's also compact and designed as a single-serve machine, which reduces food waste for those of us who tend to forget about old milk in the fridge. The single-serve functionality also allows users to frequently vary what flavor of milk they make, as you can use virtually any nut, seed, or grain as your base. Additionally, Long explains that investing in the Nutr Machine ($169) will, over time, allow you to save money, since each serving will likely cost less than buying milk in a carton.
Article continues below advertisement
Did the Nutr Machine make a deal on 'Shark Tank'?
Long and Turk pitched the Nutr Machine on Shark Tank Season 14, Episode 12, which aired in January 2023. In the tank, they asked the sharks for a $500,000 investment in exchange for 5 percent of the company — valuing it at $10 million.
Unfortunately, none of the sharks made an offer to invest in the brand — though guest shark Daniel Lubetzky, founder of KIND bars, came close.
Article continues below advertisement
"While we would have loved to secure a deal on Shark Tank, we are incredibly grateful for the opportunity to showcase our product to such a large audience," Long tells us. "Appearing on the show allowed us to share our mission and vision with millions of viewers and further establish ourselves as a leader in the plant-based milk industry."
She added that her team have been using some of the sharks' critiques to improve both their product and business strategy. Additionally, Nutr has secured some "significant funding and partnerships" since the episode aired, according to Long. Not to mention, Nutr raised more than six times its fundraising goal on Indiegogo, raking in more than $66,000 after launching the campaign in September 2022.
Article continues below advertisement
Nutr wants to do more than just sell its machines — the company wants to become a wellness resource.
And using these investments, Nutr plans to "expand into other areas of the wellness industry," as well as "become a resource for wellness and health."
Article continues below advertisement
"Our goal at Nutr is to revolutionize the milk industry by making plant-based milks at home the new norm. We envision a world where milk is produced without sacrificing the environment or engaging in animal cruelty practices," Long says. "By empowering consumers to make their own milk at home with Nutr, we are contributing to a shift towards more conscious choices."
Long also hopes that Nutr's success — as a women-owned and Asian-owned business — will inspire others in the sustainable business world.
"Remember that building a successful business in the plant-based food space is not only rewarding for you, but also contributes to a more sustainable and healthy future for everyone," she advises other entrepreneurs. "So keep going, stay strong, and never give up on your dreams!"