Stella McCartney Unveils New Luxury Skincare Line, and I Got to Try It — Here Are My Thoughts
Stella by Stella McCartney, a skincare line that was inspired by nature, launches today — here's my review.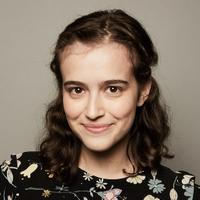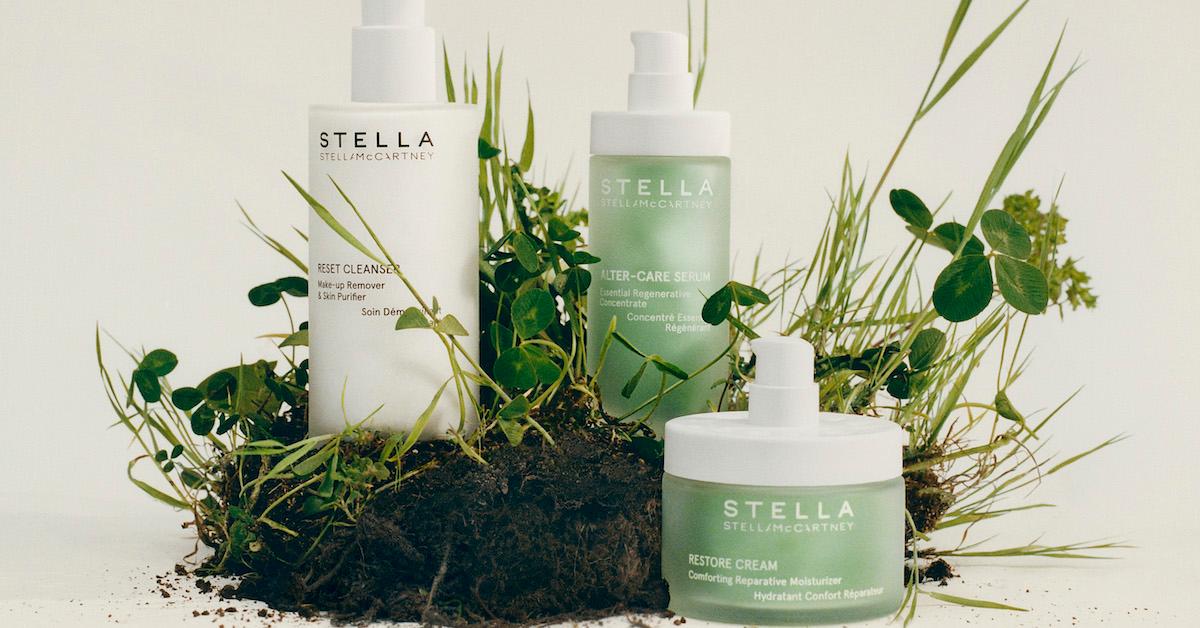 For the past two decades, Stella McCartney has led the way in sustainable luxury fashion with her fur-free and leather-free fashion house — and now the designer wants to do the same for sustainable luxury skincare. The company just launched Stella by Stella McCartney, a skincare line that was inspired by nature.
"Growing up in Scotland, I learnt to smell nature, hear her, learn from her, and most importantly respect her. I believe she has it all and if we see that, we can feed our body and our soul inside and out," founder Stella McCartney said in a statement shared with Green Matters.
Article continues below advertisement
McCartney described the line as a "mindful alternative in beauty," made up of "desirable products that truly work and reflect [her] values and commitment to living in harmony with nature."
Ahead of the line's Aug. 29 unveiling, I got to spend a few weeks trying the new three-step skincare system. Keep reading to learn more about the new line, McCartney's inspiration, and for my thoughts on all three products — and their prices.
Stella by Stella McCartney skincare has launched, with a goal of making luxury skincare sustainable.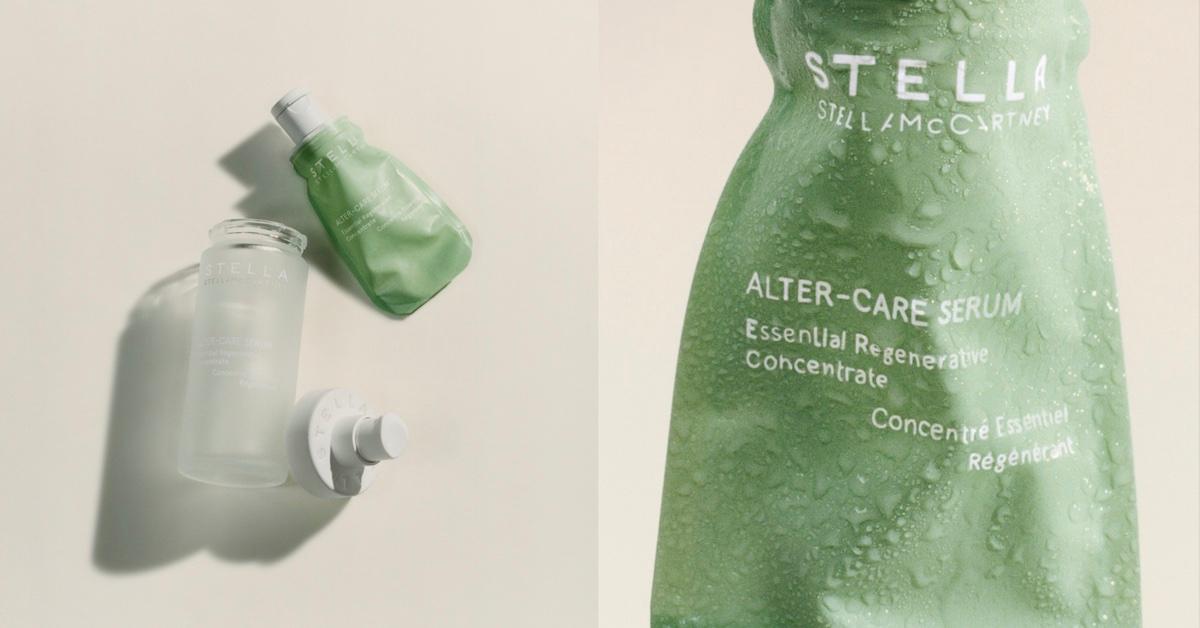 Stella is actually McCartney's second journey into skincare, following her 2006 line Care, launched with YSL Beauté, which is now defunct. The newly-unveiled Stella by Stella McCartney is a totally new project, and one with a guiding principle of "Skin Sustainability," defined as a "promise of skin vitality, now and tomorrow."
The company developed its new formulas by looking at skin as "an ecosystem, just like nature," working towards regeneration, protection, and achieving "long-term vitality and beauty over short-term results."
Article continues below advertisement
Stella by Stella McCartney consists of three multipurpose products that are designed to be one's entire skincare routine (with the exception of sunscreen): a luxury cleanser, a serum, and a moisturizing cream.
All three products come packaged in reusable recycled glass bottles, along with an airless pump (sourced from Plastic Bank), which pumps from the top of the bottle to make sure every drop is used.
Two of the three products — the serum and cream — can be replaced with refills, which are packaged in plastic pouches made from "certified renewable sources," and can be placed right inside the glass bottles, or even used without the bottles.
Is Stella McCartney's skincare line cruelty-free and vegan?
Stella is certified cruelty-free by Cruelty Free International's Leaping Bunny Program, and certified vegan by the Vegan Society. The company also banned nearly 2,000 ingredients from its products, going beyond EU regulations.
Stella was created in partnership with the LVMH Beauty Division, which is not cruelty-free. However, McCartney herself joined LVMH in 2020 as a "personal sustainability adviser" to LVMH's owner, in an effort to make the company more sustainable from within.
Article continues below advertisement
"When it comes to sustainability there is no 'one' magic solution," Stéphane Delva, Director of New Beauty Projects at LVMH Beauty & Cosmetics, tells Green Matters in an email. "It is really about weighing your options at each step of the process to make the best decision to minimize our impact. This led us to rethink everything" when it came to developing Stella, she added.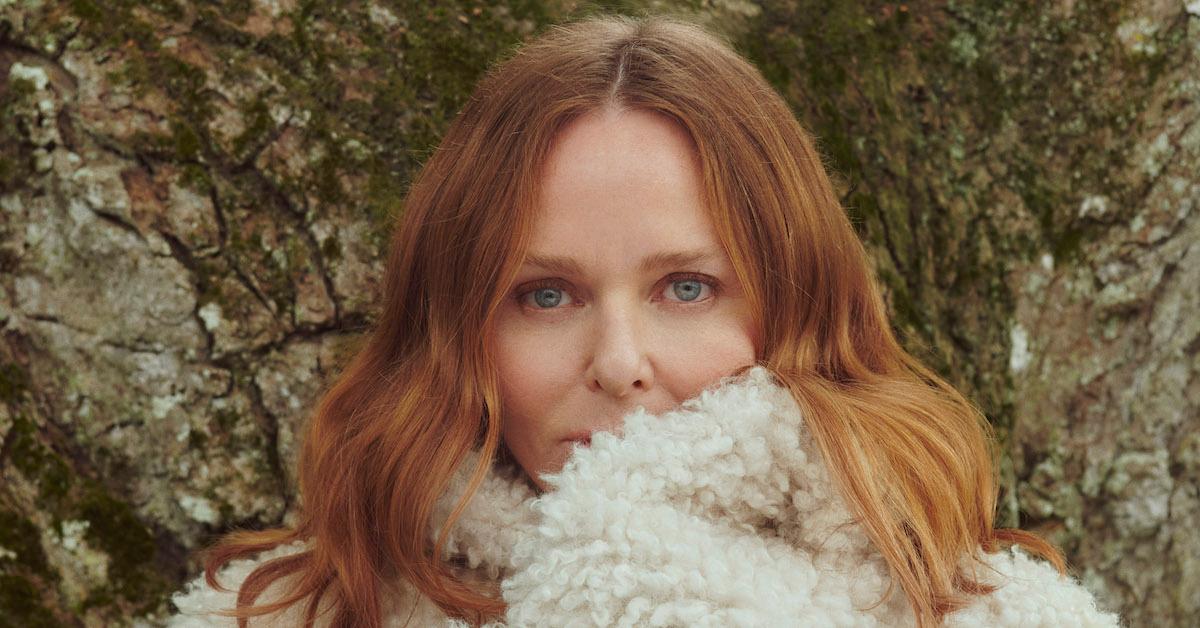 Article continues below advertisement
Is Stella by Stella McCartney skincare fragrance-free?
Stella is not fragrance-free. The scent used in the products is composed of 89.6 percent natural-origin ingredients.
To create the subtle "High Cliff" scent that is used in the product line, which McCartney describes as "Scotland in a bottle," she worked with famous perfumer Francis Kurkdjian.
Typically, I don't like to use anything scented on my face, especially if synthetic fragrance is involved. That said, the scent on each Stella product is subtle and refreshing, evoking a rainy afternoon more than the floral notes I usually associate with "fragrance" (though the actual notes are clove leaf, pine resin, and mentholated eucalyptus), so I wasn't too bothered.
Article continues below advertisement
My review of Stella by Stella McCartney skincare:
I have combination skin, with some areas prone to breakouts, and others prone to dryness. For the past few years, I've been on a real skincare journey, usually strictly following the fairly natural skincare routine my facialist helped me design — but I decided to move my regular products aside this month to try Stella by Stella McCartney.
Here are my thoughts on the line.
Reset Cleanser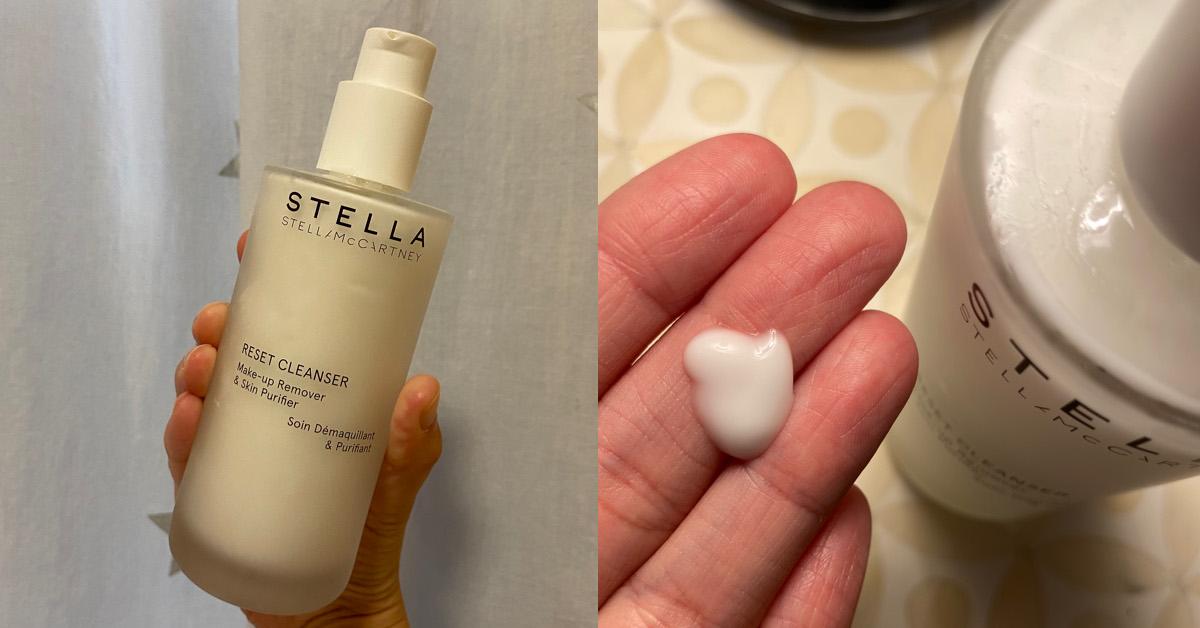 The cleanser is a two-in-one makeup remover and face wash. The formula is creamy, not clear, and it glides on smoothly and gently. I usually use a foaming facial cleanser, so this was definitely a different experience, and definitely feels more hydrating and less drying than my usual cleanser.
I appreciate that the cleanser is designed to help remove makeup, since I usually don't use a makeup remover, and my face always feels clean and fresh after washing with the Reset Cleanser.
Article continues below advertisement
Alter-Care Serum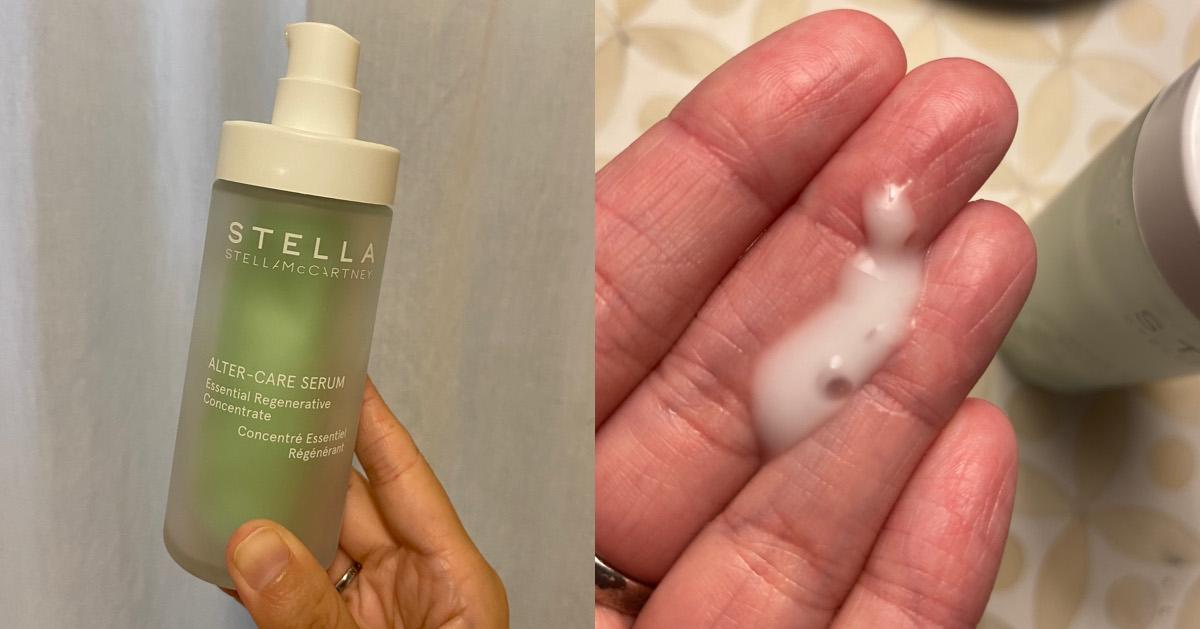 Before trying out the Stella products, I admittedly have never regularly used a serum on my face, so I don't have much to compare this to. That said, I appreciate that the Alter-Care Serum is another two-in-one product, as it can be used over the entire face including the under eye and eye contour area, replacing eye cream.
Adding this step to my skincare routine didn't seem like too much effort, since it essentially replaces my eye cream, while adding another layer of moisture and protection from the elements to my entire face. I like how it feels going on my skin, but considering that this is the priciest item in the bunch, I'd be curious to try a more affordable serum and see how my skin reacts.
Restore Cream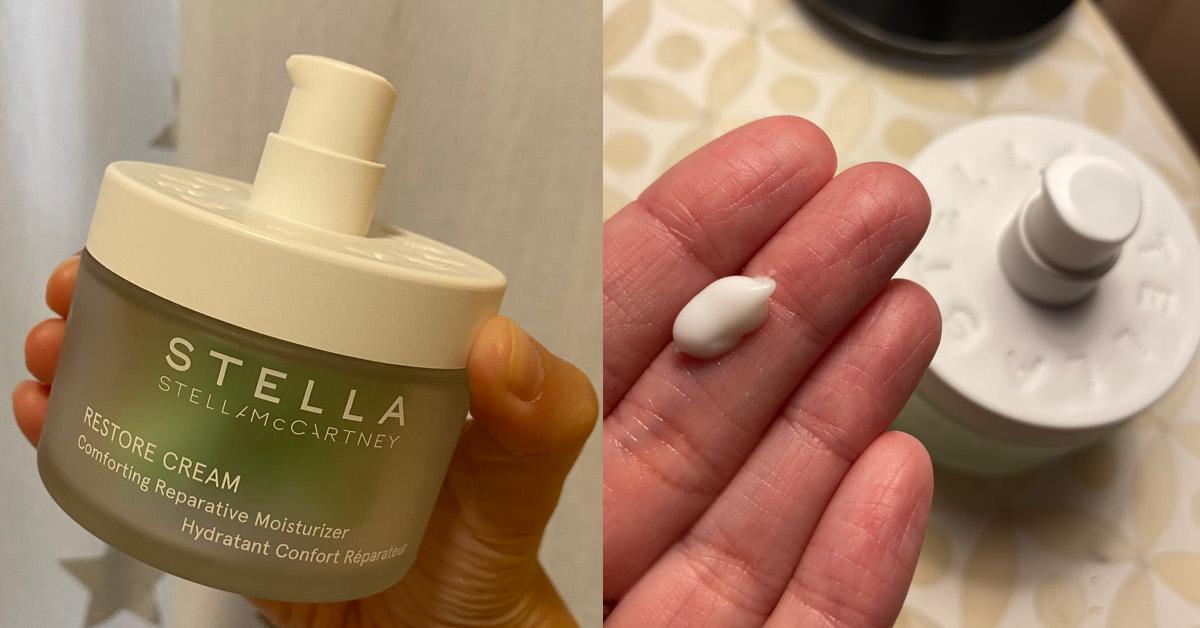 The moisturizing cream was designed to feel "lightweight but luxurious," and I was pleasantly surprised to find that it really does. It rubs in easily (unlike the moisturizer I usually use, which takes a lot more effort to fully rub in), but still manages to keep the drier parts of my skin hydrated for most of the day, without making my skin feel at all oily.
The entire Stella line was formulated to work for all skin types, and that is definitely most evident in the Restore Cream, as it seems to agree with my combination skin.
Article continues below advertisement
My overall thoughts on Stella McCartney's skincare:
Overall, I really like using the Stella skincare products — they feel nice to apply, and they haven't had any negative effects on my skin. That said, it's too soon to tell if they are having any markedly positive effects on me — and considering the line was developed to foster "long-term vitality and beauty over short-term results," that is to be expected.
The outer glass packaging looks beautiful by my sink, I appreciate that more affordable refills are available. That said, the refills are difficult to recycle, as they're made from flexible plastic, and I'd love to see Stella start a program where customers can mail in empty pouches for recycling.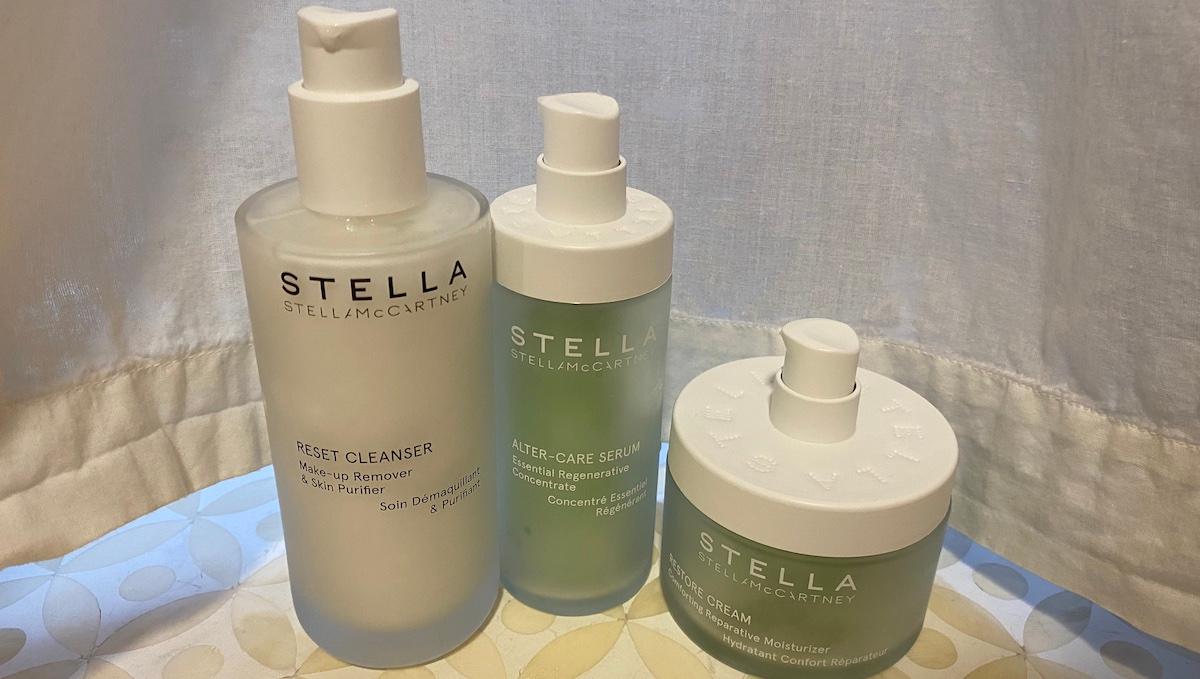 Article continues below advertisement
Personally, the only two things that might prevent me from continuing to use Stella every day are the inclusion of synthetic fragrance (though it's in such a small concentration), and the prices, which rival those of SKKN by Kim Kardashian.
The Reset Cleanser (150 milliliters) is $60; the Alter-Care Serum (50 milliliters) is $140, and a refill is $110; and the Restore Cream (50 milliliters) is $105, and a refill is $85. If you want to try things out, you can order the Discovery Set, featuring mini samples of each product, for $50. The company will donate 1 percent of net sales to the conservation nonprofit Wetlands International.
As Delva tells Green Matters, throughout Stella's three-year development journey, the goal has always been to "create a responsible alternative to luxury skincare that cares for ourselves and Mother Earth equally," and I have to say, the company definitely achieved that. If you are looking to invest in prestige skincare products that are cruelty-free, vegan, and fairly eco-friendly compared to the other luxury skincare lines out there, Stella is worth trying.
The entire collection will become available for purchase beginning Sept. 7 via www.stellamccartneybeauty.com.