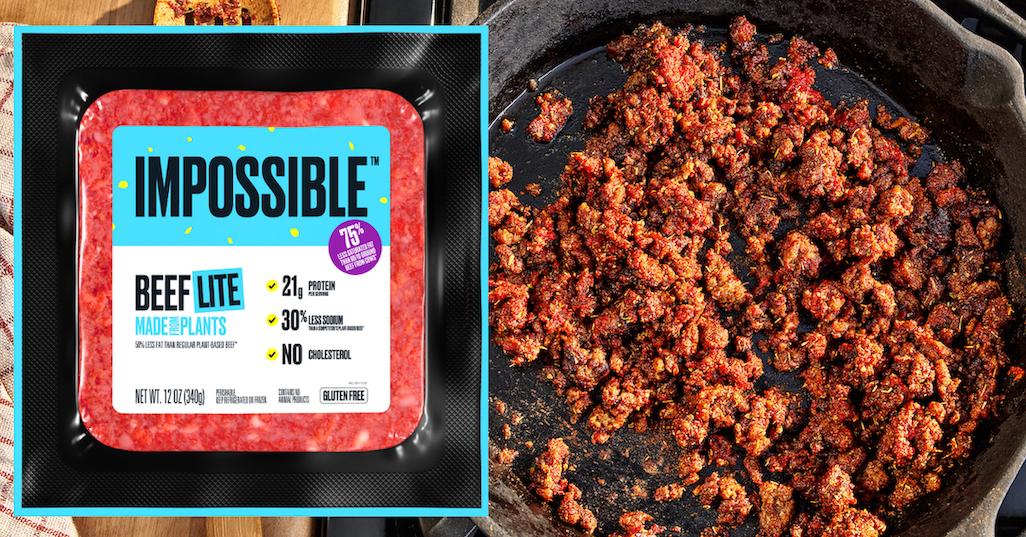 Impossible Foods Launches a "Lean" Ground Beef, With More Protein and Less Fat
Impossible Foods' newest product is Impossible Beef Lite, a vegan ground meat.
Many meat-eaters have a fixation on "lean" meat, which is meat with a lower fat content. But no matter how lean animal meat is, it's still causing the same amount of harm to the planet and to animals.
So, Impossible Foods is hoping to appeal to those consumers with its newest product: Impossible Beef Lite.
Article continues below advertisement
The product is essentially a vegan version of lean ground beef — without the cholesterol, carcinogens, animal suffering, or environmental degradation associated with farming cows.
Keep reading to learn all about this product, and a few other vegan ground beef options — both on the market and recipes you can make at home.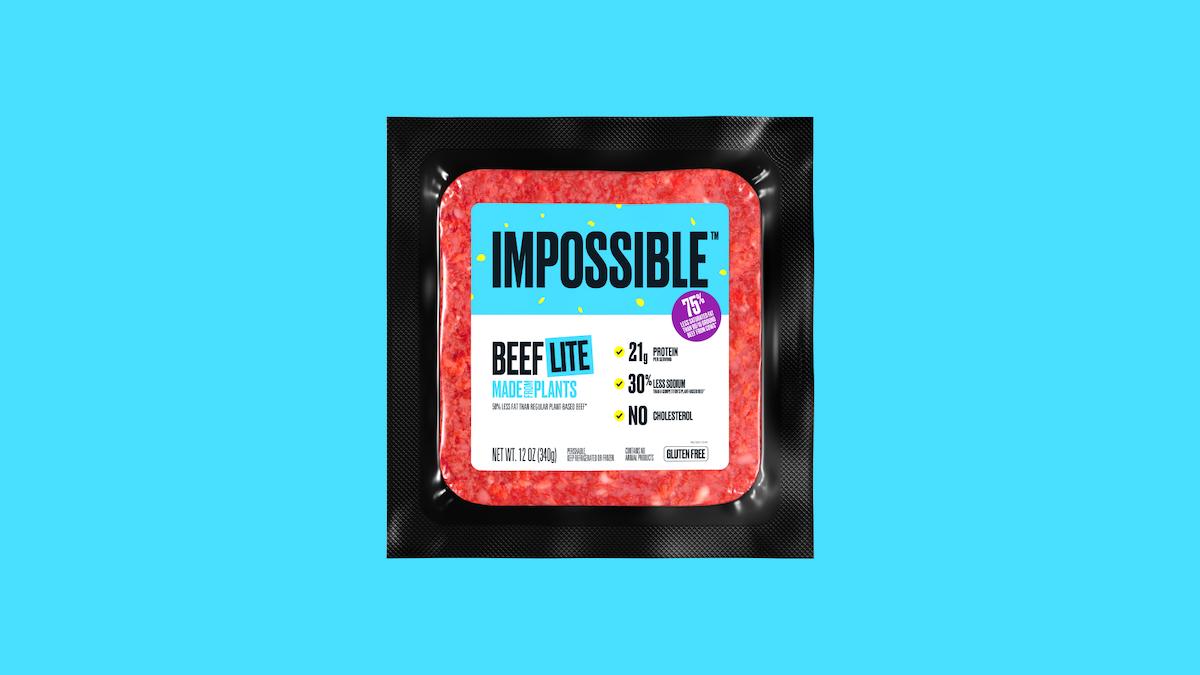 Article continues below advertisement
Impossible Beef Lite is Impossible Foods' new, lean, vegan ground beef.
On March 8, 2023, Impossible Foods unveiled Impossible Beef Lite, which the plant-based food company "designed to be better than lean ground animal beef."
The product can be cooked and used just as you would use ground beef (or regular Impossible Beef), and the brand claims that it both tastes and satisfies just like lean ground beef made from animals.
Impossible Beef Lite nutrition:
One serving of Impossible Beef Lite contains 21 grams of protein — which is more than traditional Impossible Beef, which contains 18.9 grams of protein per serving. It also contains 6 grams of fat per serving, which is less than half of the 12.8 grams of fat found in one serving of Impossible Beef.
Article continues below advertisement
And compared to cow-based, 90/10 lean beef, Impossible Beef Lite contains 75 percent less saturated fat and 45 percent less total fat, as well as zero cholesterol or hormones, unlike beef.
Impossible Beef Lite also contains various other nutrients, including fiber (of which you'll find none in animal meat), iron, B vitamins, zinc, and potassium.
"We're constantly working to compete with beef in all of the ways that matter to consumers, including nutrition," Peter McGuinness, president and CEO of Impossible Foods, said in a statement shared with Green Matters.
Article continues below advertisement
"A lot of health-conscious fans and shoppers are looking for a plant-based beef option that's high in protein and nutrients with even less fat, and Impossible Beef Lite is our solution to that," McGuinness continued. "It's a perfect plant-based way to customize all of the great recipes that call for lean animal ground beef."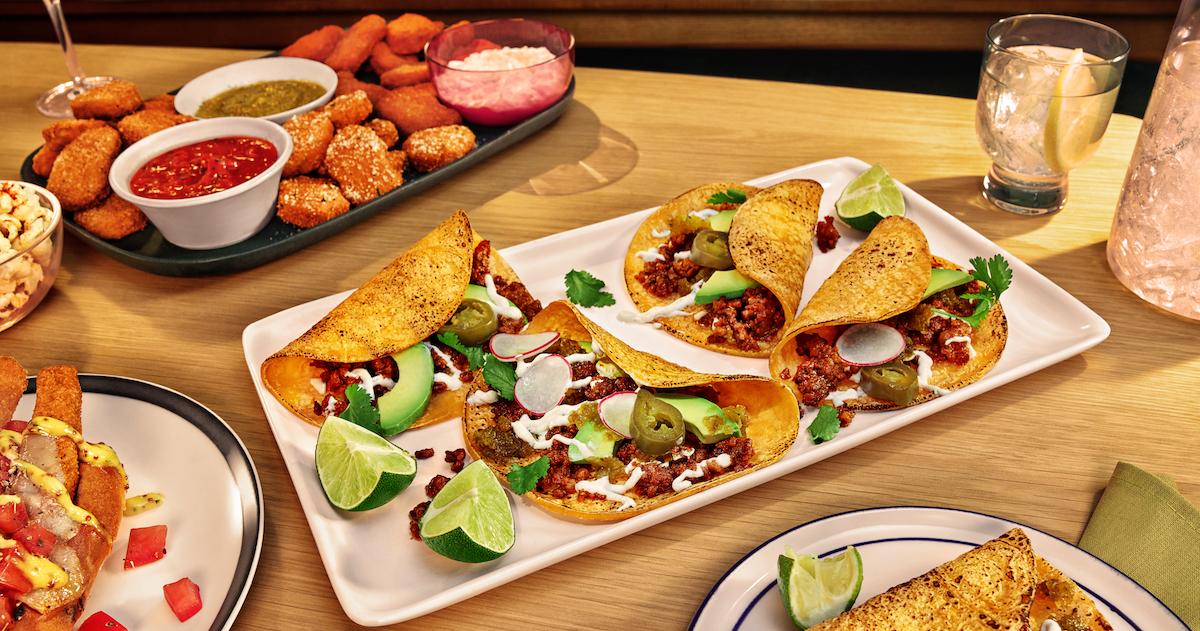 Article continues below advertisement
Ever since "tech" burgers by brands like Impossible Foods and Beyond Meat have hit the market, many skeptics have complained that these products are too processed and unhealthy. However, being healthy was not the point of these products — the point was to create a plant-based alternative that would cause less harm. And now that major brands have achieved that goal, we love that they are starting to experiment with ways to make even more nutritious versions of their flagship products.
So basically, this version of Impossible Beef is not only healthier than animal-based beef, but it is also healthier than regular Impossible Beef.
Article continues below advertisement
Where to buy Impossible Beef Lite:
Impossible Foods Intells Green Matters that Impossible Beef Lite has low-key already begun rolling out in select supermarkets — where you'll find the product in the meat aisle, alongside animal-based meat.
Article continues below advertisement
And this isn't the first new item Impossible Foods has introduced this year. In February, the company introduced three plant-based chicken products: Impossible Spicy Chicken Nuggets, Impossible Spicy Chicken Patties, and Impossible Chicken Tenders.
Article continues below advertisement
There are a few other vegan ground beefs out there:
In 2021, Beyond Meat — Impossible Foods' No. 1 competitor — released a lower fat version of its traditional Beyond Burger. The patty featured 55 percent less saturated fat than 80/20 beef. However, as of publication in March 2023, the product no longer appears on Beyond Meat's website.