Plant-Based Protein, Tempeh, Has a Myriad of Health Benefits
Is tempeh good for you? The plant-based staple is widely popular among vegans, vegetarians, and flexitarians alike — but what are the health benefits?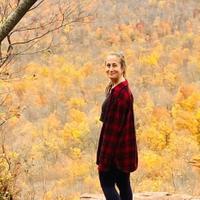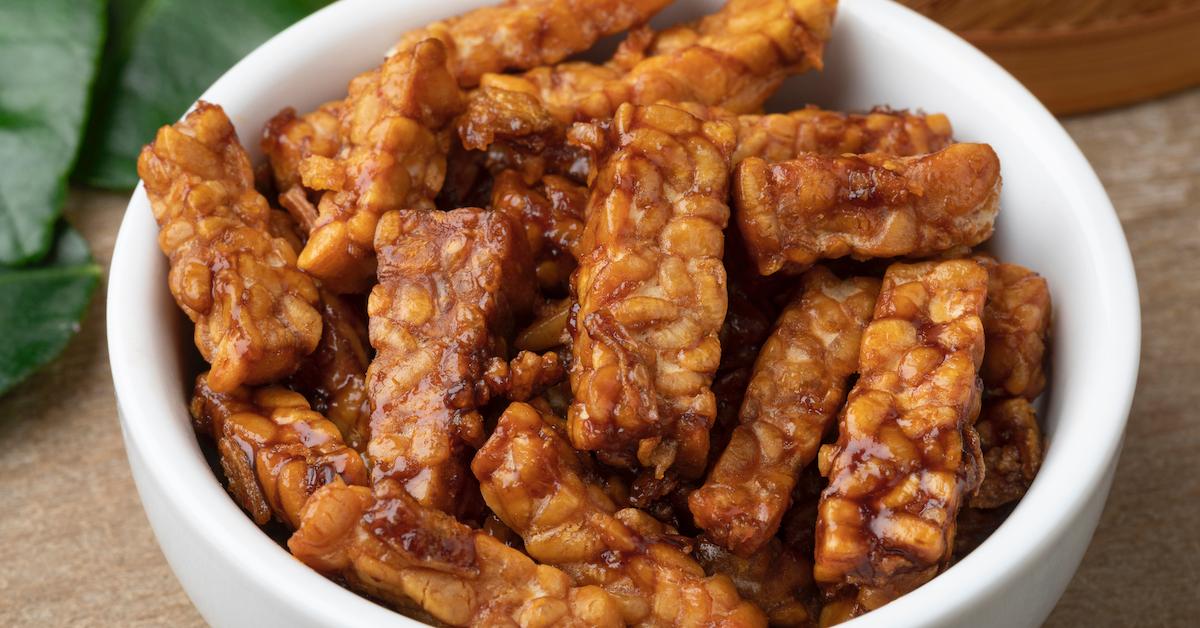 Whether you've simply dabbled in a plant-based diet, or if you're a long-time vegan or vegetarian, you're most likely at least somewhat familiar with the animal-free staple known as tempeh. Known for its slightly nutty, earthy taste, it's considered to be a tried and true source of plant-based protein that so many people swear by.
But if you're just getting started in the world of meatless cooking, you might be wondering: is tempeh healthy? And how do you prepare tempeh?
Article continues below advertisement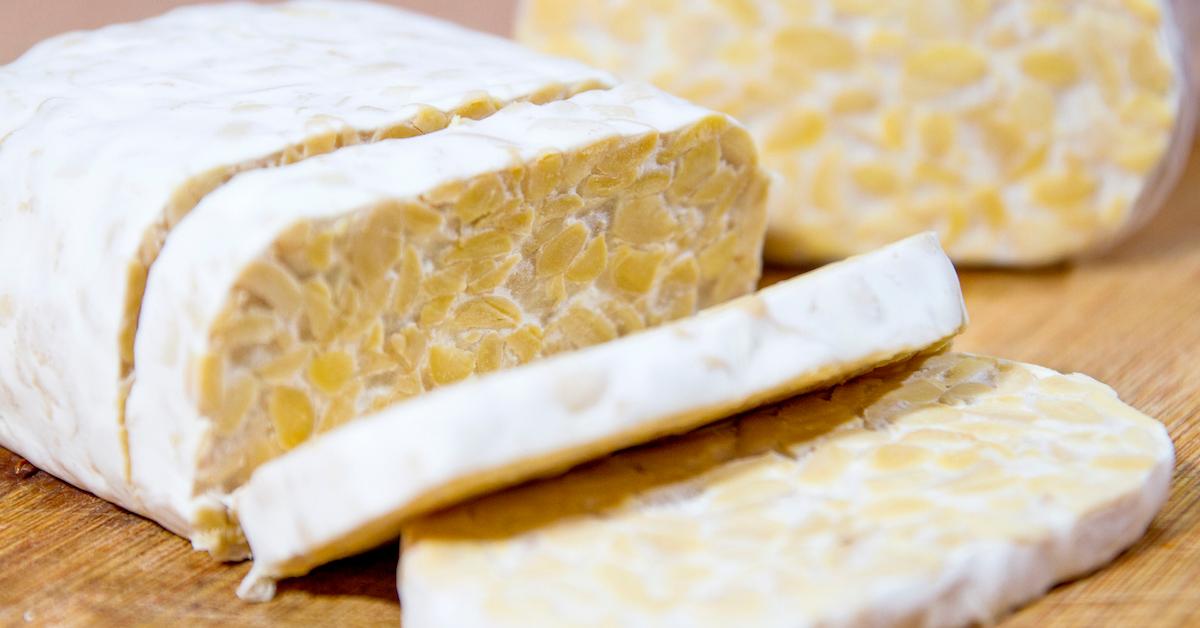 Article continues below advertisement
What is tempeh?
Though tempeh is widely popular in the U.S. these days, its origins began in Indonesia, according to Bob's Red Mill. Tempeh is a plant-based protein that's made from soybeans and sometimes also rice. The soybeans are washed, boiled, soaked, drained, and then mixed with a certain type of fungus which allows it to ferment.
The tempeh is left to ferment in a banana leaf for up to 48 hours, before the soybeans bind together into a block-like shape.
What you often see in grocery stores is pasteurized tempeh, which means it's exposed to high heat. This keeps it preserved it for a longer amount of time. Fresh tempeh only lasts up to five days, which isn't ideal for expiration dates. So unless you make your tempeh from scratch, it's going to be pasteurized for the sake of selling it.
So, what are the health benefits like?
Article continues below advertisement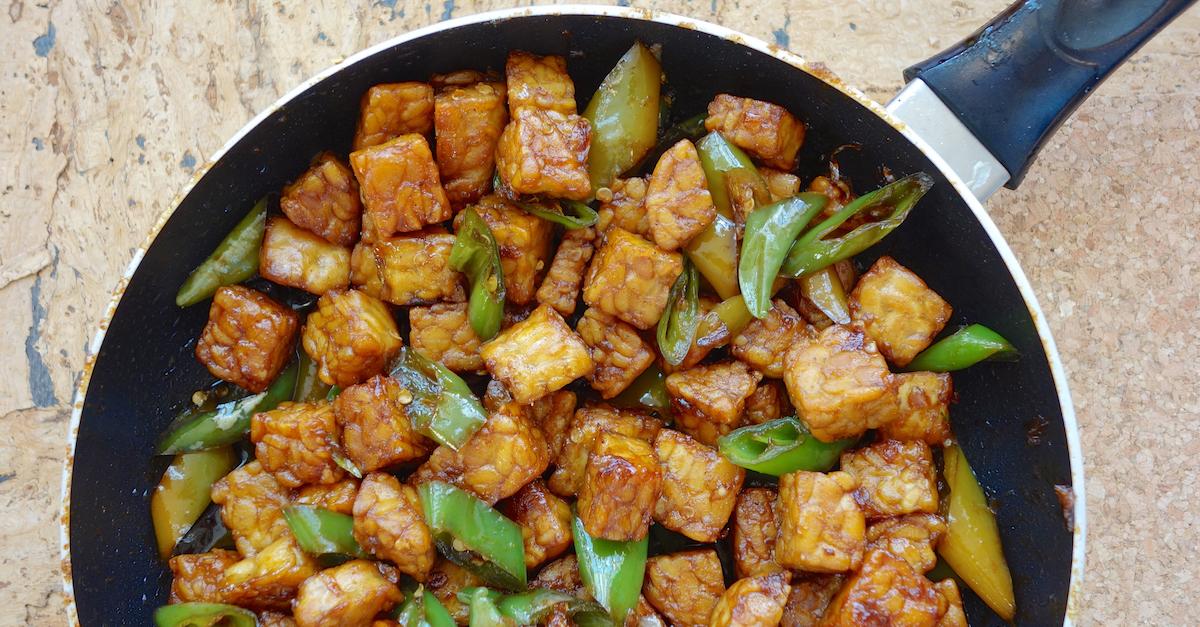 Tempeh has numerous health benefits.
There are many health benefits associated with eating tempeh. According to WebMD, unlike many types of meat, it's cholesterol-free. It's also a solid source of B vitamins, fiber, iron, calcium, and a wide range of minerals; it's low in calories and fats; and is abundant with protein and iron.
Tempeh is also rich with isoflavones, like other soy-based foods, which is full of antioxidants, and may be linked to fighting off breast cancer.
Article continues below advertisement
Eating more tempeh than other animal-based proteins is also associated with lowering your cholesterol and blood pressure, being heart-healthy, fending off diabetes, decreasing inflammation, and helping you keep your bones strong — all good things.
Article continues below advertisement
How to prepare tempeh:
There are many ways you can prepare tempeh. Simply chopping it up, drizzling it in oil and seasoning, and baking it in the oven at 350 degrees Fahrenheit for about 30 minutes makes for a crispy addition to any buddha bowl or salad. Tossing it on the grill in some BBQ sauce will get you a mean BBQ-style sandwich, too.
In the recipe above, posted by @marleeysmenu, you can make a Vegan Quinoa Bowl with Buffalo Tempeh that's high in protein, making for a flavorful and filling lunch. All you need is bake 4 ounces of sliced tempeh in olive oil and buffalo sauce, before mixing it with one-fourth of a diced red onion, a chopped stalk of celery, two ounces of spinach, and a cup of cooked quinoa. Drizzle some vegan ranch on top, and you'll be good to go.