Kylie Jenner's Lion Head Wasn't Real, but Animal Activists Have Mixed Feelings
Kylie Jenner wore one of Schiaparelli's dresses with a lion head, as she took in the fashion house's couture show from the front row.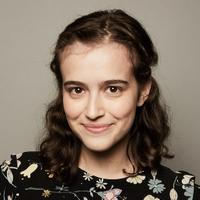 At first glance, the outfits worn at the Schiaparelli 2023 couture runway show in Paris might offend animal lovers, as the haute couture fashion house embellished its models' dresses with what looks like taxidermied animal heads. Kylie Jenner even wore one of Schiaparelli's dresses with a lion head, as she took in the show from the front row.
Article continues below advertisement
To the great relief of those in the audience, the heads were all fake; however, environmentalists and animal rights advocates had mixed feelings on the looks, and on the message they may send regarding trophy hunting.
Keep reading for the details.
Kylie Jenner wore a faux lion head to the Schiaparelli fashion show, fitting right in with the models.
Article continues below advertisement
Before the models hit the runway, Kylie Jenner arrived at the show, and turned heads with her outfit: A slinky black velvet gown, adorned with a life-like lion's head on the front.
Jenner shared photos of her head-turning look on Instagram — and before any haters could come for her for wearing a trophy animal head, she cleared things up in the caption.
"BEAUTY AND THE BEAST. thank you @danielroseberry and @schiaparelli for such a special morning," she wrote, shouting out Daniel Roseberry, creative director for Schiaparelli. "wow i loved wearing this faux art creation constructed by hand using manmade materials. beautiful beautiful," she added, followed by lion and heart emoji.
Article continues below advertisement
Doja Cat may have turned more heads than Jenner, as the musician showed up for the Schiaparelli show wearing red body paint and more than 30,000 hand-applied Swarovski crystals beneath her Schiaparelli dress (which was not unlike one seen on the runway at the show).
Article continues below advertisement
Once the Schiaparelli couture show began, a few more animal heads began to make heads turn.
Article continues below advertisement
Models came down the runway in various looks inspired by Dante's Inferno, an epic poem about Dante's trip through Hell. As reported by W Magazine, models Naomi Campbell, Shalom Harlow, and Irina Shayk strutted down the runway with a she-wolf head, a leopard head, and a lion head attached to their furry ensembles, respectively.
Like Jenner's, Shayk's lion head was attached to a black velvet dress, though the two gowns were very different styles.
Article continues below advertisement
Schiaparelli did not use real lion heads, but the fashion house did use some real animal products.
Though the animal heads were free of real animal bodies or fur, unfortunately, Schiaparelli still used other animal-based fabrics to make them.
"The leopard, the lion, and the she-wolf — representing lust, pride, and avarice in Dante's iconic allegory — in hand sculpted foam, resin, wool, and silk faux fur, hand painted to look as life-like as possible," the official Schiaparelli Instagram account posted.
"NO ANIMALS WERE HARMED IN MAKING THIS LOOK," the caption continued.
Article continues below advertisement
Overall, People for the Ethical Treatment of Animals (PETA) praised Schiaparelli and Kylie Jenner for avoiding the use of real animal heads.
"These fabulously innovative three-dimensional animal heads show that where there's a will, there's a way — and Kylie's look celebrates lions' beauty and may be a statement against trophy hunting, in which lion families are torn apart to satisfy human egotism," PETA President Ingrid Newkirk tells Green Matters exclusively via email.
Article continues below advertisement
That said, the animal rights organization would like to see wool and silk excluded from designer fashion in the future.
"PETA urges Kylie to extend this creativity to exclude sheep shorn bloody for wool and silkworms boiled alive in their cocoons," Newkirk says. "We encourage everyone to stick with 100 percent cruelty-free designs that showcase human ingenuity and prevent animal suffering."
Conversely, others criticized the choice to use these faux animal heads. For instance, Carrie Johnson, an environmental activist and wife of former U.K. Prime Minister Boris Johnson, shared a photo of Shayk wearing the lion head on her private Instagram story. As reported by The Independent, she captioned the photo "Grim! Real or fake, this just promotes trophy hunting. Yuck!"
Others took to the comment sections on Schiaparelli's Instagram posts from the show to share their feelings on the looks, with many criticizing Schiaparelli for potentially glamorizing trophy hunting, in contrast to PETA's thought that the looks could possibly intend to do just the opposite of that.