Sustainability at NYFW: Not Enough Eco-Conscious Fashion on Runways This Year
Is NYFW sustainable? Some designers used eco-friendly techniques for NYFW, but overall, sustainability was not a main character at this year's event.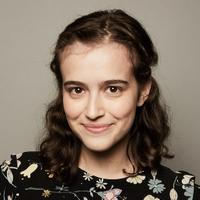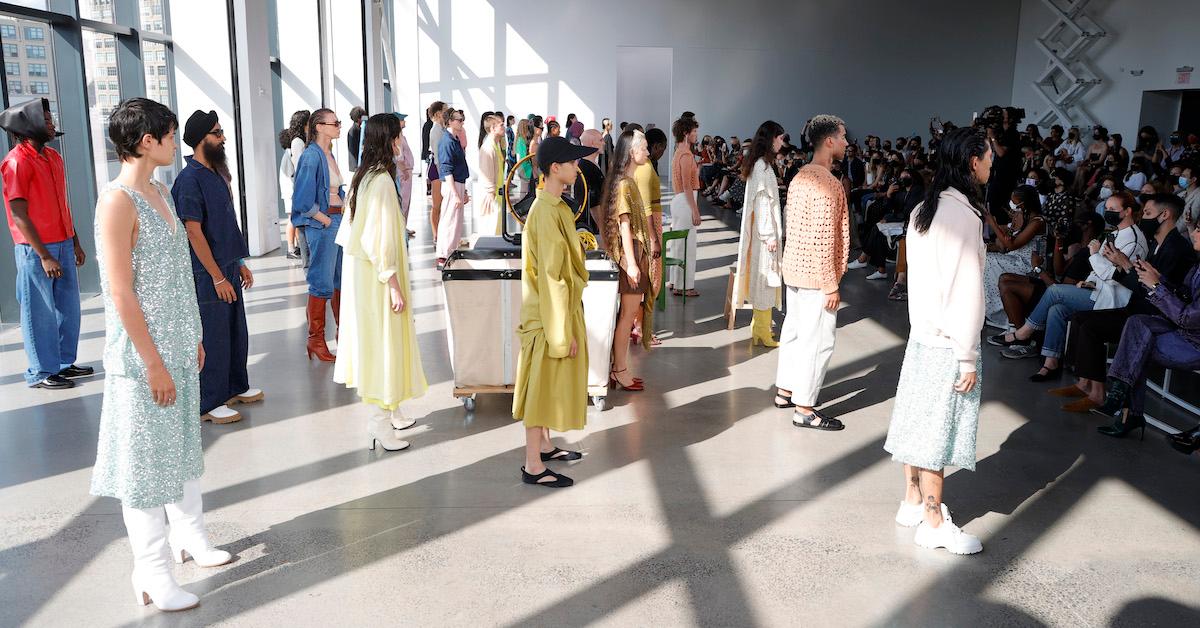 Fashion is a notoriously unsustainable industry. But as more designers become aware of the severity of the climate crisis, more eco-conscious fashion collections have popped up. This past week marked New York Fashion Week in NYC, and we were crossing our fingers that we'd see tons of sustainability at NYFW.
Article continues below advertisement
Unfortunately, sustainability did not seem to be a driving force at the September 2021 NYFW, where dozens of designers presented their Spring Summer 2022 collections.
A handful of fashion houses did make sure to include eco-minded elements in their collections, including recycled fabrics, upcycled items, and even presenting vintage designs — but overall, sustainability was not a main character at this year's event.
The CFDA has made a few sustainability efforts for NYFW.
The Council of Fashion Designers of America, known as the CFDA, owns and organizes both the spring and fall New York Fashion Weeks. Last year, the CFDA partnered with Boston Consulting Group to release a study called Sustainability by Design: Rethinking New York Fashion Week, which addressed issues related to waste, pollution, and more in the fashion industry.
Article continues below advertisement
In addition to including facts and figures on waste in the fashion industry and in NYFW, the report included a Playbook for Positive Change, which provided some ideas and solutions to help reduce the environmental impact of NYFW.
But did any designers actually follow the playbook? Here's a look into the S/S 2022 collections of three eco-conscious designers who presented at the September 2021 NYFW.
Collina Strada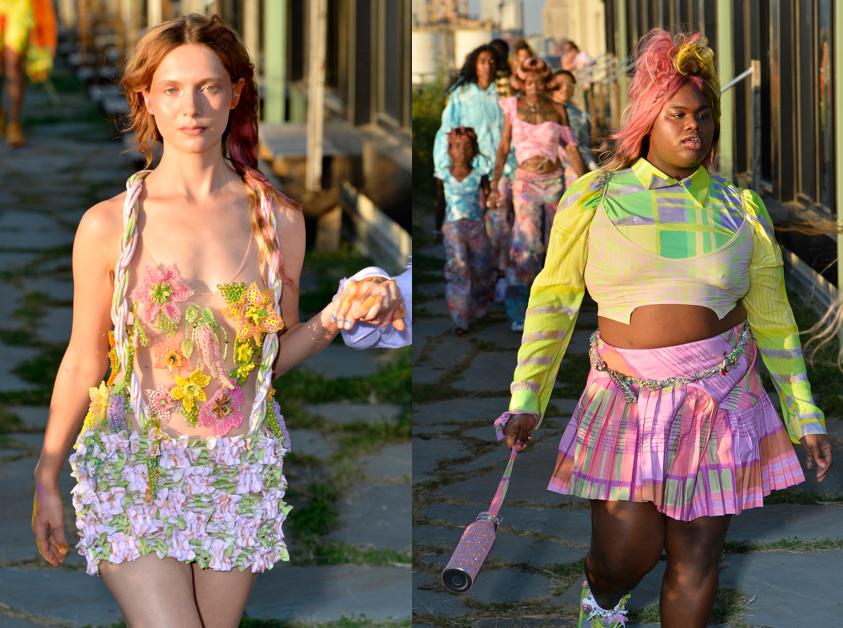 In addition to being a fashion label, Collina Strada describes itself as a "platform for social issues and awareness." The New York-based fashion house presented its S/S 2022 ready-to-wear collection on Sept. 7 on the Brooklyn Garage's eco-friendly rooftop garden. The runway was filled with colorful, eclectic, and uniquely textured ensembles, which appear to be inspired by the vibrancy of nature. A few models strutted down the runway dangling reusable water bottles, which we always love to see.
Article continues below advertisement
As reported by Vogue, the Collina Strada collection also featured a few accessories made from detritus leftover in the atelier, including necklaces, raffia bags, and straps; Taymour also upcycled bottle caps into jewelry as part of her efforts to reduce waste and become a "fully sustainable" company. And the show notes even echo principles of reducing and reusing, suggesting that a piece of trash found on the street "might make a good belt buckle," as per Fashionista.
Bevza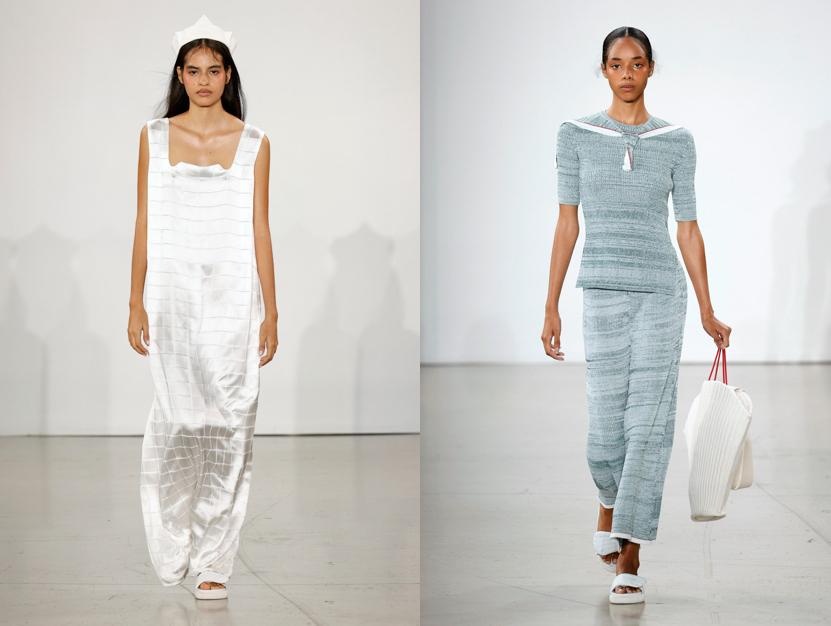 Kyiv, Ukraine-based womenswear label Bevza has a number of sustainability initiatives in place; for instance, Bevza uses a eco-friendly digital printing process on coats as an alternative to fur coats. Designer Svetlana Bevza presented her S/S 2022 collection at Spring Studios on Sept. 9, and according to Vogue, the collection's nautical, ocean-inspired vibes were meant as a nod to sustainability.
Article continues below advertisement
As the magazine noted, Bevza used leftover fabric scraps to make some of the garments, and she designed some outfits to feature necklines inspired by the shape of single-use plastic bags (see photo, above left). Bevza also used a knit fabric made from recycled plastic bottles for some knitwear pieces, the brand noted on Instagram (see photo, above right).
Rachel Comey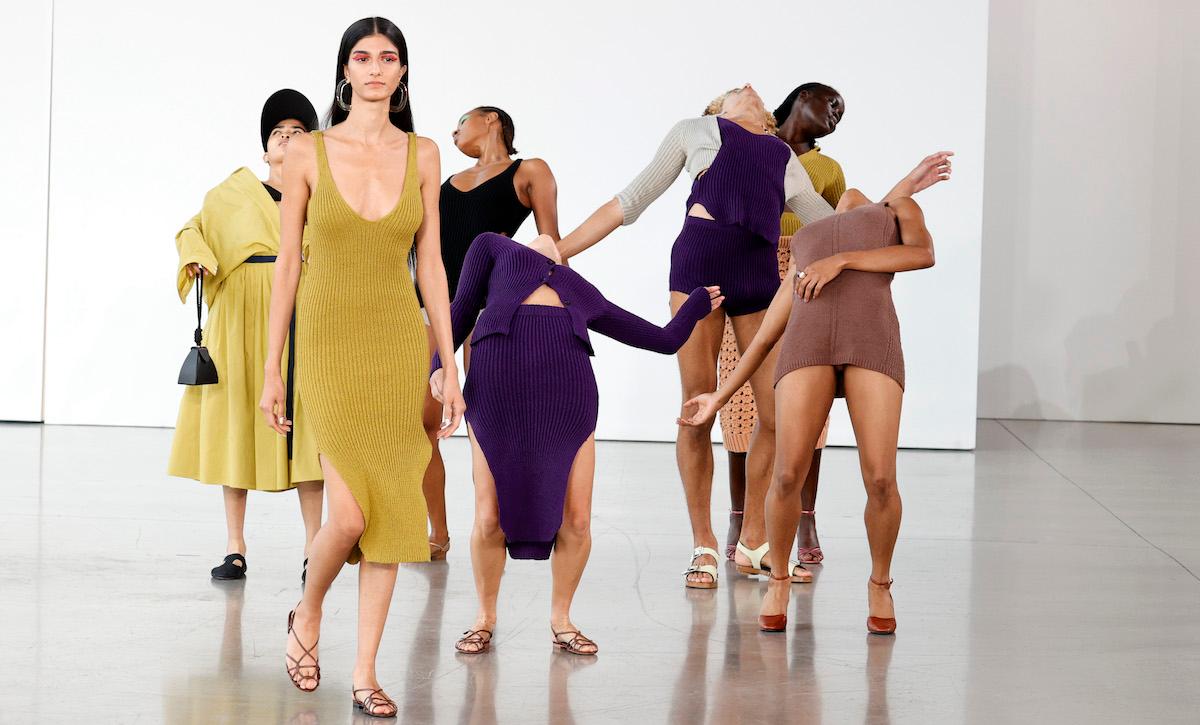 Fashion shows are typically all about new clothing — but for her NYFW show this year, NYC-based designer Rachel Comey featured a selection of archived clothing items from the past 20 years. Comey presented her collection, which combined those vintage pieces with a few new creations, at Spring Studios on Sept. 11.
The best part is, the archived pieces are being put up for sale on Rachel Comey's resale website, which allows customers to both buy and sell pre-owned Rachel Comey goods. Both the NYFW collection and the resale website were created in partnership with Recurate, a peer-to-peer online resale platform.