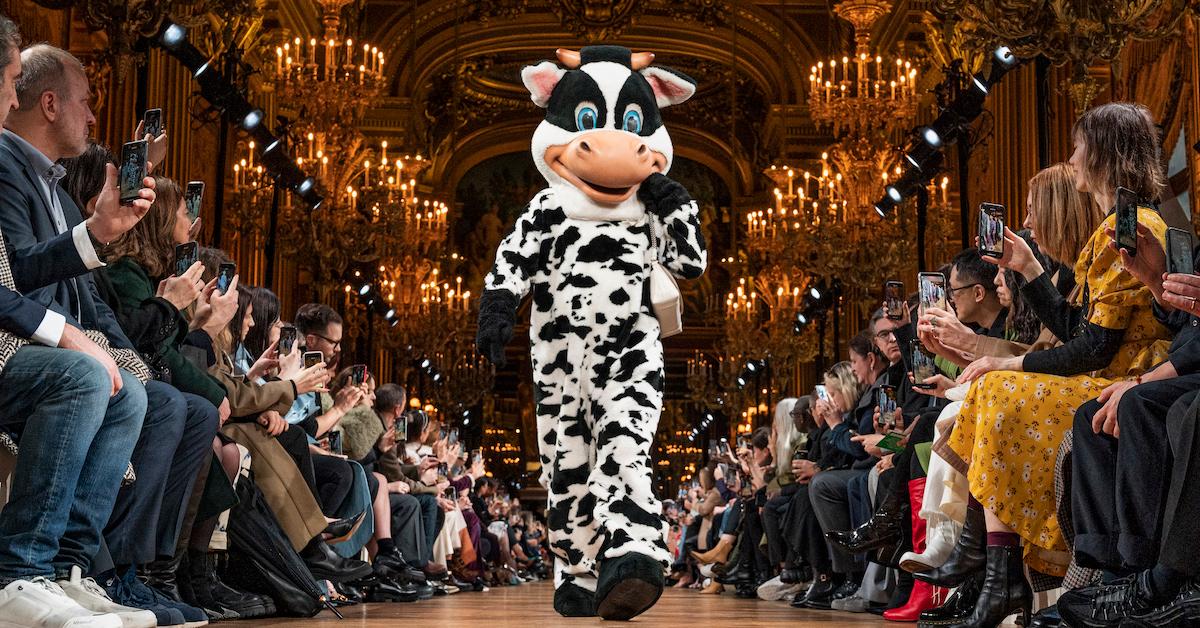 Stella McCartney Puts Animal Mascots on the Runway to Protest Killing Animals for Fashion
Stella McCartney used animal mascots to spread a powerful message at her Paris Fashion Week runway show.
Typically, the only animals you see going down a Fashion Week runway are in the form of leather, fur, and feathers. But at Paris Fashion Week this morning, Stella McCartney flipped the script. The sustainability-minded fashion designer weaved a powerful message throughout her runway show by having animal mascots — specifically, ones representing the animals most often exploited for fashion — strut down the runway.
Article continues below advertisement
McCartney unveiled her Winter 2020 collection at the Opéra Garnier in Paris on Monday, March 12. At the end of the 10-minute show, when the models came back out for the finale, a few new "models" were added to the mix. The very first model to enter the runway for the finale was a cow carrying a vegan leather Stella McCartney purse. As the cow began her jolly strut down the runway, the entire front row whipped out their phones to take photos of the fabulous cow.
Article continues below advertisement
As the long line of models grew, more and more animals emerged amidst the fabulous faux fur coats and vegan leather shoes. There were rabbits, a crocodile, a fox, a bear, and more. At the end of the line was yet another cow — the most widely-used animal in the leather industry.
"What we try to do here at Stella is to sugarcoat a powerful, meaningful message in a little bit of humor and fun, to make our point in a palatable and digestible way so that people listen," McCartney said in a statement, according to The Guardian. "These animals are the ingredients of everyone else's fashion shows. We are the only luxury fashion house in the world that isn't killing animals on the runway. I wanted to make that point, but in a joyous way."
Article continues below advertisement
And that joy was palpable — each of the animal mascots had smiles on their faces, and they all brought a carefree, sprightly energy to the runway.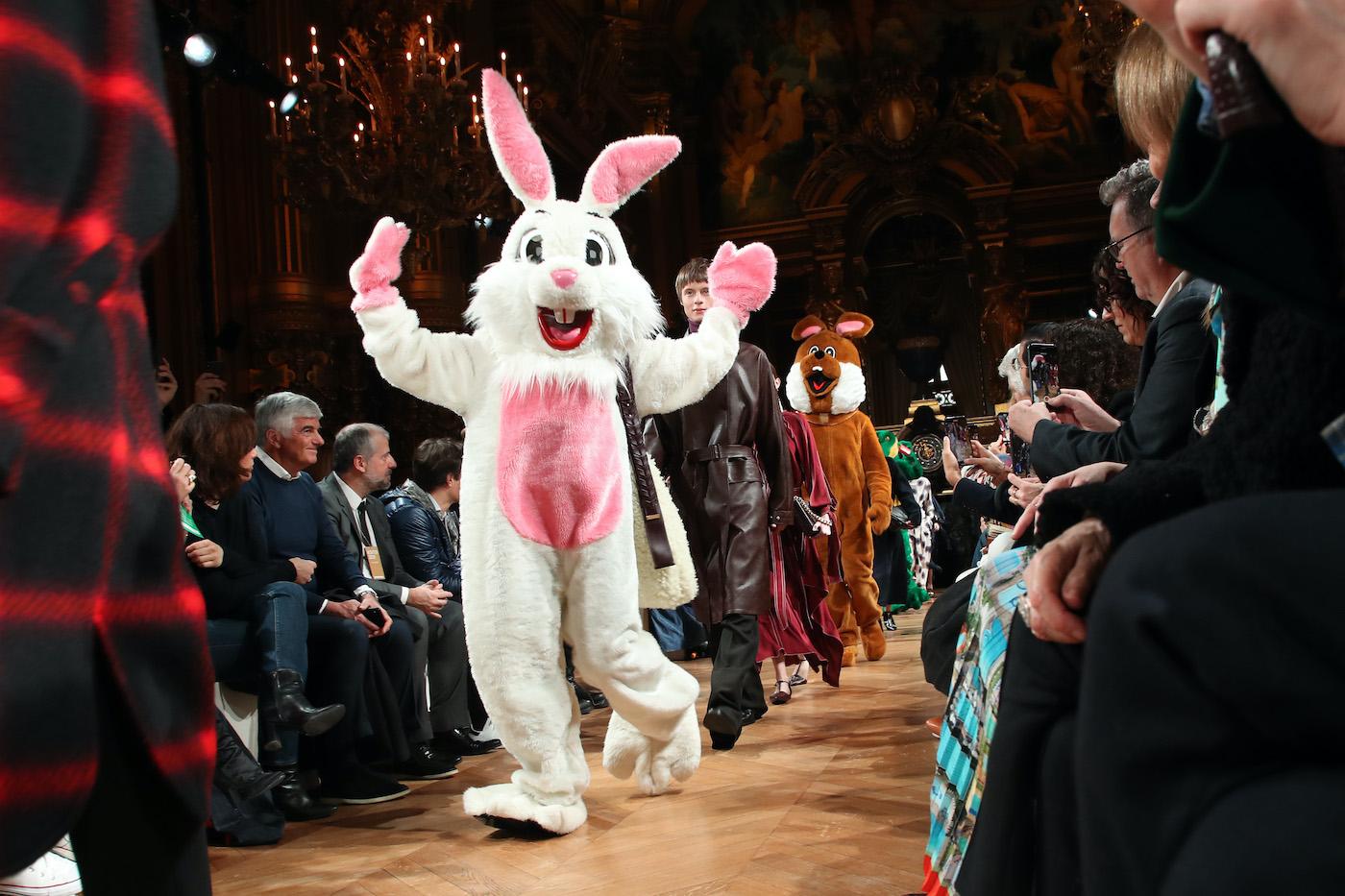 Article continues below advertisement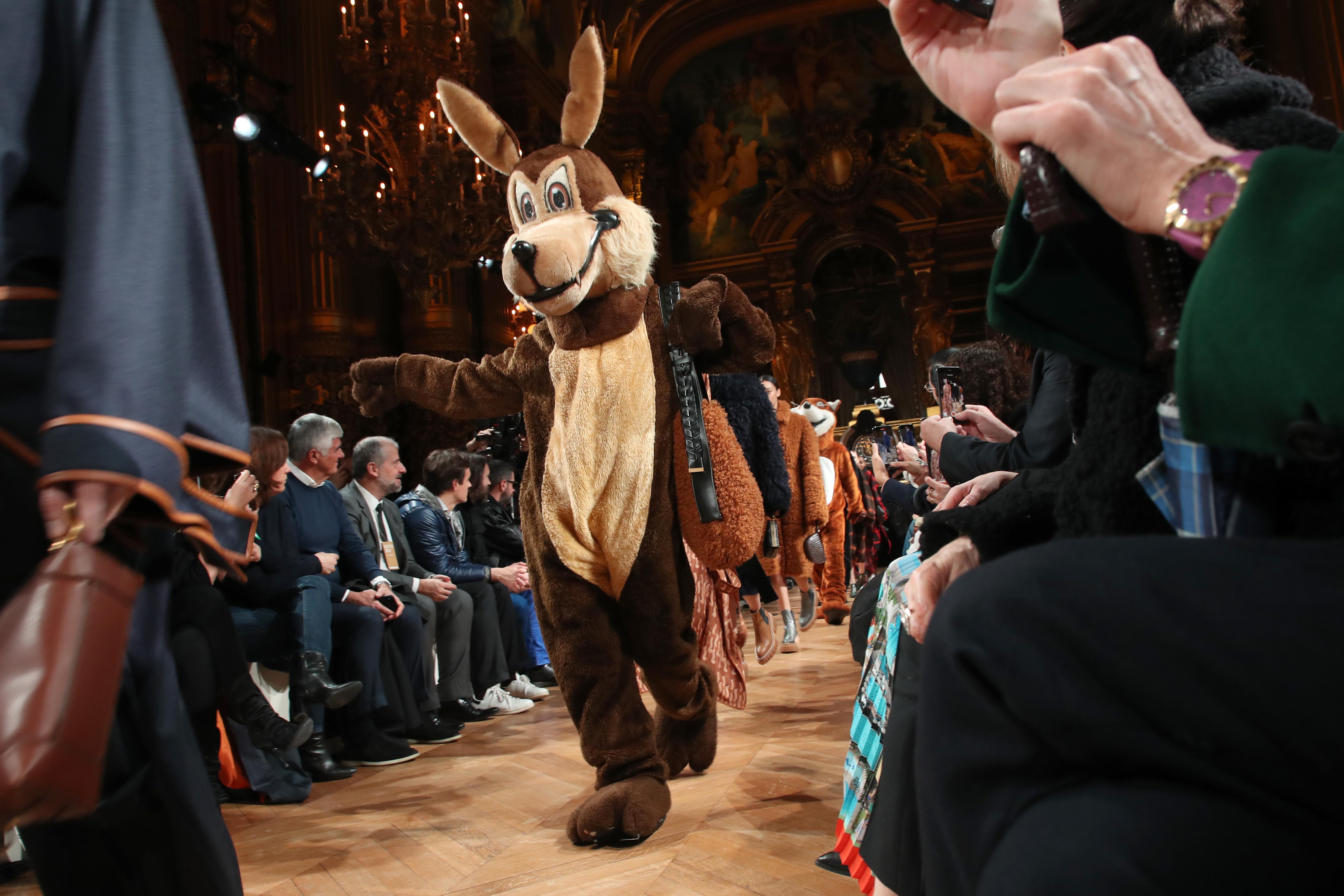 McCartney's collections have been free of leather, feather, and fur since she founded the brand in 2001. (That said, her collections still use wool, silk, and recycled cashmere, which do come from animals, so her runway was not entirely animal-free.) Recently, many other designers have followed suit by eliminating fur from their collections, including Prada, Miu Miu, Kenneth Cole, and Ellen Tracy.
Article continues below advertisement
Even though animal-derived materials like fur and leather have a reputation for being "natural," the production process injects the materials with so many chemicals that they are actually far from natural or biodegradable. McCartney actually addressed this issue in an interview with Vogue in 2019, calling the myth that synthetic materials are less sustainable than leather "rubbish."
"An animal decomposes when it's natural, but after all the chemical treatments [applied] to a leather handbag, it isn't going to decompose in your wardrobe," McCartney told the magazine. "That product is staying alive because of the chemicals that heave been put on it — because if you just had a dead animal in your closet, it would be a very different situation."
Article continues below advertisement
The fashion industry is far from sustainable, but if more designers followed Stella McCartney's example, they could significantly lower their impacts on the planet and on animals. With the technology to make amazing vegan alternatives to animal fabrics constantly getting better, hopefully other designers will be inspired by McCartney and take animals off their runways, too. (Unless they're in mascot form. Then of course they're welcome.)