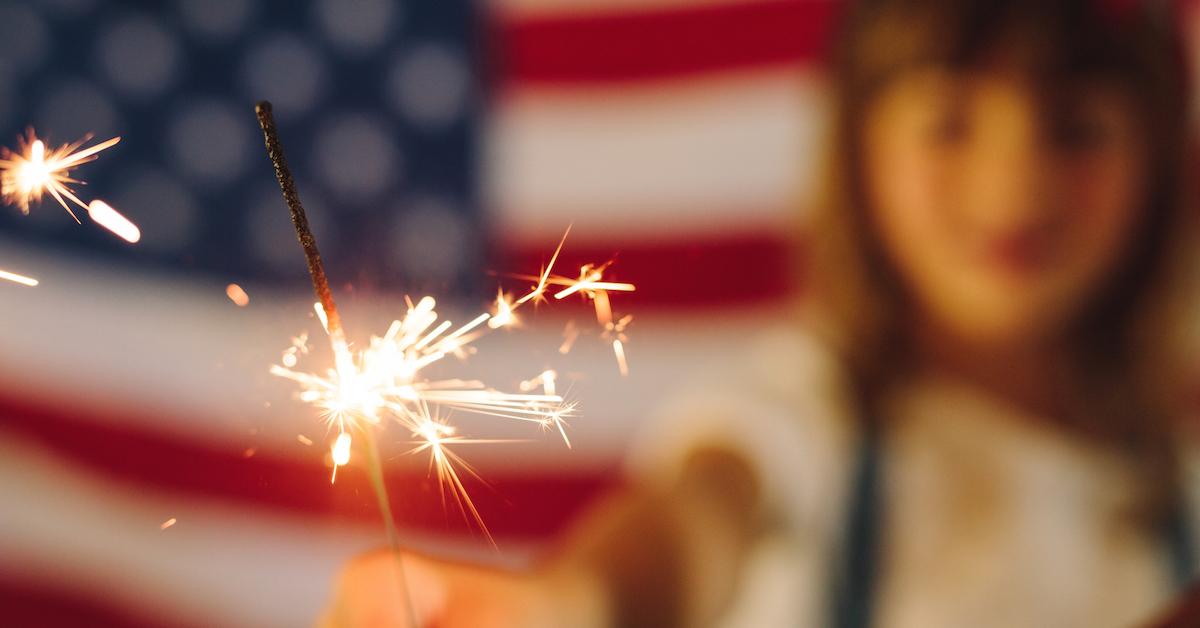 Are Fireworks Bad for the Environment? Here's What You Need to Know for July 4th
Fireworks are a July 4th tradition — but how do they affect the Earth?
You have reef-safe sunscreen in your beach bag, a swimsuit made with recycled ocean plastic, and veggies ready to become kebabs on your BBQ. Looks like your July 4th is all sorted out. But don't forget about America's favorite Independence Day entertainment: fireworks. Are fireworks bad for the environment, or is it OK to join the American masses and set them off this 4th of July? Here's everything you need to know about fireworks and their impact on the Earth.
Article continues below advertisement
Fireworks may be best associated with the 4th of July, but they actually date much further back than that. According to the American Pyrotechnics Association (APA), there's evidence that the first "natural" fireworks were invented in ancient China, between 200 and 101 BC. The fireworks are believed to have been made from bamboo, and they would overheat and explode when exposed to fire. Centuries later, sometime between 600 and 900 AD, a Chinese alchemist invented gunpowder, which was a combination of potassium nitrate, charcoal, and sulfur, which was then used to create the first chemical fireworks, as explained by the APA.
Then, on July 4, 1777, on the first anniversary of Independence Day, Philadelphia celebrated the holiday by setting off fireworks, according to PBS. Fireworks quickly became a July 4th tradition, with more and more U.S. cities setting them off every year.
Article continues below advertisement
Today, fireworks are still made with gunpowder, also known as black powder. Gunpowder is typically still made up of potassium nitrate (an oxidizer), charcoal or carbon (fuel), and sulfur (an accelerant), according to Tree Hugger. Additionally, other ingredients are added to change the color, shape, and glitter factor, according to Wired. Handheld sparklers work pretty similarly to fireworks, also requiring a combination of charcoal and sulfur, but configured to emit a slow burn as opposed to an explosion.
Article continues below advertisement
As explained by Tree Hugger, fireworks in the U.S. emit about 60,340 metric tons of CO2 every year. To put that in perspective, that's a bit more than what 12,000 gas-powered cars emit in a year, Tree Hugger noted. Furthermore, fireworks emit a significant amount of ozone, which is also a greenhouse gas, as well as a secondary pollutant, according to a study published in the journal Nature.
Article continues below advertisement
Additionally, fireworks are often launched above lakes and rivers, which can contaminate waterways and marine life. Plus, the smoke and air pollutants that fireworks produce can negatively impact air quality, namely for people who have asthma or chronic obstructive pulmonary disease; it can also sometimes negatively affect people's respiratory health in general, according to a study published by NCBI. While this can sometimes affect spectators, it mostly impacts the pyrotechnicians who are setting off the fireworks — whether they're professionals or just people setting off fireworks in their backyards.
Article continues below advertisement
It's clear that fireworks are not good for the environment — but they're also far from the worst thing we do for the environment. (See: animal agriculture, plastic pollution, flying airplanes.) So if you are a big fireworks fan, consider attending your town's public fireworks show this year instead of setting off your own, so that you're not directly contributing to the mess — or putting yourself in danger. You can also seek out another form of visually-appeasing entertainment this Independence Day — Just Energy recommends attending a laser show, a concert, a parade, or a campfire.
It's also important to consider other aspects of July 4th when trying to celebrate sustainably. For example, host an all vegan barbecue with Beyond burgers; use reusable crockery and cutlery for your Independence Day barbecue, picnic, or beach day; and upcycle materials you already have into DIY decorations, or reuse decorations from last year.