Which Major Fashion Brands Are the Least Terrible? This Report Ranked Forever 21, North Face, and More
Green America just published a Toxic Textiles report, ranking 14 major fashion brands' environmental and social practices.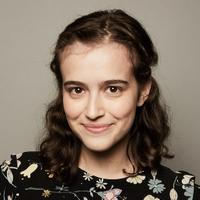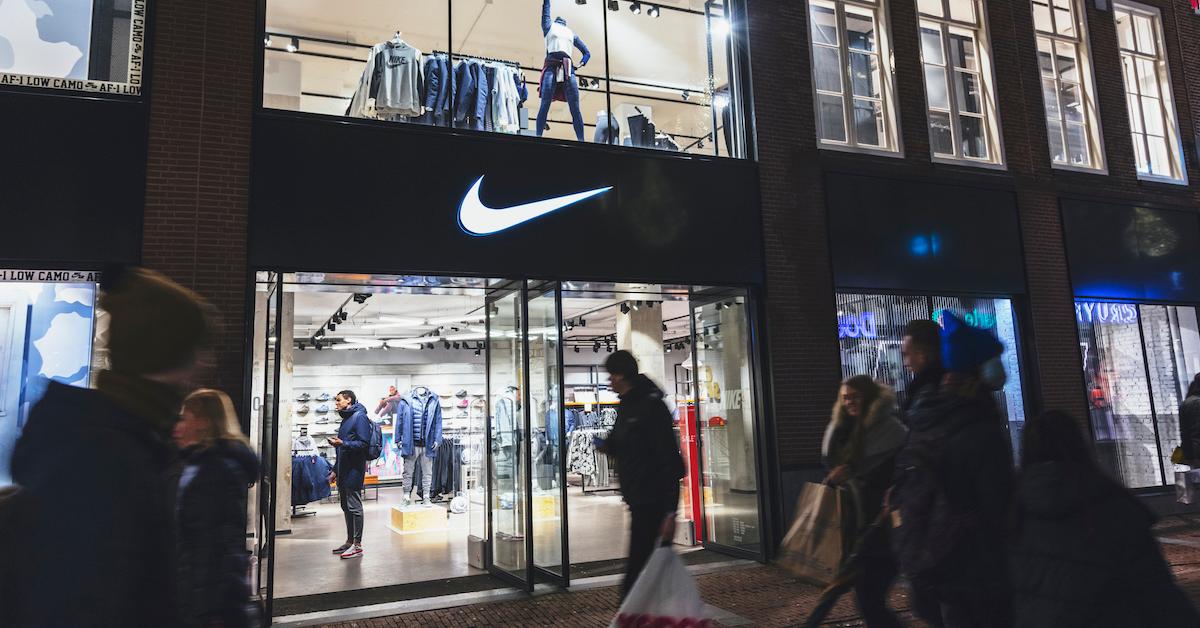 The fashion industry is one of the most wasteful industries on Earth, accounting for more than 8 percent of the world's total greenhouse gas emissions, according to the New York Times. Yet somehow, so many companies claim to be sustainable and ethical. So to help consumers weed through all that the nonprofit Green America ranked 14 of the largest fashion corporations (some of which own multiple stores) in the U.S., in a report called Toxic Textiles.
Article continues below advertisement
Green America is a nonprofit organization with a mission of helping businesses to create a socially and environmentally sustainable society. The full Toxic Textiles report is an in-depth analysis of the fashion industry in the U.S., and the most interesting part is Green America's scorecard ranking 14 major American fashion companies. Green America chose these 14 brands because they are "readily accessible to consumers" and are primarily single-brand retailers (at least in the fashion department), meaning they mostly sell their own products.
The four brands that came out on top are: Target, VF Corporation (which owns The North Face, JanSport, Eastpak, and Timberland), Nike, and Gap Inc. (which owns Gap, Old Navy, Banana Republic, Athleta, and more). Even though those four companies got the highest scores and are making significant efforts in the industry, Green America found that "none of the major brands are true leaders in the field." Womp womp.
Article continues below advertisement
The three brands coming in second place are: Ascena Retail (Ann Taylor, the Loft, Dressbarn, Justice, and more), Ralph Lauren, and Walmart. The brands tied for third place are: Abercrombie & Fitch, American Eagle, and the Children's Place. And coming in at the bottom of the scorecard are URBN (Anthropologie, Free People, and Urban Outfitters), Carter's Inc. (Carter's and Osh Kosh B'Gosh), the J. Crew Group (J. Crew and Madewell), and, in dead last, with zero points, is Forever 21.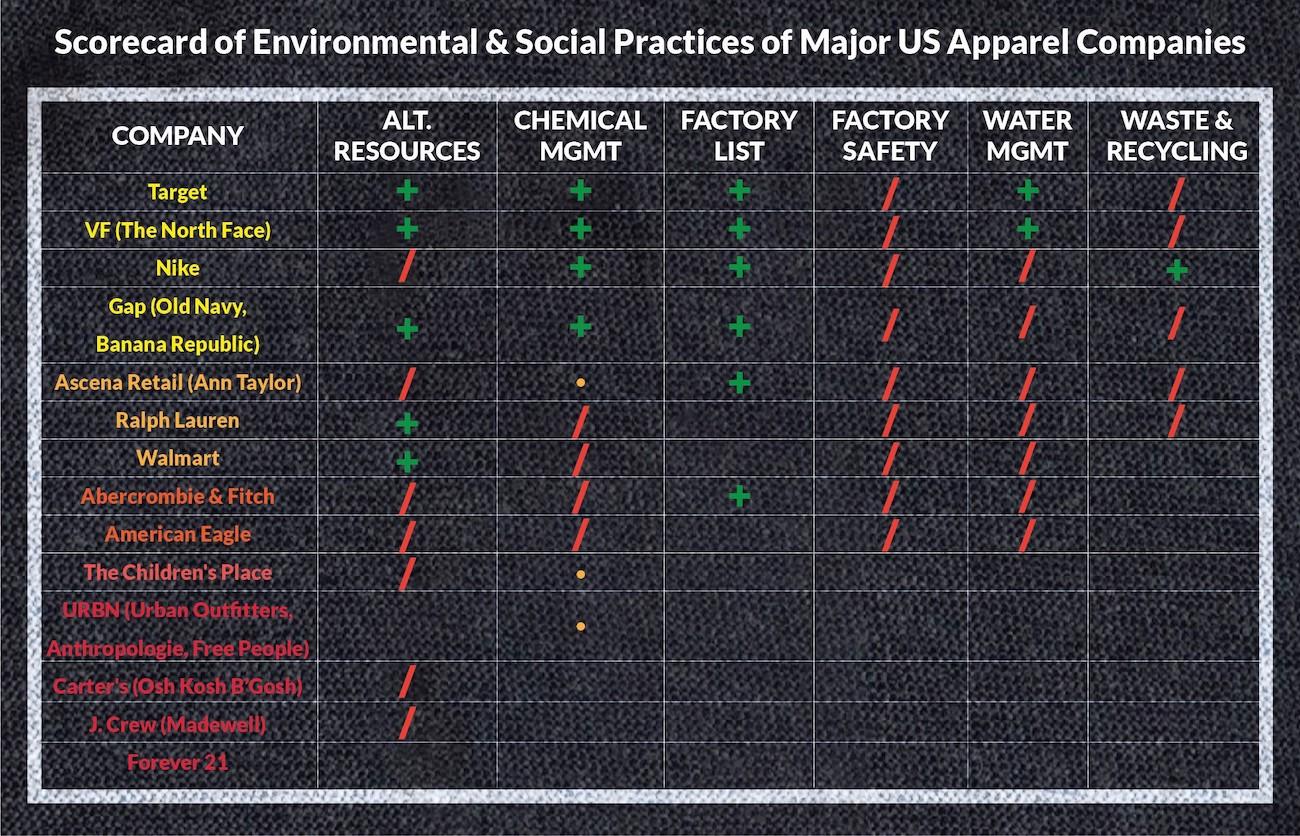 Article continues below advertisement
So, how did Green America rank the brands? The nonprofit analyzed each company based on six factors — not only if they are already doing a good job with these things, but also if they have laid out plans to address them. The factors are:
Alternative resources — the company's use of sustainable and renewable resources
Chemical management — if the company has a Restricted Substances List (RSL) or Manufacturing RSL (MRSL)
Factory transparency list — whether the company shares information about the factories it uses
Factory safety — if the company is open about their factory safety standards
Water management — whether the company is working to reduce its water use
Waste and recycling — if the company is working to reduce waste and close the loop
There are four ways a company can be ranked in each category. A (+) means the company is already working on a plan to address this; a (/) means the company claims to have a policy on the matter, but no details; blank means the company has not addressed the issue; and a (•) in the chemical management column means that a company has an RSL but not an MRSL.
Article continues below advertisement
"Consumers want sustainable clothing, and the market is responding," Caroline Chen, Green America's social justice campaigns manager, said in a statement sent to Green Matters. "But too often, many of the promises we hear from conventional companies are token sustainability initiatives that are band-aids to one small part of the problem, or empty platitudes without a plan to achieve real change. Sustainability shouldn't just be a marketing trend."
What Chen points out is that even when companies say they care about sustainability, they are often more focused on making consumers think they are being sustainable rather than actually being sustainable. So when you see a company — especially one owned by a major corporation — talk the talk about being green, do your research to see if it's just greenwashing. For some our best tips on shopping sustainably, click here.