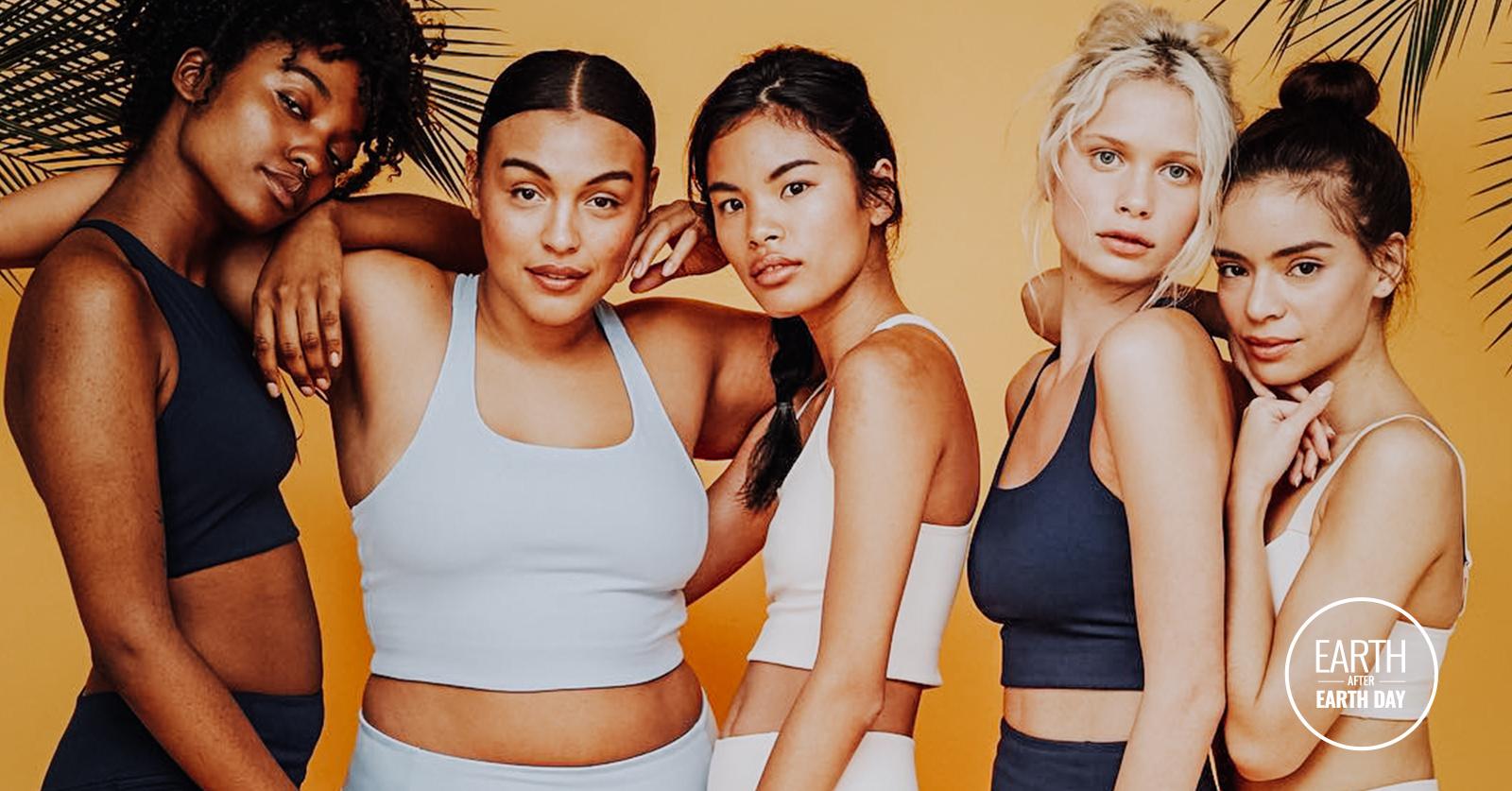 Clothing, Shoe, and Accessory Options Made From Recycled Ocean Plastic
By Sophie Hirsh
Considering all the time you're probably going to spend in the ocean this summer, why not say thank you to Mother Earth for providing you with those refreshing waves by cleaning her up? One pretty easy way to do this is by supporting companies that make products from ocean plastic.
Unfortunately, there is a neverending supply of ocean plastic for companies to turn into fabric. According to Surfers Against Sewage, an estimated 8 million pieces of plastic enter the world's oceans every day. Plastic was invented in 1907, and every piece ever created is still on the Earth somewhere, because it takes an estimated several hundred years to degrade.
Plastic can make its way to the sea from a variety of places, including landfills, litter, or trash thrown away near the ocean. But a whopping 46 percent of ocean plastic in the Great Pacific Garbage Patch comes from fishing nets, according to a study published in Scientific Reports.
To help prevent plastic from getting in the ocean in the first place, there are so many things you can do: you can reduce your personal consumption of single-use plastic; you can stop eating marine animals or at least eat less fish; and you can write to your local leaders and ask them to support policies prohibiting certain kinds of single-use plastic where you live. And to help clean the oceans up: you can pick up plastic litter on your next beach day; you can sign up for an official beach cleanup; you can donate to an organization that organizes beach cleanups; and, of course, you can support companies that use recycled ocean plastics.
While buying clothes made from recycled ocean plastics certainly helps take plastic out of the ocean, unfortunately, it can also put plastic back into the ocean via microfibers. So to help reduce the impact of your clothing made from synthetic fabrics, consider investing in a Cora Ball or a Guppyfriend washing bag.
Read on for companies that recycle ocean plastics to make clothing, shoes, and accessories.
Clothes
Cult favorite exercise gear brand Girlfriend Collective's LITE collection is made from recycled fishing nets. Clothing brand Outerknown makes gear out of Econyl, which is a fabric made from reclaimed fishing nets and other waste. Outerknown uses the recycled material to make swim trunks, puffer jackets, shirts, baseball caps, and even a watch strap.
Coats
The designer Moshi Moshi Mind makes a coat out of 100 percent recycled water bottles that were recovered from the ocean. There's also the brand Ecoalf, which makes jackets and clothing out of recycled ocean plastic.
Shoes
Adidas partnered with Parley for the Oceans on a line of sneakers that use yarn made from recycled plastic waste. Interestingly, the shoes are made with plastic waste collected from beaches and coastal towns that may have otherwise wound up in the ocean. Additionally, both Adidas and Parley for the Oceans partnered with designer Stella McCartney on a line of sneakers and other exercise gear made from the same materials.
Sperry has a line of sneakers, slip-ons, and boat shoes made with BIONIC materials, which are built from plastic recovered from marine and coastal environments. There's also VIA, a waterproof knit shoe made from recycled ocean plastic, currently crowdfunding for a release later this year.
Glasses and Sunglasses
Glasses company Karün makes the frames in its 7 Seas Collection out of recycled ocean plastics recovered from Patagonia. For sustainable sunglasses, the brand Norton Point makes all of its sunny frames out of recycled ocean plastic.
Sea2See makes frames for both glasses and sunnies out of ocean plastic recovered in Italy. And finally, the brand Bureo makes frames out of recycled fishing nets — as well as skateboards made out of recycled fishing nets. Gnarly.
Bags
Solgaard's Ocean Plastics Daypack is made out of plastic collected from the ocean, and is currently available for preorder. There's also the Got Bag, which claims to be the world's first backpack made from recycled ocean plastic, and is also currently available for preorder.
Art
Ocean Sole Africa is a social enterprise that collects flip flops from Kenyan beaches and waterways and upcycles them into colorful art. The company has a few pieces listed on its website, but you can also custom order anything you'd like. There's also Washed Ashore, an organization that makes huge art installations from plastic waste collected by volunteers on beaches.
More from Green Matters