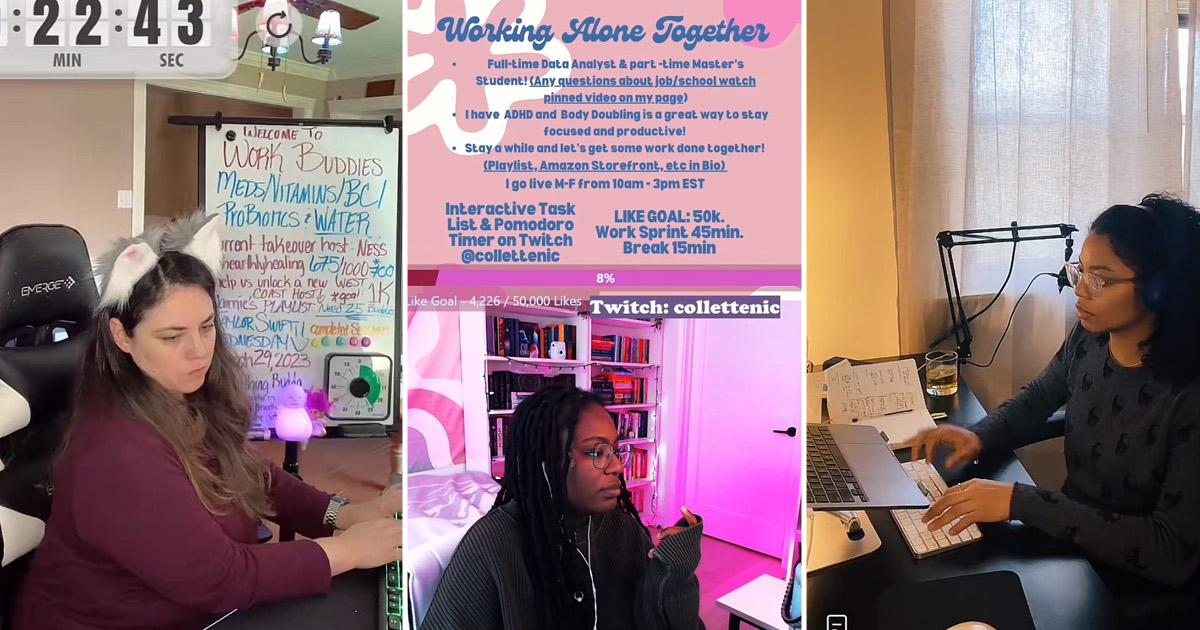 How Watching "Body Doubling" Livestreams on TikTok Is Helping Remote Workers Focus
Body doubling is a helpful focus technique for many people with ADHD or trouble staying on task.
If you've ever struggled to focus while trying to get a task done at home — whether it's working remotely, studying for an exam, or even just doing chores around the house — you may be interested in trying out body doubling.
This technique (which has nothing to do with the body doubles used on TV and film sets) has been known to help those with ADHD, as well as those who simply need a bit of accountability when it comes to starting and completing tasks.
Article continues below advertisement
There are numerous accounts on social media platforms, such as TikTok and Twitch, that livestream body doubling videos nearly every day.
Keep reading to learn more about exactly what body doubling is, how it can help people focus on work, and for a list of some body doubling accounts that you should follow.
That said, this article is not to be taken as medical advice — if you have ADHD or suspect you may have it, make sure to consult with a physician or mental health professional for treatment.
Article continues below advertisement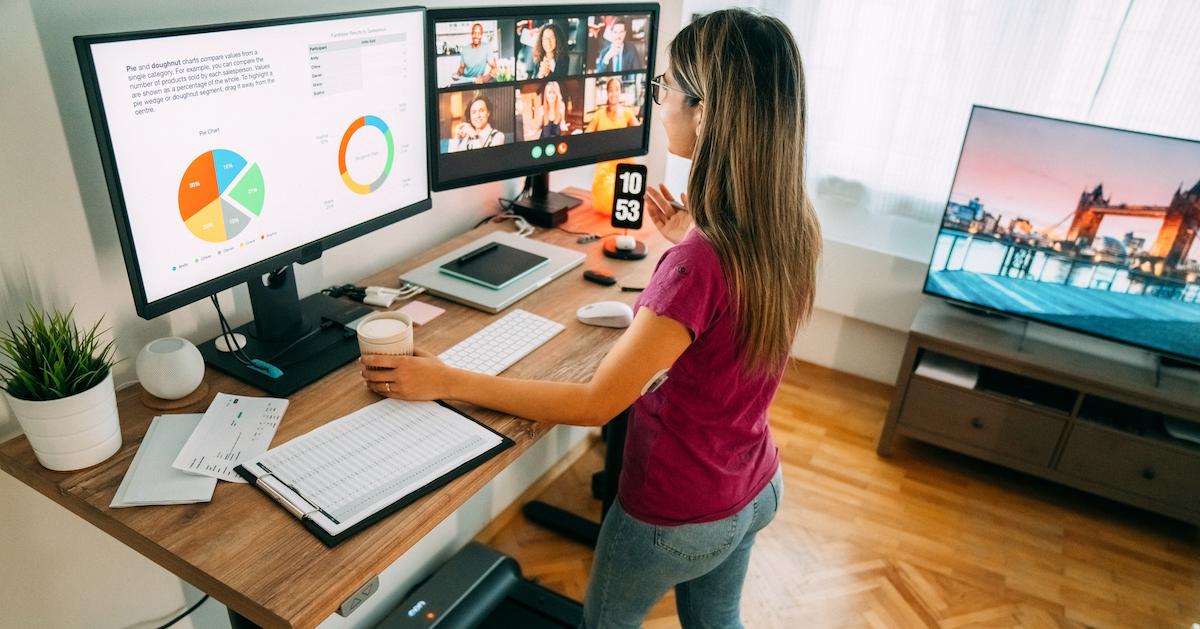 What is body doubling? It can help people with ADHD or trouble focusing.
Body doubling is the technique of doing work alongside someone else who is also doing work. It can help provide accountability, boost productivity, and help you focus, as per CHADD.
Essentially, it's similar to coworking or a study group. It's a pretty simple and accessible concept, whether you have things to get done at work, at home, or anywhere in between.
Article continues below advertisement
You can utilize body doubling in a number of ways, such as:
Working from your office near coworkers rather than remotely (if you have that option), and using a coworker as a body double
Setting up to work from a cafe or library, where people sitting around you are also working
Inviting a friend over to do their work work alongside you, similar to a study group
Calling a friend who also needs to get work done on FaceTime
Watching a body doubling livestream on social media
Going live on social media while you work, so others can livestream you working while they work.
Some people who use their phones to watch body doubling livestreams (or to stream their own body doubling livestream) have stated that not only is the accountability of working "alongside" others helpful, but that using their phone for this purpose also helps keep them from using their phone to procrastinate from working.
Article continues below advertisement
Does body doubling really work?
CHADD notes that though there hasn't been much scientific research on how body doubling can help boost productivity or focus, many individuals with ADHD and mental health professionals have observed the benefits of utilizing body doubling.
Article continues below advertisement
According to Tasha Chemel, MSW, M.Ed, an executive function coach, body doubling can help people with accomplishing tasks in a number of ways. As she told Healthline, body doubling can help people get started on tasks, help them stay motivated, and even help with emotional regulation.
That said, Chemel also told Healthline that for some, body doubling can be distracting. You may be tempted to chat with your body double, or get distracted by observing the environment or what's doing on in the chat section of a livestreamed body double.
Article continues below advertisement
Overall, body doubling doesn't work for everyone, but it's a low-stakes tool to try out — if it doesn't work for you, that's OK. There are plenty of other productivity hacks out there, as well as the option of consulting with a mental health professional.
Article continues below advertisement
You'll find numerous styles of body doubling livestreams on TikTok and Twitch.
If you happen upon a body doubling livestream, you will probably think to yourself, "Gosh, this is the most boring livestream on the planet." But that's for good reason.
Body doubling streamers typically set up their phone to film them while they're simply reading study materials, typing at their computer, folding their laundry, or organizing their room. Some streamers prefer to do their work in silence, while others play different music in the background of their stream.
Article continues below advertisement
You can even comment on your favorite creators' livestreams to make music requests; or, request to join livestreams run by creators who allow followers to join their lives, since some like to have multiple streamers people streaming themselves working at a time.
Additionally, many body doubling livestreamers use the Pomodoro Technique to structure their streams. This time management technique involves setting a timer (for any length of time you'd like, such as 25 minutes), and working until that timer goes off. Then, you set another timer for a shorter amount of time (such as 5 minutes), and you take a break until the timer goes off.
The livestreamers who use this technique will set the timers, and you can just work and take breaks on their schedule.
Article continues below advertisement
Following these body doubling livestream accounts is a good place to start.
Article continues below advertisement
Consider giving each of the accounts a follow, and see whose style works best for you. Or, consider going live on your own!