The Davos Conference Returns for the First Time Since the Pandemic — But What Is It?
Until 2020, the Davos Conference had taken place annually in Switzerland, and it's finally back. But what is the Davos Conference?
So many things are still in the process of resuming after the COVID-19 pandemic shut down the world back in 2020. Festivals are finally coming back, parks are reopening, and international political meetings are making their highly awaited return. The Davos Conference is just one of them — with the last meeting taking place in 2020, this will be its first in three years.
But what is the Davos Conference? Is it important?
Article continues below advertisement
Since Jan. 16, 2023, global leaders have been congregating in Davos, a ski resort in Switzerland near Zurich, to discuss important worldly matters. And thus far, it's had a serious focus on global warming.
"We are flirting with climate disaster. Every week brings a new climate horror story," UN Secretary General António Guterres stated in a speech at the conference, as per CNN.
That said, important conversations are clearly taking place at this meeting. So why do many still consider it to be controversial?
Article continues below advertisement
What is the Davos conference?
The Davos conference is a meeting that's held by the the World Economic Forum (WEF) every year, according to EuroNews (aside its hiatuses in 2021 and 2022).
From Jan. 16 through Jan. 20, 2023, about 50 government officials are congregating along with 200 cabinet ministers, and more than 1,000 business heads, from 130 countries around the world. Together, they are discussing topical issues the world is currently facing, in an attempt to make resolutions and find solutions to each of them.
Article continues below advertisement
More than 2,500 speakers have been invited to give speeches and lead panels on a wide range of topics. And fortunately, the World Economic Forum has designated the climate crisis as one of the predominant themes of Davos 2023, per CNN. There have been several panel discussions focused on everything from energy transition to sustainability — and it seems as though there may be more to come.
The theme of Davos 2023 is "Cooperation in a fragmented world." Some of the key talking points aside from global warming, per EuroNews, include: the cost of living crisis, the Russia-Ukraine war, the food security crisis, and manufacturing during times of war and global warming.
And while all of these topics sound intriguing, to say the least, the conference has still stirred up controversy. But why?
Article continues below advertisement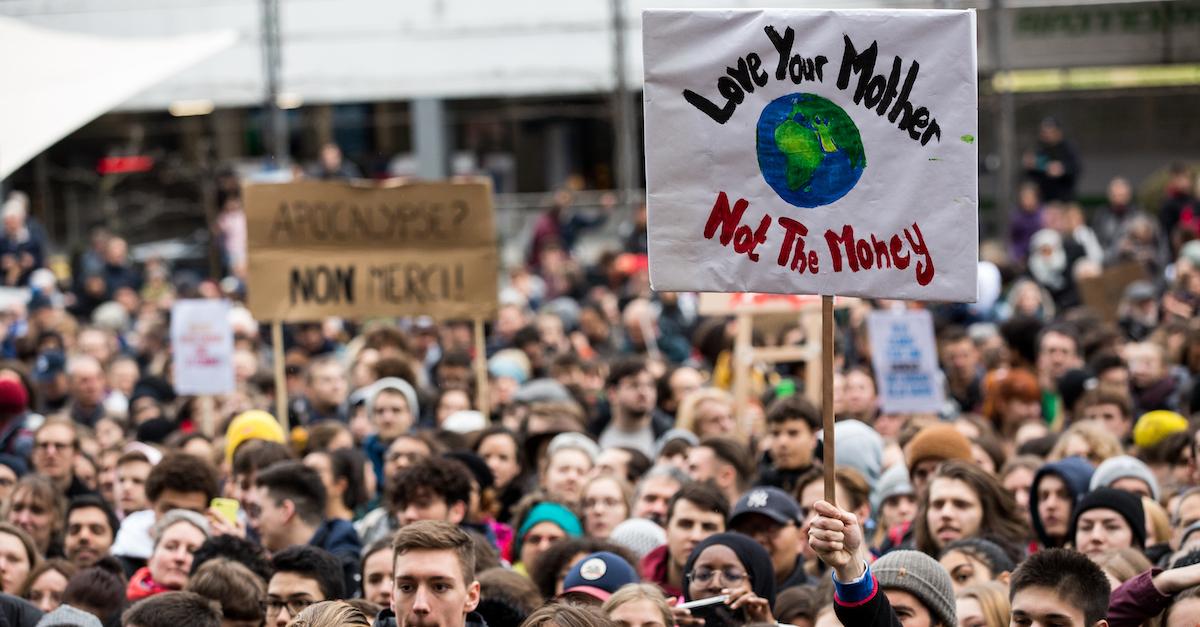 Is Davos controversial?
Article continues below advertisement
Even though a wide range of countries around the world make an effort to attend the conference, it's largely led by international symbols of wealth. Activists such as Greta Thunberg have addressed this matter in various protests, such as the one in 2019, photographed above. There, she made the iconic speech, in which she powerfully stated: "Our house is on fire."
Thunberg still protests the annual conference in 2023 for this exact reason, four years later.
Even though international meetings are vital to discuss topics as such, considering the image of the conference itself (i.e. the location), as well as the attendees, imperative. And allowing for those disproportionately affected by these issues, such as people from marginalized communities, would likely make for more effective and widespread change. Because most of the key focus points are ultimately affecting them the most.