Greta Thunberg Speaks at World Economic Forum: "Act As If You Loved Your Children Above All Else"
Greta Thunberg's speech at the 2020 World Economic Forum in Davos, Switzerland calls out the world's rich for their investments in fossil fuels.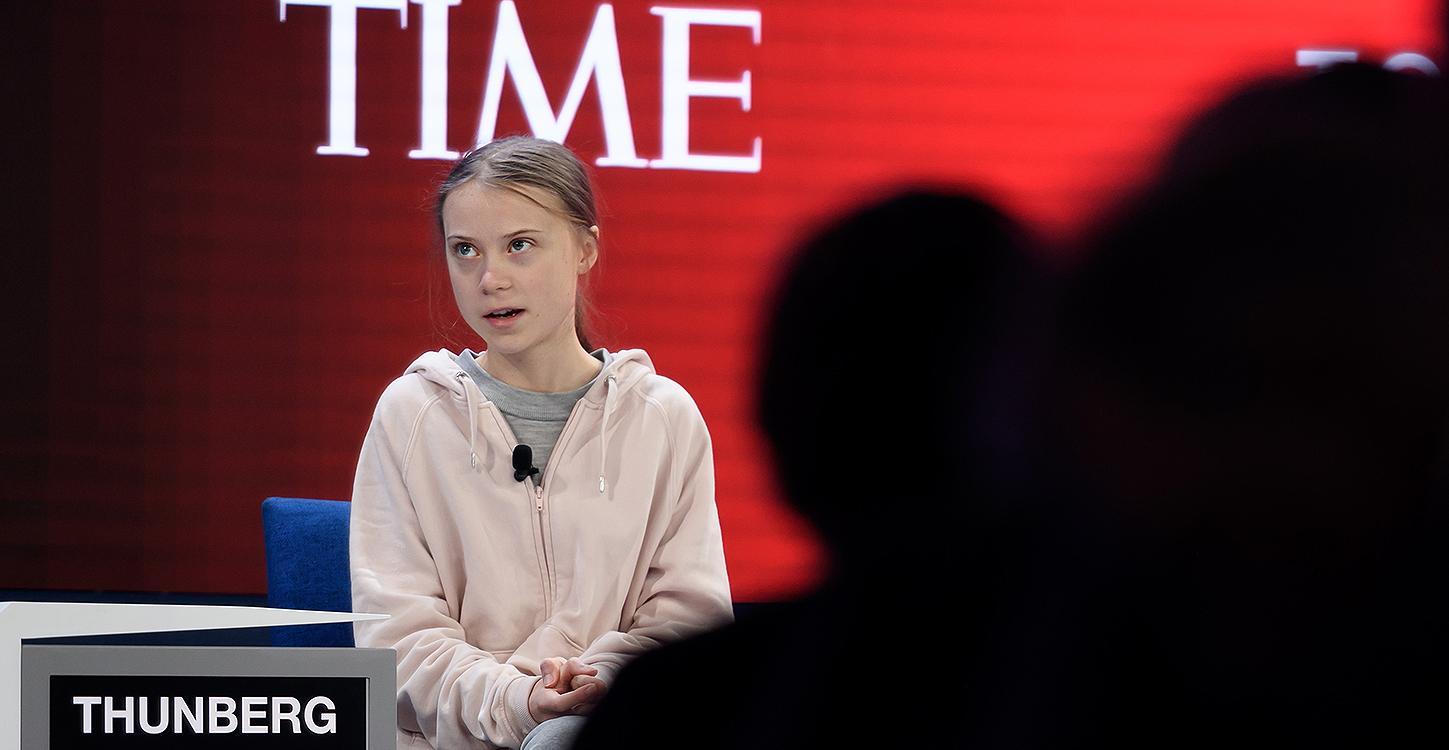 Greta Thunberg is known for making passionate, powerful, and direct speeches about the importance of protecting the planet. So, it's no surprise that her speech at the World Economic Forum in Davos, Switzerland today packed a serious punch. Her declaration that "our house is on fire" at last year's World Economic Forum has become one of her most famous quotes, and this year, she made sure to reprise that line while bluntly calling out the world's wealthy for their inaction.
Article continues below advertisement
On Tuesday, Jan. 21, Greta kicked off a panel discussion hosted by the World Economic Forum and The New York Times with a speech. The World Economic Forum is a business- and economy-focused event, which The New York Times describes as an "annual gathering of the world's rich and powerful." Greta was clearly aware of who was in the audience, and she did not mince words in the mighty opening lines of her speech, in which she referenced her remarks from last year.
"One year ago I came to Davos and told you that our house is on fire. I said I wanted you to panic," she said. "I've been warned that telling people to panic about the climate crisis is a very dangerous thing to do. But don't worry. It's fine. Trust me, I've done this before and I can assure you it doesn't lead to anything." (Insert hesitant chuckles from the audience.)
Article continues below advertisement
So what exactly is it that Greta wants all the rich people and institutions listening to her speech do? She wants them to divest from fossil fuels. That means putting the future of the planet ahead of money — oh, the horror!
Article continues below advertisement
"Let's be clear. We don't need a 'low-carbon economy.' We don't need to 'lower emissions.' Our emissions have to stop if we are to have a chance to stay below the 1.5-degree target," she said, referencing the Paris Agreement's goal of keeping the global temperature rise below 1.5 degrees Celsius above pre-industrial levels.
In the days leading up to the WEF, Greta met with a group of climate activists to discuss their specific demands for all the companies banks, institutions, and governments present at the WEF: "Immediately halt all investments in fossil fuel exploration and extraction. Immediately end all fossil fuel subsidies. And immediately and completely divest from fossil fuels."
Article continues below advertisement
"We don't want these things done by 2050, 2030, or even 2021. We want this done now," Greta continued. "It may seem like we are asking for a lot, and you will of course say that we are naïve. But this is just the very minimum amount of effort that is needed to start the rapid sustainable transition."
Article continues below advertisement
After citing her demands, Greta wrapped things up with an appeal to emotion. "I wonder, what will you tell your children was the reason to fail and leave them facing the climate chaos you knowingly brought upon them?" she said. "That it seemed so bad for the economy that we decided to resign the idea of securing future living conditions without even trying?"
But Greta reserved her sharpest sentiment for the final lines of her speech. "Our house is still on fire," she said. "Your inaction is fueling the flames by the hour. And we are telling you to act as if you loved your children above all else. Thank you." When you put it like that, it's hard to argue with. Hopefully Greta's speech will wake something up in WEF attendees, and inspire them to finally take her warnings seriously.