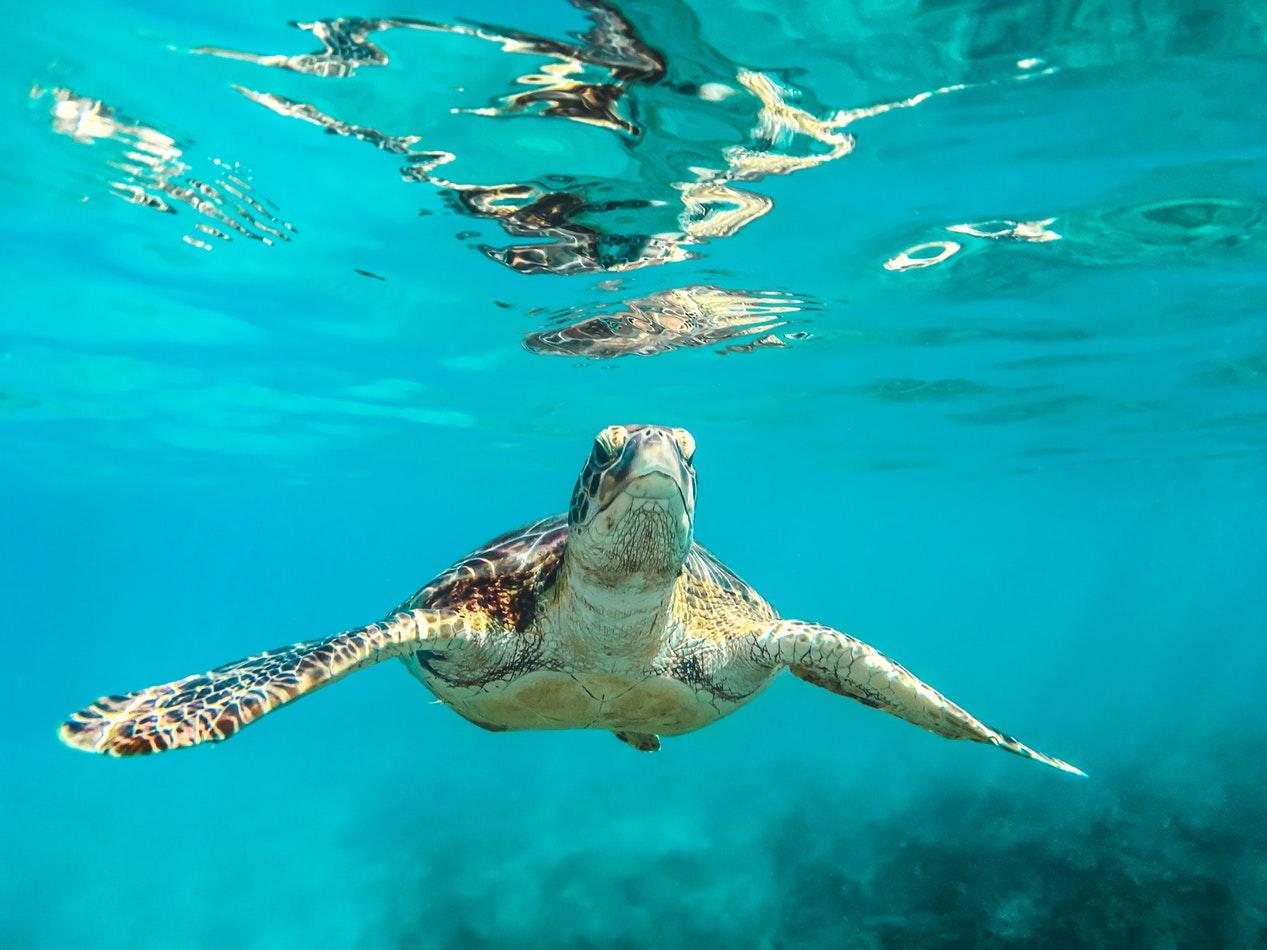 World Oceans Day Helps Turn The Tide On Plastic Pollution
Alarming statistics abound about pollution in our oceans: Every year, at least eight million tons of plastic are discharged into the planet's waters, traumatizing the seabirds and 600-plus species of marine life that ingest it. Upwards of 51 trillion micro-plastic particles measuring less than 5mm across already follow the tides, adding to an estimated 1.8 trillion larger pieces. All up, if the present rate of dumping (and fishing) continues, then by 2050 there could be more plastic in the ocean than fish, and the coral reefs that are home to many sea creatures may be dead.
Article continues below advertisement
In an effort to confront these concerns and, in doing so, celebrate our oceans, the United Nations declared June 8 of each year to be World Oceans Day. It's an annual call to attention about the critical importance of our seas' – and our own – survival, with a new main action focus for each year. In 2018, the theme is to "prevent plastic pollution and encourage solutions for a healthy ocean."
Article continues below advertisement
An expanding global network of individuals, groups, organizations, businesses, and governments recognizes this day to "celebrate the ocean, its importance in our lives, and how we can protect it." In keeping with this year's theme, they are focusing on two primary areas of responsibility: cleaning up the plastics currently in our water and stopping more pollution from getting into it.
Cleaning up the plastics currently in our water
Over the months, Green Matters has shared many admirable undertakings that tackle the problem of plastic garbage in our oceans. We thought today would be an excellent day to revisit some of them.
Article continues below advertisement
Sucking up trash
The Seabin Project uses a special trash can affixed to a dock to collect plastic debris found in boat marinas. Water pumped through it deposits garbage in a large fiber catch bag. In 2017, Seabins could filter out 3.3 pounds of plastic per day and hold up to 26.5 pounds at a time. Now they can do more and are in broader use, with 20 Seabins operational and 2,000 units on order from marinas all over the world.
On a smaller scale, Mr. Trash Wheel is a water wheel, fueled by sunlight and water, that collects garbage from Jones Falls River before it passes into Baltimore's Inner Harbor. Since May 9, 2014, the project has collected over 1.5 million pounds of trash.
Article continues below advertisement
Of course, human hands are also busy getting dirty, even for "pleasure." Plastic Whale operates guided tours of Amsterdam's canals and Rotterdam's harbor during which guests fish plastic out of the water. Even better, the boats themselves are made of recovered plastic.
Converting plastic into fashion
The harmful effects of clothing fashion on the environment are well documented. As one of the most polluting industries in the world, it lets waste and dyes leech into the water. That doesn't sit well with many in the fashion industry. To combat it, United By Blue is removing one pound of ocean trash for every product it sells.
The reuse of recyclable plastic rubbish collected from waterways has been picking up too, as innovative, eco-friendly clothing designers and brands put more thought into how they're sourcing materials. Quite a few now rely on recycled plastics to manufacture responsible clothing – everything from comfortable activewear and shoes to swim trunks.
Article continues below advertisement
Even big brands are in on the act. In March 2018, Adidas announced that it had sold one million pairs of sustainable sneakers made from ocean plastic. They expect sales to increase five-fold in 2018 and have expanded their upcycled-plastic collection to yoga products – onesies, crop tops, and leggings.
H&M too has found a way to begin making good on its promise to go green by 2040. The cloth of its Conscious Exclusive collection is woven out of reclaimed nylon from landfills and oceans.
Article continues below advertisement
Dealing with more than plastic
The chemicals that accompany plastic waste – contained by it, spilled with it, leeching out of it – is not to be forgotten. One substance of worry in our oceans is the UV-blocking chemical in sunscreen; it may protect your skin but is very damaging to coral reefs. Helpfully, one lab has used algae and lobster shells to create tiny beads that can absorb offending chemicals like oxybenzone.
Article continues below advertisement
Stopping more pollution from getting to it
As meaningful and necessary as the effort to clean our oceans is, it needs a parallel push to keep new contamination out.
Keeping chemicals out
Returning to the topic of sunscreen, there is a growing number of "reef-safe" brands. It is helpful to know about them and other organic options before hitting the beach. Should you travel unprepared, there are even some hotels that promote the right stuff.
Another step that you can take at the individual level (but also encourage at broader ones) is to create ocean-friendly gardens capable of forestalling the excessive stormwater runoff common in urban areas and a major cause of water pollution.
Article continues below advertisement
Getting whole countries on board
What better way to pursue large-scale change than by legislating best practices at the national level? That's just what is beginning to happen.
Less than two weeks ago, the European Commission announced plans to regulate single-use plastic, including bans on plastic items known to exacerbate marine pollution. If approved, they could be in effect by 2030. Even if it is delayed, there are already European Union goals in place to limit people to 40 plastic bags per year by 2025, and for all mass-produced plastic to be recyclable by 2030.
Finding innovative alternatives
What if non-biodegradable fabrics like polyester never existed and didn't clog our landfill or spill micro-plastics into our oceans? One company is spinning a new "bioyarn" out of kelp that could make this dream come true in the future.
Article continues below advertisement
Simultaneously cleaning mess and controlling waste
Yes, it's possible to kill two birds with one stone – to divert one waste stream while avoiding the creation of another.
The company GreenWave has developed a fertilizer- and chemical-free, floating farm concept that regenerates the ocean – mitigating excess nitrogen, and producing oxygen while absorbing carbon dioxide – through the sustainable growth of seaweed and shellfish specifically used for food, fertilizer, animal feed, cosmetics, and biofuel.
Other companies are banding together on collaborative projects. Soma, which creates BPA-free, shatter-resistant glass drinking products, joined forces with Parley Ocean Plastic on limited-edition reusable glass water bottles with plastic sleeves made from ocean trash. Sold at Starbucks, they generated proceeds that supported the Parley Ocean Plastic Program.
Article continues below advertisement
Similarly, Dell, which has been making the plastic trays holding their new laptops in their boxes from 25% ocean plastic and 75% other recycled plastics, linked up with the Lonely Whale foundation to establish an open-source network for companies attempting to intercept plastic before it gets to the ocean, not just fish it out once it's there.
At a much higher level, there are international programs like the UN Environment's #CleanSeas Campaign, which aims to guide the battle against marine plastic litter. At present 44 governments have pledged their support, alongside hundreds of business and thousands of individuals.
Article continues below advertisement
What you can do?
Take responsibility for your own actions and then get involved in solutions that tackle bigger issues!
If you own a restaurant or hospitality business that uses a lot of plastic and you are in search of easy and cost-efficient ways to implement recycling, composting, and other environment-friendly practices, the Oceanic Global Foundation, a New York-based non-profit dedicated to raising awareness about issues impacting our oceans, has launched The Oceanic Standard, an easy-step-by-step guide for restaurants, event spaces, hotels, bars, nightlife venues, and more to adopt sustainable practices that meet both business and environmental needs.
Of course, never hesitate to throw your purchasing power behind the brands and products (like those above) actively in search of positive ways to bring about beneficial change.