"This Is Where I Draw the Line" — Would You Try Reusable Toilet Paper to Reduce Waste?
Reusable toilet paper or "family cloths" are sustainable TP solutions, but are they hygienic? Here's what you should know.
As the climate emergency becomes more and more dire, there are still plenty of ways that consumers could cut down on their emissions and other environmental impacts. Toilet paper is one area where a sustainable approach could make a big difference for the planet. Reusable toilet paper, or family cloth, is one solution.
Article continues below advertisement
If you've never heard of family cloth or considered a more eco-friendly toilet paper, read on to find out how it works. This viral hack, as seen on TikTok, could cut down on valuable use of Earth's natural resources — if you can adjust your mindset a bit.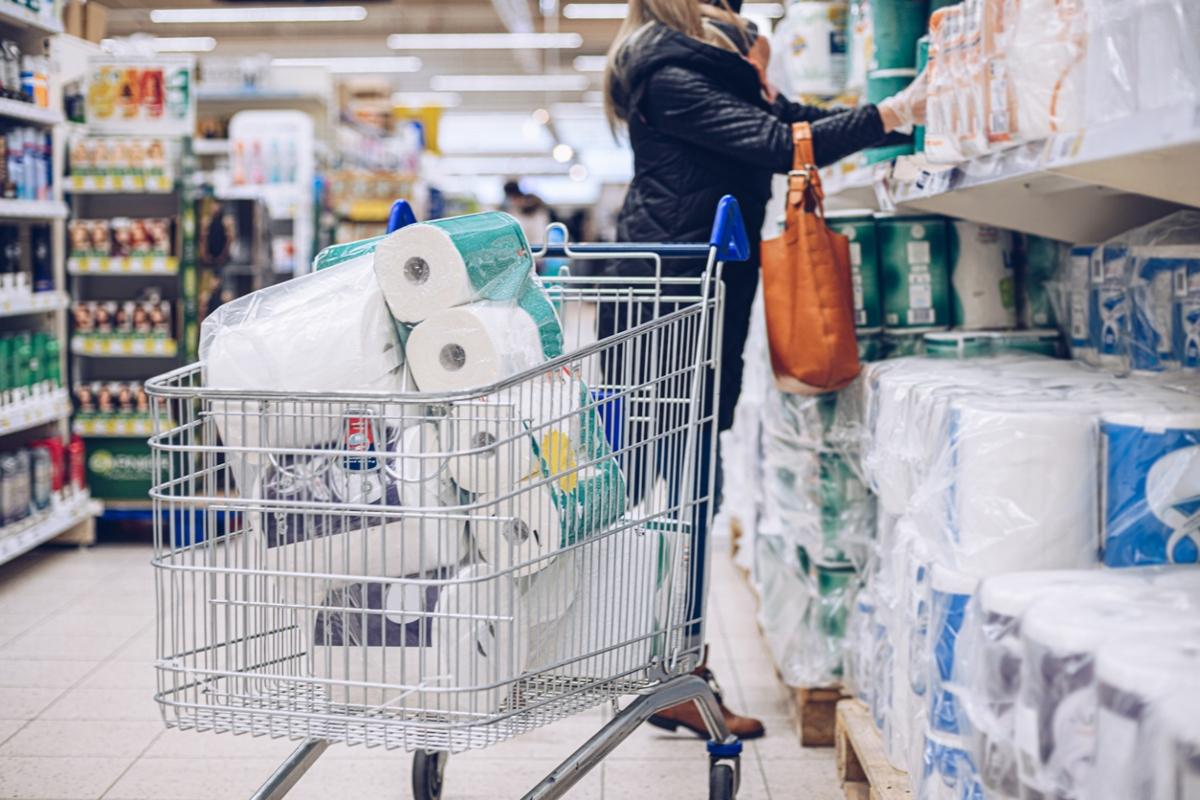 Article continues below advertisement
A viral TikTok is teaching people about reusable toilet paper.
A very brief TikTok video from Net Zero Company shares a tip for reducing your environmental impact in the bathroom. Instead of buying regular toilet paper that is often made with harsh chemicals and then flushed away, you can try reusable toilet paper. Yes, it's a real thing! Reusable toilet paper is made from cloth and is washable.
According to the text overlaid on the video, "27,000 trees are flushed daily." It shows a reusable toilet paper roll, which is the same shape and size as typical toilet paper, but made of washable cloth in pretty patterns and colors. The accompanying tagline below the video says, "It's best paired with a bidet." (A bidet sprays water to cleanse you after going to the bathroom, so your reusable cloths won't get very dirty.)
Article continues below advertisement
Although over 807,000 people have "liked" the video, many people commenting didn't feel the eco-friendly aspect was enough to get rid of the "ick" factor.
Here are a few negative responses:
"If I saw this at someone's house, I'd leave immediately."
"Some things just aren't meant to be reusable."
"Ik we need to save the planet but there has to be another way."
Several commenters suggested bamboo toilet paper instead. The creator's response was: "Consider the energy/resource demand to continually manufacture a disposable product and the green house gases emitted to continually transport it."
Article continues below advertisement
What is family cloth, aka reusable toilet paper?
Just like cloth diapers, reusable toilet paper is made of cloth and is washable. Net Zero Co., the TikTok creator, is one manufacturer, and it sells a 24-piece roll of "UnPaper Roll" for $24.99. There are quite a few companies making reusable toilet paper, sometimes called "family cloth.". Cheeks Ahoy and Marley's Monsters are a couple of other brands to try. Some people simply repurpose old clothes into strips of family cloth.
Article continues below advertisement
If you're still hung up on the idea that reusable toilet paper seems gross, consider how harmful regular toilet paper is to the environment. Sources like Bumboo say that about 27,000 trees are chopped daily for toilet paper, equaling 9.8 million trees a year. Even with sustainable options like bamboo, the environmental cost from harvesting materials, manufacturing paper, packaging it, and transporting it to customers is huge.
Switching to reusable toilet paper will increase your weekly laundry requirements, which use more water and detergent. However, you may find that it still saves you money compared to buying multi-packs of regular toilet paper.
Even if you aren't ready for reusable toilet paper, think of other swaps: paper towels, hair care products, toothbrushes, and many other household items have zero-waste options to reduce your carbon footprint.