7 Innovative Zero-Waste Toothbrushes That Go Beyond the Bamboo Brush
These innovative zero-waste toothbrushes are more than just bamboo — we've rounded up brushes with reusable handles, replaceable brush heads, electric options, and more.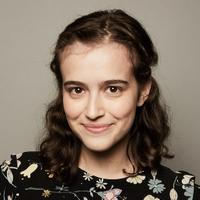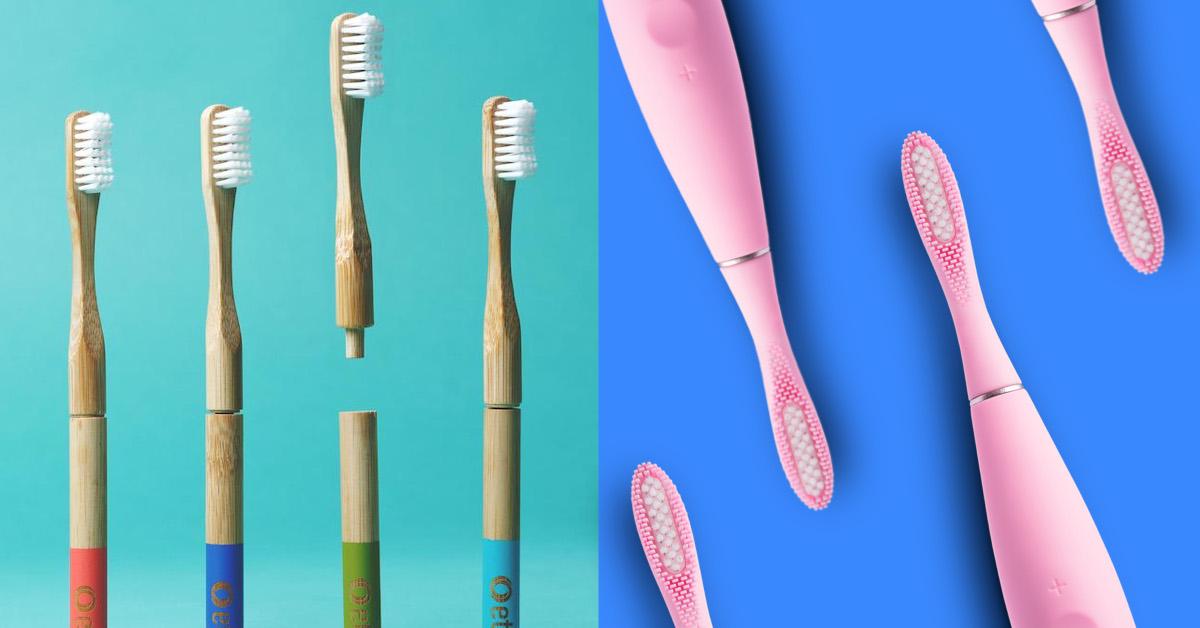 One of the first eco-friendly swaps many aspiring zero wasters make is trading their plastic toothbrush for a bamboo one. But is a bamboo toothbrush really the most sustainable option, or are there any zero-waste toothbrushes with reusable handles? Are there any toothbrushes made from other materials that are more eco-friendly?
Keep reading to learn more about what makes a toothbrush environmentally-friendly, plus our recommendations of zero-waste toothbrushes that are a bit more innovative than bamboo brushes.
Article continues below advertisement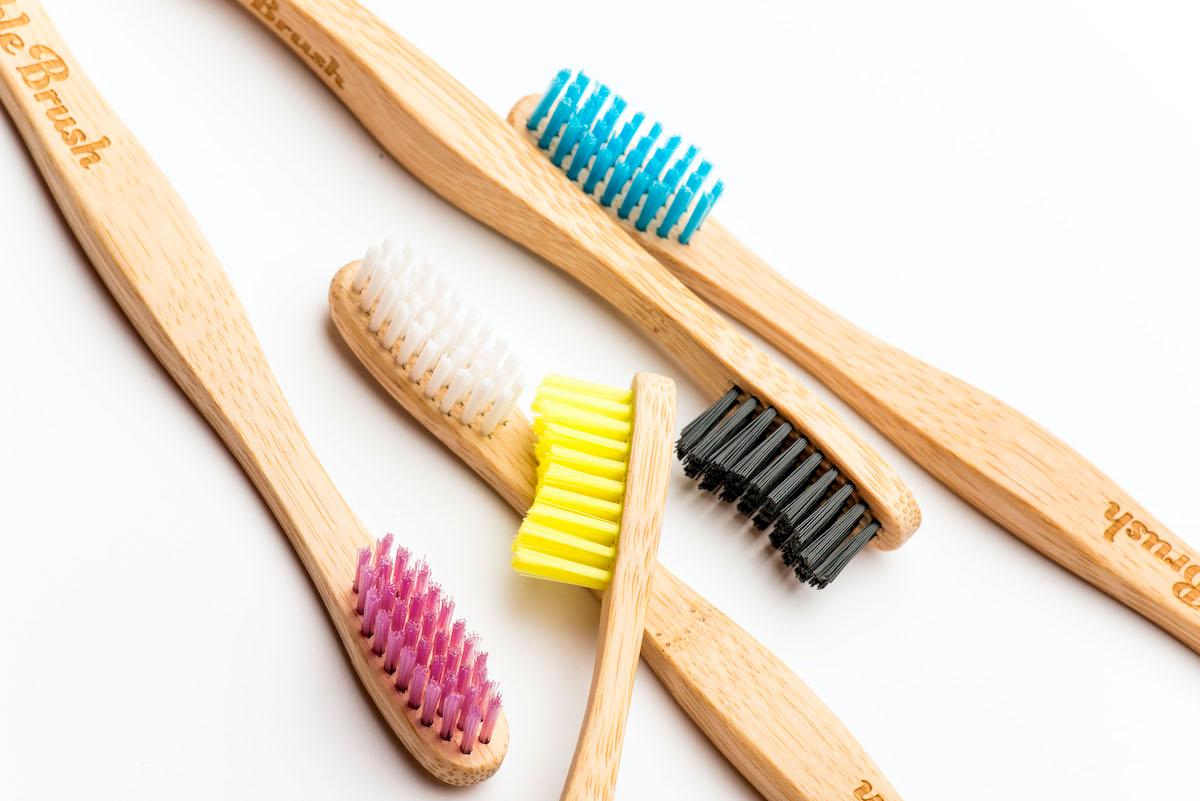 Are bamboo toothbrushes good for the environment?
Bamboo toothbrushes are a solid eco-friendly alternative to plastic toothbrushes. Bamboo toothbrushes can be composted (with the exception of the bristles, in most cases). They are also naturally antimicrobial, and bamboo grows very quickly, making it a generally sustainable crop.
Some of our favorite standard bamboo toothbrushes are made by Brush With Bamboo, Wowe, and Bite. Unfortunately, most bamboo toothbrushes' bristles are not biodegradable as they contain some plastic – even on the most eco-friendly of toothbrushes. On these, you have to remove the bristles using household pliers before composting the handle.
Note that if you see a bamboo toothbrush claiming to include "natural" bristles, these are typically made from boar bristles, making them compostable, but not vegan (and meaning your purchase supports the meat industry, as these boar bristles are generally byproducts of pigs slaughtered for meat).
In contrast, no part of plastic toothbrushes are conventionally recyclable. The only somewhat-widespread way to recycle toothbrushes of any brand is via TerraCycle's oral care recycling program.
So, if you want to move away from environmentally-unfriendly conventional plastic toothbrushes, bamboo toothbrushes are an affordable and popular choice — but there are also a few other zero-waste options on the market.
Etee's Bamboo Toothbrush With Replaceable Head
The Humble Co.'s Toothbrush With Replaceable Head
Similarly, cruelty-free personal care company The Humble Co. makes bamboo toothbrushes with replaceable heads. However, it appears that you cannot purchase replacements without ordering a handle, too. That said, for €9.99 (around $12 USD) you can get a Humble Co. bamboo handle plus three heads. The bristles are made from nylon, and must be taken out and trashed before composting heads and handles.
Article continues below advertisement
Colgate's Keep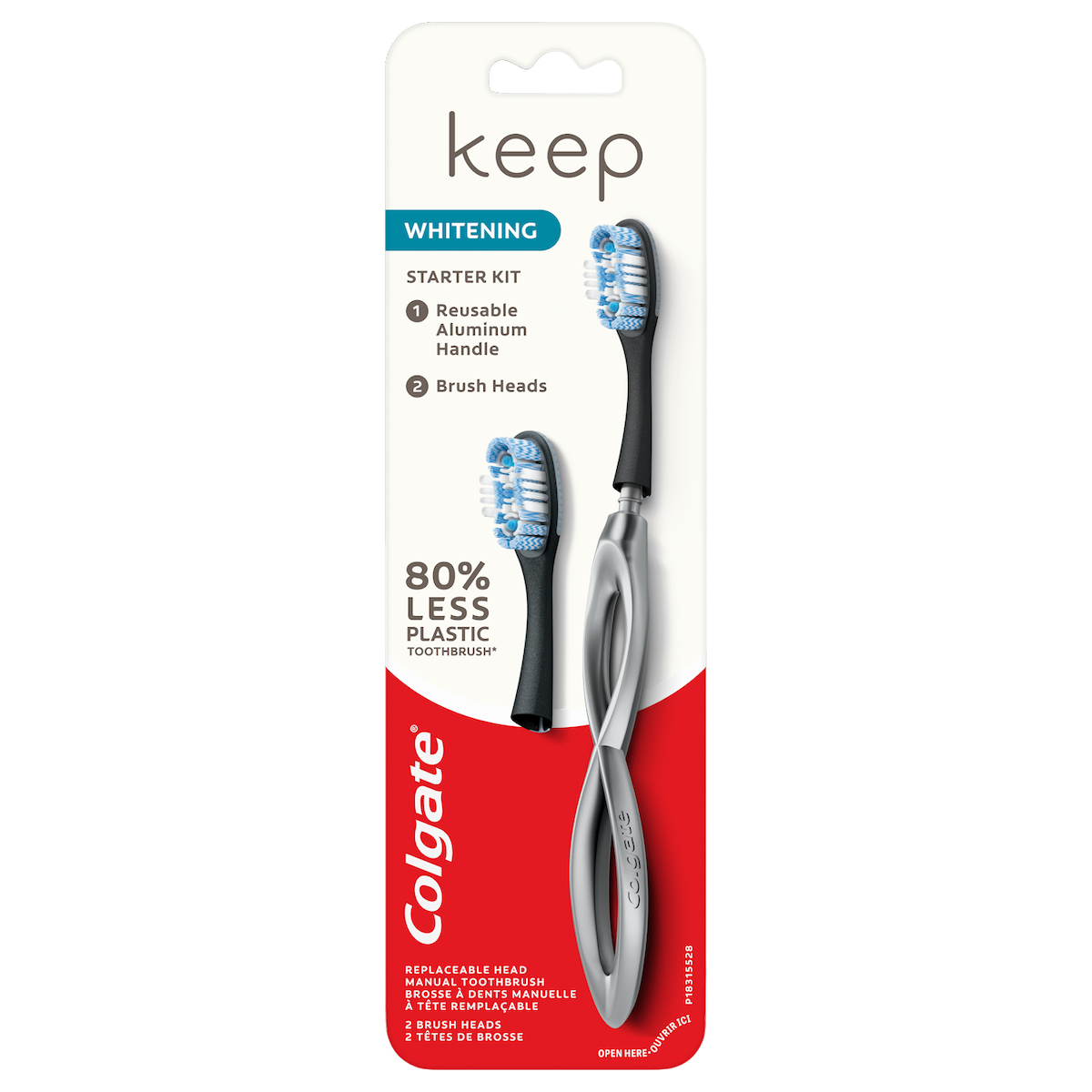 Even major brands are getting in on the low-impact toothbrush trend. In February 2021, the Colgate Keep was unveiled, which features a reusable 100 percent aluminum handle and replaceable plastic brush heads, designed to use 80 percent less plastic than conventional plastic toothbrushes. The brush heads can be recycled through the above-mentioned TerraCycle oral care program, which Colgate actually sponsors.
Article continues below advertisement
Unfortunately, Colgate is not a cruelty-free company, and the brushes do contain more plastic than most other options on this list. That said, it's a great start that Keep toothbrushes and replacement heads will be available at major retailers including Amazon and Target, making them potentially the most accessible option on this list. You can get a Colgate Keep handle with two brush heads for $9.99, or a pack of two heads for $4.99.
Article continues below advertisement
Radius' Forever Toothbrushes
Radius is a cruelty-free, woman-owned company that makes reusable toothbrush "forever handles" out of recycled plant-based materials. The Source Brush handle is ambidextrous and made from recycled materials such as wood, paper, and dollar bills, while the ergonomic Big Brush handle comes in both left-handed and right-handed designs.
Article continues below advertisement
Radius also sells replacement heads that are made of vegetable-based nylon, fit into any of the company's handle designs, and come in different lengths and bristle types. According to Radius, the company's reusable toothbrushes are 93 less wasteful than the average plastic toothbrush. Radius also makes toothbrushes for children and dogs, though those do not offer replacement heads. Radius' products are available on the company's website starting at $3.99, as well as EarthHero.
Article continues below advertisement
Foreo's Electric Issa Brush
Foreo is best known for its electric Luna skincare brushes, but the company also makes electric toothbrushes and tongue cleaners, called Issa. Foreo's Issa products are available in a variety of sizes and styles, including sensitive, child, and baby.
Unlike regular toothbrushes, Issa brushes can last for an entire year on a single charge, and can be used up to 800 times — including the bristles, which are made from silicone and PBT polymers. When the bristles do eventually wear out, Foreo sells replacement heads for $19.95. Electric Issa brushes with replaceable heads start at $99 for babies and kids, and adult versions start at $149.
Article continues below advertisement
Plus Ultra's Electric Toothbrush Replacement Heads
Already have an electric toothbrush? The brand Plus Ultra sells replacement heads that are compatible with Philips Sonicare electric toothbrushes, and the brand will soon sell replacement heads for Oral-B electric toothbrushes, too. Plus Ultra's replacement heads are made of biodegradable cornstarch, and go for $29.99 for a pack of three.
The company also sells standard compostable bamboo toothbrushes for adults and kids that feature inspirational messages on the handles.
Article continues below advertisement
Preserve's Recycled Toothbrush
Preserve's toothbrushes are for those who refuse to use a toothbrush that feels or functions anything unlike typical plastic toothbrushes. Preserve, a certified B Corporation, makes toothbrushes out of recycled plastic yogurt cups and ocean plastic, which are recyclable through Preserve's take-back program. Prices start at $3.30 for kids brushes, and $3.49 for adult brushes, and in addition to the company's website, you can find these brushes on EarthHero and in stores including Whole Foods.