The Best Foods I Tried at the 2023 Plant-Based World Expo (Exclusive)
Green Matters was invited to attend the Plant-Based World Expo, where I got to try vegan foods galore.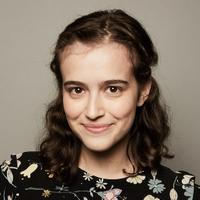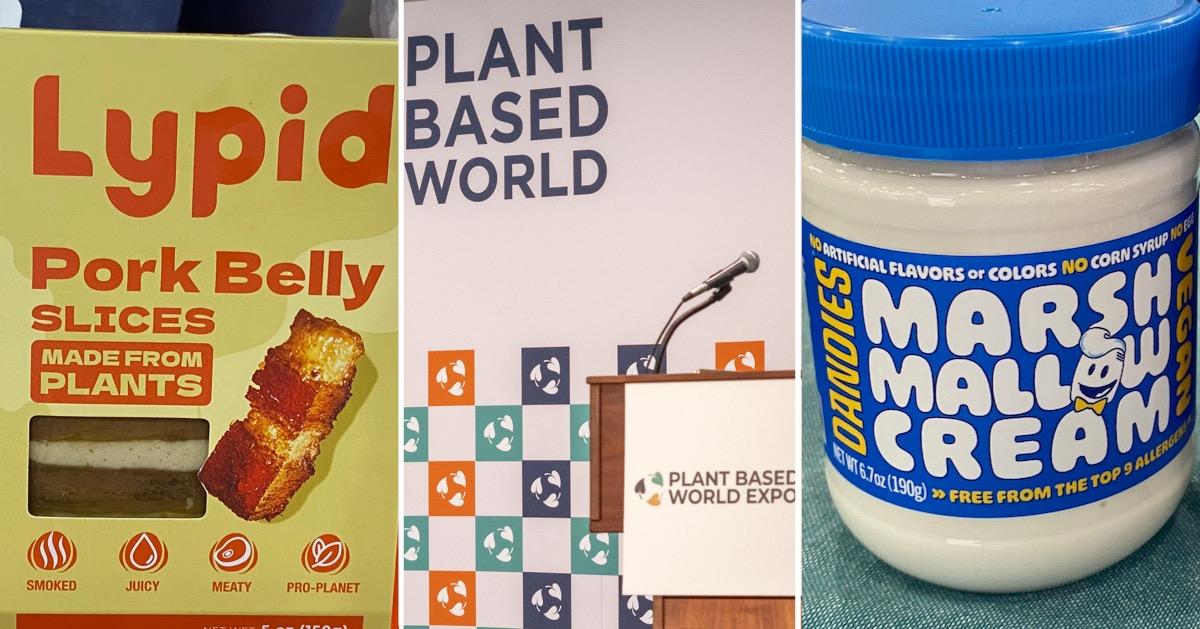 Ask any vegan foodie what their version of heaven is, and they'll likely say a vegan food festival. But imagine a vegan food festival where the booths have no lines, and the portions are tiny — in a good way, since that means you get to try as many different foods as possible. Folks, let me introduce you to the Plant Based World Expo.
Article continues below advertisement
The Plant Based World Expo invited Green Matters to the annual show, held on Sept. 7 and 8, 2023, at the legendary Javits Center in New York City, and I was lucky enough to attend.
But before diving into the land of food samples galore, I sat down with Ben Davis, Content Chair and Strategic Advisor for Plant Based World. Davis shared some of the biggest trends seen at the 2023 expo, including foods made with mushrooms and mycelium, as well as a new genre of meat alternatives.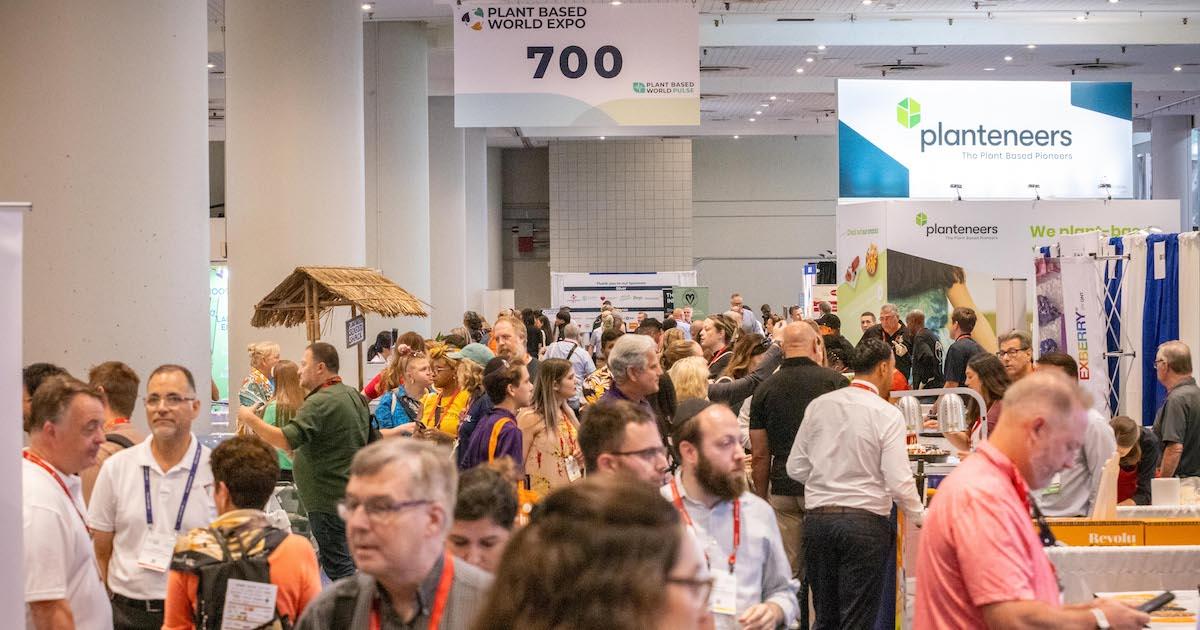 These are the biggest plant-based food trends of 2023.
"[I'm] really excited about all the products we're seeing that are focused on mushrooms, both as an ingredient and as a technology — mycelium and the potential for sustainable foods that are grown using mycelium and mushrooms," Davis tells Green Matters exclusively.
Another trend Davis has seen is "products that are looking to be a 'center of the plate' type food, but not necessarily taste exactly like meat." He explains that this is "a shift from what we've seen in the past ... where the most hype went to the companies that were making the products that tasted the most identical to meat."
And finally, Davis is excited about the expanded presence of international companies this year. The expo featured pavilions from countries including Italy, Brazil, and Denmark, each of which featured multiple companies showcasing their unique and delicious plant-based products.
These pavilions are actually funded by the countries' governments, which subsidize the brands so they can participate in the show. "These foreign governments are recognizing that they want to support the growth and expansion internationally of their plant-based portfolios," Davis says.
Without any further ado, here are the products that stood out as the highlights of the Plant Based World Expo 2023.
Dandies Marshmallow Cream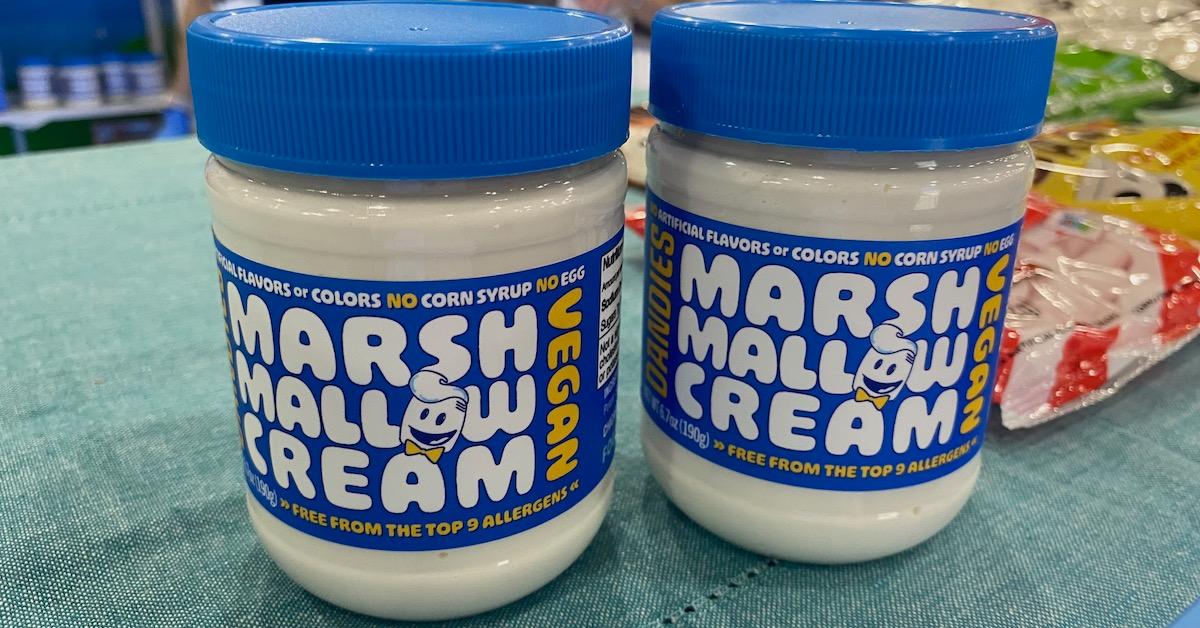 Dandies, everyone's favorite vegan marshmallow company, had its newest product on display at the expo: Marshmallow Cream. Packaged in a jar, this product is free of corn syrup as well as the top nine allergens, and it just might be the first vegan marshmallow cream on the market.
I got to try Dandies Marshmallow Cream in a tiny peanut butter and marshmallow cream sandwich, and it was one of my favorite things I ate at the event! I can't wait for this to become available to the public.
Soft Spot's Parmesan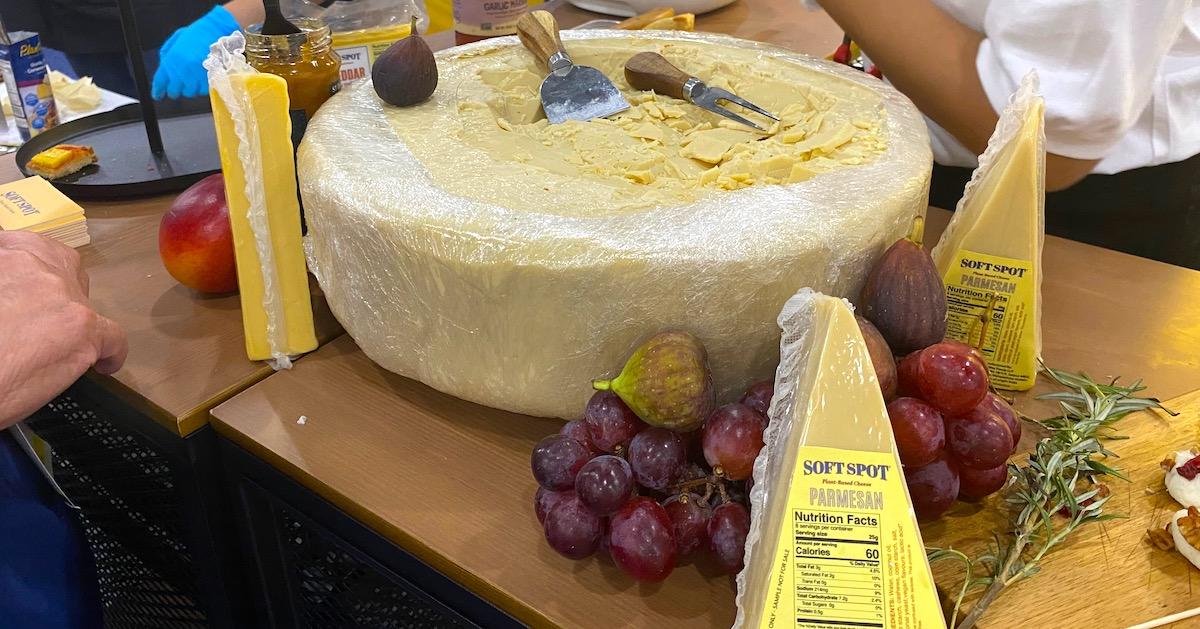 At the expo, India-based company Soft Spot presented its dairy-free Parmezan in probably the best format imaginable: In a massive Parmesan cheese wheel. Not only was the presentation as delightful as could be, but it was also delicious.
While the giant wheel is not available for purchase to the public, the Parmezan is available for order on Soft Spot's website.
Article continues below advertisement
Lypid Pork Belly Slices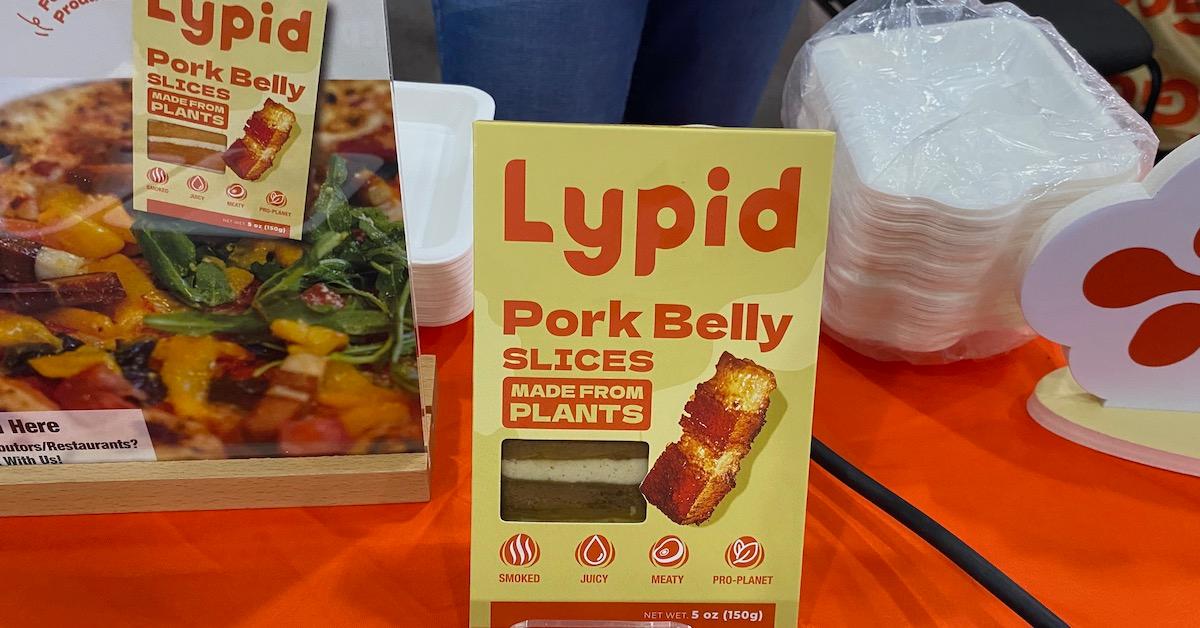 I must admit, I never ate pork belly before going vegan, so I can't speak to this product's accuracy. That said, the Lypid Pork Belly Slices was one of the most delightfully fatty vegan meat products I've ever eaten, and it gets my enthusiastic seal of approval.
Founded by Jen-Yu Huang and Michelle Lee, Lypid makes the pork belly using its proprietary PhytoFat, a "creamy, juicy animal fat analogue." Two variations of the pork belly are currently available via food service, and the San Francisco-based food tech startup has plans to use PhytoFat to make many other products in the near future.
Article continues below advertisement
Kewpie Vegan Mayo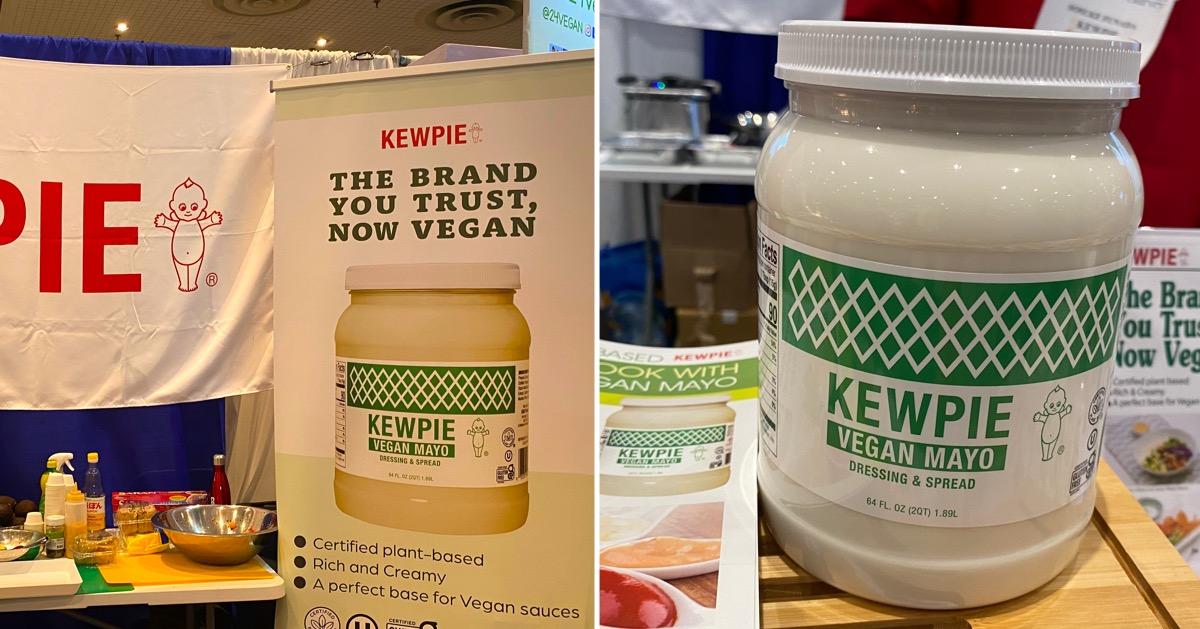 Japanese mayonnaise company Kewpie, which was founded back in 1919, is finally rolling out a vegan version of its famous mayo. And if this gives you any indication of how good Kewpie Vegan Mayo tastes, I was unabashedly licking it out of a tiny cup until it was completely clean as I spoke with the Kewpie reps at the brand's expo booth.
Kewpie Vegan Mayo is available to order — only in 64-ounce jars — on the company's website.
Article continues below advertisement
OCHO Candy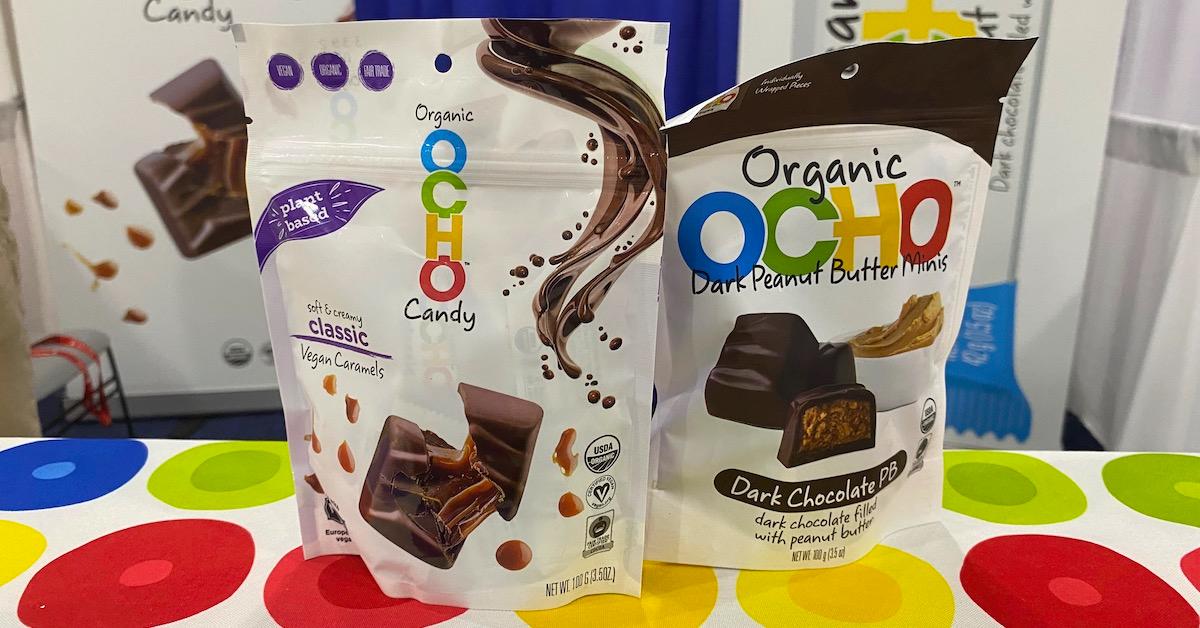 While OCHO Candy is not a fully vegan brand, the company offers a variety of vegan candies, and has embraced the plant-based community. In fact, this was the second vegan event I attended this year showcasing OCHO's vegan candies, the first being the 2023 Vegan Women Summit.
OCHO Candy's vegan flavors, which include Dark Chocolate PB and Vegan Caramels, are absolute melt-in-your-mouth perfection. No notes.
Article continues below advertisement
Panacheeza Grated Parmesan Cheese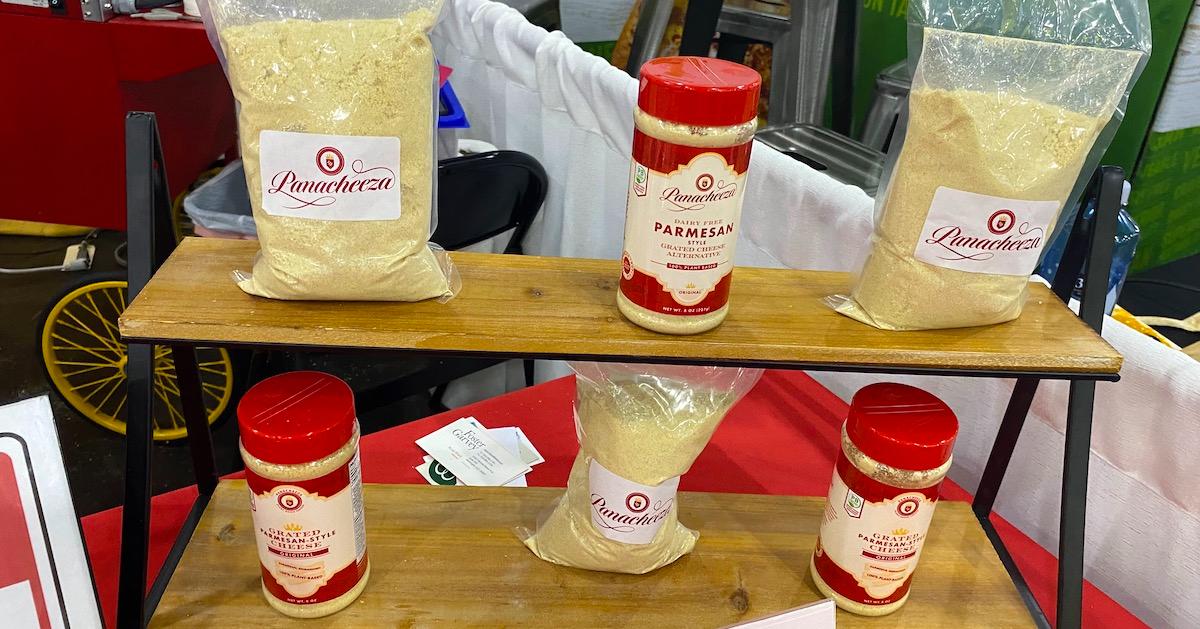 Small company Panacheeza, which founder Janessa Steenberg launched just a few months ahead of the expo, showed off its inaugural product at the event: Grated Parmesan Cheese. The product is yet another one that I brazenly licked clean out of a tiny cup.
The powdered vegan Parm is made from just five ingredients: organic cashews, nutritional yeast, Himalayan pink sea salt, garlic powder, and powdered apple cider vinegar — and it just may be the best vegan Parm that I've tried. 10/10.
Article continues below advertisement
Plant Ahead Plant-Based Fresh Mozzarella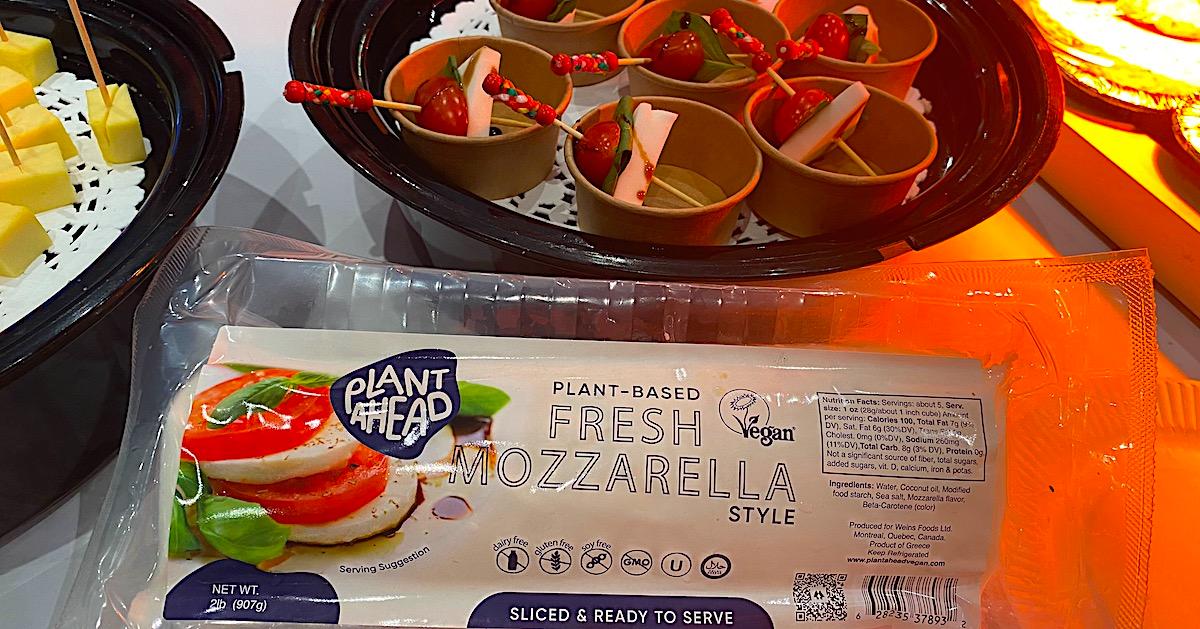 At the expo, Plant Ahead presented its scrumptious Plant-Based Fresh Mozzarella, served in samples along with cherry tomatoes and fresh basil, making for a tiny, bite-sized caprese salad. Plant Ahead only launched the fresh mozzarella shortly before the expo, and as of publication, it's not yet listed on the company's website — but hopefully it will hit stores soon.
Article continues below advertisement
Jinka Calamari and Crab Poppers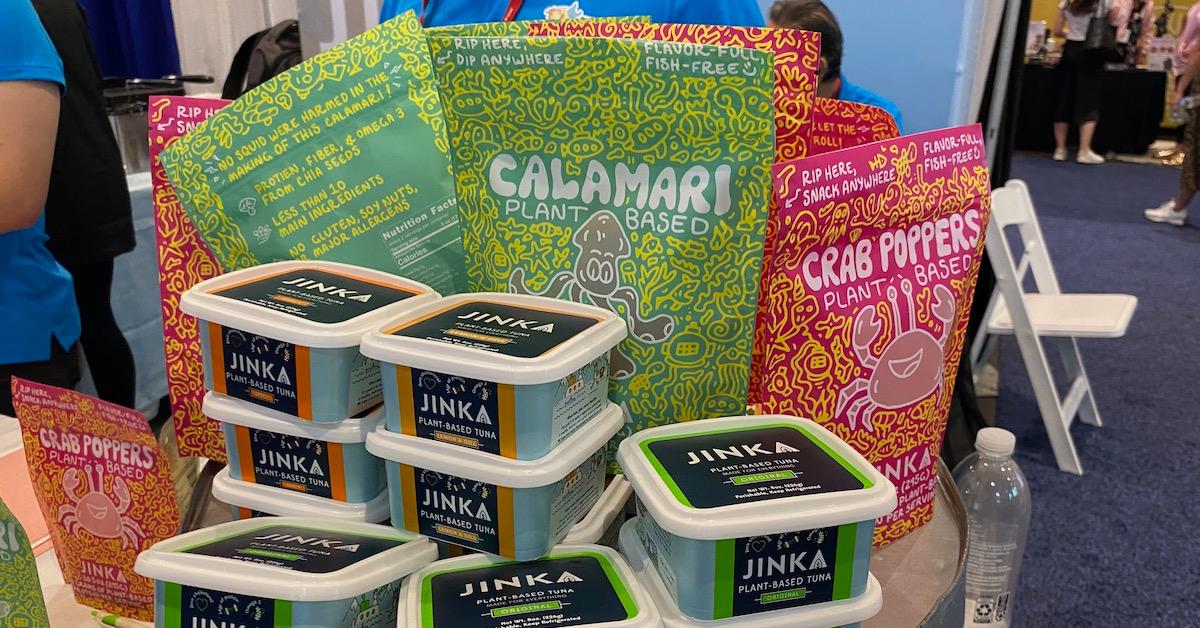 Jinka is known for its Plant-Based Tuna, which comes in several flavors — but at the Plant Based World Expo, the company had an exciting new product on display: Plant-Based Calamari and Plant-Based Crab Poppers.
Though I came across the Jinka booth as I was becoming dangerously full, a rep at the booth convinced me to try a bite of the calamari, and it was delectable. The new products are not yet on the market, but will launch in the frozen food aisle sometime soon.
Article continues below advertisement
Abe's Cupcakes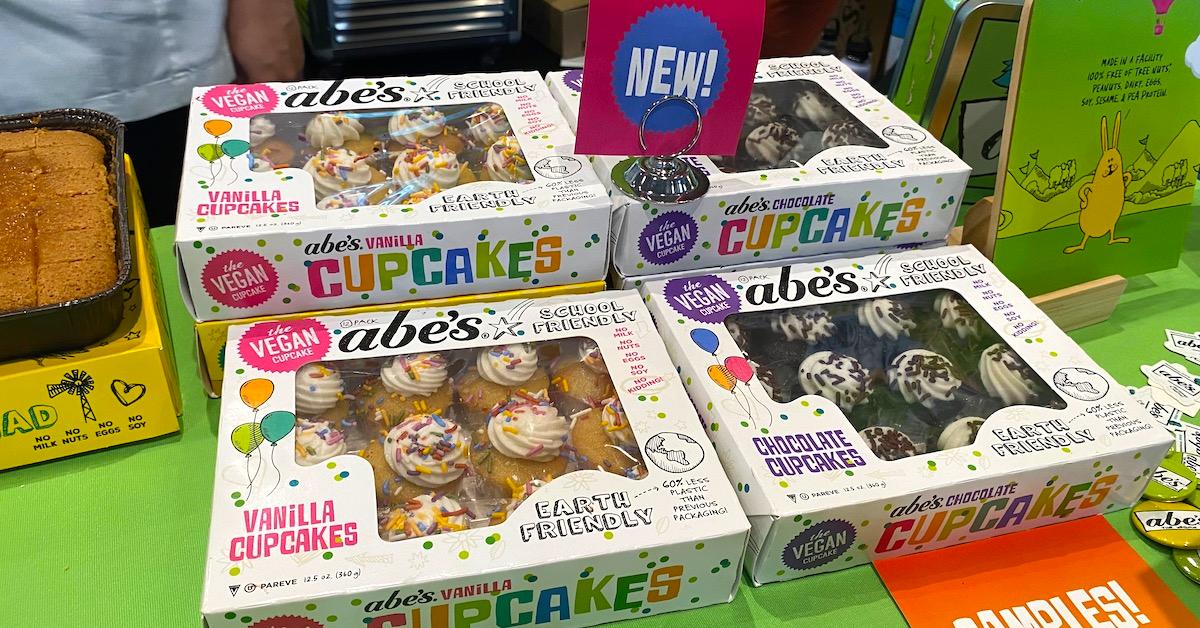 When I arrived at the Abe's booth, I was already so full that I couldn't bear to eat one more sample — but I definitely already regret not trying the vegan company's newest product: cupcakes.
Abe's is known for its vegan and allergen-friendly baked goods (such as brownies, muffins, and cakes) which somehow always manage to taste freshly-baked, despite being packaged. So even though I didn't actually try Abe's new cupcakes, I'm confident they will be a hit.
A rep at the booth told me that the cupcakes have already launched in select markets, and will be rolling out across the country in the near future in two flavors: Vanilla Cupcakes (topped with vanilla icing and rainbow sprinkles) and Chocolate Cupcakes (topped with vanilla icing and chocolate sprinkles).