Our Favorite Vegan Eats From the 2022 Plant-Based Food Expo
Green Matters gained exclusive access to the North American Plant-Based World Expo on Thursday, Sept. 8, to try new foods on the vegan market.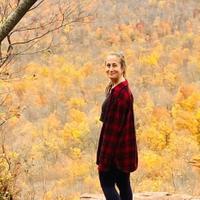 On Thursday, Sept. 8, Green Matters took to the 2022 North American Plant-Based World Expo, which took place at New York City's iconic Javits Center. Prepared to try all of the latest and newest innovations in vegan food, I came incredibly hungry, and left — er, rolled out — on the brink of a food coma.
There were so many awesome things to try at the expo, including everything from plant-based shrimp to vegan charcuterie.
Article continues below advertisement
With hundreds of stands, my stomach could only take in so much. But with droolworthy eats at almost every stand, grabbing a sample every few seconds was inevitable.
Some brands — such as Miyoko's or VFC — were familiar, while others were only just launching in the U.S. But nevertheless, the expo certainly featured an eclectic array of companies, brands, and lines, which made the spectacle all the more exciting.
That said, keep reading for a list of my favorite eats from the expo this year! But make sure you have snacks on-hand — and consider adding some of these to your grocery list so you can try them, too.
Before the Butcher's breakfast sausage patties
If you were able to taste Dunkin's Beyond Breakfast Sandwich before it was unfortunately discontinued, you'll love Before the Butcher's breakfast sausage patties. Whether you pair them with a stack of pancakes, or if you go the savory route, and sandwich them between an English muffin and some JUST Egg, you're likely to be satisfied with your early morning choices.
The brand mostly sells its products online as of now, but will hopefully expand in the future.
Article continues below advertisement
Bedda Cheese
In addition to offering various sauces and dips, Germany-based company, Bedda, offers a wide range of quality cheeses that we definitely plan to feature on our next charcuterie boards. From the brie to the cheddar, there are so many delicious offerings reminiscent of real cheese — but sans the cruelty, of course.
It's still making its way to U.S. shops, but keep your eyes out for their debut in your nearest grocery store.
Article continues below advertisement
New Wave Foods' shrimp
Though it can be somewhat difficult to emulate the taste and texture of seafood, New Wave Foods has it down to a T. The brand offered fried shrimp in a sweet chili glaze that somehow nailed the flavor and consistency of the staple seafood. But made from mung beans, it was entirely plant-based.
It's currently being offered in restaurants around the country — so if you see vegan shrimp on the menu, this could be it!
Article continues below advertisement
TrupoTreats' Rice Crunch Bars
TrupoTreats' Rice Crunch Bars taste almost exactly like the Nestlé Crunch Bars we grew up with — but without the dairy and additives. You can find the brand in stores across California, New York, and Georgia, but you can also purchase them online. They are truly a treat.
Article continues below advertisement
Planetarian's Ribs
Though vegans often feel left out at BBQs, Planetarian's rib protein blocks are deliciously juicy (just make sure you find a BBQ sauce you like!). They're currently only available wholesale, to chefs looking to whip up some mouth-watering vegan BBQ delicacies, but hopefully, they'll make their way to stores sooner rather than later.
Article continues below advertisement
Mighty Yum's build-your-own lunches
Growing up, many of us fought our parents to buy us Lunchables — but now, parents can find solace in knowing that brands like Mighty Yum make a plant-based version that has no questionable ingredients. Similar to the 90s staple, you can make your own mini pizzas, turkey and cheese crackers, or ham and cheese crackers. Plus, with neon packaging and cute animal cartoons, the branding is absolutely adorable. They should be available for online purchase later this year.
Article continues below advertisement
Better Meat's "Plant-Based Luncheon"
Though I'd never tried real Spam, Better Meat's version — which they call "Plant-Based Luncheon" — was oddly satisfying. With a salty, savory flavor, it would be an incredible addition to a veggie fried rice or breakfast sandwich. Made from mycoprotein, it emulates the salty taste and meaty texture of the popular canned delicacy. As of now, it's only available for wholesale, but hopefully that will change soon.