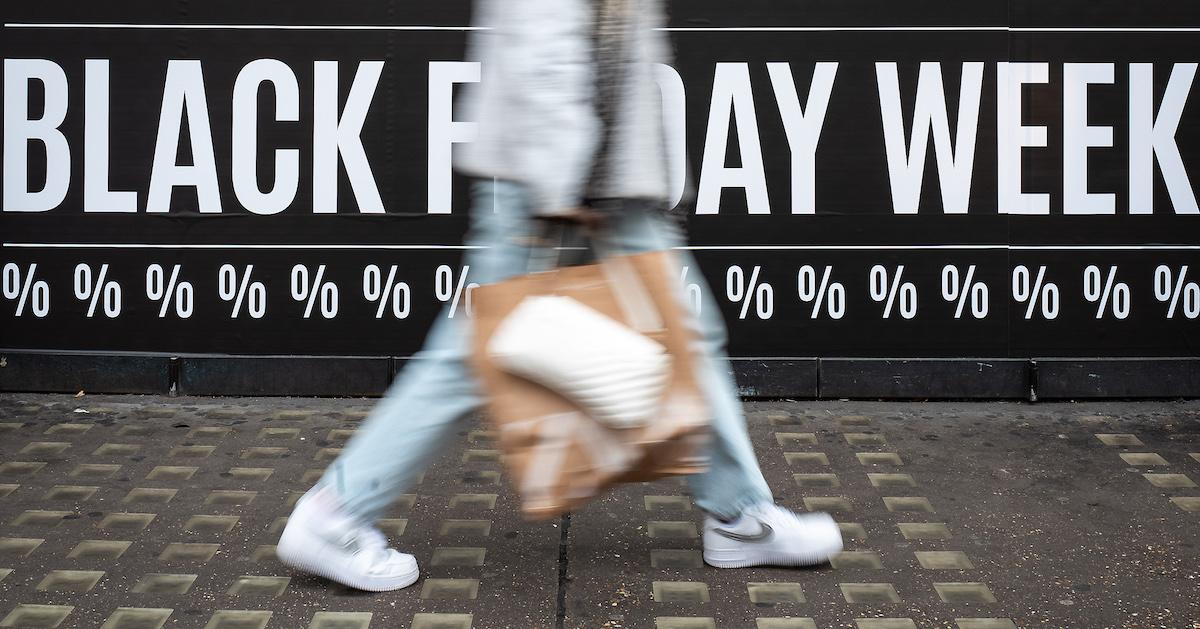 These Brands Are Boycotting Black Friday This Year — How to Get Involved
While people all around the world are preparing to shop till they drop on Black Friday 2022, a few companies are protesting mass consumerism by not offering traditional Black Friday sales. Instead, a few companies big and small are celebrating the "holiday" by purposefully not celebrating it, and boycotting Black Friday.
Article continues below advertisement
Take a look into a few of the brands offering anti-Black Friday initiatives in 2022, as well as our suggestion for the best way to boycott Black Friday.
Teemill wants you to recycle your shirts.
Teemill is a full-service, circular economy e-commerce and supply chain platform. It allows influencers, musical artists, organizations (including Greenpeace and BBC Earth), and others to design, make, and sell clothing made from 100 percent cotton with renewable energy.
In honor of Black Friday this year, Teemill is running a campaign "to reverse Black Friday," in which the company will encourage customers to refrain from shopping, and to instead send their old Teemill products back to the company. In exchange, Teemill will give customers a £5 ($5.96 USD) credit toward a future order, and then use Remill technology to recycle the garment into new fabric.
Article continues below advertisement
Poshmark is promoting Secondhand Sunday.
Social resale platform Poshmark is promoting a different holiday in opposition of Black Friday this year: Secondhand Sunday. Taking place the Sunday after Black Friday and Small Business Saturday, and the day before Cyber Monday, Secondhand Sunday is going to be "the first-ever day dedicated to supporting secondhand sellers and circular fashion during the peak holiday shopping season," held on Nov. 27.
Article continues below advertisement
The goal of the new annual holiday is to encourage people to skip the regular deals of the major shopping weekend in favor of buying something secondhand on Sunday, as it's a more eco-friendly shopping choice. In fact, Poshmark found in a recent survey that over 90 percent of U.S. adults are open to receiving a secondhand gift for the holidays, though only 34 percent said they were likely to buy secondhand gifts for others — so hopefully Secondhand Sunday will encourage people to thrift for their gifts.
Article continues below advertisement
REI Co-op is closing for the day, and wants you to get outside.
Every year since 2015, REI Co-op has closed its stores and website for the day on Black Friday, instead encouraging staff and customers to #OptOutside on the day after Thanksgiving. In fact, this year, REI is "committing to it, for good," according to an Instagram post, implying that the outdoor chain store is promising to keep this campaign up every single Black Friday going forward.
Article continues below advertisement
The Ordinary is celebrating Slowvember instead of Black Friday.
Instead of observing one day of sales on Black Friday, skincare brand The Ordinary is celebrating "Slowvember." For the entire month, the company is offering free shipping and 23 percent off the entire website, "and encouraging you to take it slow and think mindfully about your purchases." The Ordinary hopes this will motivate customers to shop more sensibly for what they actually need on a day that is convenient for them, rather than panic-buy unnecessary products on Black Friday.
Additionally, DECIEM (The Ordinary's parent company) is donating 1 percent of global sales between Nov. 15 and Nov. 21 to The Solutions Project to fund climate justice solutions.
Article continues below advertisement
Boycott Black Friday by attending a climate protest.
Overproduction and overconsumption is a major factor in the climate crisis, and boycotting Black Friday — aka not shopping the sales on Nov. 25 — is one way to take a stand against the holiday and all it stands for. If you decide to do so, make sure to post about it on social media or tell your friends and family about your plan, to hopefully encourage them to do the same.
Article continues below advertisement