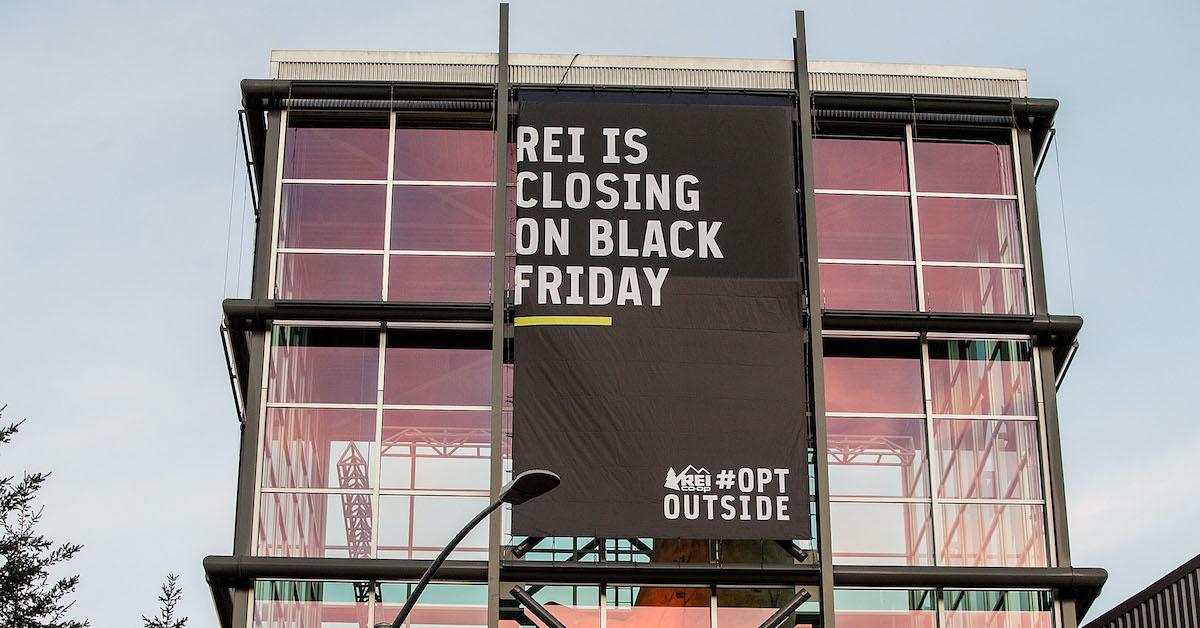 Anti-Black Friday: These Sustainable Brands Are Shutting Down for the Day
Every year, the day after Thanksgiving, people all across the U.S. (and in other countries, too) celebrate Black Friday. The unofficial holiday is nothing more than a celebration of consumerism, and an excuse for companies to sell more goods.
Article continues below advertisement
Of course, there are some sustainable, ethical, and small businesses out there that are making real efforts to do good while making profits, and their Black Friday discounts may mean the day is finally the day you can afford to support them — and supporting a small, eco-conscious business is almost always a better choice than supporting a corporation.
That said, we're more excited about the brands hosting anti-Black Friday initiatives this holiday season, whether that means shutting down for the day (as several brands are doing in partnership with each other), or donating profits made on Black Friday instead of offering discounts.
Here's a look at what just a few brands are doing to oppose Black Friday — and if you want to oppose the holiday yourself, we recommend participating in Buy Nothing Day, also scheduled for Friday, Nov. 26!
Asket
Sweden-based, direct-to-consumer fashion brand Asket is all about transparency in its supply chain. The brand provides consumers with calculations regarding the environmental impact of each item, often uses recycled materials in its garments, and has a Revival Program in which customers can send back their old Asket clothing.
Article continues below advertisement
This Black Friday, for the fifth year in a row, Asket will observe Anti-Black Friday by shutting down its online store for the day, in addition to temporarily shuttering its brick-and-mortar store, which recently opened. Instead, the brand will use its social media channels to educate followers about issues in the fashion industry.
"While other brands and retailers kickstart their biggest shopping weekend of the year through cheap sales tricks and extensive discounting, we're instead making a statement against a culture that encourages relentless buying — when in reality we already have enough," Asket co-founder August Bard Bringéus said in a statement sent to Green Matters.
Article continues below advertisement
Freitag
Article continues below advertisement
Basically, if you have an old Freitag bag that you'd like to upgrade, register your bag on S.W.A.P. Then, swipe through the other bags that customers have listed — when you both swipe right, it's a match, and you and your new bag buddy can make arrangements to mail each other your bags. That way, you each get rid of something old responsibly, get something new sustainably, and you won't have to spend any money in the process.
Article continues below advertisement
Flamingos' Life
Flamingos' Life is an all vegan shoe company that uses materials like corn waste, cork, bamboo, recycled plastic, organic cotton, and natural rubber. The company, which is based in Spain, has a number of projects that aim to reduce its environmental impact — and for Black Friday, it's joining Freitag in shutting down its website for the day, as part of its "commitment to the conservation of the planet."
Article continues below advertisement
"We've no desire to support this kind of frenzied consumerism, either as producers or personally as consumers," Flamingos' Life said in a statement, adding that the brand will instead be supporting initiatives and actions "for fair and sustainable ways of doing business and consuming."
Article continues below advertisement
Other brands partnering with Flamingos' Life and Freitag in boycotting typical Black Friday sales are:
Article continues below advertisement
Made Trade
Made Trade is an online, sustainable marketplace that sells everything from clothes to furniture to kitchen wares to decor. The company participates in 1% for the Planet, but for Black Friday, 1 percent will become 10 percent.
Article continues below advertisement
From Nov. 26 through Nov. 29, Made Trade customers get 10 percent off — the code GET10 will keep that 10 percent in your pocket, while the code GIVE10 will donate 10 percent of your purchase to Made Trade's 2021 Black Friday Fund. All money raised for the fund will be donated directly to the Giving Grove, a nonprofit that plants fruit and nut orchards in urban communities experiencing food insecurity, while offering education and empowerment to youth.
Article continues below advertisement
REI Co-op
For the seventh year in a row, outdoor company REI Co-op will be closing its stores and blocking purchases on its website all day on Black Friday, instead encouraging customers to #OptOutside instead of hitting the mail, as per Gear Patrol. Instead, REI is offering customers discounts via the Gear Up Get Out Sale, running through Nov. 22 — ending four days before Black Friday.
Article continues below advertisement
MiiR
Stainless steel drinkware company MiiR is a B Corp, Climate Neutral certified, a member of 1% for the Planet. For Black Friday, the company is donating 100 percent of both online and in-store sales to charity: water. This charity is working to fight the water crisis and make clean and safe water accessible to everyone on Earth, especially to the 785 million people who do not have access to clean and safe drinking water, according to the organization.
This article has been updated.