Cooking Up Sustainable Jeans With Candiani
Candiani is known for being a sustainability leader in the denim industry — I toured their design center to learn more.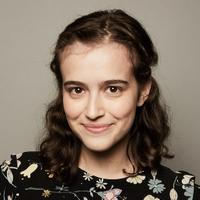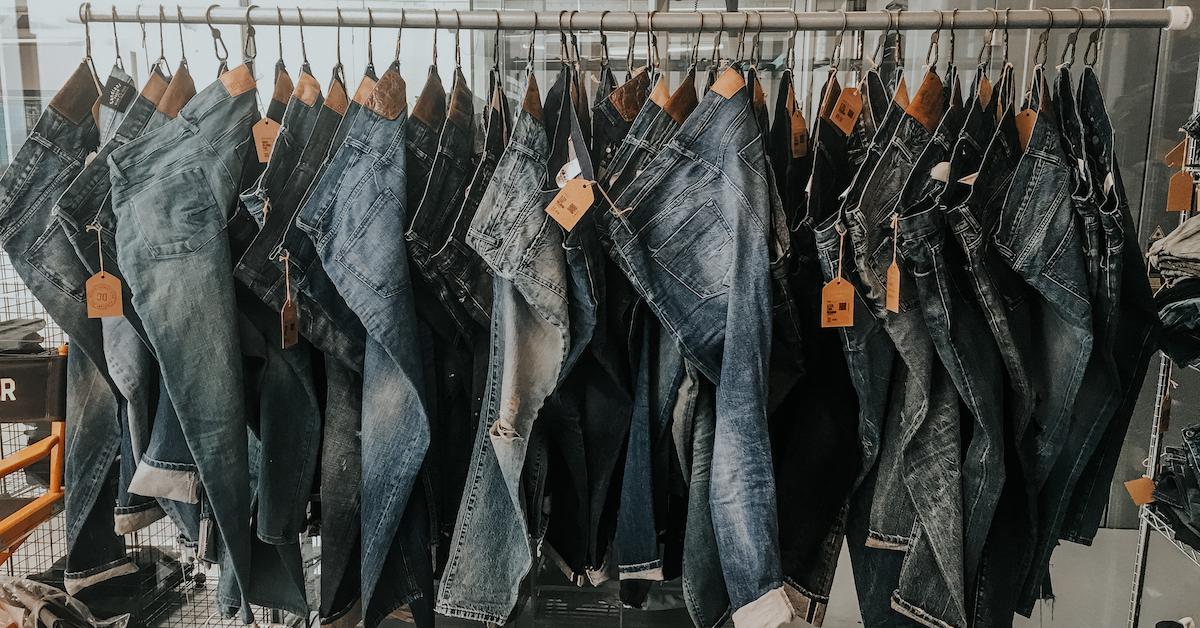 Recipes are typically for meals (and occasionally, disaster). But in the world of sustainable denim, there's a recipe behind every garment — and more often than not, that recipe comes from Candiani Denim. Founded in 1938 in Milan and known as "the greenest mill in the blue world," Candiani is responsible for the sustainable denim offerings you've seen at numerous brands, from classic jean labels such as Lee, Levi's, and Lucky Brand to designers like 3x1, Hugo Boss, and Mott & Bow, to modern companies with sustainable ethoses including J. Crew, Madewell, and Outerknown.
Article continues below advertisement
For the past eight decades, Candiani has made all of its denim at the company's mill in Milan, Italy. But many of Candiani's designs — and recipes — actually originate at the family-run company's L.A. lab, known as the Candiani Los Angeles Design Center. To learn more about the impact the legacy denim company has made in the sustainable jeans space, I recently visited the design center and met with Damiano Dall'Anese, Candiani's Executive Vice President. (For full disclosure: I was invited on a trip to L.A. to see the design center, and my travel and accommodations were provided by Candiani.)
Formerly a clothing warehouse, the three-year-old design center in Downtown L.A. is part factory, part atelier. It's where the U.S. Candiani team experiments with new washing techniques, creates new denim, and meets with designers from various fashion brands who are interested in adding sustainably-made jeans to their collection. Candiani hosts workshops with their clients at the design center, where the team teaches clients the most efficient and sustainable way to wash their jeans, and give them a custom wash recipe. The client can then take that recipe to the laundry of their choice, or hire Candiani to weave and wash the fabric at the Milan mill. Essentially, think of the design center as a chef's kitchen, where a chef experiments and tests recipes — and then the Milan mill is where large quantities of that recipe are cooked and packaged.
Candiani's Italian mill was founded 81 years ago on a natural reserve called Ticino Park, located between Milan and the Alps. As Dall'Anese puts it, Candiani was founded "before [sustainability] was a trend" — but the mill has always prioritized environmental protection. Because of the mill's location, Candiani basically has to keep things eco-friendly. Ticino Park is protected by strict environmental regulations — stricter than anywhere else in the denim industry, according to the company. "As a market leader, we have a responsibility to set the bar for sustainable production in addition to demonstrating how a business can thrive while respecting the environment in which it runs," Candiani says.
But before anything happens to a pair of jeans at the mill, Candiani tests out each process at the L.A. Design Center. 
Article continues below advertisement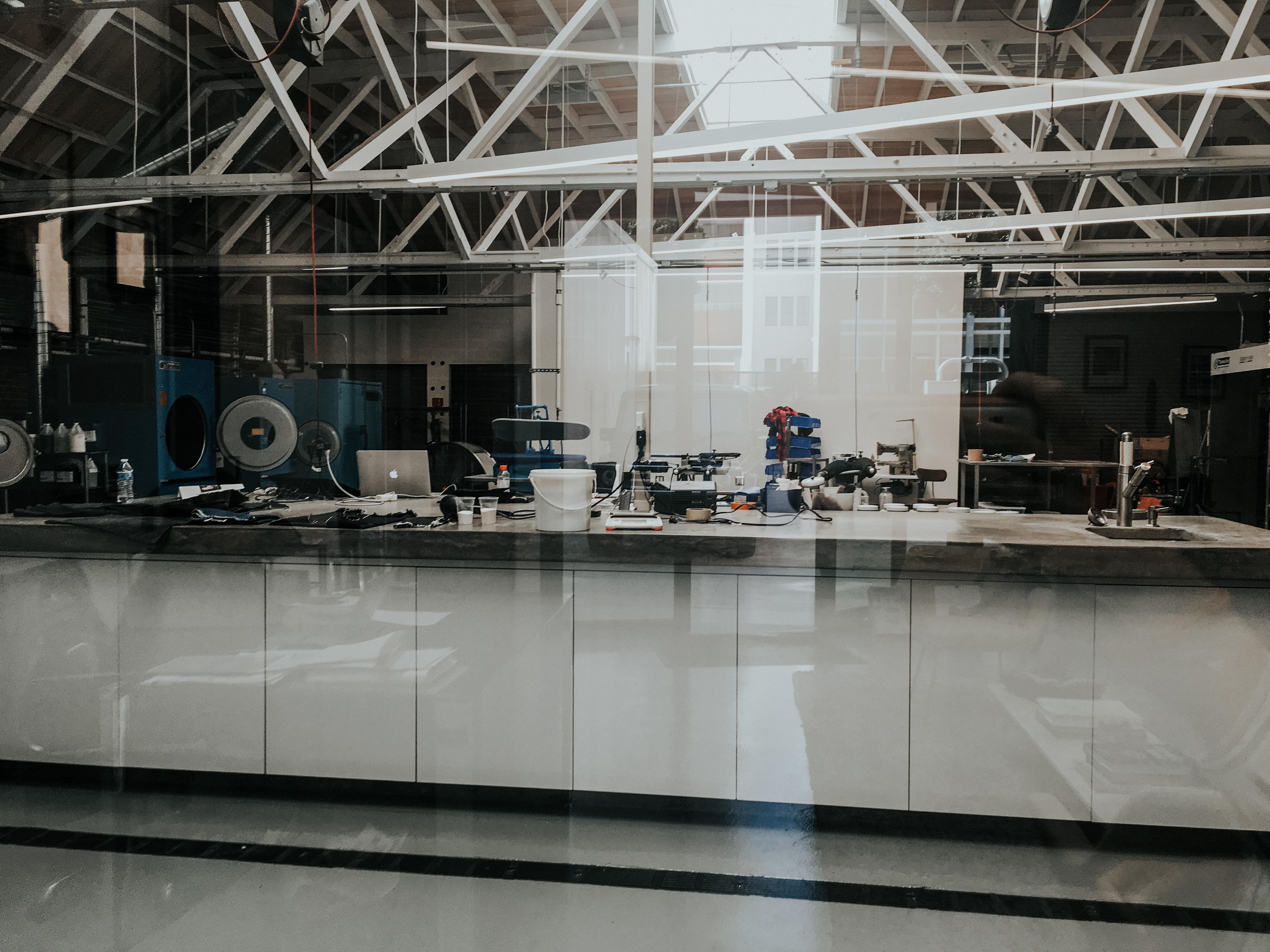 When I walked inside the design center, I was unsurprisingly greeted by wall-to-wall clothing racks filled with jeans. Seated between the jean-lined walls, Dall'Anese gave me the rundown of the five-step process Candiani follows when making fabric for its jeans — from scratch, like any good chef.
Making sustainable denim
Article continues below advertisement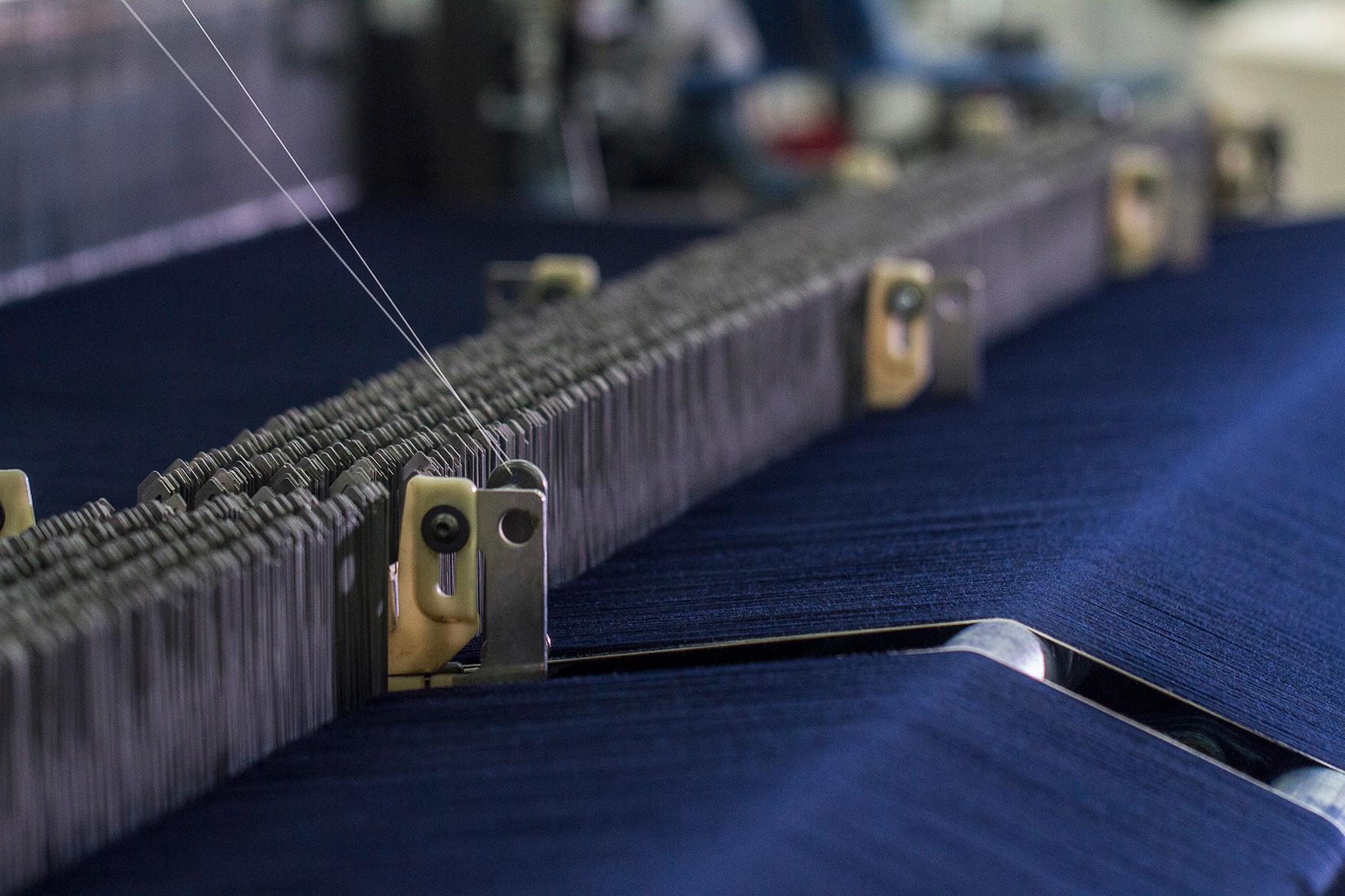 Step 1 of creating fabric is spinning pulp. Candiani primarily uses cotton, either organic cotton, Better Cotton Initiative (BCI) cotton, conventional cotton, or recycled cotton that Candiani recycles on-premises from leftover cotton scraps. The company also uses wood-derived fabrics like Tencel, MicroModal, and Refibra. The spinning process is a nuanced one with endless variables to consider, from yarn composition to spinning technique.
Article continues below advertisement
Step 2 is dyeing the yarn. At Candiani, the yarn is either given an indigo bath with Indigo Juice, which uses 15 percent less water and 15 percent less energy than conventional indigo dyeing methods; or it's dyed with N-Denim dyeing, which reduces the number of dyeing baths from seven to two, and uses 30 percent less chemicals than conventional dyeing processes; or it's dyed with Kitotex, which is made from the discarded exoskeleton of shrimp.
Step 3 is weaving, which is when the yarn is woven into fabric. Step 4 is finishing, which is when a variety of treatments are performed on the fabric to make it stable, neutral, and more. Treatments include brushing (which makes the fabric feel soft) and thermofixation (which uses heat to control the fabric's stretch). Step 5 is quality control, in which tear resistance is tested, the hand feel is defined as soft or rough, and the fabric is inspected for flaws.
Then, the fabric is sent to the company that ordered it, and that company cuts and sews it into jeans.
Article continues below advertisement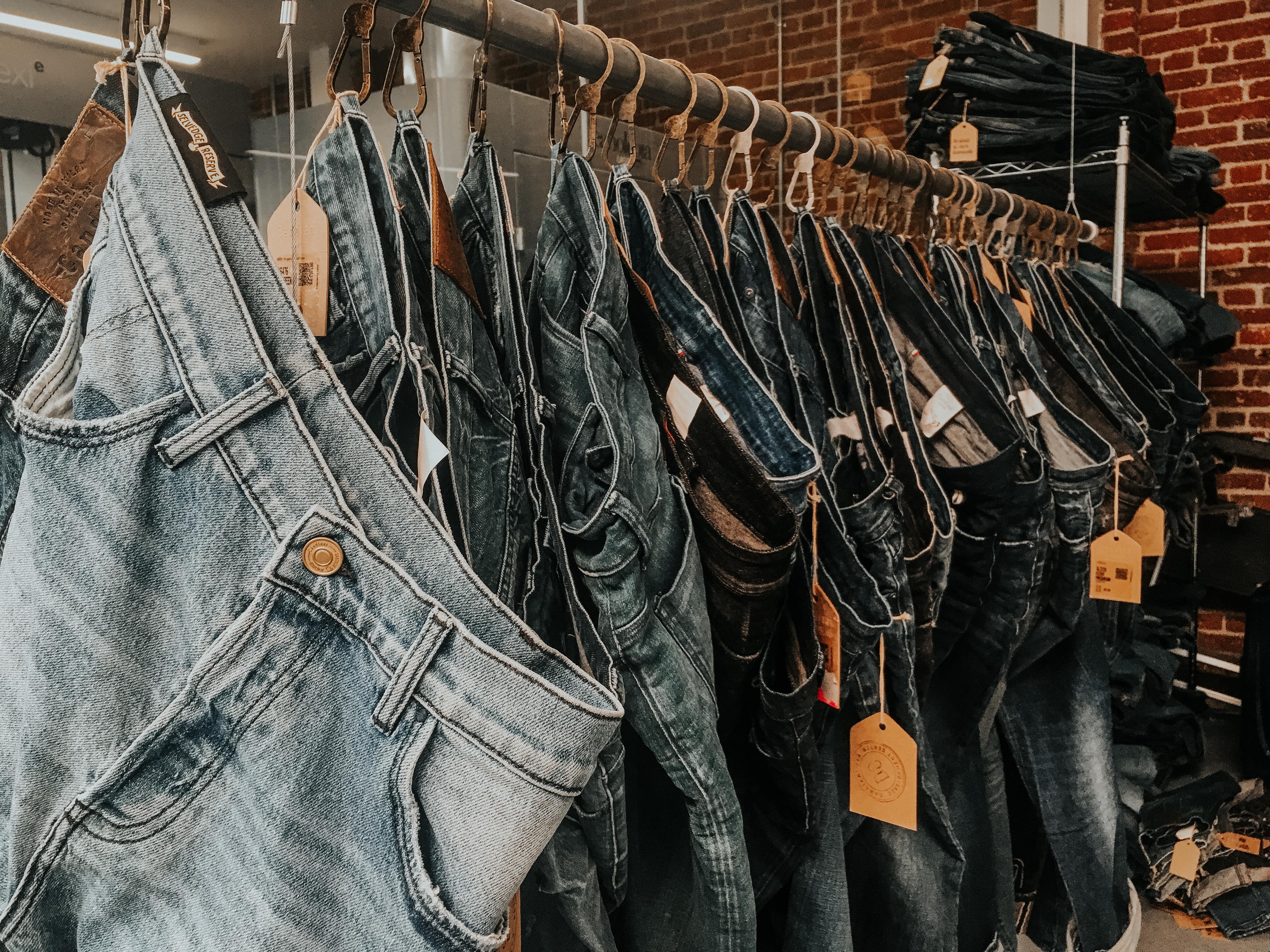 And you'd think after all that, the jeans would be ready to hit store shelves, wouldn't you?
Well, as I learned at the design center, for the average article of clothing, cutting and sewing is the final step — but with denim, this is when things really get started. At this point, the fashion company takes their cut and sewn jeans to its laundry, where they are washed, dried, lasered, distressed, and more.
Washing 
Article continues below advertisement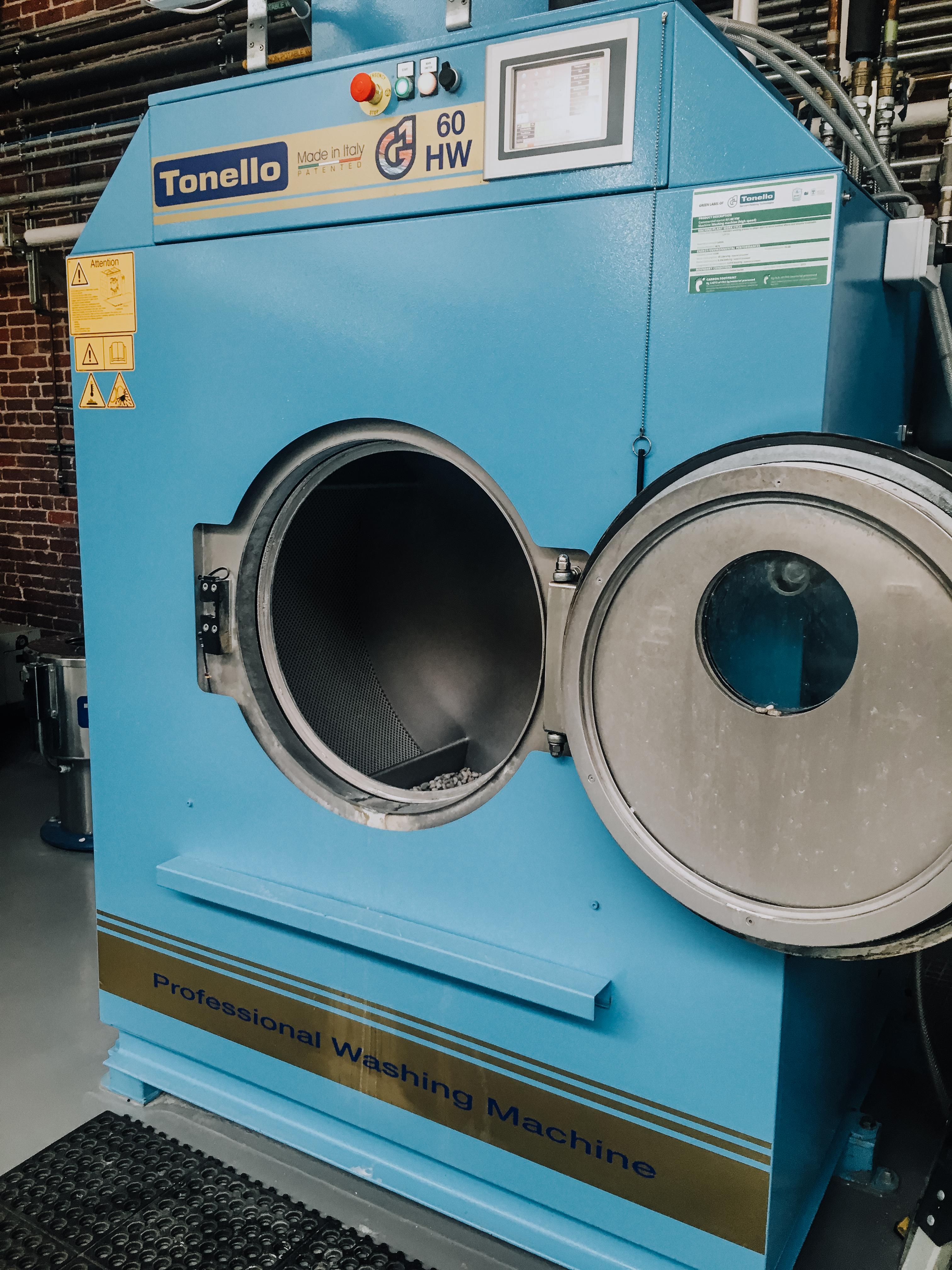 The laundry section of the design center was loud, not unlike like a laundromat — except this laundromat only had jeans, and none of your neighbor's questionable-looking sheets. The first part of the process I witnessed — and this seriously made my jaw drop — was stone washing. Stone washing is one of those phrases I've seen on jean tags for years, but never thought about what it actually meant. Well, reader, I found out what stone washing is the hard way.
After jeans are cut, sewn, and sent back to Candiani's mill, the first step is placing them into a special front-loading washing machine filled with... small stones. Yup. As the machine spins, dozens of small stones naturally soften and fade the fabric of the jeans. Stone washing is literally just washing jeans along with a bunch of stones. Mind blown.
Article continues below advertisement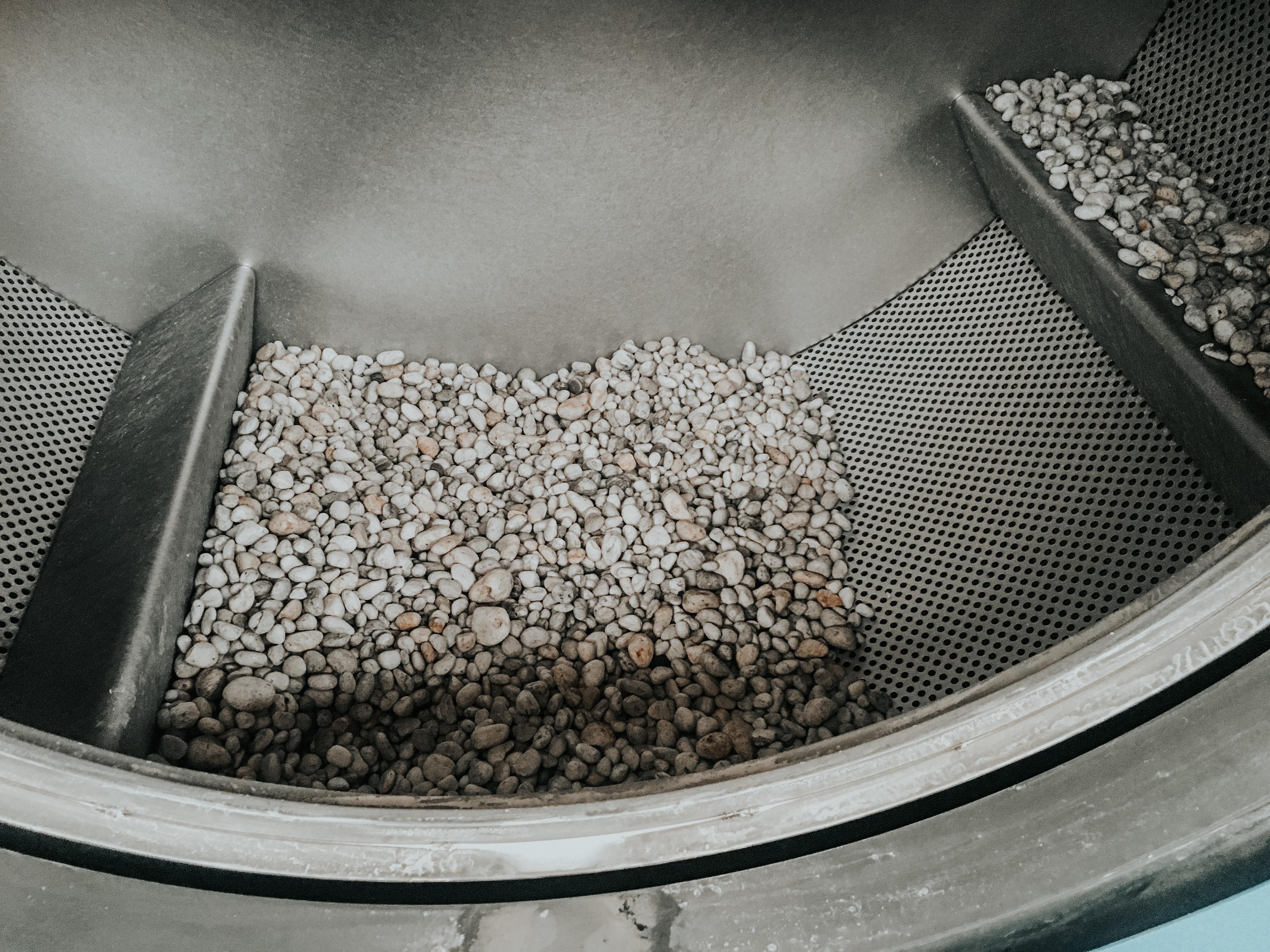 Dall'Anese explained to me that certain kinds of stones produce more "sludge," a mud-like mixture, which adds to the waste produced in the denim industry. "I first tried the stone that a lot of places are using, it's more common, and it was making too much sludge, or mud, at the end," he says. "So we use this other type of stones that have a higher longevity and don't give the sludge."
Article continues below advertisement
Keeping seemingly-small things like sludge in consideration is what makes Candiani stand out as a sustainable fashion company, as oxymoronic as that may sound. According to the UN, the fashion industry is responsible for 20 percent of global wastewater and 10 percent of carbon emissions worldwide; and roughly every second, about a garbage truck's size worth of textiles is either incinerated or sent to a landfill.
Drying and sanding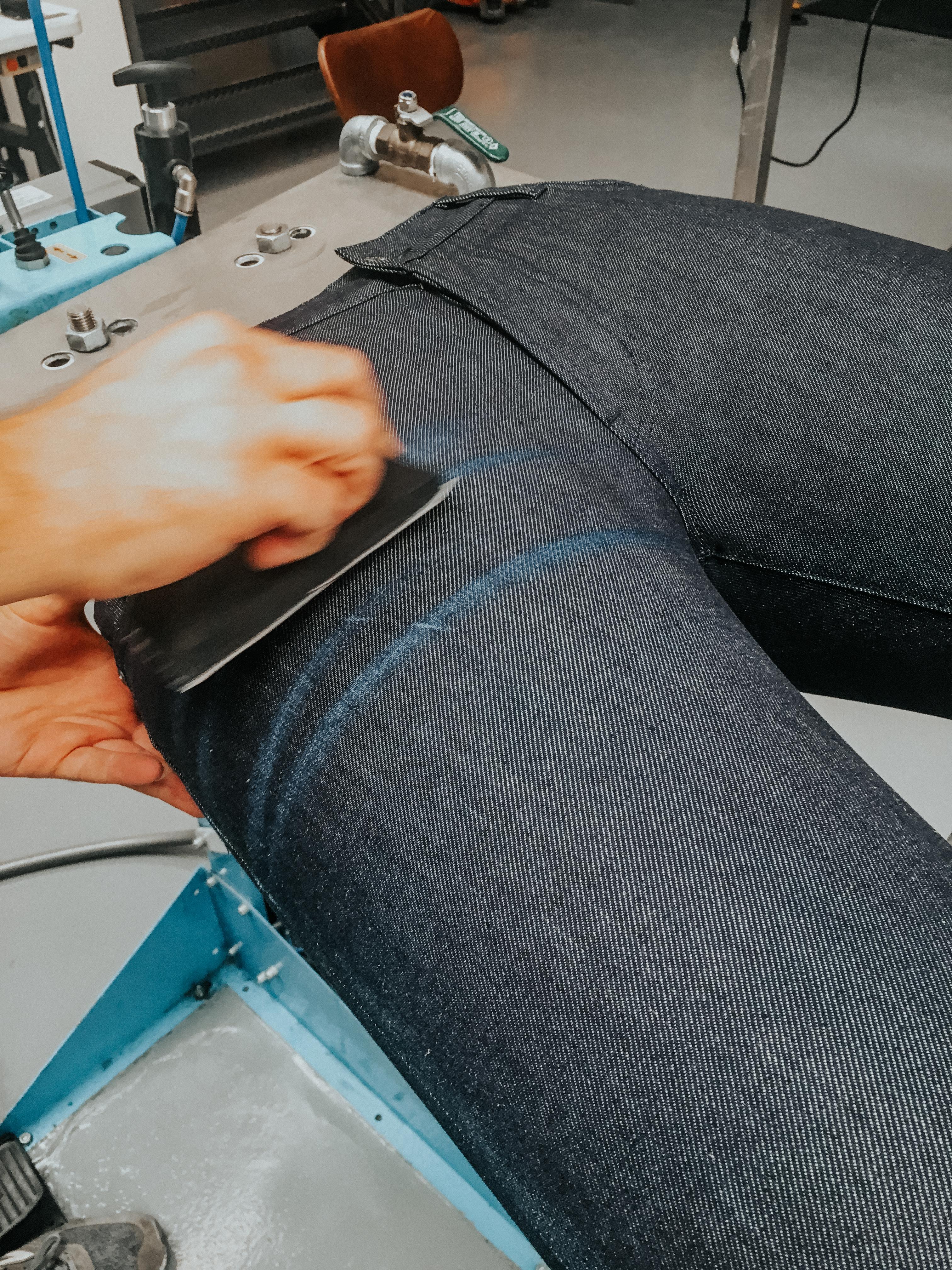 Article continues below advertisement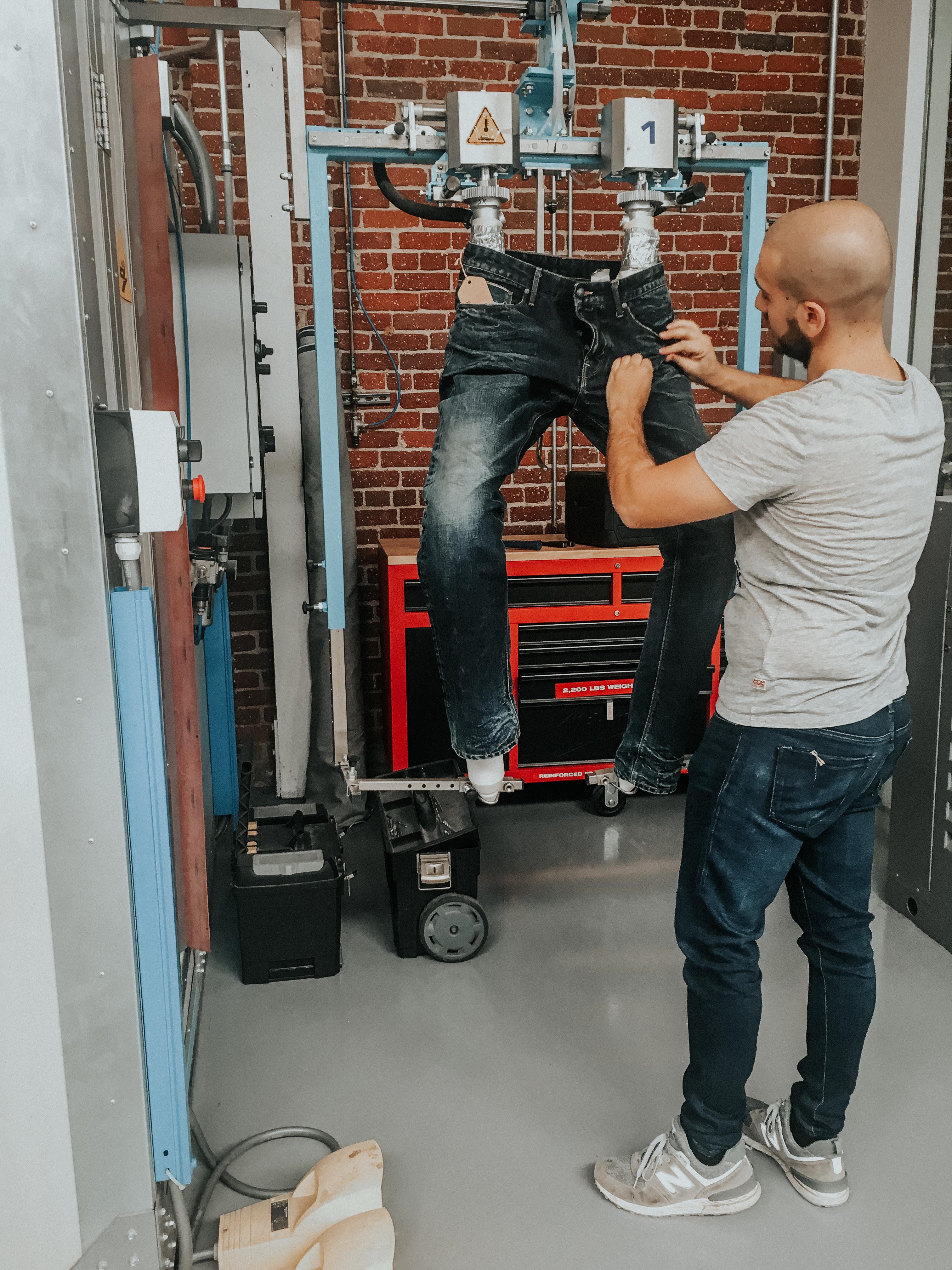 After being washed, the jeans are placed into an industrial dryer, where they hang as if in a closet. Once dry, the jeans are either hand-sanded or lasered to give them a worn-in look. In hand-sanding, a pair of jeans is pulled onto a pair of blow-up legs. The legs are filled like balloons with the press of a button, pulling the jeans taut. I watched a Candiani employee hand-sand a pair of jeans, going back and forth with a piece of sandpaper, to create texture on the pants.
Lasering 
Article continues below advertisement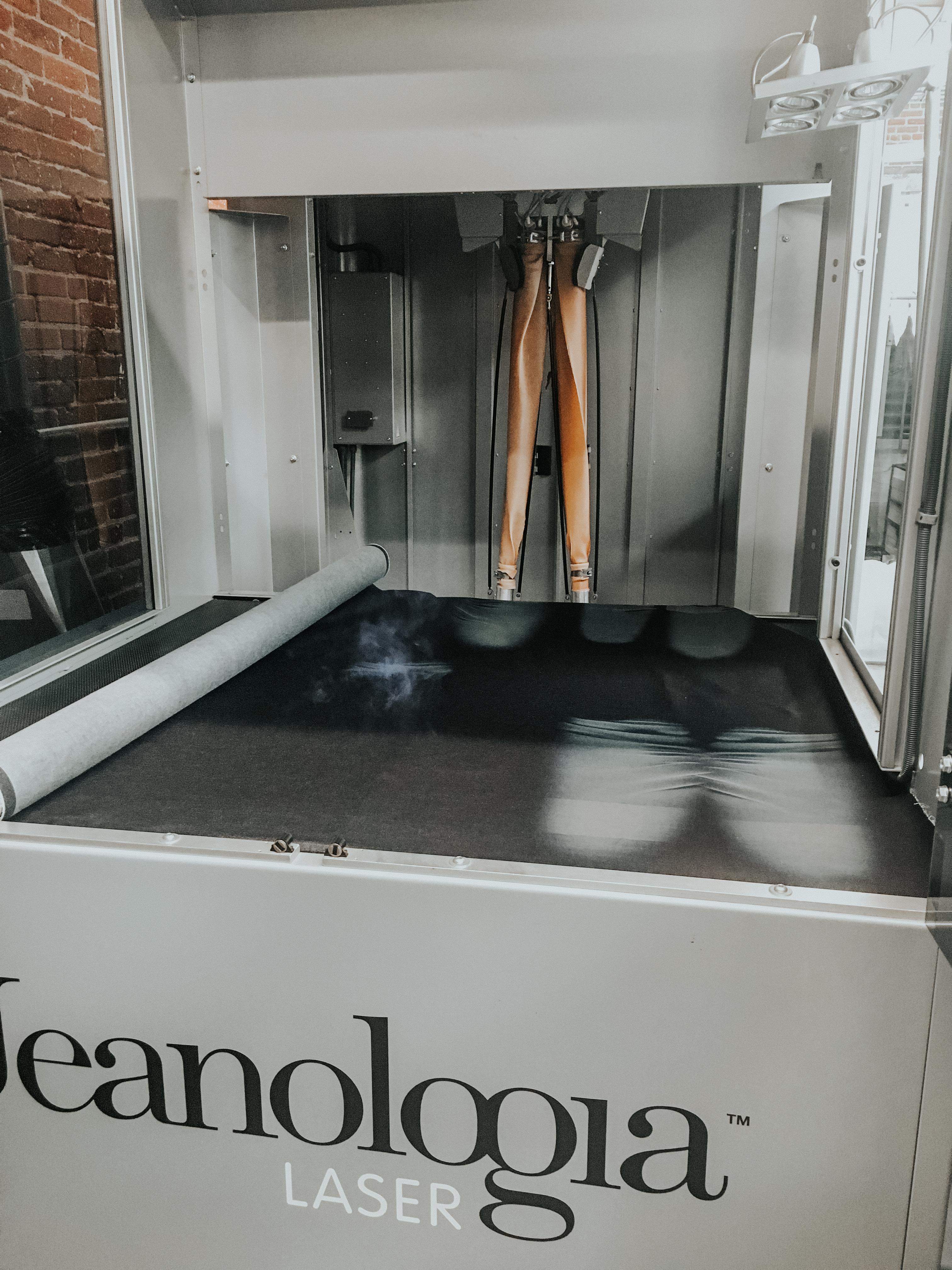 But more commonly, Candiani jeans have their texture lasered on by the Jeanologia Laser, a behemoth of a machine. First, a designer inputs a pattern of how they want the jeans to look into the Jeanologia computer program. Then, the jeans are pulled onto an upright pair of blow-up legs, and the design is lasered onto the garment which burns off indigo, leaving them with a broken-in look.
The laser can also be used on fabric on a flat surface. As I watched a piece of fabric being treated with some experimental designs, I could see the indigo literally lifting off of the fabric and into the air as the laser made contact with the fabric.
The customized wash recipe and the laser technology is what helps designers "make a better jean" — in terms of both fashion and sustainability.
"A better machine also means better products," Dall'Anese says. "Sustainability is about circularity. You use the better fabric, then the laundry has to have the equipment to treat the better fabric. So, is producing more better, or maybe is producing less with better quality [better]? There are a lot of things that come into play."
Selling
Article continues below advertisement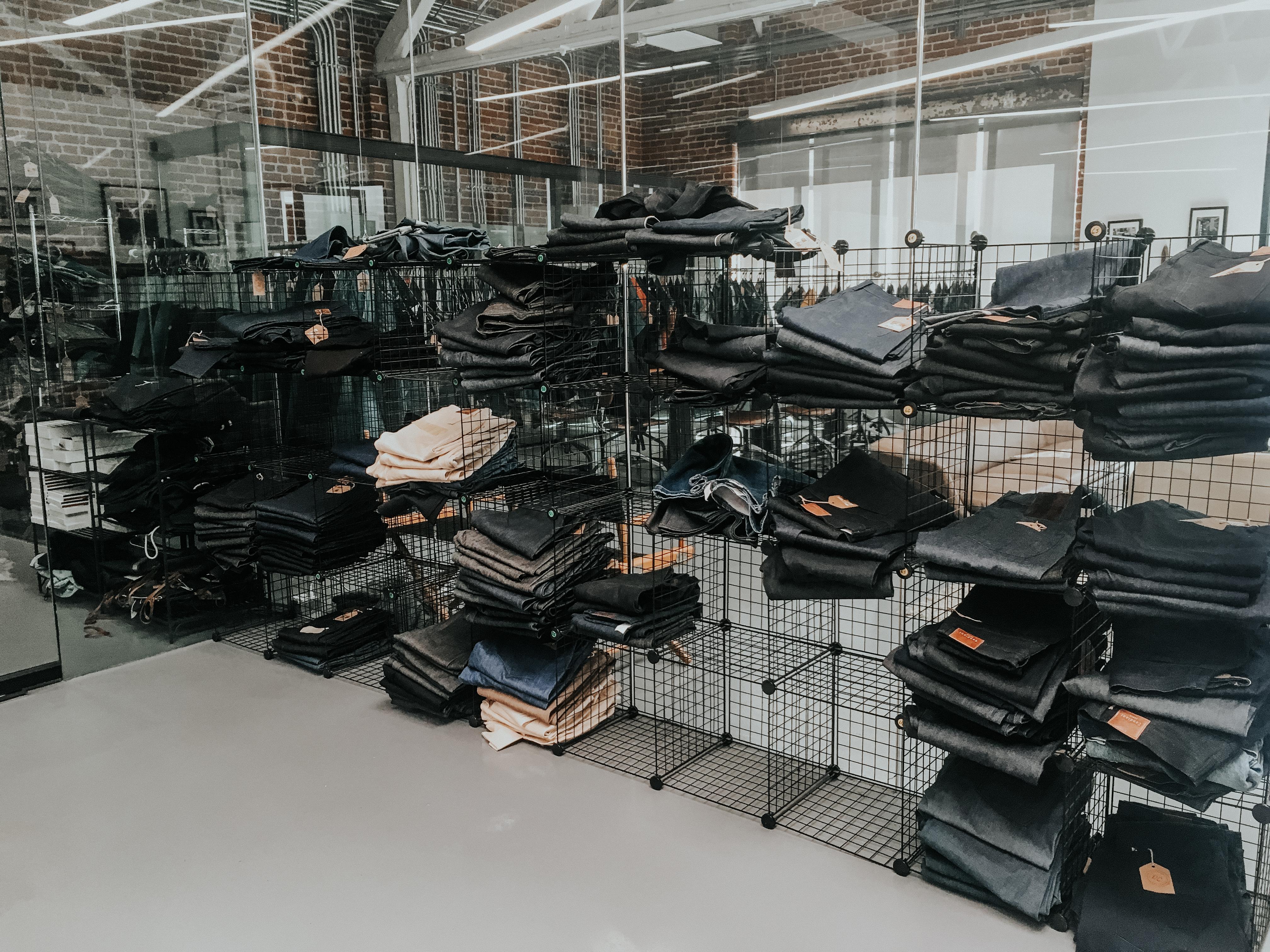 Candiani does not sell directly to consumers — the company's customers are not individuals, but fashion brands. When a designer or shop wants to offer sustainable jeans to its patrons, they will work with Candiani to come up with a recipe.
Article continues below advertisement
"The denim is all made in the mill in Milan. Everything is made there," Dall'Anese tells me. "So with some [fashion companies], we offer them this service option. We give them the fabric, they cut and sew the garments, they send it back to us, and they say, 'Can you please give me a sustainable wash, and the formula?' So this is a service that we give them. Basically we give them the garment and we give them a sustainable recipe to go with it, and what they want to achieve in their look. And this is what we do with every brand that comes here and we work with."
So if you want a pair of Candiani jeans for yourself, Dall'Anese says you'll have to look on websites and in stores of companies who sell them.
Buying
Article continues below advertisement
No fashion label is perfect — but when asked which companies he recommends buying your Candiani denim from, Dall'Anese has a few brands come to mind.
"A lot of them are working towards that goal [of being entirely sustainable], say Everlane, Reformation, Outerknown, Madewell. Also, a lot of the guys in the premium denim industry now are working towards that, like Hudson and Seven," he says. "They're all doing everything towards that. They're already using the better fabric and everything. Sometimes they don't decide to showcase it because of the social responsibility. Sometimes they do."
Dall'Anese gives the example of Aritzia, a women's fashion brand that has been using sustainable Candiani denim since "Day 1," according to Dall'Anese. "Aritzia doesn't put it out there, but they are using GOTS fabrics," he says. But now that consumers are more interested in buying sustainable clothing, Aritizia is slowly starting to advertise this fact.
Inspiring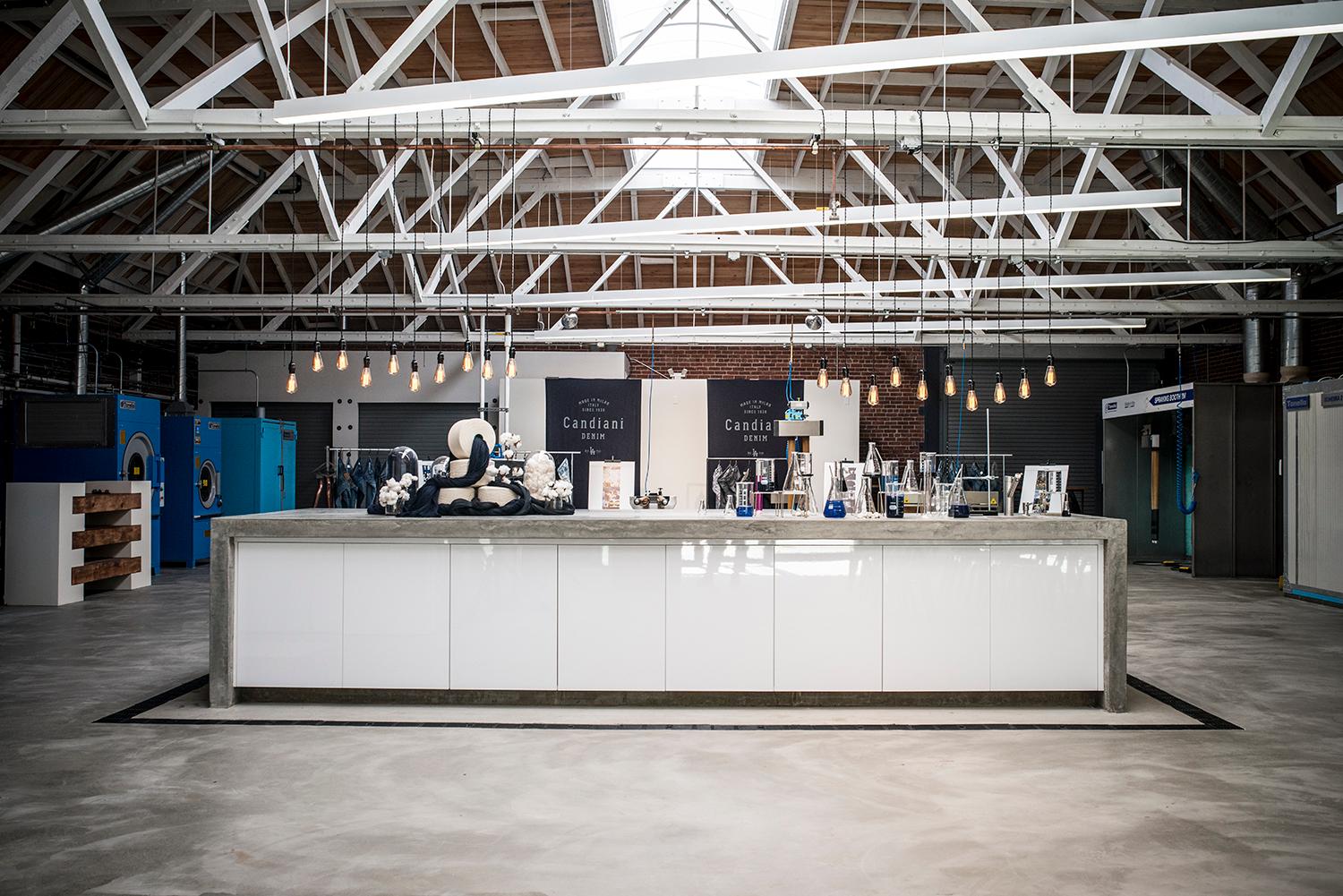 Article continues below advertisement
Candiani is certainly an industry leader when it comes to sustainable denim, and Dall'Anese wants to take that to the next level by inspiring more brands to adopt more sustainable practices, whether or not they actually work with Candiani to develop their own sustainable wash recipe.
"We need to put out a guide of sustainability," Dall'Anese tells me, noting that empty claims that vaguely imply sustainable practices are abound in the fashion industry. "A lot of people claim this, they claim that, but we're going to a point where we're sometimes stating the obvious — like when you look at a salad and it says carb-free. How can you write that? It's already a salad!"
Styling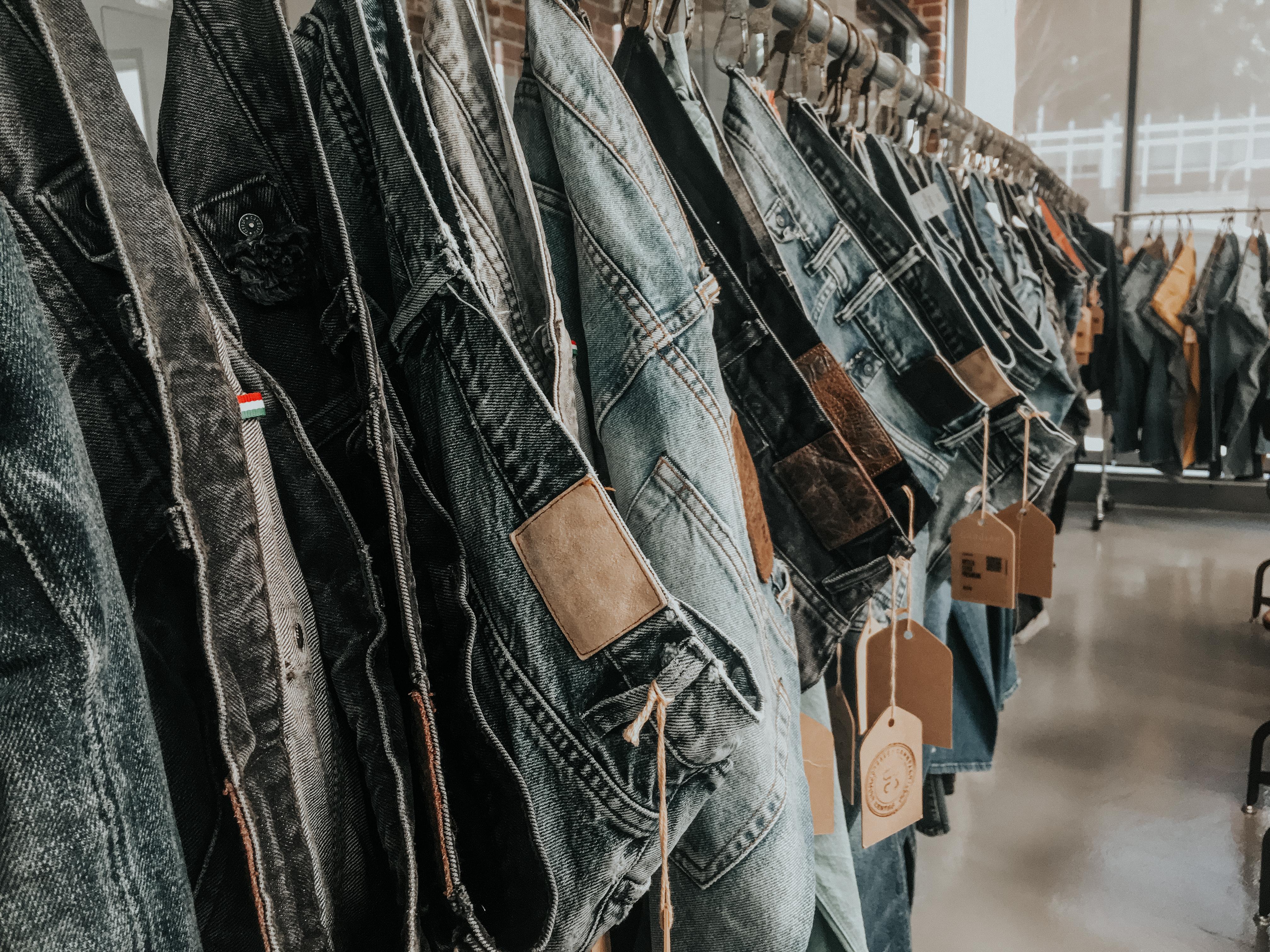 And finally, don't let Candiani's passion for sustainability make you think the company doesn't also have a passion for fashion. Like how any chef's first priority should be the food tasting good, Candiani prioritizes style along with sustainability, always making sure to balance looking fashionable with being green.
"We make it sustainable, but it has to look good," Dall'Anese says. "If it doesn't look good, it doesn't sell."