These Black-Owned Businesses Are Making Reusable Face Masks
Protect yourself with a face mask from one of these Black-owned businesses.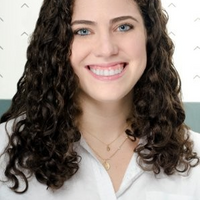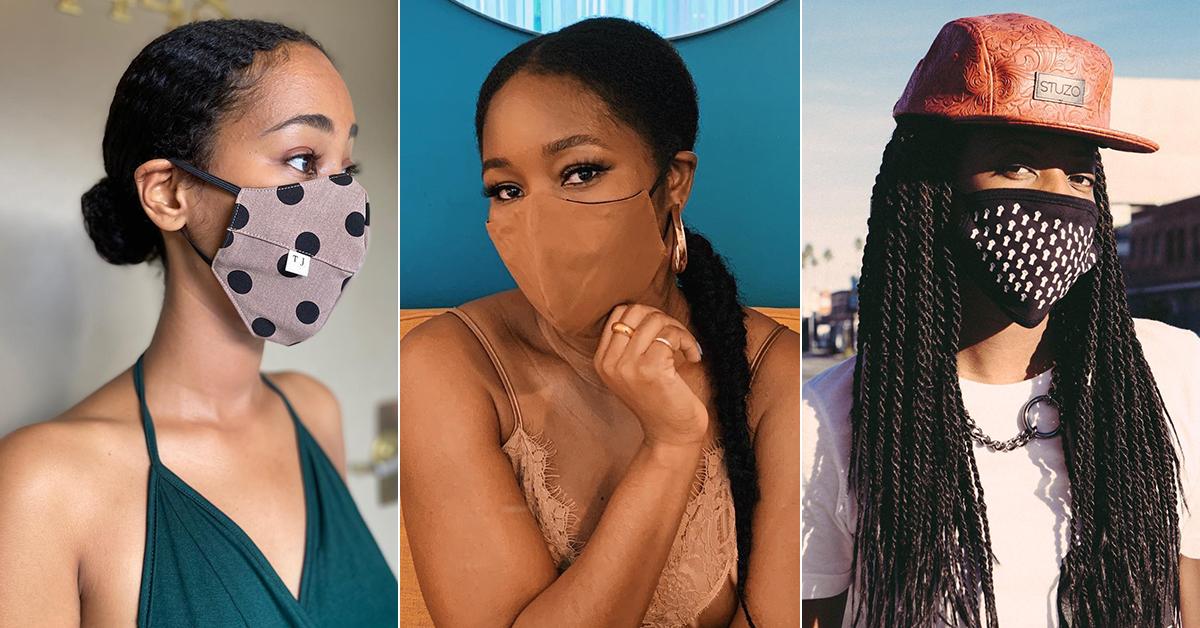 Right now, we're living through history in more ways than one; not only are we witnessing, and participating in, a revolution to fight for civil rights and racial justice — but we're also still battling COVID-19, which has escalated to a global pandemic.
Article continues below advertisement
Each of these fights is important, though extremely different. Whether you've been in a protest yourself or watched on the news, you've probably seen that most protesters are not only incredibly peaceful and nonviolent, but also respectful of their fellow protesters by wearing a mask. Other people have been participating while still social distancing; you can do that by informing yourself and others, donating to worthwhile causes, or supporting Black artists, businesses, authors, etc.
Supporting a Black-owned business not only shows your solidarity with the community, but it also allows the business to thrive and grow, and ensures that our economy continues to be diverse. Buying a face mask from one of these Black-owned businesses both protects you and others during the battle against the coronavirus (the CDC recommends everyone wear a cloth face mask when out in public to prevent the transmission of the virus) and helps support the economy of Black entrepreneurs, which allows more independent and diverse creators to thrive.
Check out our picks for Black-owned reusable cloth masks!

Editor's Note: This list was compiled through not only personal research, but also directories offered by Official Black Wall Street, WeBuyBlack, and Support Black Owned; we encourage you to act with your money, and use those resources to find Black-owned businesses in any category and any area.
DIOP
Based in Detroit, DIOP is the brainchild of Mapete Diop and Evan Fried; the printed wax print-inspired Ankara fabrics are modeled after the prints and fabrics that Diop, a first-generation American, used to see his mother bring home from her native Nigeria.
Article continues below advertisement
Not only do these masks donate money to frontline workers in Detroit (they've donated more than $50,000 to date), but these masks are also perfect for people who are inspired by African wax prints but may be, understandably, cautious to not appropriate another culture. On DIOP's website, they emphasize that their products are "for everyone," explaining, "We're building DIOP on a foundation of love and respect that gets stronger with each product we produce and every connection we make." They even tell anyone who challenges you about wearing the print and appropriating someone else's culture to give the person their corporate phone number. Seriously.
Article continues below advertisement
Daniela Tabois
Daniela Tabois, the incredible Brooklyn-based artist behind her namesake bridal brand, believes "the bridal market needs more options for modern brides" — which is presumably the inspiration behind her gorgeous, handmade bridal jumpsuits and sequined separates. Using the same amazing craftsmanship to make lace and sequin couture bridalwear, she's now focused on making face masks which are the perfect pick — whether you're a bride who wants to wear white (mask included) on her big day or someone who just feels extra fancy!
Article continues below advertisement
Taylor Jay
When Taylor Jay, the woman behind her eponymous label, first began designing "basics," she dreamed of items that were anything but basic. Today, she creates basics with the intention of being inclusive — knowing many brands failed to cater to her own size in the past — and a focus on sustainability. Taylor Jay's products are what they call "slow fashion," meaning it's all made in an ethical, fair-wage factory with eco-friendly textiles and recycled or upcycled threads.
You can buy Taylor Jay's soft, breathable masks made from repurposed cotton, starting at $21.
Article continues below advertisement
Saint Ola
Jummy Thomas — the designer behind bridal and ready-to-wear brand Saint Ola — was inspired by the modern woman when creating for the modern woman; it was founded in 2017 with the goal of serving a culturally diverse clientele with designs that balance "traditional and contemporary aesthetics with the use of geometry and couture details."
With the sale of every mask, Saint Ola donates one to a hospital in need; you can buy a mask, starting at $15, here.
Article continues below advertisement
Draped
Draped believes "you should own who you are from your heads to your toes, unapologetically." After crafting and sewing as a creative outlet and hobby, Holly Draper followed her dreams and started her brand in 2016 after losing her job as a counselor. Her clothing and headwraps (and now, face masks) are made using authentic African Ankara sourced from West Africa; the company also sells and supports independent artists by selling their unique jewelry.
With the purchase of each Draped's face mask — which retail for $14 each— one is donated to a medical professional at a local hospital in Delaware; buy them here!
Article continues below advertisement
Jamille Textiles
Adia Jamille — the textile artist behind Jamille Textiles — is truly multitalented; in addition to textile and fabric work, she paints, draws, sews, and is a practicing doula. All of her handcrafted masks (not to mention, her childrens' clothing, accessories, napkins, scarves) are made by Jamille herself.
Masks can be found here, and retail for $8 for children and $10 for adults (you can also buy homemade hand sanitizer by Medicina Nuestra while you're shopping)!
Article continues below advertisement
Stuzo Clothing
Based in Los Angeles, Stuzo Clothing was started in 2010 by Stoney Michelli and Uzo Ejikeme; their mission is to create "gender-free" clothing meant to be thoughtful and personal. As they state on their website, "Our pieces are gender-free... because clothes don't have any organs last time we checked." The brand has been sported by countless celebrities, including Lena Waithe, Jada Pinkett Smith, Spike Lee, Ruby Rose, and Tiffany Haddish (to name a few).
You can buy masks, which come in a variety of prints, starting at $12 here.
Article continues below advertisement
DamiV
DamiV is an Etsy storefront and the brainchild of Dami Gilbert, who handmakes her products that are inspired by Afrocentric heritage. DamiV's face masks come in an abundance of bright patterns, are made from 100 percent cotton, and feature a pocket for an air filter. Not to mention, you can customize whether you want ear loops or a tie in the back. Etsy boasts that buyers keep returning to DamiV — and there's clearly a reason why!
Shop DamiV's collection of masks, starting at $10 each, here.
Article continues below advertisement
3 Ps Clothing
The 3 Ps of 3 Ps clothing stand for Prayer, Patience, and Positivity — the personal mantra of the brand's founder, former UCLA running back Jordon James. He believes that those three values should carry us through life, and that his faith-based clothing brand exemplifies that with every product they sell.
You can buy a mask — that states the mantra — for $7.99 here.
Article continues below advertisement
Hoop Til It Hurts
Hoop 'Til It Hurts is more than just an apparel brand — it's also a foundation, started by Michael Horton; growing up in what the foundation describes as "one of the toughest neighborhoods in Chicago," the basketball court is where Horton learned accountability and how to give something his all. The foundation aims to empower youth through basketball — by giving the kids who have the drive and the talent the resources they need to succeed (on and off the court).
You can buy a mask for $12 (though it's currently on sale for $9.95) here. (Did we mention 20 percent of all apparel sold on the site goes to the foundation?)
Article continues below advertisement
Haute Butch
Haute Butch is more than just a clothing brand; it's a lifestyle community with designs for — in their words — "butches, studs, and tomboys." Founder KMichelle (aka Karen) created the brand with the goal of not only challenging the norm, but also offering an aesthetic with "design-driven masculine apparel" with "butch, androgynous, and trans* style seekers" in mind.
Masks — which are offered in different sizes — come in a variety of prints; you can snag one here for $15.99.
Article continues below advertisement
If you are looking for ways to donate your time or money to Black Lives Matter and other antiracist organizations, we have created a list of resources to get you started.
The best way to prevent contracting or spreading coronavirus is with thorough hand washing and social distancing. If you feel you may be experiencing symptoms of coronavirus, which include persistent cough (usually dry), fever, shortness of breath, and fatigue, please call your doctor before going to get tested. For comprehensive resources and updates, visit the CDC website. If you are experiencing anxiety about the virus, seek out mental health support from your provider or visit NAMI.org.