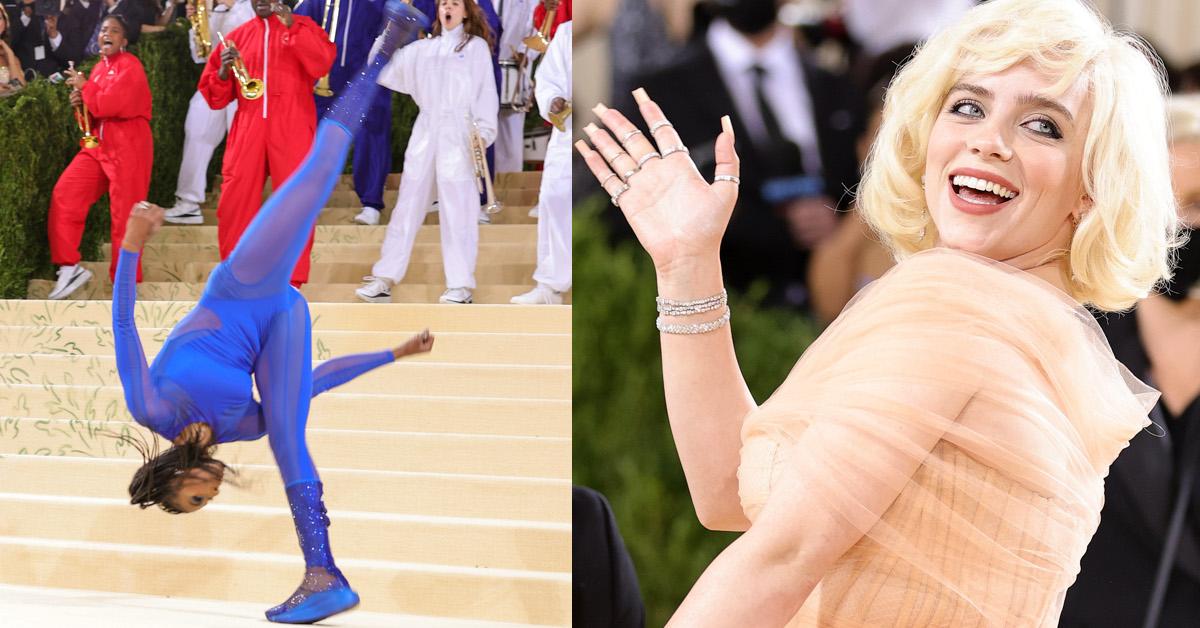 Our Favorite Sustainable Looks at the 2021 Met Gala
If you're looking to make a fashion statement, the annual Met gala is the place to do it — if you can score an invite, that is. And at the 2021 soirée, held on Sept. 13 (the first one since May 2019, due to the coronavirus pandemic), we were happy to see that a handful of celebrity guests wore sustainably-made Met gala outfits, some of which also aimed to promote social justice causes.
Article continues below advertisement
And on top of a handful of eco-conscious designs on the red carpet, the Met gala also served a fully plant-based menu this year, with a goal of reducing the event's environmental impact.
Here's a look into five of our favorite sustainably-made outfits worn at the 2021 Met gala, which celebrated the theme In America: A Lexicon of Fashion.
Alexandria Ocasio-Cortez's Met gala gown declared "tax the rich."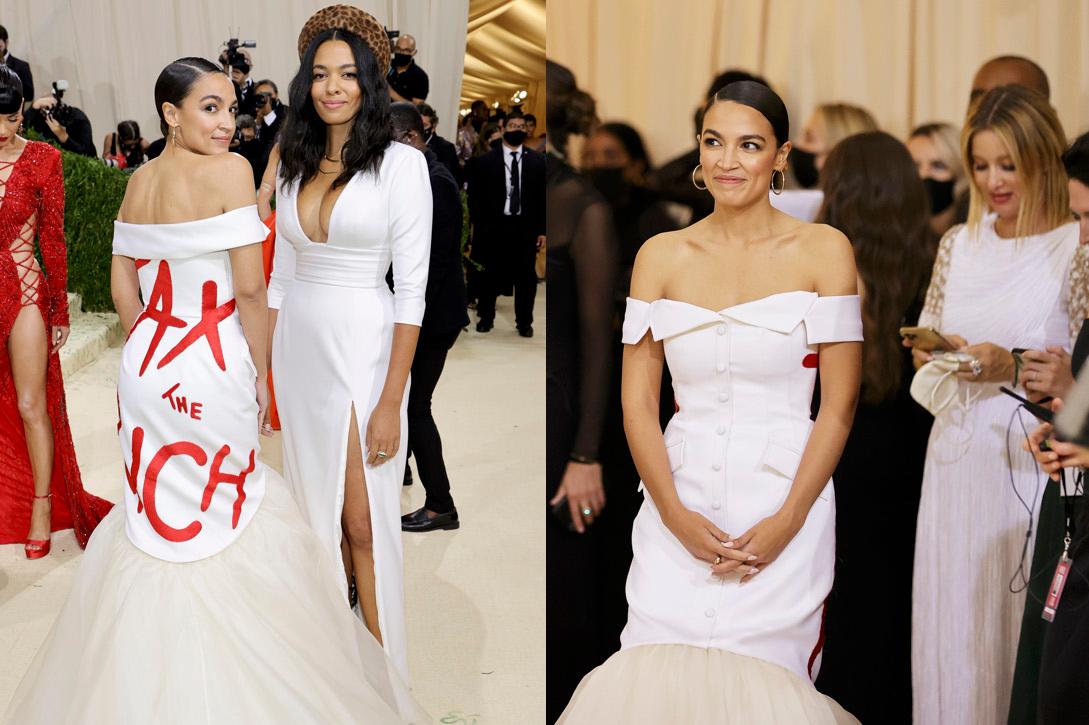 The phrase "broke the internet" is so yesterday, but it's what comes to mind when thinking about Rep. Alexandria Ocasio-Cortez's Met gala gown, since it represented about 99 percent of my Instagram feed during and immediately after the ball. Brooklyn-based Brother Vellies' founder and creative director Aurora James designed AOC's look, which was a white mermaid-style gown, featuring the phrase "tax the rich." It's unclear what the gown was made of, but Brother Vellies has a number of sustainability practices in place.
Article continues below advertisement
"Proud to work with Aurora James as a sustainably focused, Black woman immigrant designer," Ocasio-Cortez captioned a photo of her look on Instagram, adding that she also worked with an all-BIPOC/women/LGBT+ beauty and styling team to get ready for the gala. James used the outfit to promote the 15 Percent Pledge, which asks brands to make 15 percent of the items they sell made Black-owned businesses.
Billie Eilish convinced Oscar de la Renta to ditch fur.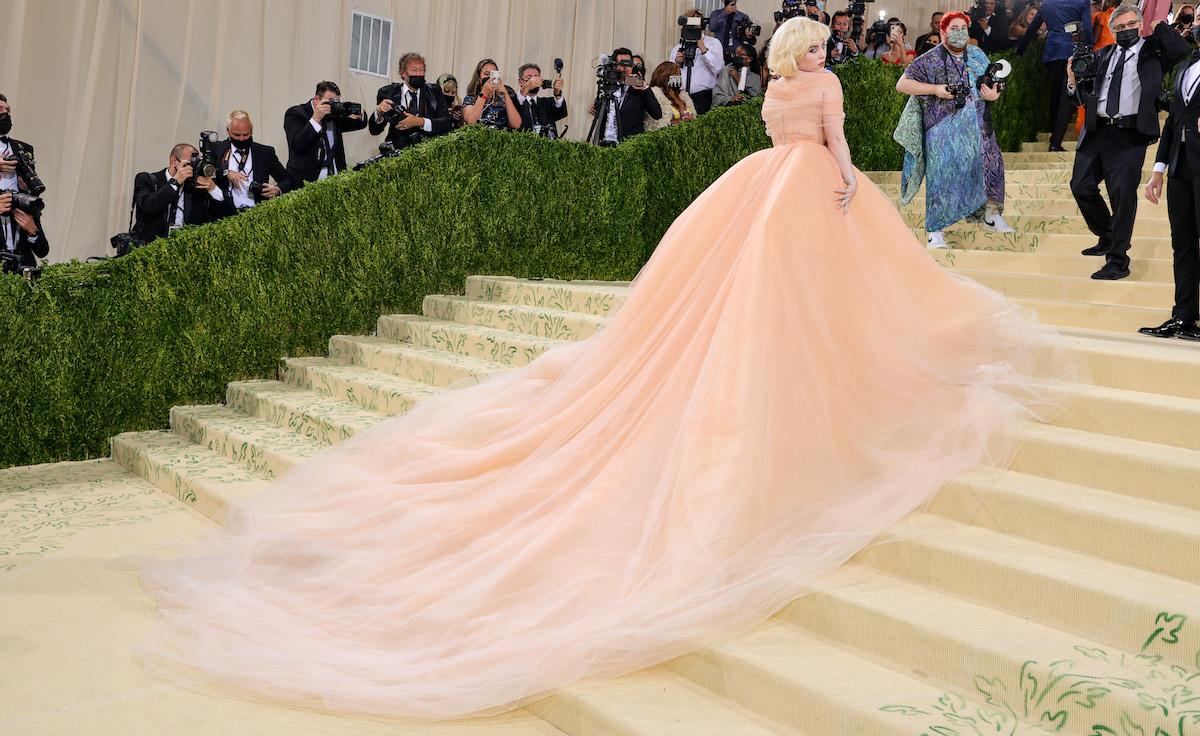 Met gala co-host Billie Eilish turned heads in a flowing, pale pink Oscar de la Renta ball gown — but she only did so on one condition. In exchange for wearing the garment, Eilish demanded that the fashion house promise to stop using fur across the entire brand. And Oscar de la Renta obliged. The brand actually hasn't put fur in a fashion show in years, but up until now, it still sold fur pieces in stores, The New York Times reported.
Article continues below advertisement
While we don't know exactly what Eilish's stunning dress is made of, it's safe to assume that it's animal-free. And the fact that this fashion choice was the final piece of the puzzle in convincing Oscar de la Renta to stop using unsustainable and cruel fur is pretty cool.
"I'm honored to have been a catalyst and to have been heard on this matter," Eilish, who is vegan and often uses her platform to advocate for animal welfare, told The New York Times. "[It's] shocking that wearing fur isn't completely outlawed at this point in 2021."
Article continues below advertisement
Ella Emhoff, Nia Dennis, and Julia Garner wore adidas by Stella McCartney.
Stella McCartney makes sustainable fashion pieces for both her luxury brand and for her line with adidas. Surprisingly, she opted to showcase "sustainable sports performance-wear" at this year's Met gala, dressing three young women, each of whom represented one color of the American flag.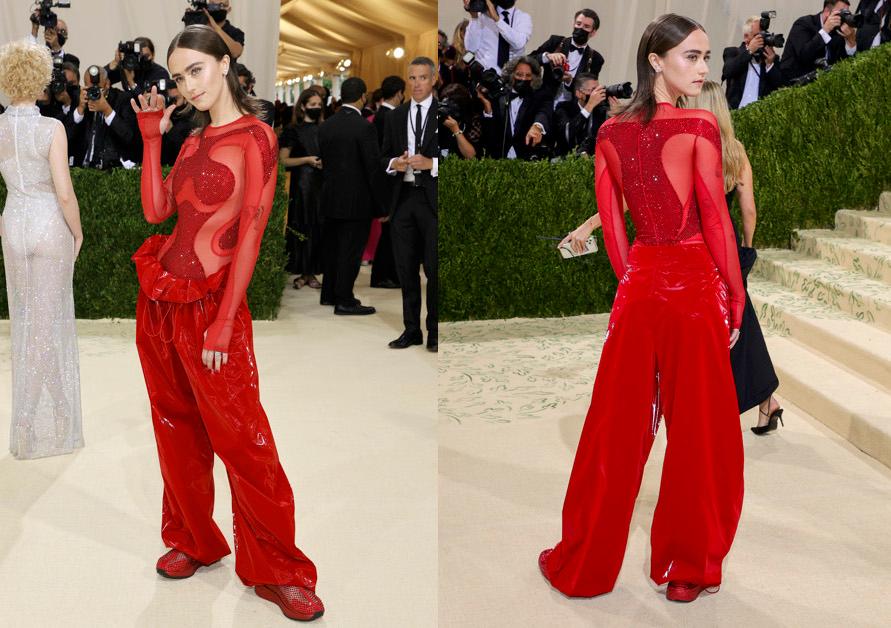 Article continues below advertisement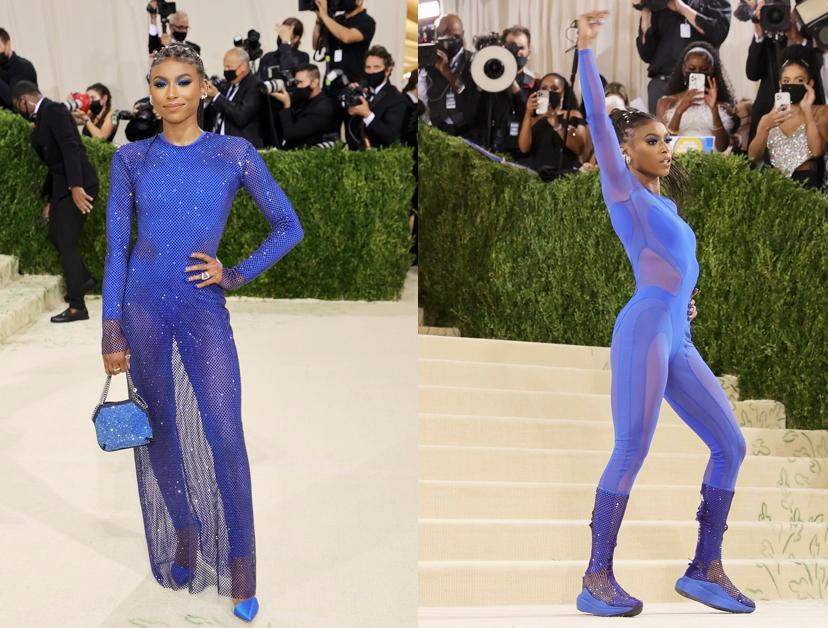 Article continues below advertisement
Gymnast Nia Dennis wore a bespoke leotard paired with Earthlight sneakers — and when she wowed attendees with a gymnastics routine on the famous Metropolitan Museum of Art steps, she was backed up by the 30-piece Brooklyn United Marching Band, who also rocked Earthlight trainers, Stella Stan Smiths, and adidas by Stella McCartney jumpsuits. After Dennis' routine, she covered the dress up with a sheer hand-embellished gown, and carried a vegan leather Falabella bag, a Stella McCartney classic.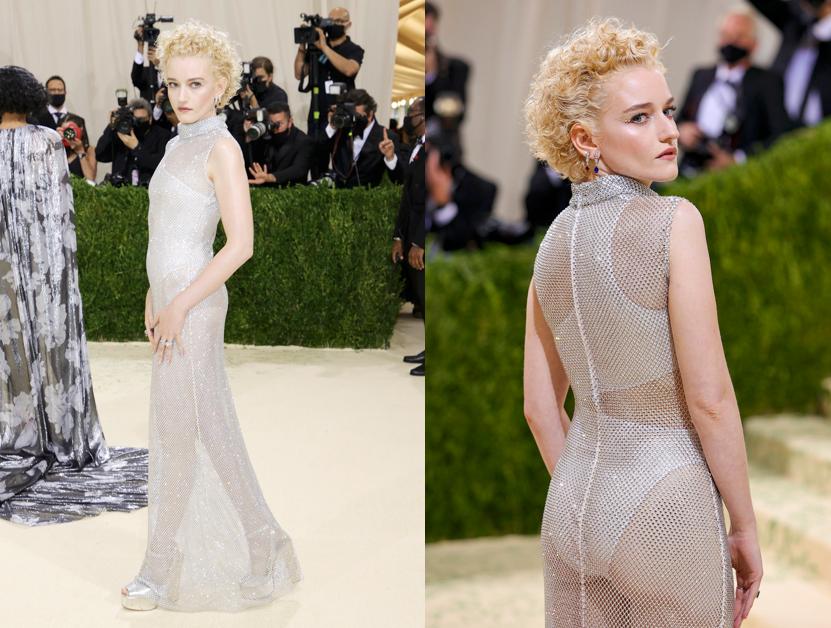 And finally, Ozark actress Julia Garner wore a white bodysuit underneath a sheer Stella McCartney gown, which was covered with sparkles.