Emma Grede, the co-founder of fashion brands Good American and Skims, has made a new name for herself in the sustainable home care industry with Safely. Founded by Emma Grede alongside Kris Jenner, Safely was established with the goal of creating a plant-based cleaning brand that checked every box of sustainability.
Article continues below advertisement
"When we got the idea for Safely, we saw this need in the home care market for products that really worked, were safe and sustainable, but also offered a sleek, aesthetically pleasing look at an affordable price point," Grede tells Green Matters in an email.
Although Safely hasn't been around that long, founded in December 2021, the company has goals to continue reaching higher standards of sustainability in just a few years. As of September 2023, 30 percent of all Safely packaging is made from post-consumer recycled (PCR) material. By 2025, the brand hopes to source all its packaging from PCR with the goal of only using ocean plastics by 2030.
Article continues below advertisement
Along with being Green Seal Certified, in September 2023, Safely became a Certified B Corp, which means the company meets some of the highest standards in its social and environmental impact. And as of Oct. 24, 2023, you can find Safely products at your local Whole Foods Market.
Green Matters spoke to Emma Grede as part of our Greenovation series to learn more about the motivation behind creating Safely, and the journey to becoming a leading brand in sustainability.
This interview has been lightly edited and condensed for length and clarity.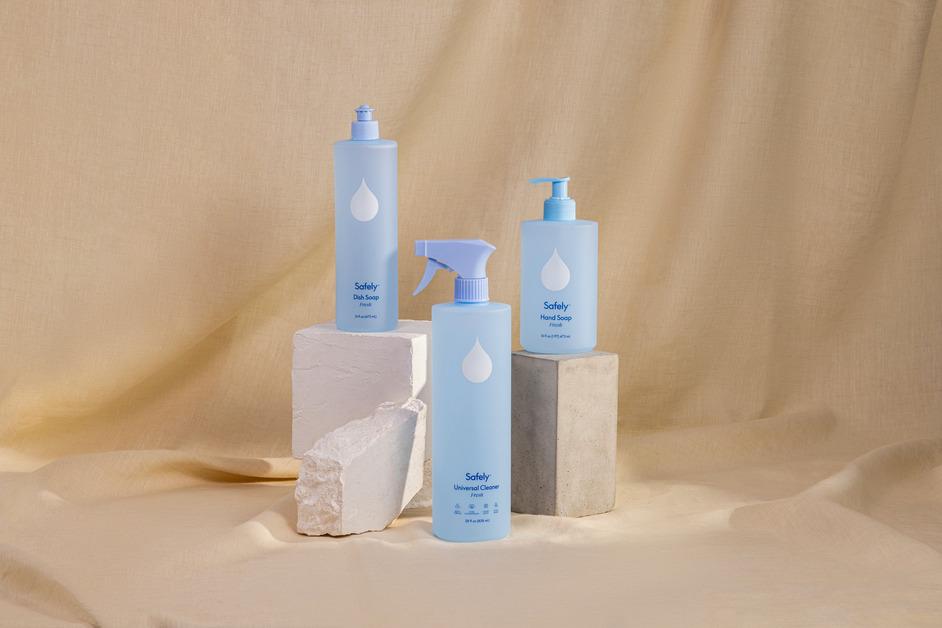 Article continues below advertisement
GREEN MATTERS: What inspired you and your co-founder to start Safely and make it a sustainable brand?
EMMA GREDE: I was doing a lot of my own homework to understand how my family could live more sustainably. Then COVID hit, and all the toxins that were flying around were just not something I wanted in my house and around my children. This is when the idea of Safely came up.
I wanted products that really worked but were safe for my family and for the planet. I spent a lot of time learning about and understanding the cleaning industry and the business, and I knew from my previous business ventures, how to take a brand and really accelerate it. I knew that this was something I wanted to do with Safely — to create something that had real impact and scale.
GM: Why was it important for you and the Safely team to secure B Corp and Green Seal certifications? How does it feel to have these?
EG: These highly esteemed certifications, such as B Corp and Green Seal, have been a goal of the company from the beginning, so by receiving these certifications it has really reinforced our brand mission. Using only the cleanest ingredients and natural surfactants, Safely products are always free of stabilizers, sulfates, parabens, phthalates, dyes, PFAS, and more. And they WORK!
Article continues below advertisement
GM: How do you stay motivated and continue to innovate?
EG: I've always created brands that I know will have a lasting impact on consumers and the industry as a whole. As simple as it sounds, I think that's what continued my drive and motivated me to expand and innovate after all of these years. Knowing that the brands I've created are making this lasting impact, it refuels my entrepreneurial cup and allows me to explore how to elevate them even further.
Article continues below advertisement
GM: What advice would you give to aspiring entrepreneurs who are interested in starting a company in the sustainability space?
EG: I cannot take away from the fact that starting a business and going out on your own is really challenging, but that's where self-confidence comes in. If you believe that you have an idea or a product that offers a new point of view, then you really just have to go out on your own and do it. The most important thing is to keep pushing forward.
GM: What has been the most rewarding part of building Safely, since it's your first sustainable brand?
EG: My background has really been focused in the fashion industry, so Safely was a leap outside of my comfort zone. When creating the brand, I knew what it took to build a successful business, but I think there is always something nerve-wracking about moving into a new sector. Seeing its overall growth and recognition over the last 2.5 years has been the most rewarding part of the brand, it really reinforced our brand mission.
"Greenovation" is a series from Green Matters that invites founders of companies that are not only disrupting industries, but also trying to change the planet for the better.