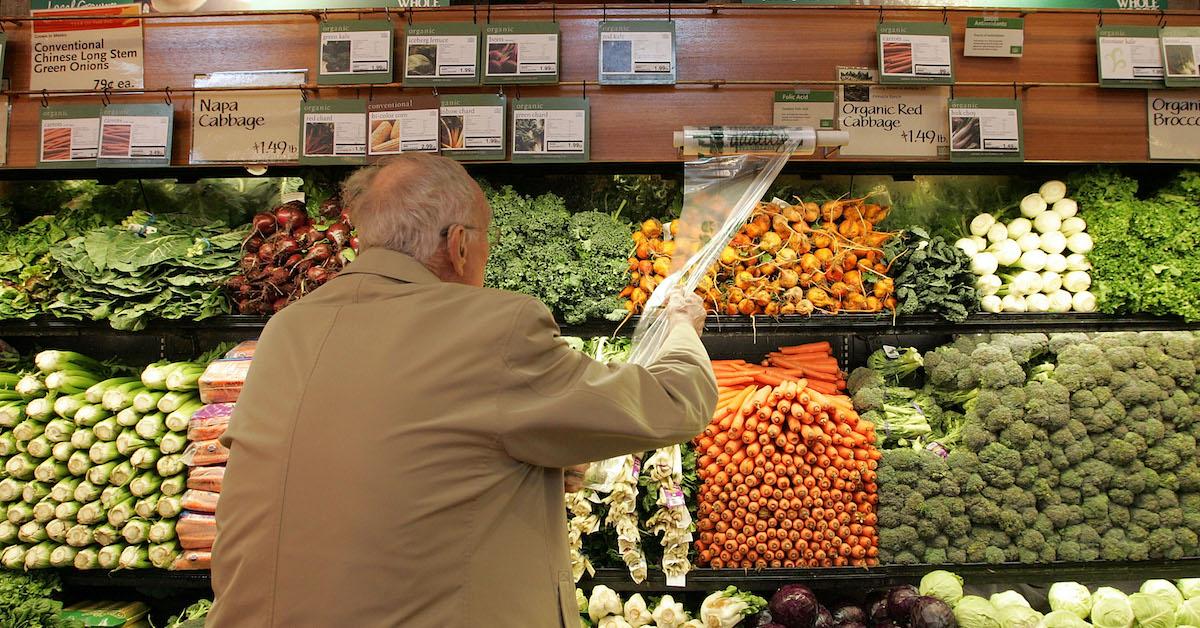 Find Out Which Major Supermarkets Are the Most and Least Sustainable
There are so many ways to make your grocery trip zero waste — and we have plenty of guides here on Green Matters to help with that. But grocery shopping sustainability shouldn't fall entirely on the hands of the consumers. The stores (especially big box stores) should take responsibility, too.
Article continues below advertisement
To highlight that, Brightly, an online sustainability platform and community that includes a podcast, news blog, and shop, just published a sustainability ranking of seven of the biggest American stores (all either supermarkets or big-box stores with grocery sections). The stores in question are Aldi, Costco, Kroger, Target, Trader Joe's, Walmart, and Whole Foods.
Brightly's team judged each chain on five factors: plastic bag usage and packaging materials; waste reduction pledges; recycling offerings in stores; use of renewable energy; and carrying sustainable product lines. Each category was graded on a scale of 1 to 10.
Article continues below advertisement
Of course, there are other factors that must be considered when evaluating how sustainable a store is — such as offering plant-based products, sourcing food locally or at least domestically, and treating workers fairly — but this ranking is a pretty good overall starting point, as most Americans live near at least one of these stores.
Aldi is the most sustainable store on the list.
Aldi came out on top, with a score of 43 out of 50, thanks to scoring either an 8 or 9 in every category.
This actually isn't too much of a surprise, considering Aldi also won the No. 1 spot on Greenpeace's 2019 supermarket ranking based on who uses the least plastic, despite only scoring a measly 34.6 out of 100. Aldi ranked No. 2 on Greenpeace's similar 2021 report, with a 30.61 out of 100.
Article continues below advertisement
Trader Joe's has some work to do.
Brightly ranked Trader Joe's last, with a total score of 14 out of 50. While the chain got an 8 out of 10 for carrying sustainable product lines, it scored either 1 or 2 out of 10 on all four other categories. This is a bit of a surprise, considering Trader Joe's does have a few waste reduction efforts in the works.
Interestingly, Greenpeace ranked Trader Joe's in third place on its 2019 plastic scorecard, with a low 22 out of 100; in 2021, Greenpeace gave Trader Joe's a 14.32 out of 100, putting the chain in 13th place. As Brightly notes, Trader Joe's has ranked pretty low on other company's supermarket sustainability scorecards.
Article continues below advertisement
Here's the full list of which stores are most sustainable.
Ranked from most to least sustainable, here's Brightly's full scorecard of all seven scores.
Aldi (43/50)
Whole Foods (40/50)
Target (30/50)
Kroger (22/50)
Costco (17/50)
Walmart (15/50)
Trader Joe's (14/50)
"Consumers may be surprised when they realize the big box stores they thought were most eco-friendly actually might not be as sustainable as they think," Laura Wittig, CEO and co-founder of Brightly, tells Green Matters exclusively via email.
Article continues below advertisement
"For this ranking, we looked to evaluate brands based on consumer-focused information (like usage of plastic bags) versus relying on criteria that most people wouldn't be familiar with," Wittig continues. "Our goal at Brightly is to break the world of sustainability down into easy-to-understand, actionable tips for everyday life, and we believe that by shopping with their dollars, consumers can make a difference. If stores want to be more eco-friendly, they can pay attention to the rising demand for sustainable products and offer products with less packaging (bulk, etc.) and less waste generated (locally grown, etc.)."
There are so many ways to grocery shop with less waste — but it's important to remember that not everyone has access to the stores that make it easy for customers to be sustainable. Use your voice, and tell your favorite stores you'd like to see them making greater efforts to respect Mother Earth. And in the meantime, check out our various guides to zero-waste grocery shopping.