Shop Till Ya Drop at the Best Thrift Stores in Dallas, Texas
Thrifting is an eco-friendly way to shop, discover unique pieces, and save money, too. Here are some of the best thrift stores in Dallas, Texas.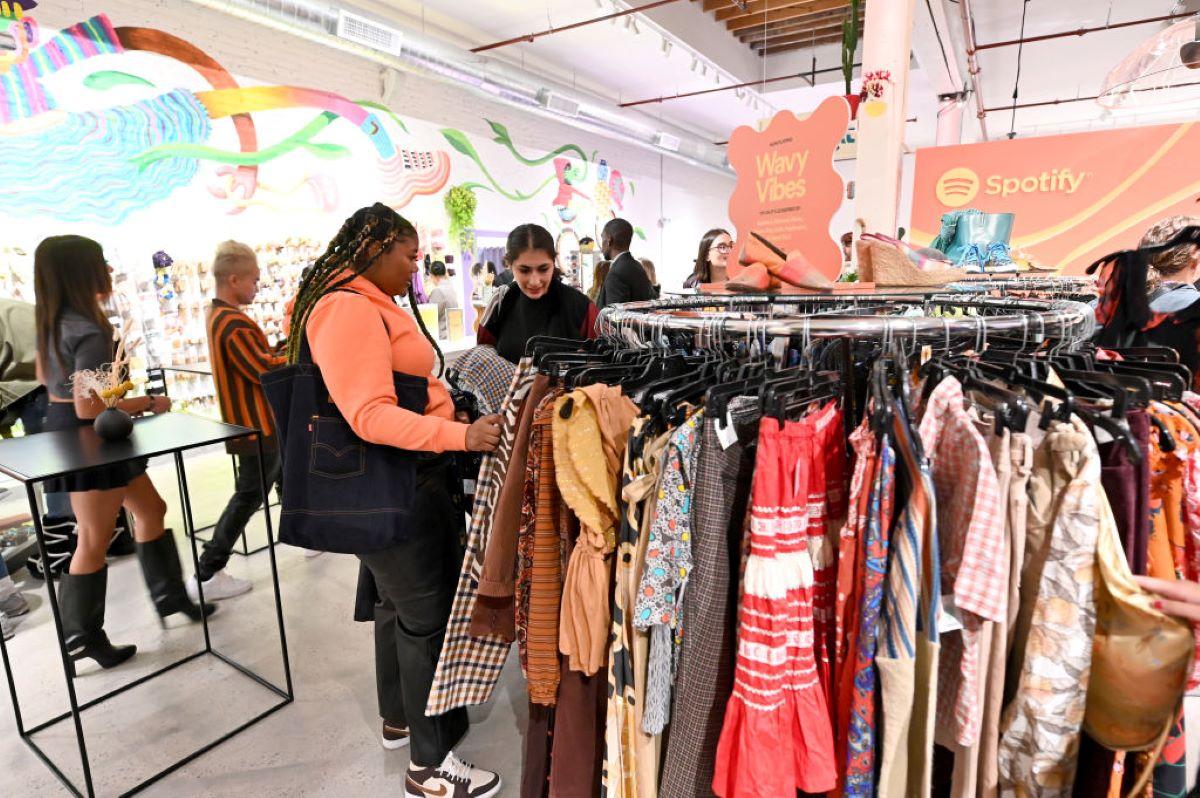 Anyone watch Dallas? As one of the most fashionable and glamorous cities in the country, Dallas can be a dream come true for bargain hunters. As old oil money donates and consigns some of their "so last season" castaways, treasure hunters constantly scoop up some of the most amazing deals on designer pieces and hard-to-find vintage essentials.
Article continues below advertisement
Clotheshorse Anonymous
This Dallas treasure trove, located at 11661 Preston Road, is a designer resale addict's wonderland. Established in 1974, Clotheshorse Anonymous was Dallas' first luxury consignment clothing boutique, offering shoppers and consigners a wondrous selection of luxury brands must-haves like Fendi bags, Chanel Jewelry, YSL Tributes, Louis Vuitton wallets, and on-trend women's clothing. And you'll never have to question whether it's a fake because Clotheshorse Anonymous has a partnership with Luxury Authentication.
Article continues below advertisement
Dolly Python Vintage
Founded in 2005, Dolly Python Vintage has grown into 3,800 square feet of hand-selected vintage must-haves like cowboy hats, motorcycle boots, clothing from the '40s through '80s, gag gifts, knickknacks, antiques, handbags, old photos, vinyl records, memorabilia, and more. Located at 1916-1914 N. Haskell Ave., Dolly Python has over 30 different antique dealers and consignors who stock and edit their booths daily.
Article continues below advertisement
Thrift World of Dallas
If you're searching for great deals on pre-owned home goods, clothing, designer bags, jewelry, children's clothing, and shoes, look no further than Thrift World of Dallas. Family-owned and operated for over 30 years, this must-visit thrift shop at 3046 Forest Lane hosts weekly sales like #ThriftyThursday and white, red, and blue tag sales. Follow the shop's Facebook page to get the inside scoop on how to save even more money.
Article continues below advertisement
Nylo Wool Vintage
Located at 3107 Commerce Street, Nylo Wool has a very eclectic selection of timeless vintage staples that are hand-picked by the owner, Daniel Brown. While it's stocked with mostly old school menswear, shoppers can also find a sampling of women's dresses, retro tees, bomber jackets, collegiate sweatshirts, and lots of denim (including vintage Levi's).
Article continues below advertisement
Genesis Benefit Thrift Store
Benefitting Genesis Women's Shelter & Support services, Genesis Benefit Thrift Store is a place to shop and donate your unwanted goods for a good cause. Located at 3419 Knight St., women who are victims of domestic violence can shop for free and 100 percent of the proceeds of your purchases support the community. So, whether you're looking to add some new-to-you clothing and accessories to your closet, or cleaning it out instead, this thrift shop with a cause is perfect for you.
Article continues below advertisement
Thrift Giant
Thrift Giant, a thrift store chain with locations all over the Dallas area, is where locals looking for a bargain come to shop. With weekly tag specials, and great holiday deals, you can score clothing, home goods, jewelry, antiques, and more, for less. Multiple organizations and local charities benefit from your donation and purchase, including Operation Kindness, Ronald McDonald House, and Little Elm Area Food Bank. Join their VIP program for extra 25 percent off full-priced items every Sunday.
Article continues below advertisement
Clothes Circuit
Whether you're looking to scoop up luxury goods for less or you want to make a few extra dollars on your unwanted designer goods, Clothes Circuit has you covered. Located at 6105 Sherry Lane, Dallas' most iconic luxury consignment shop has been serving locals for over 40 years. With shelves and racks full of must-haves by Louis Vuitton, Alice + Olivia, Veronica Beard, Ulla Johnson, Prada, and Chanel, Clothes Circuit adds nearly 500 new pieces to their inventory every day.
Article continues below advertisement
Uptown Cheapskate
For a more curated thrifting experience, head to Uptown Cheapskate at 5400 East Mockingbird Lane. This location of the chain thrift store carries a lot of gently used — and sometimes new — name-brand items. On Google reviews, one customer said that the store exceeded their expectations and had an "incredible selection of higher-end items."
Article continues below advertisement
White Rock Center of Hope
White Rock Center of Hope is a classic thrift store. It has a great selection of clothes, home goods, media, toys, and more, all at an affordable price. Plus, the proceeds from the shop go toward helping the East Dallas community with necessities like food and clothing. Stop by 10021 Garland Road to check it out.
Article continues below advertisement
Second Chance Treasures
If you love finding unique trinkets for your home, then you have to visit Second Chance Treasures at 10101 Garland Road. The prices for these artsy and cool home goods tend to be on the higher end, but the proceeds help support the animals at the East Lake Pet Orphanage.
Article continues below advertisement
Dated Faded Worn
Dated Faded Worn at 2924 Main Street provides an excellent vintage shopping experience. This spot offers a nice selection of graphic tees, jerseys, hats, and more. Many customers on Google shared that the prices were reasonable and a few even said that it's the best vintage store in Dallas!
Article continues below advertisement
Lula B's Oak Cliff Vintage Shop
Lula B's is full of eccentric goodies, ranging from random antiques to vintage clothing. For those who love a fun "hunting" experience while thrifting, this is definitely the spot for you. One customer gave the store a glowing review: "The pics don't give this gem the credit it deserves! This is a must-go to place!" Well, you heard them — check out Lula B's at 1982 Fort Worth Avenue.
Article continues below advertisement
Thrift Town
You can find Thrift Town at 1516 South Westmoreland Road. This is the secondhand shop you go to when you happen to need something that doesn't exactly fit into any specific category — somehow, this store will have it. If you're looking for good sales and a wide variety of inventory, Thrift Town is great.
Additional reporting by Rayna Skiver.