What Is Plant-Based Meat?
You've heard a lot about plant-based meat, but do you know what even means? Keep reading to learn more.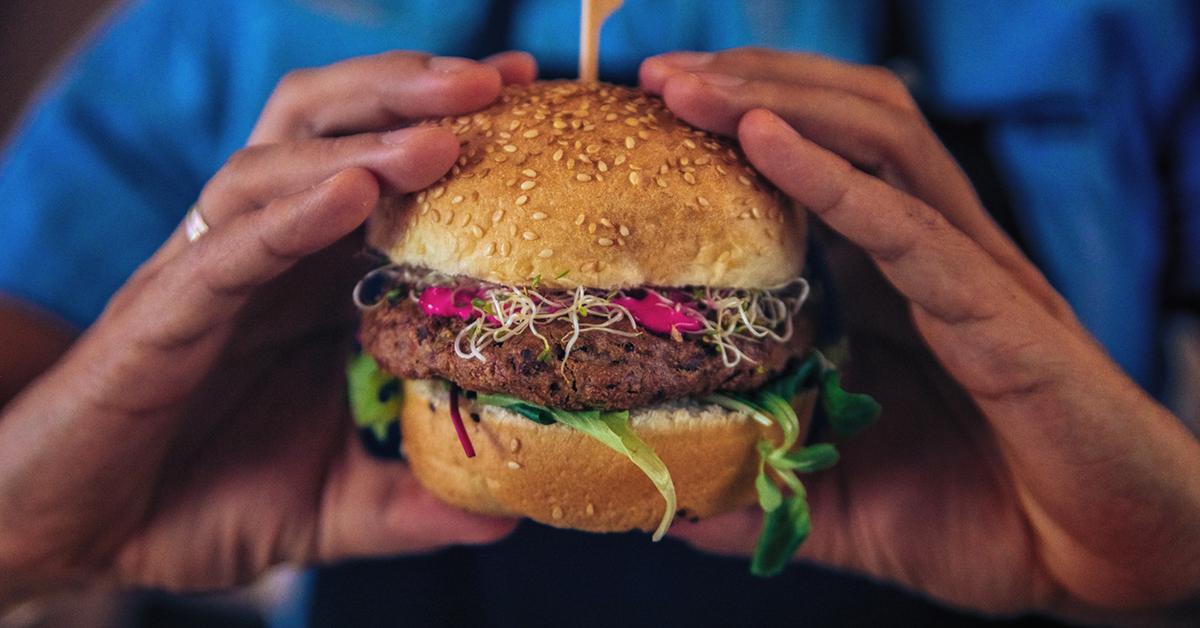 It sounds like an oxymoron, doesn't it: Plant-based meat. That's like jumbo shrimp or fresh dried fruit… only worse for meat-lovers. The very definition of meat is that it cannot be plant-based and yet, enter 2019 — the year I'm calling The Year of Plant-Based Meat.
I have been a vegetarian for almost a decade now, and I have never seen so much news coverage and in-store exposure about, and to, meat alternatives. According to TODAY, plant-based meat sales have risen a whopping 26 percent in the last year, so my own calculations of the world around me aren't that off. Plant-based meat has proven to be a pretty lucrative business, too; in the past, meatless meat might have had a kind of "gross" or "hippie" reputation to it and not many restaurants, stores, or suppliers seemed interested in carrying these alternatives.
It made for hard times for vegetarians (and vegans) looking to score a veggie burger in a public setting.
Article continues below advertisement
What Is Plant-Based Meat?
Plant-based meat is meat made from plants. It is especially designed and created to look like, taste like, and cook like conventional meat. Plant-based meat can be in the form of a burger patty, nuggets, or even crumbles and sausages and as it grows more popular, these veggie-based alternatives are shaking up the meat industry and everything we thought we knew about veggie burgers.
With as significant an uptick as 26 percent in sales, plant-based meat has brought in $800 million in revenue in the last year alone. The more money it makes, the more restaurants want to pluck it on their menu and the more brands and options that crop up. Um, heck yes, gimme all the veggie burgers and plant-based meat alternatives, please!
Needless to say, it's an exciting time to be alive and be a vegetarian, but it's also an exciting time to be alive and not be vegetarian, as more and more meat-eaters are opting for flexitarian diets that require healthy (and still tasty!) alternatives to meat.
Article continues below advertisement
Types of Plant-Based Meats
This year, the plant-based market exploded with vegetarian alternatives: there's the Impossible Burger and Beyond Meat, both of which make burgers but also some other plant-based meats like sausages and "crumbles" that are designed to imitate, cook, and taste like ground meat. (Impossible is also developing fishless fish and plant-based steak, while Beyond is also working on a steakless steak recipe, as well as plant-based bacon.) You've also got LightLife, Before the Butcher, Abbott's Butcher, and more, which make plant-based meat like patties, chorizo, and crumbles.
We can't forget about all the brands of chickenless nuggets out there — often quantified as meatless by a removal of the "e," as in "chick'n." Brands like Raised & Rooted, Nuggs, and Morning Star make all kinds of plant-based nuggets, including traditional nuggets and buffalo wings that are as flavorful and as spicy as the real stuff.
I would even go as far to lump The Jackfruit Company into plant-based meat, as they make meat alternatives out of jackfruit, a fruit from the fig family that is native to the rainforests of Borneo and Southern India. See? #AllTheOptions.
Article continues below advertisement
And it's more than just the grocery stores who are on board. Burger King introduced a meatless Whopper this year, White Castle added Impossible Meat to its menu, and even IKEA is developing meatless meatballs for vegetarian shoppers who get hungry after a build-your-own furniture run.
With so much (much-deserved) buzz around plant-based meat, a new report by a global management consulting firm A.J. Kearney predicts that only 40 percent of the meat we eat by 2040 will come from animals, 35 percent will come from lab-grown meat, and the other 25 percent will be sourced from plant-based alternatives.
Times, they are a-changing!
What Are the Ingredients in Plant-Based Meat?
This is great and all, but you might be wondering just what these meatless alternatives are made from. It's chickenless-chicken and beefless-beef, so what does that really mean in terms of ingredients?
Impossible Burger credits heme with what makes their burgers and meat alternatives taste so good — as in, taste like real meat. Heme is an essential molecule found in every living plant and animal. Impossible makes plant-made heme through fermentation of genetically engineered yeast. If you're wondering if it's safe, generally, it is, and it's also sustainable. Other ingredients found in Impossible Meat include wheat-based protein, coconut oil, and potato protein.
Article continues below advertisement
Beyond Meat does a lot of work with incorporating pea protein and beet juice (to create a "bleeding meat" effect) into their alternatives. According to Business Insider, Beyond Meat has five main ingredients, but a total of 22. These include water, pea protein isolate, expeller-pressed canola oil, and refined coconut oil. Beyond Burgers contain 2 percent or less of:
Cellulose from bamboo
Methylcellulose
Potato starch
Natural flavor
Maltodextrin
Yeast extract
Salt
Sunflower oil
Vegetable glycerin
Dried yeast
Gum arabic
Citrus extract (to protect quality)
Ascorbic acid (to maintain color)
Beet juice extract (for color)
Acetic acid
Succinic acid
Modified food starch
Annatto (for color)
Are Plant-Based Meats Healthier Than Conventional Ones?
A lot of meat-eaters want to know: Are plant-based versions of meat really all the more healthy? Yes and no.
Calorically, most plant-based meats are similar to traditional meats. The main differences are that plant-based meats do not have any cholesterol, they are generally higher in sodium, and they have a little bit of fiber (meat does not have any).
Plant-based meat, however, is a better option in two major ways. First, eating these in place of red meat can help us — as a population — reduce our red meat intake, which is too high as it stands, with the average American eating 2.4 burgers per day. Secondly, plant-based options are more sustainable, environmentally-friendly, and are better for both our planet and our animals.