Jane Fonda Launches Her Own Climate PAC to Keep Fossil Fuel-Funded Candidates Out of Office
In 2019, Jane Fonda moved to Washington, D.C. and founded her grassroots climate change movement, Fire Drill Fridays, in which she and fellow climate activists protested politicians who were guilty of climate inaction.
Now, three years later, the iconic actress has moved onto a new venture in the realm of political climate action: Jane Fonda Climate PAC.
Article continues below advertisement
"We have one goal: do whatever it takes to defeat the political allies of the fossil fuel industry, no matter which side of the aisle they're on," Fonda stated in a video announcing the new PAC.
Keep reading to learn more about Jane Fonda Climate PAC, how Fonda hopes this project will help protect the climate, and how you can show your support.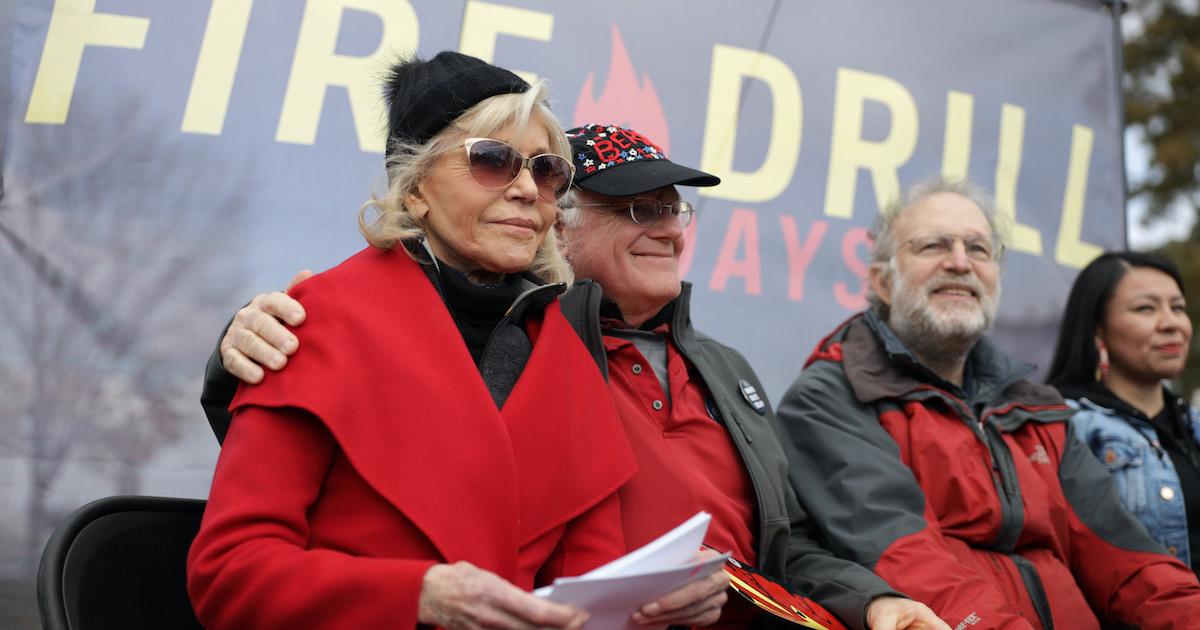 Article continues below advertisement
What is a political PAC?
PAC stands for Political Action Committee. Basically, it's a committee assembled to represent a certain political ideology or business; the committee exists to raise money to help defeat candidates with opposing views, as explained by OpenSecrets.
There are quite a few rules governing the money PACs may accept and subsequently donate. Per each election, a PAC can give $5,000 to a candidate committee; and each year, a PAC can give $15,000 to a national party committee, and $5,000 to any other PAC. As for donations from individuals, PACs can only accept donations of $5,000 maximum per person each year.
Article continues below advertisement
The Jane Fonda Climate PAC aims to keep fossil fuel-funded candidates out of political office.
On Wednesday, March 16, Fonda unveiled her PAC on a new website and in a YouTube video. As she stated at the beginning of the video, 2030 is just eight years (and four election cycles) away. 2030 is when many experts believe we must cut our fossil fuel emissions in half, or else suffer even worse consequences of the climate crisis.
Fonda then pointed out that in the year 2020 alone, the fossil fuel industry put $139 million into U.S. elections, to both Republican and Democratic candidates. And as the Jane Fonda Climate PAC's website notes, the latest UN climate report pointed out how the climate crisis is already causing immense suffering and devastation to people around the world.
Article continues below advertisement
"There is no question that the obstacle between saving the planet and not, is the money that has a stranglehold on our politicians," Fonda stated in the video. "The public is voting with the climate in mind, but the people we elect are not. If we can't change the minds of the people in power, we need to change the people in power."
Article continues below advertisement
"Greta Thunberg warned that our house is on fire. So it's time we fight fire with fire, or in this case, to fight dollars with dollars," she continued, adding that this is the spirit she plans to bring into Jane Fonda Climate PAC.
Fonda hopes this PAC will send a strong message to the politicians who are consistently "bankrolled" by the fossil fuel industry: "You should be as scared for your careers as we are by the climate spinning out of our control. We will not back down."
Article continues below advertisement
The PAC is led by Fonda and two partners: Ariel Hayes, a former political staffer and the Sierra Club's former National Political Director; and Annie Leonard, the Co-Executive Director of Greenpeace USA and creator of the documentary The Story of Stuff.