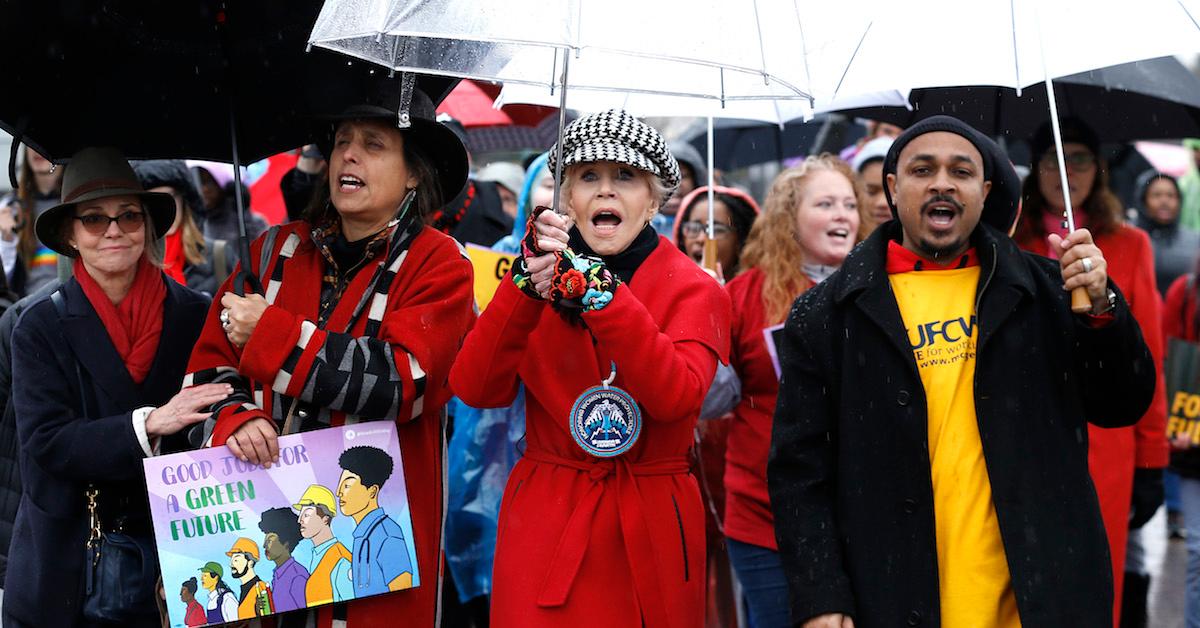 Jane Fonda's Fire Drill Friday Protests Go Digital Due to Coronavirus — How to Participate
Jane Fonda isn't letting COVID-19 quarantines hold her back from fighting for our planet. The 82-year-old actress and climate activist just announced that Fire Drill Fridays is going digital, thanks to a partnership with Greenpeace. That means anyone around the world can tune in and get involved.
Article continues below advertisement
"We may be staying home, and yes, we must stay home, but we will never stop speaking out about the climate crisis and demanding our leadership take action," Fonda said in a statement, as per The Hollywood Reporter.
Article continues below advertisement
"And while you are quarantined at home, we hope you will join us virtually because our movement is not slowing down. The rapid spread of the novel coronavirus in America has exposed the catastrophic weaknesses in our healthcare system and social safety net," Fonda continued. "Our government must support those suffering from the triple threat of COVID-19, the climate crisis, and a looming recession by investing in an economy beyond fossil fuels. Whether you are new to this conversation or are already invested in combating this crisis — we need you and we hope you will join us."
Article continues below advertisement
The first digital event (a pre-protest, if you will) kicks off today, Friday, March 27 at 11 a.m. PT. Fonda will sit down (presumably virtually) with Massachusetts Sen. Ed Markey to discuss the climate crisis as well as the coronavirus, and you can sign up to attend the Zoom call here.
Next Friday, April 3 at 11 a.m. PT will mark the first official digital Fire Drill Fridays protest. The event will be youth-themed and held in partnership with the Sunrise Movement. According to The Wrap, for the event, Fonda will gather fellow climate activists, youth and indigenous leaders, climate experts, and representatives from underrepresented communities — and, knowing Jane Fonda, a Hollywood celebrity or two. Past celebrity guests at Fire Drill Fridays include Martin Sheen, Joaquin Phoenix, Ted Danson, Sally Field, Sam Waterston, Piper Perabo, Amber Valletta, Diane Lane, Catherine Keener, Rosanna Arquette, June Diane Raphael, and Robert F. Kennedy Jr. — all of whom were arrested at the protests.
Article continues below advertisement
"While everyone at home is just trying to survive this crisis, the oil and gas industry is using a pandemic as an opportunity to steal whatever they can," Annie Leonard, Greenpeace USA's executive director, said in a statement via The Wrap. "We deserve a world beyond fossil fuels: a world in which workers' rights, community health, and our shared climate come before corporate profits. Right now we have an unprecedented chance to lay the groundwork."
In September 2019, Jane Fonda moved to Washington, D.C. to launch Fire Drill Fridays, after being inspired by teenage climate activist Greta Thunberg's Fridays for Future protests. In January of this year, the legendary actress moved the protests to Los Angeles, when she had to return to film Grace and Frankie.