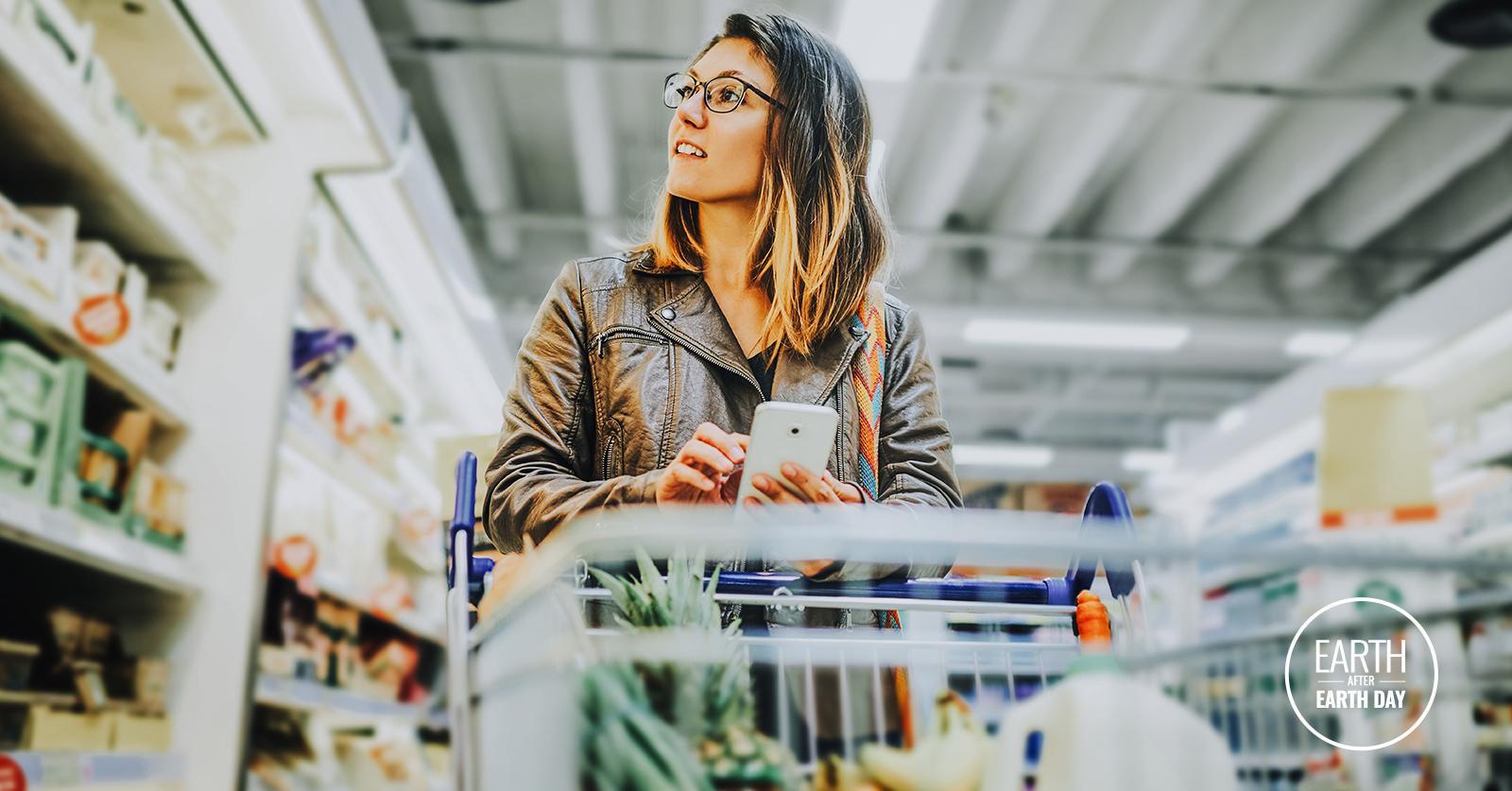 How Sustainability Is Changing the World of Grocery Stores
When we go grocery shopping, there are many things we can and choices we can make in order to minimize our impact. But consumers aren't the only ones that are making changes and adapting to better our planet — grocery stores have also made significant adjustments to their supply chain, and how they interact with consumers, in order to have a smaller impact on the planet.
Article continues below advertisement
When it comes to becoming more sustainable, grocery stores definitely faced an uphill battle; food waste is a significant problem in the United States — food is the single largest component in landfills, per the United States Department of Agriculture, which also estimated that 31 percent of the food supply (from restaurants and stores) ended up in the landfill.
Not to mention, they're also responsible for distributing plastic bags. It's been estimated that 160,000 plastic bags are used every second, and these bags — which are not easily recyclable, and are easily lifted and removed from landfills by the wind — are estimated to be used for only 12 minutes, but stay in our environment for thousands of years.
Article continues below advertisement
So, as you can imagine, there's been a lot of pressure on grocery stores to change their ways — and, fortunately, many grocery stores have made adjustments in order to make sure that they're doing what they can to eliminate their impact on the environment.
Check out this list to see nine ways different grocery stores around the world are embracing change, and working hard to eliminate (or at least lessen) their impact.
Article continues below advertisement
Eliminating Plastic Packaging 
While food waste is a gigantic problem when it comes to grocery stores (by some estimations, grocery stores alone contribute to 10 percent of all food waste in the states), the retail food industry is also responsible for a lot of packaging waste. Who hasn't been infuriated when they see individually wrapped fruit, or 10 layers of plastic on a single product?
Fortunately, many companies are already adapting and cutting back on their packaging. Trader Joe's announced that they will cut back on their plastic packaging — a decision that was made after a petition went around, urging the popular grocery chain to use less plastic. Aldi — who has never handed out single-use plastic bags — made a similar commitment, when they announced their plans to make all of their packaging "reusable, recyclable, or compostable" by 2025.
Article continues below advertisement
Some grocers are taking their zero-waste mission even further; Metro, a Canadian supermarket chain, recently revealed that they'll accept reusable containers, so you don't have to get your deli meat in disposable plastic bags.
Banning Single-Use Grocery Bags
Last year, "single-use" was the word of the year (and for good reason)! As we already know, grocery bags are one of our most pervasive problems when it comes to single-use. Not only do they not decompose naturally (at least not in anyone's lifetime), but they are also so lightweight that they're often lifted from the landfills they occupy, and blown into water and nature, where they disrupt wildlife.
Article continues below advertisement
More and more grocery stores are taking notice of their role in this problem, and many of them are ditching the single-use plastic and encouraging customers to bring their own reusable bags. In Australia, when the two largest grocery stores issued a ban on plastic bags, they saw circulation drop by 80 percent (or roughly 1.5 fewer bags) in the first few months. Recently, other local retailers have followed suit. Earlier this year, Big Y Foods announced plans to transition to all reusable by 2020, and Kroger also revealed plans to eliminate plastic bags in their stores by 2025 (Kroger estimates they distribute 6 billion bags annually).
Like Trader Joe's and their decision to cull plastic, the decision was the result of feedback from their customers — and a wake-up call about the environment. As Kroger's Chairman and CEO Rodney McMullen explained in an op/ed in the Cincinnati Enquirer announcing their decision, "As America's largest grocer, we recognize we have a responsibility to cut down on unnecessary plastic waste that contributes to litter, harms the environment, and, in some cases, can endanger wildlife… Our ultimate goal is to shift completely over to reusable bags."
Article continues below advertisement
Selling Discounted Produce 
One of the most popular — and most interesting — trends to take off in the past year is selling imperfect, nearing-expiration, or otherwise flawed fresh produce at a discount. Many supermarkets have taken to creating their own boxes — such as Lidl's "too good to waste" box.
Some companies, such as Misfits Market, have also popped up; they work directly with farms, sourcing "ugly" produce that isn't fit to make it to the shelves of your favorite grocery stores. As they explain on their website, it's a win/win situation: Not only is food waste prevented, but consumers also get fresh, organic produce at a discount!
Article continues below advertisement
Making Recycling Easier Than Ever 
One big deterrent for many people who aren't recycling is that, for beginners, sometimes it's just not that simple. The numbers on plastic, for example, can confuse people, which leads to more plastic in the landfill. Fortunately, there are solutions: How2Recycle is a standardized labeling system that makes it easier for people to recycle by clearly stating how that item should be recycled. They've already teamed up with many food companies — such as Amy's, Nestlé, and General Mills — and now, they've partnered with grocers such as Target, Walmart, and ALDI so that they're in-house products will have clear directions on how to recycle.
Introducing Better Sell-By Dates
Per Supermarket News, the Grocery Manufacturers Association claims that, currently, nine out of 10 grocery products currently have better "use-by" and "sell-by" dates. They believe this has the potential to help tremendously with food waste, as many Americans were relying on "if in doubt, throw it out" — causing a lot of food to enter the landfill long before it expired.
Article continues below advertisement
As the Grocery Manufacturer Association President and CEO Geoff Freeman said in a statement, "Date labeling is a step toward meaningful food waste reduction that makes it easier for Americans to shop smarter and throw away less."
Embracing Technology to Make a Change
While many grocery stores have introduced their discounted produce boxes, Hy-Vee has taken a different approach to making sure fresh produce finds a home before it rots: They've created an app, which tells customers which products are nearing the end of their shelf life so that they can be purchased a "significantly reduced" prices.
Article continues below advertisement
"At Hy-Vee, we know it's important that we do our part as grocers to reduce food waste," Vice President of Innovation and Business Development Jessica Ringena said. "In 2018 alone, our food waste diversion programs at all our Hy-Vee stores have kept more than 25 million pounds of food waste out of landfills."
Another way that you can use technology to keep food waste down is by using Meal Prep Mate, a new initiative by the NRDC designed to help you shop and meal prep efficiently, in order to use all the food you buy.
Article continues below advertisement
Shopping Local to Keep Emissions Down 
Shopping local is one of the easiest ways to help the environment; not only are you supporting your local community that way, but you're also keeping emissions down as transportation is minimal. In addition to helping the environment, research has found that customers want local produces, and that grocers can play a huge part in helping small farms grow.
New Seasons Market, a chain in the Pacific North West, recently proved the benefits of shopping local with an experiment called "The Redd"; per Supermarket News, "The Redd is a two-building campus in Portland, Oregon, that houses a system of services — from production, assembly, and packaging spaces to warehousing and delivery — designed to help small food businesses thrive."
Article continues below advertisement
While the initiative is great for the small companies and consumers alike, Supermarket News reports that the new program also saved vendors "[more than] 12,000 individual delivery trips to New Seasons Markets locations, saving more than 320,000 pounds of carbon dioxide emissions."
Donating Food to Eliminate Waste
Another way to make sure that food isn't wasted — while doing some good for the community — is by donating food that would otherwise be thrown out. Wegmans, a popular chain that started in upstate New York, donated more than 8 million pounds of food in 2017, much of which comes from their Perishable Food Pickup (which has been running for more than 30 years). According to their site, this includes food that is "safe to eat but is no longer saleable [sic]."
Article continues below advertisement
Composting at the Store Level 
In recent years, grocery stores have also been able to make an impact by composting on the store level; while this is beneficial for any stores — as there's always going to be food waste at a grocery store, especially fresh fruit and vegetables (even if they have a discount box!) — this is especially beneficial for grocery stores with prepared food sections, where people eat at the restaurant.
In an effort to be "zero-waste," Wegmans boasts that they've composted 37.5 million pounds of food waste within stores, and Whole Foods has become a composting destination (particularly for city dwellers). Whole Foods also has used what they call a "Full Circle Composting" program, in which they take the compost from their stores and give it to the local farmers and vendors they work. In addition, Whole Foods has also made it easy for people to start composting at home, selling products that'll allow anyone to get started with a home compost.
With all the changes being made at grocery stores, there are also plenty of ways we can change our own habits while shopping for food to make sure we're making the best decisions — check out our guide to shopping "greener" at the grocery store to learn more!