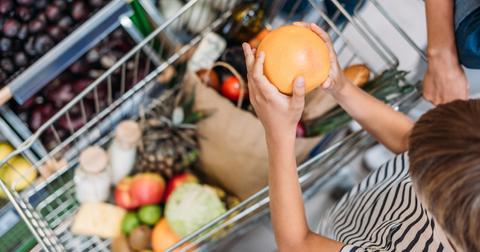 Grocery Store Lidl Is Saving Produce From Landfill With "Too Good to Waste" Discount Veggie Boxes
By Sophie Hirsh
Get green news right to your inbox!
Thanks for signing up!
Picture your grocery store's produce section. If you shop in a supermarket, there are probably rows and rows of colorful fruits and vegetables, all ripe, shiny, and perfect. Unfortunately, in order to keep shelves fully-stocked, grocery stores often wind up with a surplus of produce, and once fruits and veggies start looking not-so-perfect, most stores simply send them to landfill. But grocery store Lidl is trying to change that with its new Too Good to Waste boxes, which sell damaged produce in boxes at a major discount.
As reported by the Huffington Post, the international grocery store chain now has Too Good to Waste going at each of its stores in England, Scotland, and Wales. A few other supermarkets have similar programs, but what sets Lidl's apart is that the boxes are prepared by a team of on-site "Freshness Specialists", who analyze produce shelves for items that are slightly damaged or a little less fresh, as per the grocery chain's website. The team gathers these fruits and vegetables, packs them in cardboard boxes, and sells each box for £1.50, which translates to $1.98 USD.
More From Green Matters
.

Food

Lab-grown meat and plant-based meat are on the rise.

.

Food

Wild Type wants to change the way we eat fish.

.

Food

Gatwick Airport's Starbucks is promoting reusables and taking the burden off the consumer.