Which Grocery Stores Use the Most Plastic, According to Greenpeace
Looking for an eco-friendly grocery store? Well-respected environmental organization, Greenpeace, ranked grocery stores on their plastic usage.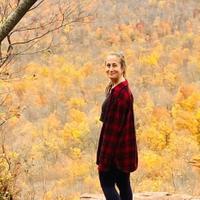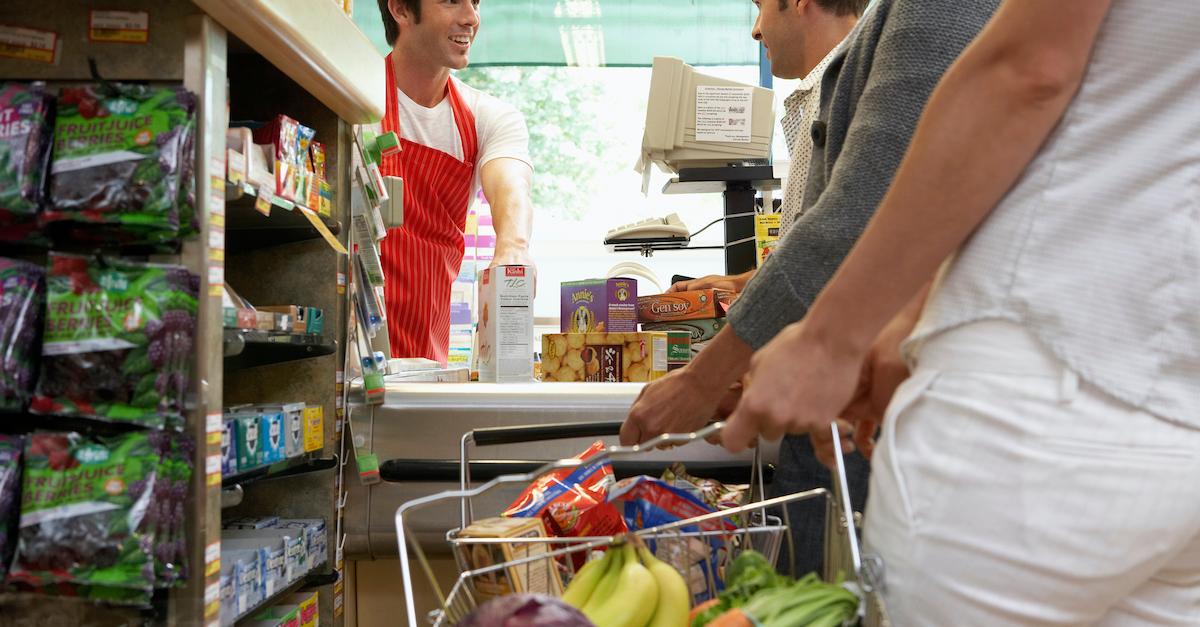 One of the worst parts of grocery shopping is coming home, unpacking your haul, and realizing how much single-use plastic you've inadvertently obtained. From produce bags to plastic wrap to plastic containers, certain retailers are notorious for sending shoppers home with far too much plastic that gets immediately discarded after the groceries are unpacked.
Article continues below advertisement
With that in mind, Greenpeace ranked grocery stores on efforts to reduce plastic usage, and the findings have provided tremendous insight for those who want to lower their environmental impact. Keep reading for more on which retailers have been deemed sustainable, and which ones still have some room to improve.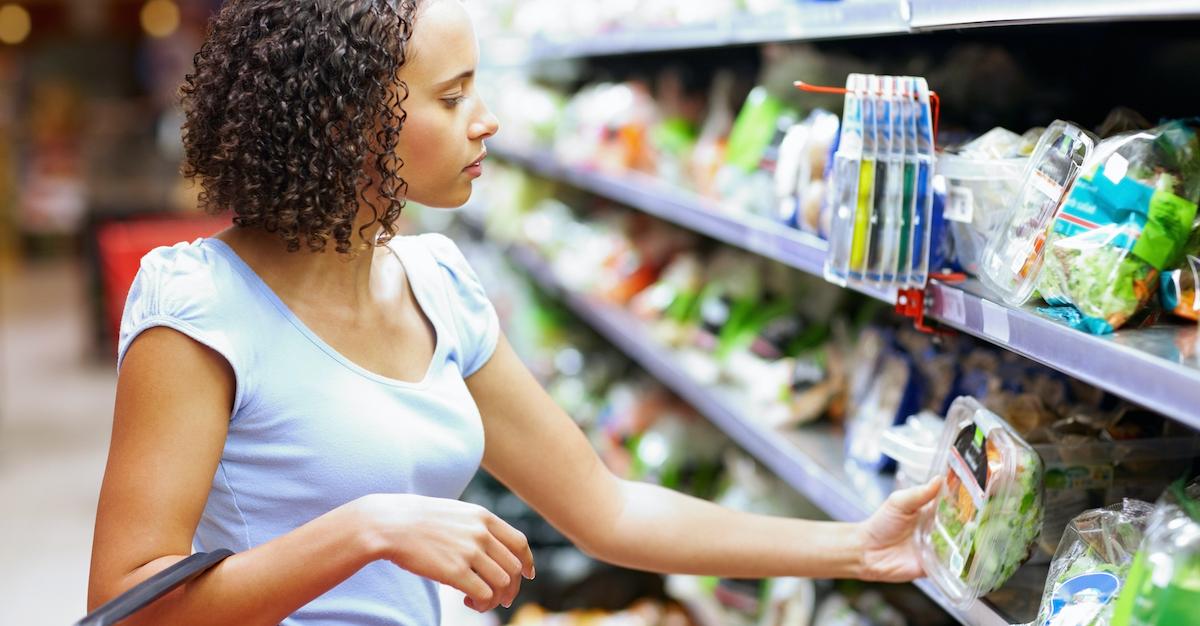 Article continues below advertisement
Here's how 20 grocery stores ranked with Greenpeace on plastic reduction efforts:
Greenpeace ranked 20 popular U.S. grocery retailers on efforts to reduce plastic usage in 2021, two years after ranking them in 2019, when all surveyed retailers received failing scores. In the last few years, many stores started banning plastic bags and providing reusable or biodegradable containers, but many discontinued these practices during the pandemic due to irrational fears of spreading the virus, that were supposedly instilled by the plastics industry, as per Greenpeace.
Stores like top-ranking Giant Eagle, however, have reinstated these practices, and the progress has proven to be effective. Each retailer was rated based on company-wide policies to lower their plastic footprint, goals to reduce waste, changes in initiatives, and transparency on how they communicate policies to customers and the public. Some stores have responded to the rankings, while others haven't. Check out how your favorite retailers, which were ranked out of 100, faired, below:
Article continues below advertisement
Giant Eagle- 34.88/100 (responded)
ALDI- 30.61/100 (responded)
Sprouts Farmers Market- 25.83/100 (responded)
The Kroger Co.- 24.06/100 (responded)
Albertsons Companies- 21.85/100 (responded)
Costco- 20.53/100 (did not respond)
Walmart- 18.10/100 (responded)
Ahold Delhaize- 16.78/100 (did not respond)
Wegmans- 15.45/100 (did not respond)
Whole Foods Market- 15.23/100 (responded)
Southeastern Grocers- 14.79/100 (responded)
Target- 14.35/100 (did not respond)
Trader Joe's- 14.32/100 (did not respond)
Meijer- 13.69/100 (responded)
Publix- 12.36/100 (did not respond)
Hy-Vee- 11.48/100 (responded)
the Save Mart Companies- 7.06/100 (did not respond)
Wakefern- 4.19/100 (did not respond)
WinCo Foods- 2.65/100 (did not respond)
H-E-B- 1.55/100 (did not respond)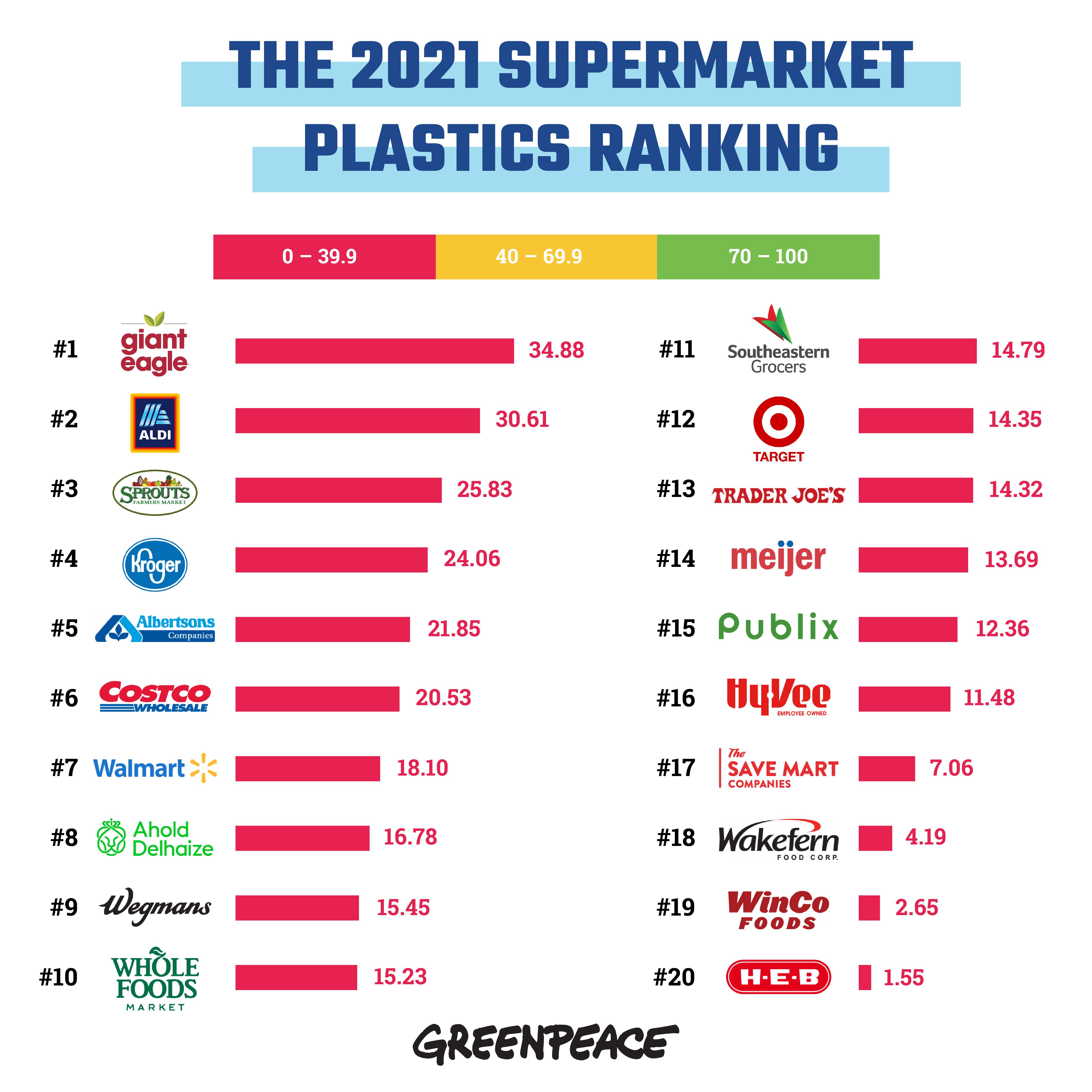 Article continues below advertisement
What can grocery stores do to reduce plastic consumption?
There are a number of steps grocery stores can take to lower their company-wide impact. Implementing a bulk bin aisle using gravity bins is sustainable and COVID-friendly. Replacing plastic bags with paper or reusable bags (and charging shoppers to use them) and avoiding the use of plastic wrap and containers to store produce also lowers a store's environmental impact. It may require a little extra effort, but lowering plastic and waste consumption is absolutely vital, even in light of the pandemic.
"U.S. retailers are moving at a snail's pace on plastic reduction efforts," said Greenpeace USA Oceans Campaign Director John Hocevar in a press release. "There is not a single place that individuals are confronted with more single-use plastic than in our grocery stores, yet these companies continue to drag their feet and offer excuses. We have seen more greenwashing than action. It is time to turn this around."
Article continues below advertisement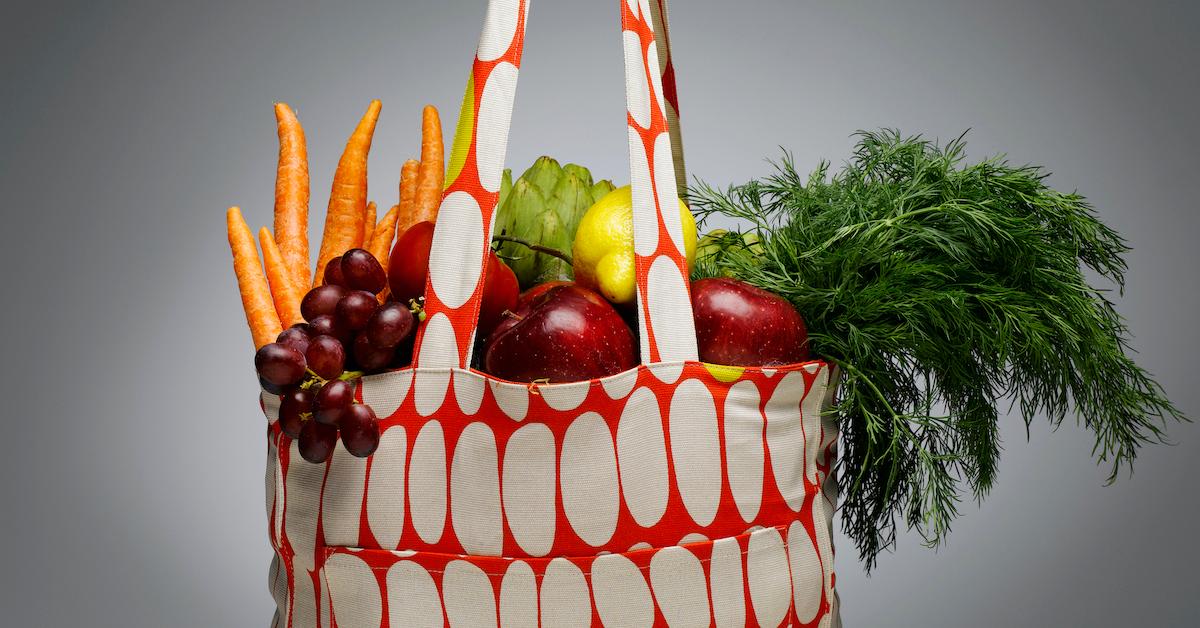 What can grocery shoppers do to lower their impact?
There are many ways that you, as a shopper, can lower your plastic consumption and environmental impact overall. Try bringing your own reusable grocery bags, even if the store offers paper ones, and bring your own reusable containers to shop in the bulk aisle. Also avoid buying individually wrapped produce, forgo individually portioned snacks (hello, family size!), and if you really want to lower your impact while food shopping... consider shopping vegan, too.