Grocery Stores Weigh in on the Fuzzy Future of Bulk Bins, Post-Pandemic
When will bulk bins come back, post-pandemic? Several grocery stores are limiting bulk sections to stay pandemic-safe, but here's what companies think.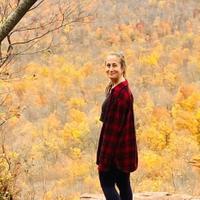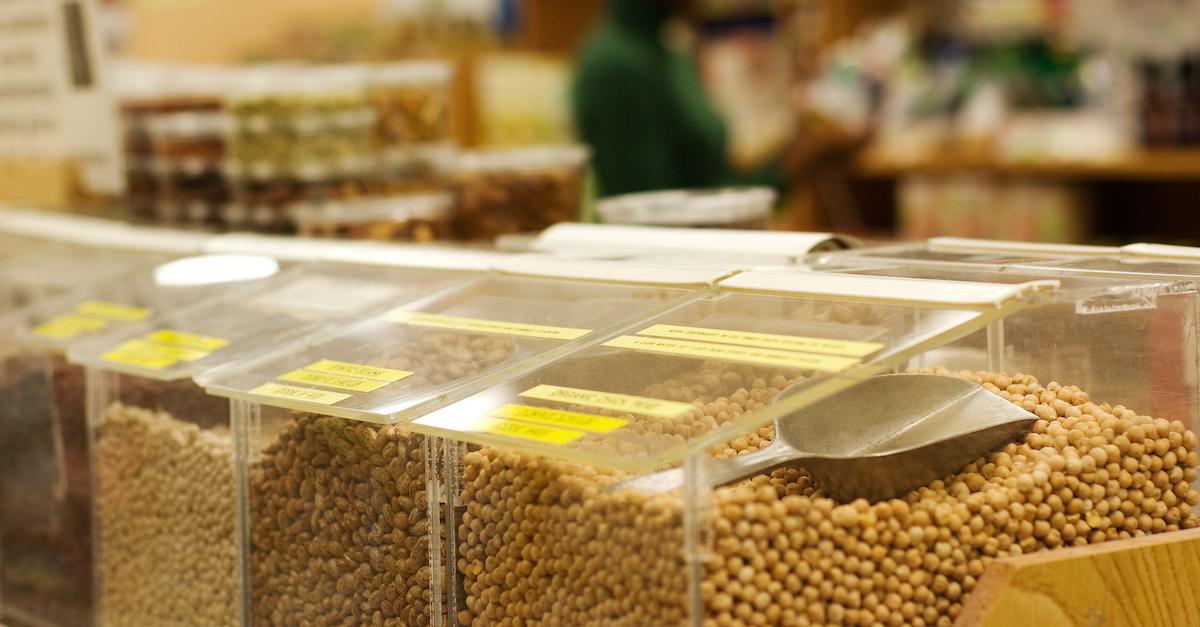 In addition to going out with friends, safely eating at indoor restaurants, hugging your parents, and traveling, one thing that many of us seriously miss is perusing the bulk section at grocery store. Scooping massive amounts of nuts, grains, seeds, and dried fruits into our own containers has been greatly limited since the start of the pandemic, and as of right now, the future of bulk shopping is looking somewhat bleak.
Article continues below advertisement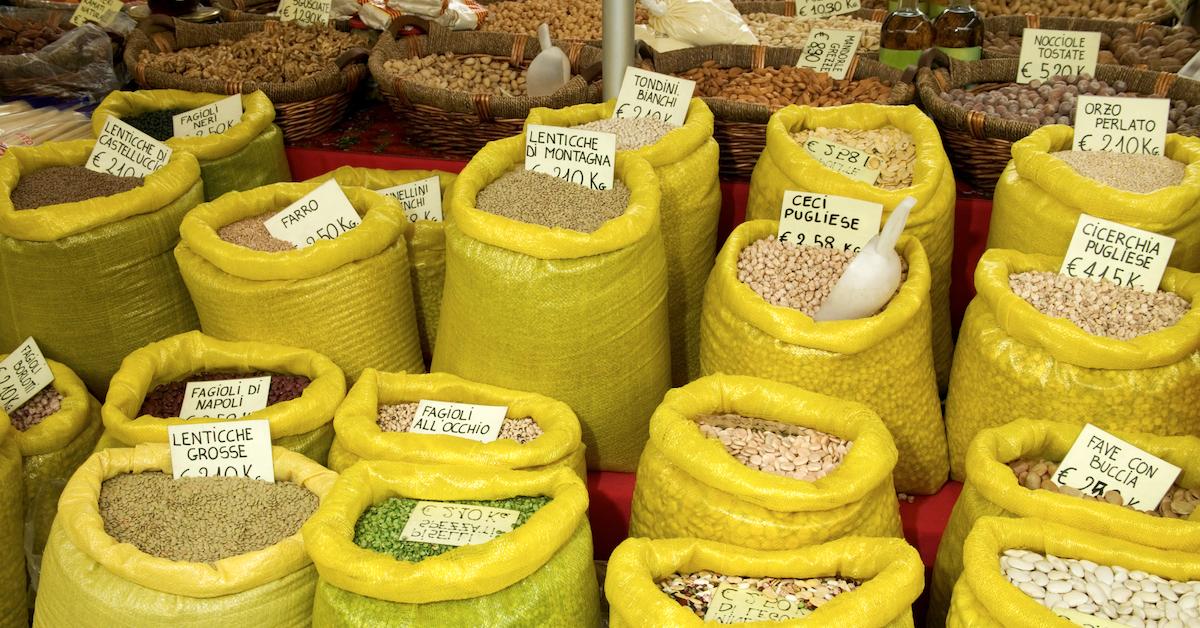 Article continues below advertisement
Major grocery companies and small markets alike are unsure regarding the future of bulk bin shopping.
Brooklyn-based Precycle offers a variety of fresh and dry goods at its small Bushwick bulk food store. Pre-pandemic, customers brought their own clean containers to take what they wanted, and paid based on weight. But due to the pandemic, customers aren't allowed into the store at all — for the last year, Precycle has been offering online ordering for curbside pickup or delivery for all of its products, and at the moment, the staff isn't sure when things will return to normal, if ever.
"I wish I had a definitive answer for you, but I don't. My guess is that we will reopen to the public when social distancing restrictions will be lifted," Precycle owner, Katerina Bogatireva, told Green Matters via email.
Whole Foods is another grocery store that's often praised for its vast aisles of bulk bins; certain locations are allowing customers to come with their own containers, though representatives from the store didn't have any updates regarding bulk shopping on a nationwide scale as of publication.
Article continues below advertisement
Likewise, Tops closed its bulk bin aisles back in March 2020. But according to a press release from last year, the store hopes to reopen it when it's safe to do so.
"Since this is an ever-changing situation, we will continue to monitor it closely and will make adjustments accordingly," the company said in an official statement at the time.
Article continues below advertisement
Will bulk shopping change forever? The answer is unclear.
Because of cross contamination fears, eco-friendly shoppers worry that bulk shopping may be limited for the long run.
"It's hard to say whether COVID-19 will have a lasting impact on the way people view package-free shopping. But in the short term, our relationship to bulk has changed profoundly," Karine Vann wrote in an op-ed, Will The Grocery Store Bulk Aisle Survive COVID-19?, for The Counter.
"Researchers are still learning more about how long COVID-19 can live on surfaces, and the dangers of the specific behaviors we exhibit during grocery shopping — and in the bulk aisle, especially — will require further study," she continued.
Article continues below advertisement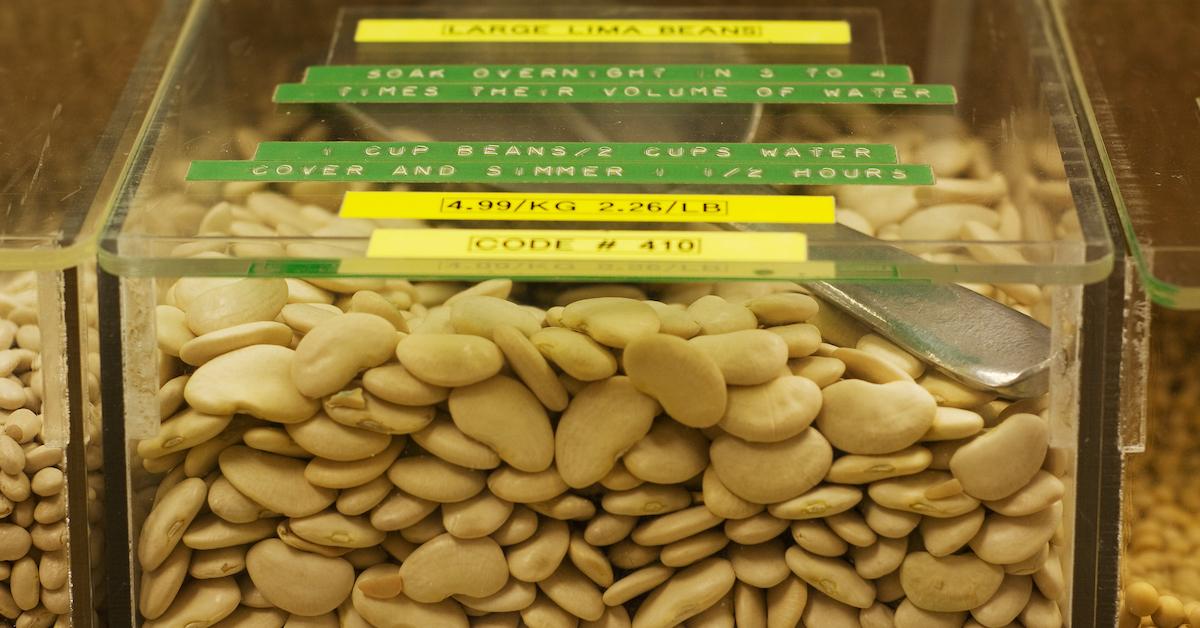 How can we shop sustainably until bulk shopping (maybe) returns?
As previously mentioned, certain stores such as Precycle offer online ordering, while others such as Canada's Bulk Barn now offer a "customer care program" that has employees scooping food out of bulk bins while wearing gloves, to avoid cross-contamination. Winsight Grocery Business muses that gravity feed dispensing has very few shared touch points, and can be made extra safe with hygiene stations.
Article continues below advertisement
"Over time, retailers should consider transitioning all of their bulk product selection into safe, self-contained gravity feed systems," Winsight wrote.
Meanwhile, there are still eco-friendly ways to get your groceries, mid-pandemic. Both The Wally Shop and Loop ship bulk pantry staples to your door, while shopping at farmer's markets inherently lowers your food's environmental impact by offering local foods that often aren't wrapped in plastic packaging.
That said, traditional bulk bin shopping may not be a viable or safe option for quite a while, and sadly, it may never be the same — once the vaccine arrives, however, we'll have a better idea of what the future of bulk shopping will really look like.