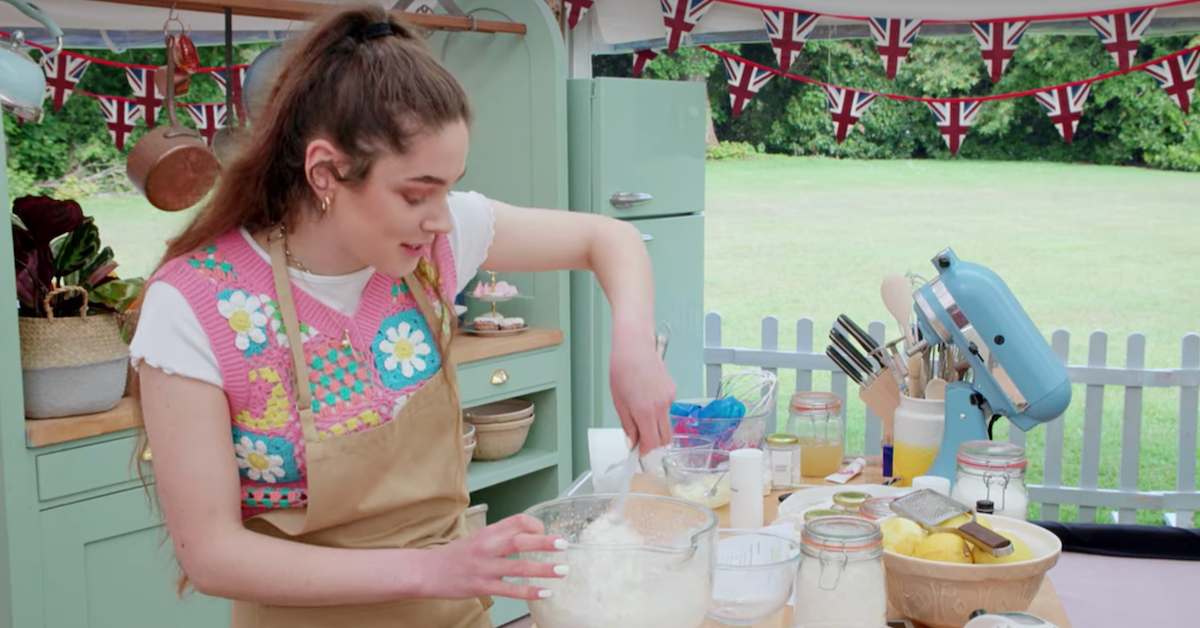 Freya Cox Dishes on 'Bake Off' Experience, Her Vegan Journey, and Future Goals (Exclusive)
Vegan fans of 'The Great British Bake Off' were thrilled when vegan baker Freya Cox joined the cast of the most recent season.
Vegan fans of the U.K.'s The Great British Bake Off, known as The Great British Baking Show in the U.S., were thrilled when vegan baker Freya Cox joined the cast of the most recent season. Freya, who just turned 20 in December, was only 19 when the show filmed and aired, and she impressed judges and viewers alike with her incredible vegan bakes.
Article continues below advertisement
Freya only went vegan when she was 17 or 18 years old, after her vegan and vegetarian friends called her out for ordering a chicken burger at a drive-thru. "Well, you know, an animal's died for that," Freya recalls her two friends saying to her at the time, during a recent interview with Green Matters. "It's that kind of friendship. We're just very honest people — it's totally fine," she jokes. After that day, she decided to give being vegetarian a go — but as she started reading research on the topic, she "decided to go vegan straightaway."
Article continues below advertisement
Freya only immersed herself in the world of baking shortly thereafter. "I learned to bake with my grandma when I was really young," she tells us. "And I liked to make people's birthday cakes. I always did that, because I just really liked decorating, that's my thing. But I never thought of doing anything like the Bake Off baking."
She quickly became passionate about vegan baking, and thought it would be "incredible" to go on The Great British Bake Off and show that "it can be done vegan." She applied, and 18 months after becoming vegan, she left her hometown of Scarborough, North Yorkshire for the GBBO tent. She wooed audiences by making incredible plant-based creations for the signature and showstopper challenges all season long (that is, until she was eliminated in Episode 5). However, she had no choice but to use non-vegan foods during each technical challenge, in which identical ingredients are supplied to each baker.
Article continues below advertisement
Green Matters recently caught up with Freya on a video call to hear about her experience on The Great British Bake Off, her tips for reducing waste while baking, and how she felt about having to produce non-vegan technical bakes. Keep reading for the full interview!
This interview has been edited and condensed for clarity.
Article continues below advertisement
GREEN MATTERS: What do you hope viewers learned from watching you on The Great British Bake Off?
FREYA COX: I have loads of messages all the time of people saying, "I just didn't realize it was that easy." I wanted to show this off, because I think already, people know Bake Off is so hard. The challenges are ridiculous. So I think for someone to then say, "Well, they're so hard, and it can be done just as well vegan. I'll just give that a bit of a go."
Now all people talk to me about, if they don't know me, is the whole vegan thing. And this conversation wouldn't have been had before. It's been really positive.
GM: What dish on the show did you find the most challenging to veganize?
FC: The week after I went out, it was the choux pastry — I found it so hard. I had so many people throughout the process saying, "Just use eggs for this one challenge." And I said, "I absolutely am not going to." I'd rather create something that's absolutely horrendous but stand by my morals.
Article continues below advertisement
GM: You had to use non-vegan ingredients for the technical challenges. How did you feel about that?
FC: The deal always was from the start that I had to use non-vegan ingredients in the technical, because to be honest, flat out, it wouldn't be a technical challenge if someone was using their different ingredients. It's not fair. That's how the show works.
I did have a few people saying, "You shouldn't have done it then." But I think that the thousands of messages that I've had with people saying, "I watched you and now I've decided to go vegan." Why is that not positive then? I would 100 percent say I stand by that. And I didn't enjoy using the non-vegan ingredients, because I literally didn't know what I was doing a lot of the time. But it was raising awareness regardless.
Article continues below advertisement
GM: Did you have anything planned for the final showstopper that you can share?
FC: I don't think I'd fully, in-depth planned that to be honest. I really enjoyed the pâtisserie week, the week before that. I had a big swan showstopper that I wanted to do with it. Hopefully at some point, I will still recreate and share.
GM: How did you feel about being eliminated ahead of the "free-from" episode (dairy-free, vegan, and gluten-free challenges), since you probably would have really shined during that one?
FC: Yeah, it was disappointing. However, I had the best experience of my life, and I felt like by week 5, I had really proved my point, that you can do it vegan. I probably would have enjoyed it, but I'd already shown the free-from.
Article continues below advertisement
GM: What is your No. 1 piece of advice for people who want to go vegan?
FC: My No. 1 piece of advice to people is always don't massively change your life. So if you think you like things like spaghetti bolognese, there are so many vegan substitutes. I always think if you're changing your lifestyle completely, and you decide only to have these really weird, raw, healthy, vegan meals, it's not sustainable in any way. Nowadays, I can't really think of anything there's not a vegan version of.
And don't be too hard on yourself. If you mess up one day, it's not the end of the world, because I think this all or nothing process, like pushing it on people, it's really backfiring.
Article continues below advertisement
GM: You had such a positive and chill attitude about veganism on the show. Is that how you were hoping to come across?
FC: I just wanted to show that it wasn't a huge deal. The show mentioned it a lot, that I was vegan, but I was never sort of like, "This is so much better because it's vegan!" because I hate that. It's a free world. And whilst I am so passionate about it, I just think the best way is to be subtle with people and not really forceful.
GM: Is there anything you do while baking or around the kitchen to be eco-friendly?
FC: When you proof bread, people generally cover with cling film, but in my house, we absolutely don't use cling film because it's really bad for the environment. So I always get shower caps. It's so much cheaper than buying loads and loads and loads of clingfilm, because you can just wash these shower caps.
If you're baking cookies, if you've got a nice nonstick pan — people are always putting parchment paper down. A lot of times with cookies, they just slide clean off, you don't need any parchment paper.
Article continues below advertisement
GM: You're also a model and a student — what do you want to focus on in life right now?
FC: I really, absolutely love the whole baking thing. I want to just carry on baking, and I really want to write a recipe book. And I really love doing TV, so I would love to do that again. But I just really want to be a non-preachy vegan activist, and show the world how positive it can be. But I'm really enjoying the content creating and baking on social media.
GM: Would you ever want to work on an all vegan cooking show? Do you think TV is ready for one?
FC: I would absolutely love to have an all vegan cooking show. That is my ultimate dream. And I really think it's about time, to be honest. Hopefully one day, there's somebody out there who wants to produce that.
GM: What is your main motivation for staying vegan?
FC: My main motivation is always the animals. That's why I just could never look back. I researched it, and it breaks my heart. Even just knowing anybody's not vegan breaks my heart, because I absolutely love all animals. I just adore them.