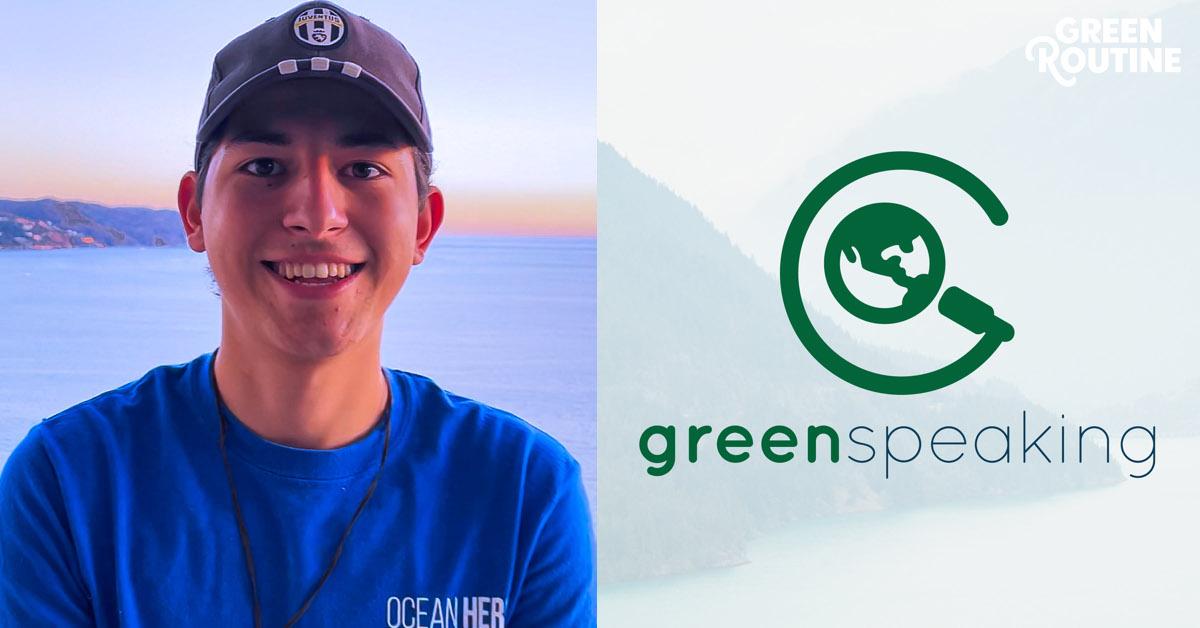 How This 19-Year-Old Activist Is Fighting for Intersectional Environmental Justice (Exclusive)
Diego Arreola is fighting for environmental justice through his organization Green Speaking, and he shared his Green Routine with us.
After two weeks of greenwashing and inaction from world leaders COP26, it's nice to be reminded that numerous youth activists have not lost their zest for taking care of the planet — such as Diego Arreola, a 19-year-old climate activist who hails from Mexico City, and is currently studying at the University of Toronto.
Article continues below advertisement
Arreola is also the founder and president of the organization Green Speaking, a worldwide community of youth leaders who aim to end the climate crisis, with a focus on intersectional environmentalism. The organization does so by offering climate education, uplifting underserved communities, and combating environmental issues such as plastic pollution.
Since founding Green Speaking, Arreola and his organization have gotten involved in a number of awesome initiatives and events. Recently, Arreola spoke at climate conference GreenBiz 21; Green Speaking hosted a talk with Fridays For Future Yucatán (a chapter of the movement founded by Greta Thunberg); and Arreola wrote pieces for the first two issues of OH-WAKE Magazine, a new youth magazine presented by Lonely Whale, HP, and Ocean Heroes Network.
Article continues below advertisement
"I joined OH-WAKE Magazine because I deeply enjoy sharing my ideas and insights with other people," Arreola tells Green Matters exclusively via email.
"Communicating myself, either through oral or written words is one of my greatest passions, the way in which we can influence other people's lives and create change," he adds. "It is a great power and a great responsibility."
Article continues below advertisement
To learn more about Diego Arreola's activism, the importance of climate justice, and his advice for other youth, we asked him to share his Green Routine with us.
GREEN MATTERS: What inspired you to start your organization, Green Speaking?
DIEGO ARREOLA: My mom, the Ocean Heroes Network, and the idea of a world in which every kid and young person has a strong voice in the environmental movement. I firmly believe that everyone can use their talents and passions positively, just like I found my passion for public speaking and use it now as a powerful tool in the battle against the climate crisis.
Article continues below advertisement
GM: What do you hope to accomplish with Green Speaking and your environmental work?
DA: Our mission is to establish a community of confident environmental leaders across the world. I aim to educate children and young people from all over the world on the environmental crisis that the world is currently facing, as well as the strategies and solutions that are needed to end it.
Furthermore, I want to form [a community of] positive leaders that will collaborate among themselves and actively engage in the restoration of our planet's health, maintaining environmental conservation as a top priority in whatever career they choose.
Article continues below advertisement
GM: What changes would you like to see in the movement to end the climate crisis?
DA: I would love to see less bluff and more action. It seems inconceivable to me that governments and corporations keep postponing their transition into net zero, prioritizing their economic profits and agendas over our planet's well-being.
Moreover, it intrigues me that the environmental movement lacks the significant presence of BIPOC, Southeast Asian, Sub-Saharan, and Latin American communities that are often the most affected by climate change. They deserve a voice and a seat at the table where decisions are made, because it is their planet and their futures too.
GM: Why is intersectional environmentalism important?
DA: Intersectional environmentalism is essential because the world is interconnected and no problem is isolated. The same factors that cause climate change to happen are established under the pillars of social and economic inequality, systems of exploitation, and colonization. If we want to address poverty, racial justice, climate change, and economic inequality, we need to treat them as whole and find holistic solutions that address all the gaps in these realms.
Article continues below advertisement
GM: What are your career aspirations?
DA: I want to help improve global politics and international agreements in favor of social and environmental justice. In this sense, my current goal is gaining a better understanding of politics, economics, and environmental sciences, so that I can be informed and conscious at the moment of contributing to massive positive change. I also intend to expand my nonprofit organization work across [all of] the continents, into multiple countries and communities.
Article continues below advertisement
GM: Are there any personal changes you've made to your lifestyle to live more sustainably?
DA: Of course! Before attending the 2019 Ocean Heroes Bootcamp, I was already committed to reducing my plastic consumption, and afterwards my commitment only grew. I am currently on my way towards a zero-waste lifestyle, a vegetarian diet, and less overall consumption. Moreover, I have motivated my family and lots of friends to reduce their meat, plastic, and overall consumption as well.
GM: What is your advice for fellow teenagers who want to get more involved with environmental activism and/or living sustainably?
DA: Use your talents! I am sure everyone has one skill, one trait, or passion that they can contribute to enlarge the environmental movement. If you use this skill in any way that can generate a positive impact, no matter how big or small it is, that is much better than doing nothing. That is step No. 1 in the route towards activism. And related to that, never forget about coherence. If you want to motivate people to do something, it is always better to set an example.
"Green Routine" is a series from Green Matters that invites notable people in the environmental space to share the efforts they make to live more sustainably.