Can Clothing Be Recycled? How to Give Your Old Clothes New Life
Clothing recycling isn't as complicated as it sounds — here's a guide. istock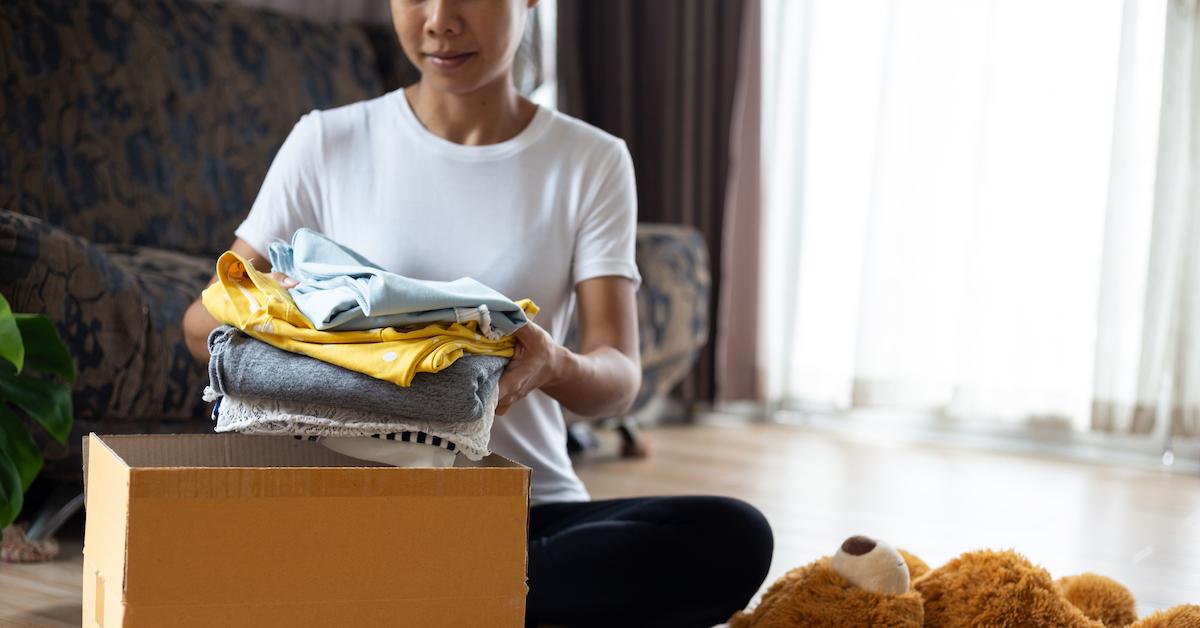 We know that fast fashion is an unsustainable apparel-making method and that whenever possible, we should choose to buy secondhand clothing instead. But what about the clothes that we already have — the stuff we don't want to wear anymore or maybe have outgrown? Can clothing be recycled? If clothing is recyclable, then how do you go about recycling it?
The U.S. generates an alarming number of textiles: About 25 billion pounds every year. Textiles include everything from clothing to footwear to accessories, towels, bedding, and more. Of that 25 billion pounds, only 15 percent is donated or recycled. What's worse: If only 15 percent is recycled, that means the remaining 85 percent of textiles end up where? The landfill.
What's an eco-conscious person to do? For starters, don't buy into fast fashion and when you can, choose secondhand options. If you're crafty, you can always upcycle old clothes into cleaning rags, new clothes, pillows, and more. Just whip out your handy-dandy sewing machine and with AllFreeSewing.com, you'll gain access to tons of upcycling material tutorials.
When clothes shopping, look to choose quality over quantity. We know, we know: You want to get the most bang for your buck. That's why fast fashion places are so popular in the first place; they're cheap as anything and if you're being budget-conscious, convenient. But remember: They're cheap for a reason. These stores are cutting costs in other (harmful) ways, like not paying their staff and not providing safe and fair working conditions. Shopping for quality ensures that your items last a long time, with very little wear-and-tear. If you pay $100 for something that lasts you 10 years, then that really is the most bang for your buck. It's just a "long run" kind of game.
Article continues below advertisement
Can clothing even be recycled?
The short answer is yes: It can! But don't expect to put your clothes in a bin by the sidewalk and have that be that. It might require a bit of researching, digging, and of course, bringing your clothes to a retailer who will actually accept them.
Interested to learn what else you can do? Recycle your clothing! Here's how:
Search for places that accept donations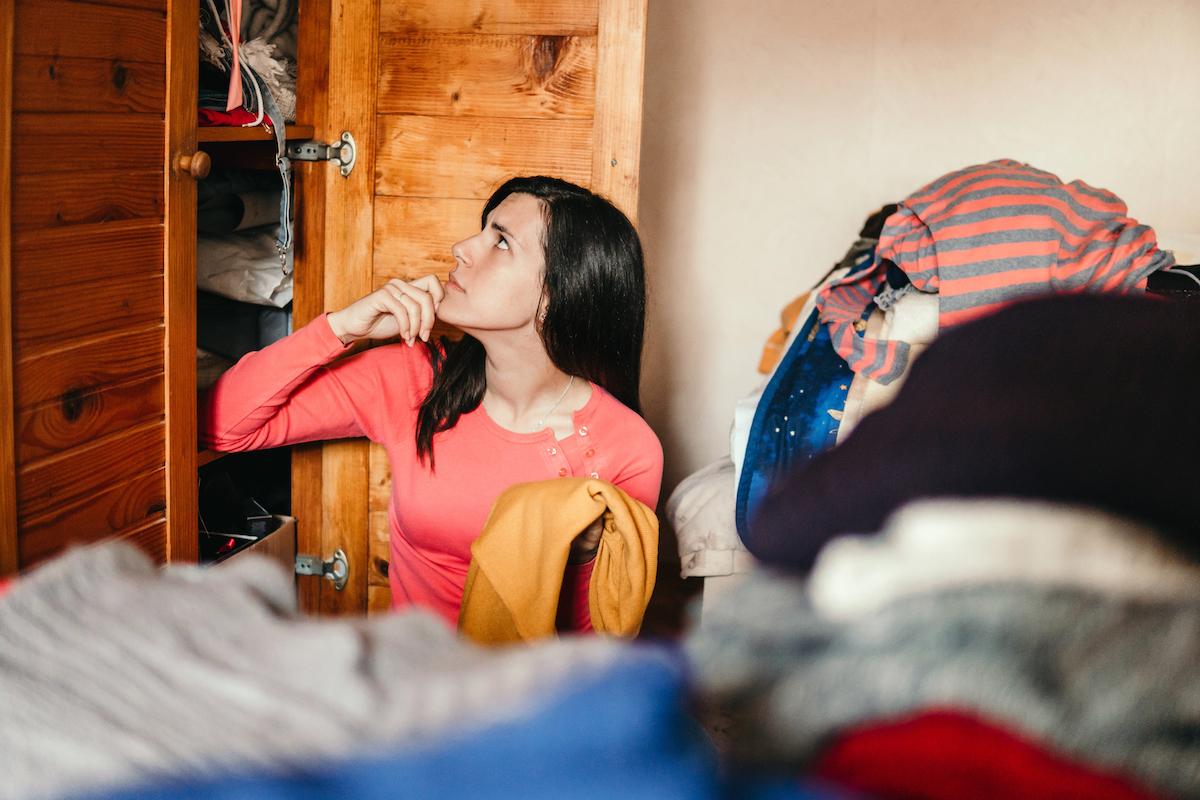 Do you have unwanted, used textiles you'd like to get rid of? Make sure they go to a good home by using Recycle Nation. Both a website and an app, you can use Recycle Nation to find companies that recycle items of any kind. You can search for companies that are looking for clothing, eyeglasses, or even technology donations.
You've also got Secondary Materials and Recycled Textiles, an online platform that helps you find the closest textile recycling center in your area.
There's also Donation Town, a website that helps you find a local clothing donation pick-up service in your area. That way, you don't even have to leave the comfort of your own home. (Hey — less carbon emissions since you don't have to drive anywhere. It's a win-win!)
Article continues below advertisement
Bring clothes back to big retailers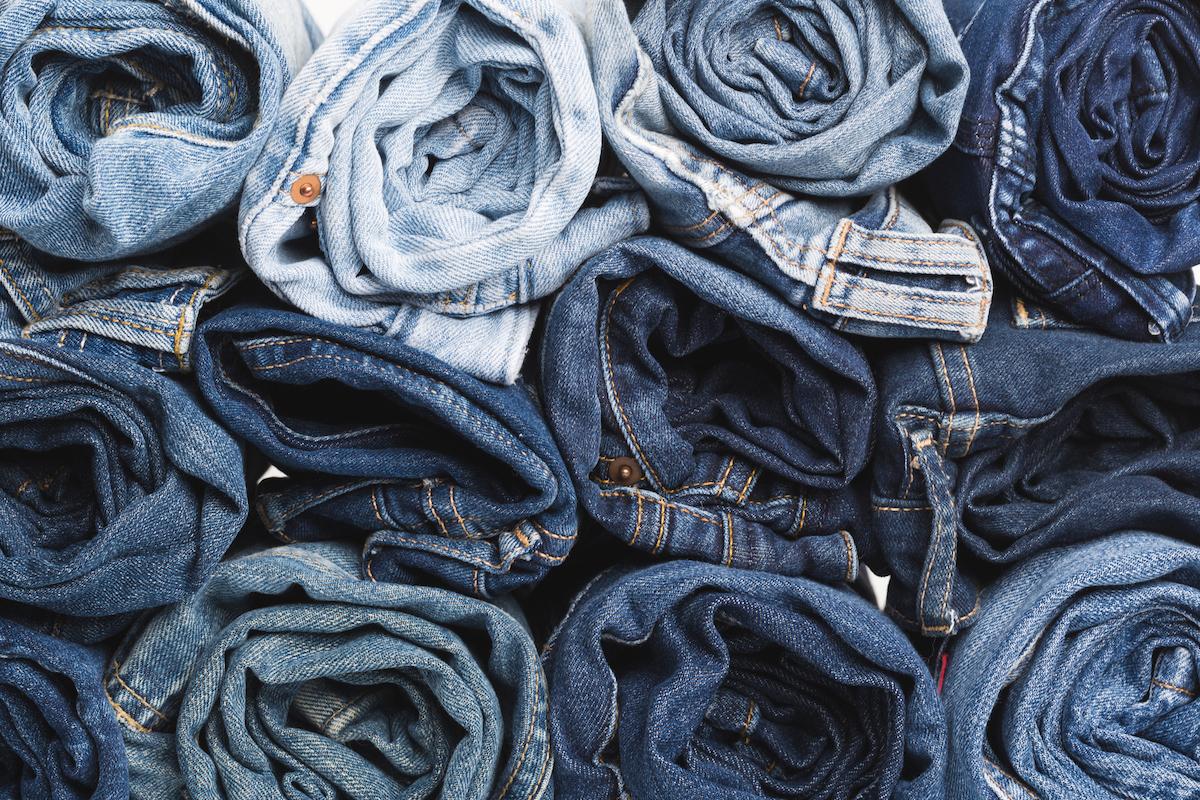 Some companies will either buy back your used textiles or accept donations. While some programs offer money or credit incentives, others simply provide a solution for where to bring used textiles.
Madewell has made a pretty eco-friendly reputation for itself by accepting old jeans. The Madewell Denim Recycling program lets you bring a pair of jeans to a brick-and-mortar store. If you don't live by a Madewell, you can ship them via mail. In return, Madewell will give you a $20 discount on your next purchase of full-price Madewell jeans.
Aerie also has a great program and incentive. As part of a partnership with Free the Girls, Aerie offers a recycling program (you can donate any brand or style) where you can bring a bra to any Aerie store and receive 15 percent off your next bra. According to their website, each bra donation helps create a better life for sex trafficking survivors and for the month of April this past year, they planted a tree with One Tree Planted for every bra donated.
Other retailers like H&M, North Face, Eileen Fisher, Levi's, For Days, and Patagonia also have similar recycling programs. There's also Nike's Reuse-a-Shoe program which accepts old athletic shoes from any brand. Nike then grinds up the rest of the material and uses it to make public courts, fields, tracks, and playgrounds.
Not sure how it works? These companies usually sell the used textiles back to an agency that either re-uses them or recycles them. Some retailers, like H&M for example, donate a certain percentage of that price to charity organizations.
Resell your clothes
If you have clothing that has been lightly worn or used, chances are you can get away with selling it. Recycling can mean many things and when it comes to clothes, reselling textiles to someone else who will use them secondhand is well within the definition.
Many local consignment stores or thrift shops will accept donations, but some will even offer you cold hard cash for your clothing donations. If you'd rather handle your transactions online, you can join online resellers like Poshmark or thredUP.
Unwearable clothing, fabric, or textiles? Donate it
Give me your tired, your poor… clothes, that is! Yep, even the stuff that can't be worn anymore. There's some recycling program out there that wants even your worst-off textiles and can turn them into something amazing. TerraCycle Fabrics and Clothing Zero Waste Box is a program in which you buy a box, fill it with clothing and fabric (no matter what condition it's in), then ship it to TerraCycle. TerraCycle then repurposes it.
The Bra Recyclers accepts bras of all states, then reuses and repurposes them; you can either mail in old bras or find a drop-off station on their site. There's also Soles 4 Souls, a national shoe recycling program, Green Tree, a free textile recycling drop-off located at New York City farmers' markets, Wearable Collections, an NYC-based clothing recycling pick-up service, and GemText, a free textile recycling program based in the Pacific Northwest.