6 Easy and Delicious Breakfast Quinoa Bowls to Try This Week
These six breakfast quinoa bowls will have you reeevaluating this grain's culinary potential.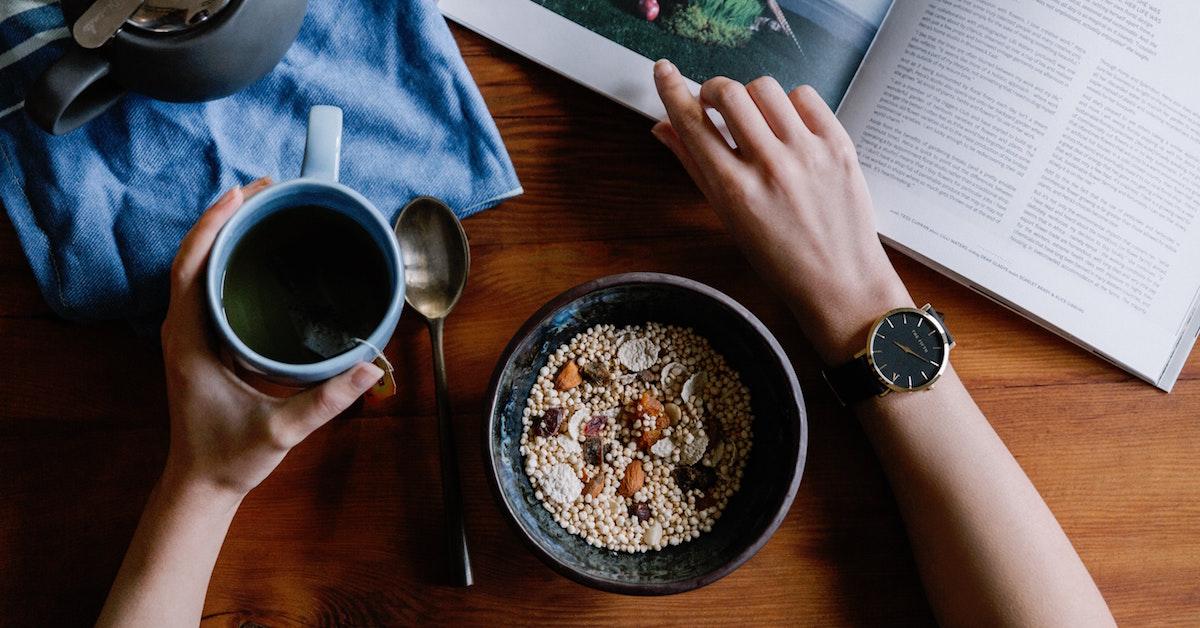 Waking up in the morning sometimes requires a strong cup of coffee, but that caffeine rush is only going to get you so far into the day. For true energy, you're going to want to reach for something more calorically-significant, like oatmeal, granola, or even quinoa. Some people might think that quinoa can't be breakfast food, but they are sadly mistaken. These plant-based breakfast quinoa recipes are some of the most delicious and nutritious ways to jumpstart your morning, and they're easy to make.
Article continues below advertisement
Dark Chocolate and Quinoa Breakfast Bowl
Chocolate and quinoa? Yep, you heard that right! FoodHeal has an amazing recipe that mixes dark chocolate, quinoa, and pomegranate to create a sweet and crunchy breakfast that will help you start your day off right. Be forewarned though, this recipe might look sweet, but it contains no added sweeteners. Those possessed of a sweet tooth might need to cut the bitterness of the chocolate. For that, the blog suggests adding a natural sweetener like coconut sugar or agave syrup.
Cinnamon Toast Breakfast Quinoa
Cinnamon Toast Crunch might be a deliciously nostalgic treat, but it's also heavily processed and packed with added sugar. This recipe for a quinoa-based alternative comes to us courtesy of Cookie and Kate. In addition to the quinoa itself, this option offers a slew of toppings to add crunch, flavor, and nutritious elements to your breakfast including dried cherries, chopped pecans, flax seeds, hemp seeds, and of course, cinnamon.
Article continues below advertisement
Carrot Cake Quinoa Bowl
A moist slice of carrot cake often makes for a sugary, yet very satisfying breakfast, but there are better ways to get that spiced carrot cake taste without all the added calories. Destination Delish's carrot cake quinoa bowl mixes almond butter, almond milk, carrots, cinnamon, and syrup together with rich, hearty quinoa. The dish is topped off with grated carrots, which can be mixed in to provide added texture to an otherwise gooey kind of dish.
Article continues below advertisement
Easy Vegan Berry Bake
Berries and breakfast go hand in hand, and we'd be willing to wager that most readers would have chosen berries as an obvious choice for topping a breakfast quinoa bowl. This recipe for an easy vegan berry bake comes to us from That Vegan Babe and requires a bit more preparation to set up. That said, the end result is a prebaked breakfast that can be scooped up and eaten on the go a little easier than some of the other choices on our list.
Article continues below advertisement
Chunky Monkey Quinoa Breakfast Bowl
When one hears the term chunky monkey, they don't usually think about breakfast or something that is dairy-free, but this version is both of those things. Vegan Huggs' Chunky Monkey Quinoa Breakfast Bowl mixes all the things you want in a sweet but fairly nutritious breakfast bowl. Peanut butter, bananas, and dark chocolate are a perfect trio, and a great way to get picky eaters to try something new for breakfast.
Article continues below advertisement
Creamy Quinoa Porridge
Gluten-free and full of fiber, this recipe for a no-bake, sugar-free, Creamy Quinoa Porridge comes from Two Spoons. The blog recommends using raspberries, peaches, cinnamon, pecans, and coconut in their blend, but this plant-based porridge can really be customized to suit any taste buds. As long as you have the base recipe, the toppings are always going to be up to you!