The Inflation Reduction Act Aims to Curb Climate Change — So Why Is It Controversial?
What is the Inflation Reduction Act? Democrats are looking to the bill, which was officially signed by Biden in August 2022, to curb climate change.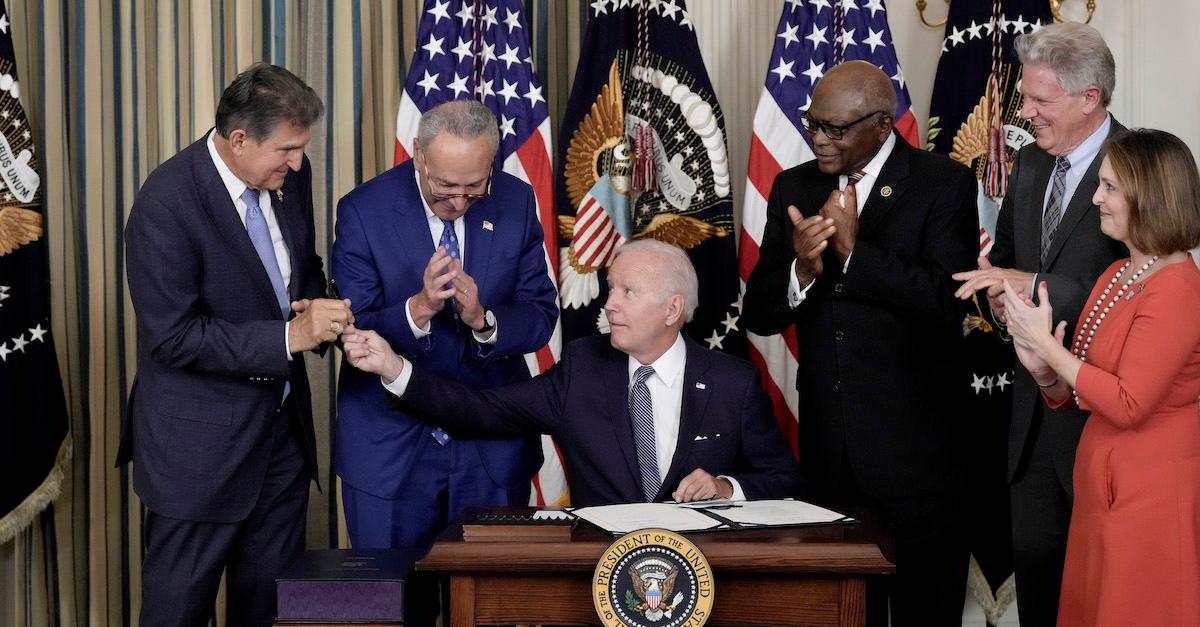 In August 2022, it was announced that the House and Senate had passed a brand new climate bill. Known as the Inflation Reduction Act (IRA), the 755-page bill will supposedly tackle environmental racism, lower grocery prices, and hopefully curb global warming, allocating over $300 billion for climate.
But what does the new climate bill entail? And why is the Inflation Reduction Act controversial among both Democrats and Republican parties?
Article continues below advertisement
"... President Biden is delivering on his promise to build an economy that works for working families, including communities that have been underinvested and underserved for too long," reads a White House statement.
"President Biden and Congressional Democrats beat back special interests to pass this historic legislation that lowers energy costs, advance environmental justice while building a cleaner future, and grows the economy from the bottom up and the middle out."
"For far too long, communities across our country have faced environmental injustices, bearing the brunt of toxic pollution, enduring underinvestment in infrastructure and critical services, and suffering disproportionate impacts from climate change," the statement continues.
"The Inflation Reduction Act includes historic investments in environmental justice, including establishing several new environmental justice grant programs."
Article continues below advertisement
What is the Inflation Reduction Act (IRA)?
The IRA aims to support Biden's Infrastructure Law, as well as his Justice40 initiative. According to the White House press release, it heavily focuses on delivering climate and clean energy benefits to vulnerable communities, through various federal programs.
To start, it looks to reduce air pollution by creating community-led projects in disadvantaged communities, to address air quality issues, and to monitor air quality near pollutive sites and structures.
Article continues below advertisement
It also aims to improve clean transit by addressing diesel emissions from heavy-duty vehicles, cleaning up ports, and to support neighborhoods with safe and affordable transportation.
The bill invests in credits for solar projects for federally-subsidized housing, and will finance zero-emission heating, energy, and EV technologies in disadvantaged communities. It will also help families afford the replacement of energy appliances, and give rebates to families to invest in clean energy projects.
And finally, as many vulnerable communities are even more vulnerable to climate change, it looks to strengthen resilience to global warming. The bill will help tribal and native Hawaiian communities, from being affected by drought and extreme weather events. It will also increase affordable housing, and expand on green spaces in urban areas.
So, what could be wrong with the IRA?
Article continues below advertisement
What are the pros and cons of the Inflation Reduction Act?
The IRA is considered the "largest piece of climate legislation ever passed in the U.S.," according to Gizmodo, and based on the information above, it seems as though it comes with a wide range of health, sustainability, and monetary benefits. So what is the downside?
Unfortunately, certain aspects of it worry climate experts and advocates alike. Though the many benefits highlighted above make it seem dreamy, parts of the 755-page bill could use some work.
Article continues below advertisement
For example, parts of the bill require more fossil fuel drilling, particularly in the Gulf of Mexico and Alaska. It mandates four offshore gas lease sales in both regions, which Biden had already canceled.
It also trades some clean energy projects for fossil fuel projects — any new on- or offshore wind or solar projects on federal property are allowed after a certain number of oil and gas leases have been offered.
Many feel it creates a compromise, when in actuality, it could have made clean energy non-negotiable.
"They've chained renewable energy to the continuance of fossil fuels," Cyn Sarthou, executive director of the nonprofit group Healthy Gulf, stated as per Gizmodo.
Though $375 billion for the climate is impressive, it's less than the trillions of dollars Biden initially promised — we were hoping for more, but we suppose this is an OK start.