The State of California Will Soon Derive Clean Energy From Floating Wind Farms
What is a floating wind farm? The state of California will soon be deriving clean energy from the ocean, with incredible offshore floating wind farms.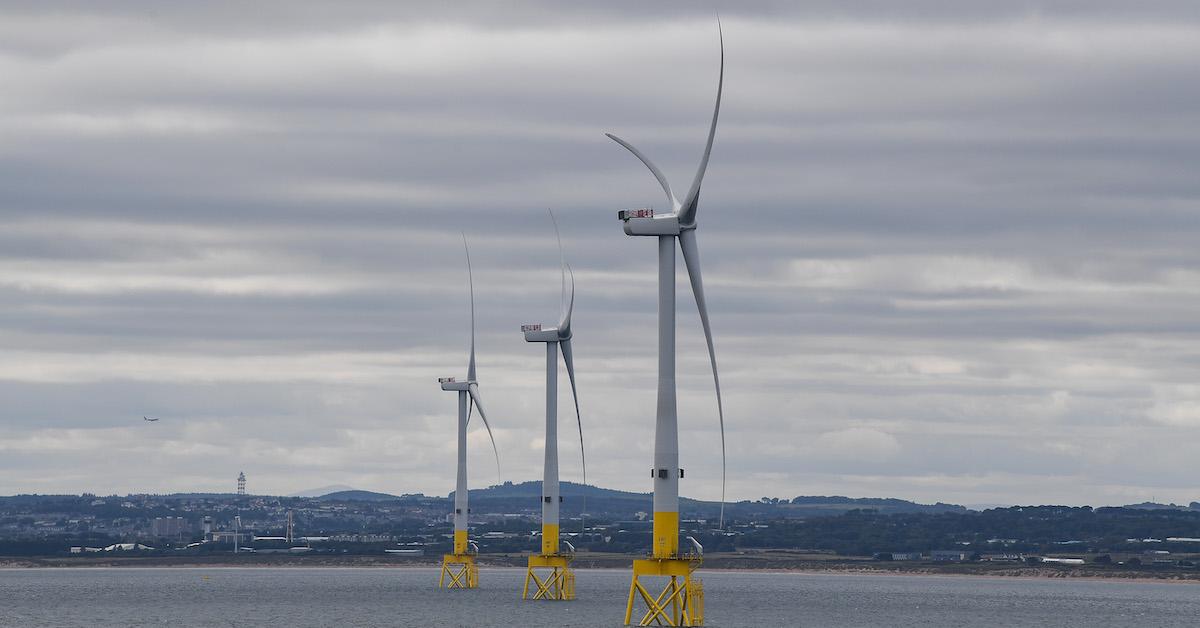 Back in 2019, a Scottish company called Statoil erected the world's first floating wind farm. Although offshore wind farms have existed for several years, they're often constructed in super shallow waters just off the coast. Floating wind farms, however, can float in hundreds of feet deep waters, without becoming an eyesore, or taking up land space. And now, floating wind farms are finally making their way to the U.S., as they're expected to soon start operating off the California coast.
Article continues below advertisement
Not only are floating wind farms space efficient, but they require very little construction to expand, Alla Weinstein, founder and CEO of offshore wind farm company Trident Winds, told The Atlantic.
"You can literally have one design of a support structure that will be the same for California, Oregon, and Washington... And maybe even Alaska," she explained. "The only thing you have to do offshore is hook [the platform] up to the mooring that you laid out ahead of time," said Weinstein.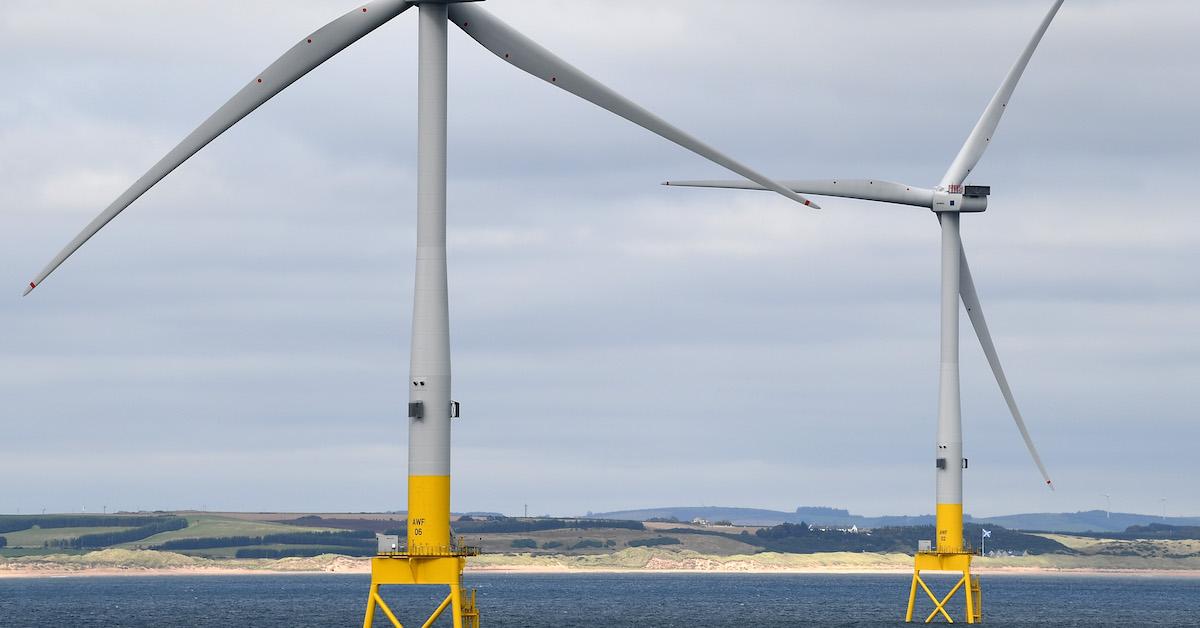 Article continues below advertisement
How do floating wind farms work?
Typical offshore wind farms consist of turbines that are perched on top of metal and concrete towers, which are secured into the ocean's seabed. And while that's certainly more efficient than having to clear space for on-land wind farms, floating wind farms are a bit different, taking efficiency to the next level. According to the BBC, floating wind farms consist of a series of turbines that are basically fixed into floating steel mats. They balance on top of the waves, bobbing along the ocean.
Sitting on the blustery ocean, they often receive more energy than they need. But with an electrolyzer, extra energy can be converted into hydrogen energy or green fuel, which can be used to fuel road, rail, maritime, and air travel travel.
"It's not too hard to imagine a situation where a country with large floating wind capabilities sells green hydrogen abroad, shipping it in huge oil tanker-style vessels or via undersea pipelines," hydrogen development manager, James Walker, told the BBC.
Article continues below advertisement
"We could even have a situation where electrolyzer-equipped floating wind turbines serve as refueling stations for long-distance ships," he continued.
Article continues below advertisement
What to know about the U.S.' future floating wind farms:
In May 2021, as per Inside Climate News, the Biden administration announced that floating wind farm leases would start to be auctioned off in 2022, to secure floating wind farm space in California's Pacific Ocean. A few months later, on Sept. 9, 2021, Sacramento lawmakers passed a bill that requires the transition to offshore wind by 2023, and companies like Trident Winds already intend on securing space when the time comes.
Not only would deriving energy from floating wind farms convert the state to using 60 percent renewable electricity by 2030, but also 100 percent by 2045. Marine conservationists worry about what this could mean for undersea life. According to The Atlantic, floating wind farms could pose a serious risk for whales and smaller fish. Those in the business, such as Weinstein, have reiterated that oil rigs have operated in oceans for years, and whales rarely — if ever — come into contact with them.
This type of information often comes from fishermen who don't want their lay of the land to be sold for the sake of the environment.
That said, the future is floating wind farms — and we're onboard for it.