Luxurious Vegan Silk Sheets Made From Plants, Not by Silkworms
These brands are making cozy and luxurious silk sheets from plant-based and vegan materials.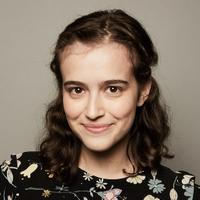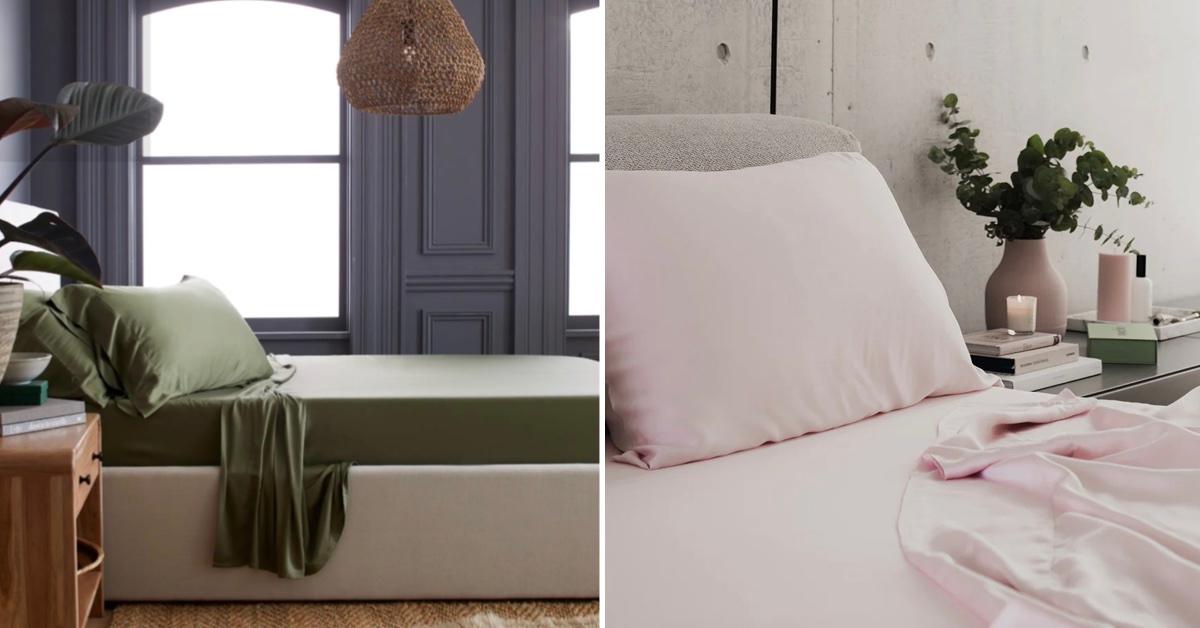 Transparency Matters: If you click on any links on this page, Green Matters may earn a commission (at no additional cost to you). Each item is hand-selected by editors with the planet — and people – in mind. All prices listed are accurate as of the time of publishing. Learn more about our affiliate policy.
Those who value good-quality sleep can be particular about their sheets — and for good reason. Comfortable sheets can be the difference between a luxurious slumber and a night of tossing and turning. And so, some people are fans of silk — or silky — sheets.
Some sleepers have also found that silk or satin sheets and pillowcases can help protect curly hair, prevent dry skin, curb breakouts, and regulate body temperature.
Article continues below advertisement
Fortunately, there are many options for vegan silk sheets and pillowcases — and they aren't all made out of synthetic materials like polyester. In fact, many of them are composed of unique plant-based silky fabrics, often characterized as satin or sateen. Read on for a few recommendations!
Article continues below advertisement
Touché Eucalyptus Sheet Set
Michelle Tweddle founded Touché after struggling to find bedding that was both luxury and eco-friendly. The company makes sheets, pillowcases, duvet covers, sleep masks, scrunchies, and more, all made from vegan silk composed of Tencel Lyocell eucalyptus fibers.
The fabric has a sleek, silky, and soft feel, and is vegan, hypoallergenic, antibacterial, antimicrobial, and temperature regulating. It is also made in a closed-loop production process, it's certified by the Oeko-Tex Standard 100, Touché is a member of 1% for the Planet, and its factories are independently audited via SEDEX.
Touché's signature Eucalyptus Sheet Set comes in five colorways, and starts at $143 for a set of fitted and flat sheets for a double mattress. It also comes in queen and king sizes.
Shop Now - $143
Quince Bamboo Sheet Set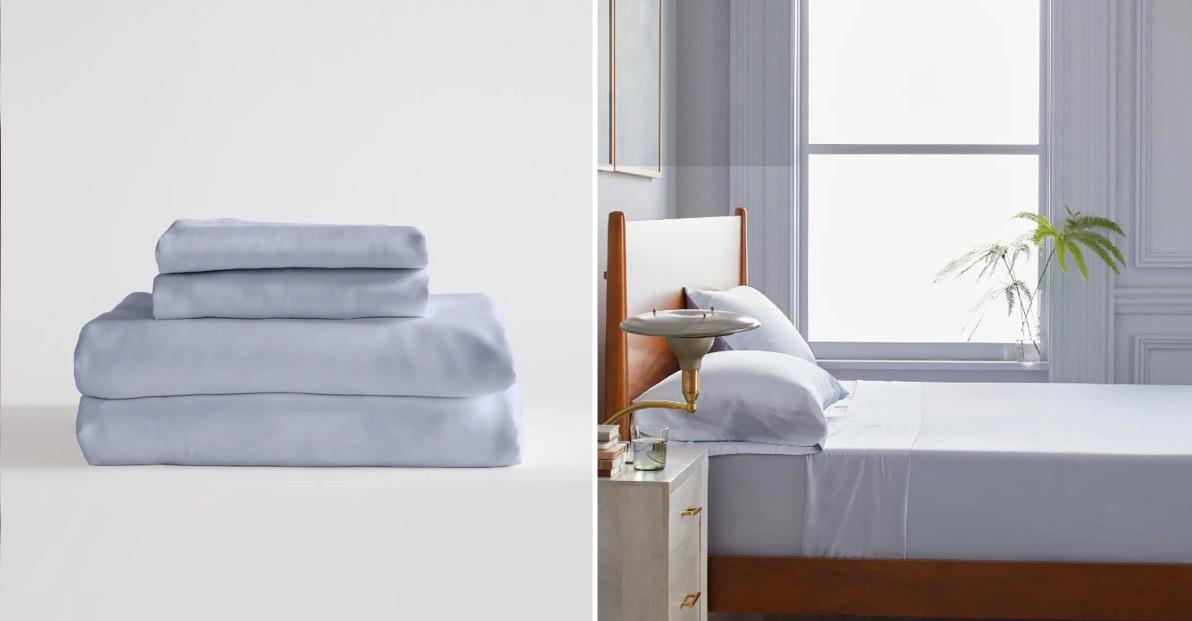 Quince's Bamboo Sheet Set is made from 100 percent viscose made from organic bamboo, which the brand describes as "one of the planet's most resource-efficient materials," since bamboo grows quickly and requires much less water than other plants.
The 300-thread count sheet set is crafted with a sateen wave that is designed to be both "luxuriously soft and silky smooth," as well as cooling and hypoallergenic. It's also certified by the Oeko-Tex Standard 100, and made without any harmful chemicals or pesticides.
The Bamboo Sheet Set comes in 11 colorways, and ranges in size from twin up through California king, with a double sheet set (fitted sheet, flat sheet, and two pillowcases) costing $99.90.
Shop Now- $99.90
Article continues below advertisement
Pact Organic Room Service Sateen Sheet Set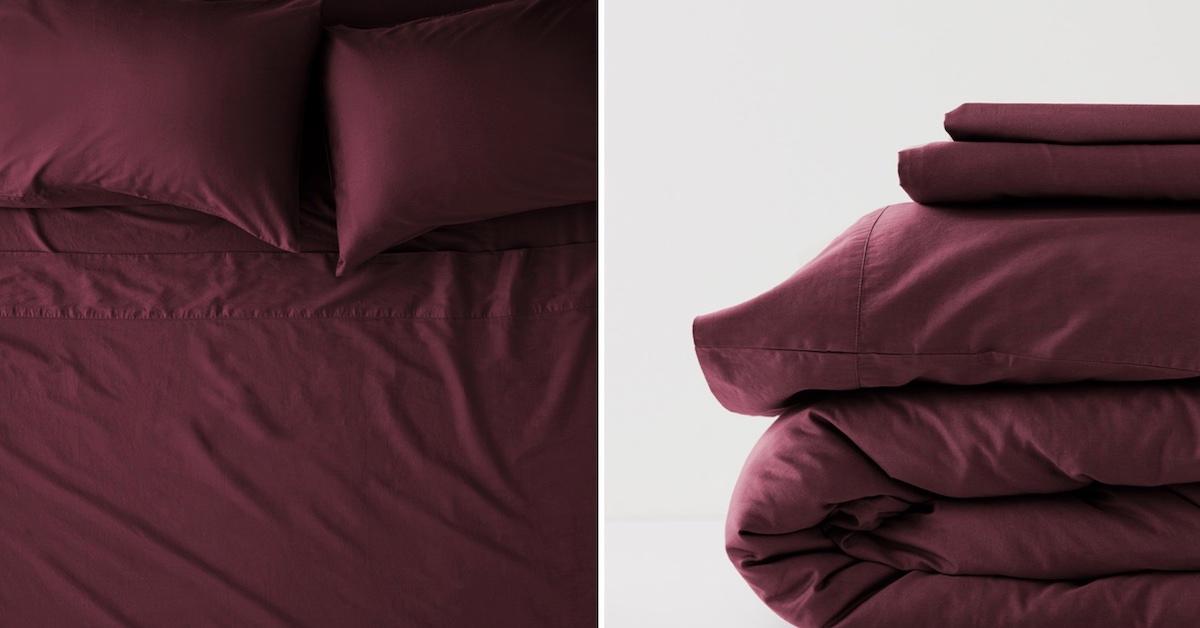 Organic bedding and clothing company Pact makes the Organic Room Service Sateen Sheet Set. The sheets are a lightweight organic sateen that feels "luxurious, smooth, [and] buttery soft" — yet is made from 100 percent organic cotton. This gives the sheets a silky touch, but means they are much more wrinkle resistant than other silk or sateen sheets.
Pact's products are made in Fair Trade factories, and certified by the Global Organic Textile Standard (GOTS).
The Organic Room Service Sateen Sheet Set is available in nine colorways and sizes from twin through California king. A full sheet set — which comes with a fitted sheet, flat sheet, two pillowcases, and a laundry bag — is on sale for $102 down from $120 as of publication.
Shop Now - $102
Madison Park Essentials Satin Sheet Set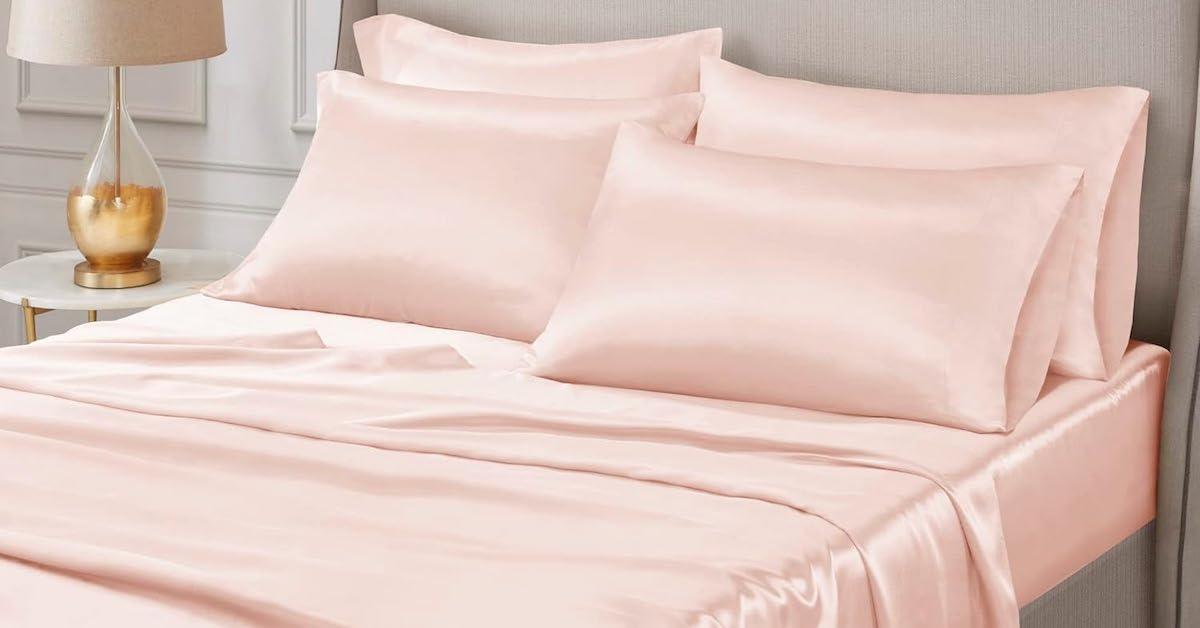 For a much more affordable option, Madison Park Essentials makes a Satin Sheet Set.
You can shop the sheet set on various websites including Amazon, where a full sheet set (a flat sheet, fitted sheet, and two pillowcases) is on sale for $24.99 down from $32.99.
The low price is due to the set being made of 100 percent polyester. Though polyester is obviously a less than ideal fabric when it comes to environmental sustainability, this sheet set is Oeko-Tex certified, which means it is free of "harmful" substances and chemicals. And on Amazon, the sheet set is categorized as "Climate Pledge Friendly."
The sheet set is also wrinkle resistant, silky soft, and it comes in around a dozen colorways in sizes twin through California king.
Shop Now - $24.99